Back in 2010, I tested and wrote a review on the previous version of the Minox BL 8x33 binoculars. As you can see from it, my reviews have come along way since then, but even so with the scores they achieved, it is obvious that really liked them. Indeed they went on to win the award as the best safari & travel bin later on in the same year.
To this day, those Minox binoculars still remain one of my favorite mid-sized bins and that is why when I discovered that they had updated their BL range to include HD glass in their lenses, I just had to get my hands on the 8x33 version. I really wanted to see if they were as good in all the areas as the older version, but also if the HD lenses had perhaps even improved on them optically.
Thus below is my full Minox BL 8x33 HD review that I wrote after extensively researching, testing and using them, both at home, in my office and out in the field:
Highlighted Features:
Made & Designed in Germany
Each bin is finished by hand with exacting quality control inspections
Fully Waterproof and Nitrogen Purged
HD Extra-Low Dispersion glass
Fully Multi-Coated Optics
Phase Coated Roof Prisms
FOV: 140m wide at 1000 meters
17.5mm of Eye-Relief
Minimum focus distance of 8.2ft
30 Year Minox Warranty
The Body
Shape
The Minox BL HD 8x33 binoculars have the typical straight through design, with the ocular and objective lenses lining up which is common to most roof prism binos. But rather than a single bridge between the two barrels, these sport two thin ones at each end. This is known as an open-bridge design.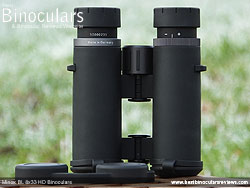 A potential advantage of this that the less body material means less weight, however the fact that they now have two hinges rather than one usually negates much of this potential weight loss.
Where this design is a real advantage is that is leaves more surface area on the barrels exposed and they have a nice section in the center left completely open that really makes for a great place to get a secure grip onto the bins, especially when you are walking with them and holding them in just one hand.
Materials
Minox rather proudly state that these bins have a housing made from lightweight Polycarbonate. Whilst it is true to say that Polycarbonate bodies are generally lighter and than those made from aluminium or magnesium, the latter two are usually considered to be a little more luxurious and robust.
Firstly there are some bins (usually those made from polycarbonate) that have a cheap look and feel about them, I can categorically say that this is most definitely not the case with the Minox BL HD binoculars, in fact it is the total opposite. If it was not for the fact that Minox advertised that they had a polycarbonate shell, I would have guessed it was magnesium. They look every bit like the high quality, precision optical instrument that they are.
They are also carry a little weight, but not too much (see weights below). This is important as this gives them some substance, helping with balance and ensure that they not only look like a quality instrument, but also feel like one to.
The other advantage is that this material is completely resistant to corroding.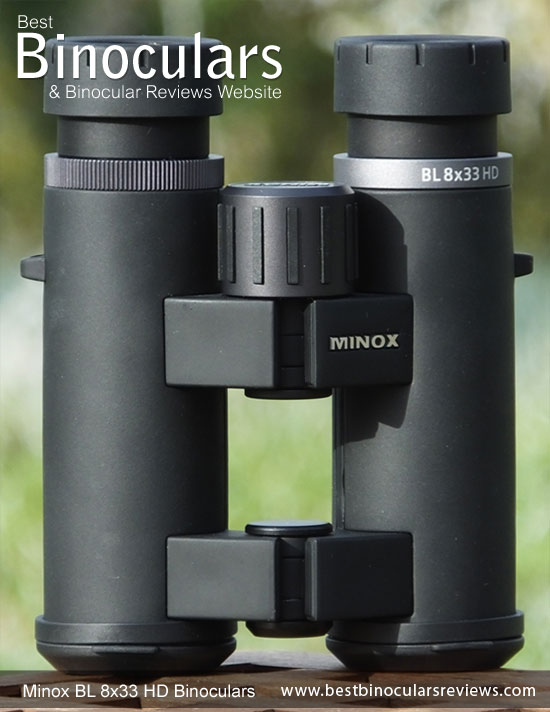 Almost every part of the exterior surface is covered in a black rubber coating, which helps in a number of ways including making the instrument less reflective and to dampen down sounds, both of which can be important to people who need to remain hidden like birders, wildlife observers, hunters and security personnel.
This body armour is a little thicker around the barrels than on the bridges and so provides a little more protection in the right areas. However this rubber is very hard which means it probably provides a little less impact protection than those that use a more spongy rubber and because it is also quite smooth, there is also less grip.
On the plus side the overall finish looks great and goes a long way to making these look far more expensive than on most.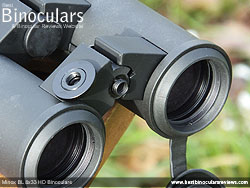 Tripod Adaptable
As with most mid and full sized bins, you can remove the cap located in the center of the front hinge by unscrewing it. This ¼-inch thread can then be used to screw a standard binocular tripod adapter into and then fix it to your tripod.
Waterproof & Fogproof
The housing on the BL HD's is completely sealed and they are according to Minox, fully water-tight to a depth of 5 meters. Remember as well as moisture, being fully sealed prevents small particles like dust and dirt from entering the system.
As well as this, during the manufacturing process all internal air is replaced with nitrogen gas. This moisture free internal environment prevents the internal optics from fogging up and will also stop corrosion.
The Eyepiece & Eye Cups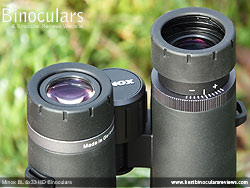 The twist-up eye-cups are great on these Minox binoculars. The twist-up and down helicoid mechanism itself works really well, there is no unwanted play and they click into each of the four fixed stops with a rather satisfying clunk.
The cups have an external diameter of 41mm which is nice and big and the rubber covering over them, whilst fairly hard is more than adequate to enable a comfortable fit against your face.
The cups as well as the ocular lens housing look to be very robust and as good as any others out there that I have used.
Eye-Relief
With 17.5mm of eye-relief and four fixed stops (fully retracted, fully extended and two intermediate) you get plenty of room and flexibility to ensure that your eyes are the perfect distance away from the ocular lenses to get the full uninterrupted view, even if you wear glasses.
Inter-Pupillary Distances (IPD)
Although they do not state it, I measured the minimum IPD (distance between the centers of the ocular lenses) to be 5.9cm when you fully close the hinges. This is perhaps a few millimeters wider than what I commonly see on mid and full sized bins, but should still be close enough to accommodate all but those with very close set eyes.
I measured the maximum IPD at 7.7cm which is achieved by opening the hinges. This is fairly standard and thus these should be enough for the majority of people. For more details as well as some comparisons, please read my interpupillary distance guide.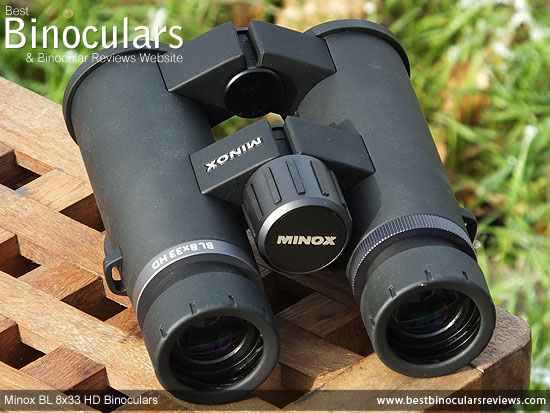 Focusing
The centrally located focus wheel is 32mm in diameter and looks to be exactly the same as the one used on the full sized 8x44mm Minox BL HD binoculars. This is reasonably large for a mid-sized bin and with the raised tracks, it is easy to reach with more than enough grip to make accurate adjustments simple even when I was wearing my thick winter gloves.
To focus from near to far takes just about 1½ rotations of the wheel (540°). This moderate gearing means that changing the focus over large distances is not as quick as on some, but also means that making fine and accurately adjustments is just that bit easier than those with more aggressive focus mechanisms.
Like the eye-cups, there is no unwanted play or movement when turning the wheel and it was lovely and smooth without any tight spots or sections that I sometimes find.
I also like the small details like the raised Minox logo on the back face of the focus wheel that is made from metal and does not turn with the rest of the wheel. Whilst this obviously does not improve the focusing in any way, it does make for a really nice finish which really adds to the overall appearance of the product.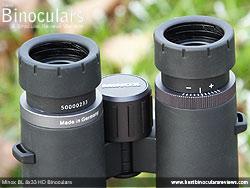 Diopter Adjustment
Located in the standard position, near the right ocular is the diopter adjustment ring. This is used to calibrate the binoculars to allow for any difference between the vision in each of your eyes.
Unless you share your bins with someone who has a different setting to yours, you only need to make this adjustment and set it once.
Whilst it does not have a ratchet system nor can it be locked as on some, there was just enough resistance to movement on my test pair to prevent accidental movement from occurring too easily.
I like the fact that there is a scale with a number or markers printed on the ring, which is strangely not usually the case, but makes it much easier to remember your setting and return it to that point should it be moved by accident, or when you share your bins.
BBR Rating for Body Construction Quality: 8/10
Weight
As is is clearly demonstrated by the table below, at 22.9zs (649g) the claimed weight of these means that they are not the lightest mid-sized binoculars out there. Indeed they are heavier than some of those like the Kowa and Swarovski's that use a Magnesium housing. Having said that they don't feel excessively heavy and I prefer a little bit of weight that makes them feel like a quality instrument over the super lightweight plastic bins that can seem rather cheap and fragile.
Note: I measured the weight of my test pair to be 21.9oz (622g) with the lens covers and the rain guard attached. Including the neck strap this increases to 23.2oz (657g). Removing the neck strap, the lens covers and the rain guard, I recorded their minimum weight as being 20.4oz (577g).
Dimensions & Weights:
Weight
Length
Width
Height/Depth
Pentax DCF BC 9x32
17.6oz (500g)
5.0in (12.7cm)
5.4in (13.7cm)
2.4in (6.1cm)
Celestron Granite 9x33
20.1oz (570g)
5.4in (13.7cm)
4.9in (12.4cm)
2.1in (5.3cm)
Kowa Genesis 10x33 XD
20.8oz (590g)
5.2in (13.2cm)
4.1in (10.4cm)
2.0in (5.1cm)
Swarovski 8x32 Traveler EL
21.5oz (610g)
5.4in (13.7cm)
4.5in (11.4cm)
2.4in (6.1cm)
Minox BL 8x33 HD
22.9zs (649g)
5.83in (14.6cm)
4.92in (12.5cm)
1.73in (4.4cm)
Minox BL 8x33
22.9zs (649g)
5.4in (13.7cm)
5.1in (13cm)
1.8in (4.6cm)
Minox BL 8x44 HD
26.1zs (740g)
5.9in (15cm)
5.1in (13cm)
2.1in (5.3cm)
Dimensions
As you can also see from the table above, they are a little longer, but in general their advertised dimensions are fairly regular or there about for a mid-sized roof prism bin with objectives of around 32 - 33mm.
For comparison, I have also compared them to the full sized 8x44 Minox BL HD binoculars in the table as well as the photo below.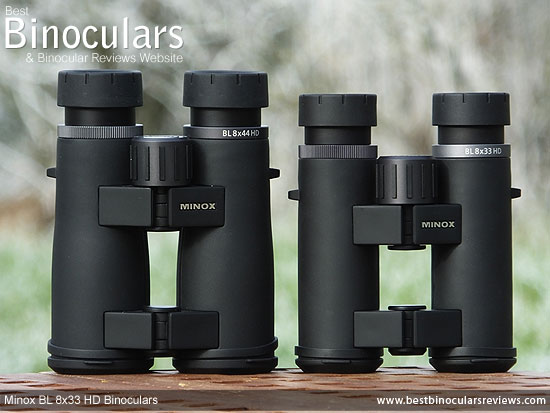 Their official length is 14.6cm, however I measured their length at 14.2cm with both their lens covers on, but the eye-cups retracted. Taking the lens covers and the rain-guard off, this length reduces further to 13.7cm. By replacing the lens covers and twisting the eye-cups out, their maximum length is 15.4cm.
Whilst their official width is 12.5cm, I measured it as being 13.3cm with the hinge fully open and the lens covers on (the loop on the side of the rain-guard sticks out the side quite a bit). By removing this their width is according to my measurements 12.7cm. By closing the central hinge, their minimum width is 10.2cm.
Their advertised height is 4.4cm. I measured it as 6cm with the central hinges fully open and the lens covers on as the loops on them protrude out quite far. By removing the lens covers, this reduced to 4.7cm which is still a little more than advertised. For interest, by folding the central hinge, their maximum depth with the lens covers on is 7cm.
Balance & Feel
The little bit of weight and perhaps the little extra length does however mean that they feel well balanced and makes them easy enough to keep really steady for the best views. I really like how they feel in the hands and as I mentioned earlier, the focus wheel is easy to reach and turn.
BBR Rating for Body Stats: 8/10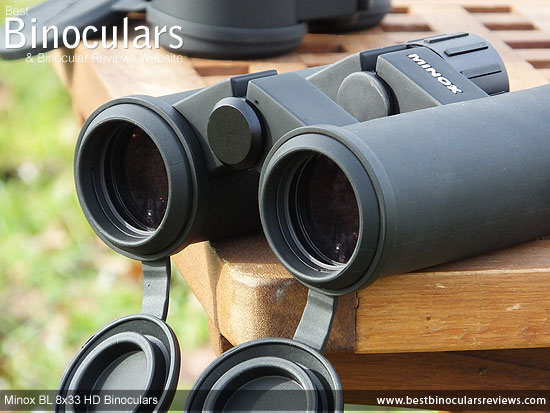 Optics
Ocular Lenses
The ocular lenses have a diameter of 23mm, which is a couple of millimeters smaller than those Minox use on the 44mm version of the BL HD bins, but is still bigger than many of those I have seen used on mid sized bins. For example the Celestron Granite 9x33 uses 18mm ocular lenses and the Snypex Knight ED 10x32 has 17mm ones. Even the excellent Swarovski EL 10x32 SV's only have fractionally larger ones at 24mm.
Objective Lenses
The 33mm objective lenses are set at a distance of about 10mm in from the ends of the barrels. This is quite deeply set for a mid-sized binocular and thus the overhang offers a little more protection from things like light rain and dust settling on the lenses. It also helps shield the lenses from the sun in some circumstances and thus helps protect against lens flair.
HD Optics
The biggest difference between the older Minox BL binoculars and these new ones is the inclusion of what they call "high-performance HD optics". Essentially this means that the lenses now have an element within them made from extra low dispersion glass.
With "standard" low dispersion glass, the lens designers do not have as many options open to them to direct the individual wavelengths of light as they pass through the lens. This makes it harder for them to direct the light and can sometimes mean that the individual wavelengths are not all closely focused onto the same plane after passing through the glass. This leads to a less sharp image being produced with a more obvious amount of color fringing seen along the edges of objects (see example below).

However using extra low dispersion glass, the designers now have a some more flexibility and this makes it easier for them to direct the light get and better focus the individual wavelengths to potentially produce a sharper image with less chromatic aberration which means less or even no color fringing.

Prisms
These Minox BL HD 8x33 binoculars use roof prisms to turn the inverted image created by the objective lenses around again and whilst they do not advertise it, my suspicion is that they will have used prisms made from BaK-4 glass.
Optical Coatings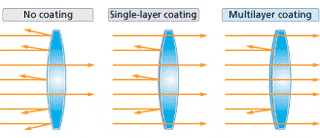 As you would expect for a binocular within this class, the optics have been "Fully Multi-Coated". This means that all glass surfaces have been treated with multiple layers of an anti-reflection material.
These coatings help ensure that as much of the light as possible passes through each glass surface rather than being reflected away.
The result when compared to optics that are just multi-coated (coatings on some glass surfaces) or just coated (single coating on some surfaces) is that you get a higher level of transmittance, which then produces a better quality and brighter image.
Prism Coatings
Whilst the roof prism design and it's shapes permits designers to make more compact binocular than those that use a porro prism, they have a few drawbacks, which can be corrected using some special coatings:
Phase Correction Coatings
One of these potential drawbacks is the loss in image sharpness caused by the wavelengths of light becoming out of phase as the bounce off the prism surfaces. Thus it is great to see that Minox have added phase correction coatings to the prisms on the BL HD's that counter this "phase shift" and is something that you should, but don't always get within this and the lower price categories.
Mirror Coatings
Unfortunately Minox do not state, nor have I been able to find out what type of highly reflective coatings they use on the prism surface that does not reflect all of the light that hits it, so I can't comment here.
BBR Rating for Optical Components Quality: 8/10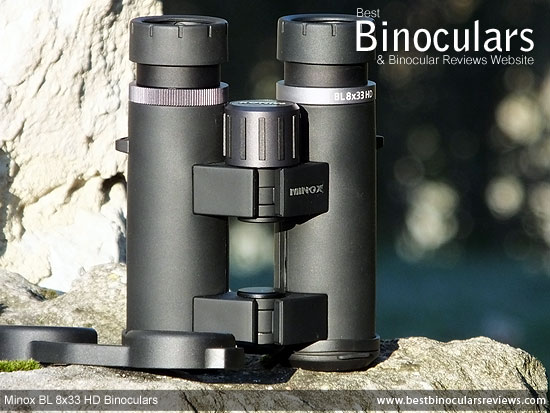 Optical Stats
8x33 Configuration
The majority of mid-sized bins use 32mm objective lenses, however Minox have decided to use slightly larger 33mm ones and so I thought I would quickly go over the potential benefits and downsides to this:
Due to the little more glass needed, larger lenses are going to be a little heavier and more expensive to make. However in this instance the amount is so small, I am sure that in both accounts the difference will be tiny. Likewise, larger diameter lenses also require larger barrels and shells to accommodate them, which in turn means you have a larger and potentially heavier binocular in your hands.
The exit pupil produced by an 8x32 binocular is 4mm wide (32 ÷ 8 = 4), whereas by increasing the objective lens diameter by 1mm, you how a fractionally larger 4.125mm exit pupil. Once again, because the difference is so minor, I doubt if this alone really makes for a perceivably brighter image in low light.
Field Of View
Like the older Minox BL 8x33, these produce a fantastically wide field of view (FOV). At 421ft wide at a distance of 1000 yards, they are better than just about any other mid-sized bin that I have tested and indeed they beat most full sized 8x42 binoculars as well.
There are many advantages to a wide FOV, but the main ones are that it makes finding your target that much easier and secondly, if you are tracing something fast and erratic moving, like birds and some other wildlife it is much easier to do so.
As a binocular for watching sports or wildlife out on the planes, it is also great as it means that you get to see more of the whole picture at once, without having to pan about.
Close Focusing Distance
Minox specify that the minimum close focus distance is 8.2ft (2.5 m), which is the figure I use when rating them, but on the pair that I was testing I measured it to be actually a little further at 8.8ft (2.68m).
I rate anything under 6ft as being excellent, so either way this distance is ok, but not great. Thus I would not recommend these if one of your main interests is to view objects like butterflies from close ranges.
Eye-Relief
The 17.5mm of eye-relief is excellent, especially for a mid-sized bin and makes it onto the list of bins with long eye-reliefs. This distance should be more than enough for most users who wear glasses.
BBR Rating for Optical Stats: 9/10
Image Quality
The hardest part of each review I write is always to judge the image quality. In an effort to make sure that I am as objective and as consistent as possible, I compare the binocular under review (in this case the Minox BL 8x33 HD) with a range of similar benchmark binoculars that I have in my possession.
In this case I chose my mid level control 8x32 control's and for interest and as I still had them with me, I compared the view through these with that of the Minox BL 8x44 Binoculars as well.
I conducted these comparison tests twice. Once in good light around mid-day and then again as the sun was setting in what I would describe as poor light levels.
Color Fringing
In updating the BL line, the main improvement Minox have made is to include extra low dispersion glass elements within the lenses that has the potential to produce a sharper image with lower levels of chromatic aberration, which is the main cause of color fringing, thus I was expecting them to really perform well in this area.
Well, I was not disappointed, by looking very closely at the edges of objects that contrast greatly with their background, I could sometimes just make out a very thin blueish line. This amount of color fringing is in my experience very minimal and as good or better than most bins I look through and absolutely nothing to worry about as you can only really find it by looking really hard for it.
Going back and comparing my notes on the older non HD Minox BL 8x33's this amount of color fringing is also an improvement on them, which is great to see.
Image Flatness & Softening
The distinct lack of observable softening of the image, even right at the edges of the view is for me a real highlight on these Minox binoculars. In this area, they are up there with the very best.
As well as this, I never noticed any obvious signs of distortions known as "pin-cushioning" or "barreling", which can make the viewable image seem like it is curving inwards or outwards respectively.
Contrast & Color Reproduction
The observable image to me looks nice and normal, by that I mean there is no obvious tinting that I sometimes see on bins that use cheaper glass in the lenses and prisms or which have artificial tints on the lenses, that can be used to cover up some other aberrations.
As well as this the colors are bright nice and vivid, with a good amount of contrast that goes a long way to giving the image a nice sense of depth.
Brightness
In good light, when the size of the exit pupil was not a limiting factor, the image brightness looked to be the same between these, my 8x32 controls and that of the Minox BL 8x44 HD binoculars.
It was in poor light that things got a little more interesting. To my eyes there was a slight improvement in terms of brightness between these Minox 8x33 BL HD binoculars and that of my mid-level control and thus within their category of mid-sized binoculars I would rate their low light performance as very good.
For interest, the 8x44 Minox BL HD did seem a little brighter to me, which is to be expected as even though they use exactly the same quality of glass and coatings, they have substantially larger 44mm objectives that collect more available light. This can also be seen by the fact that an 8x44 binocular produces a 5.5mm exit pupil (44 ÷ 8 = 5.5mm), whilst the 8x33 binocular has a smaller 4.125mm exit pupil, which essentially means a smaller shaft of light gets to your eyes.
However I would like to say that the difference that I saw was very small and I had to check a number of times just to make sure, which to me is impressive.
Best Binoculars Rating for Image Quality: 8/10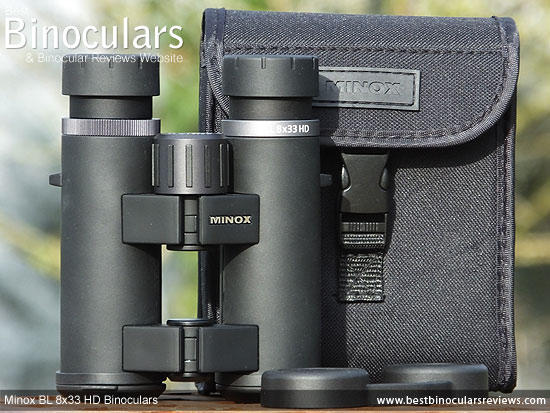 Included Extras:
Carry Case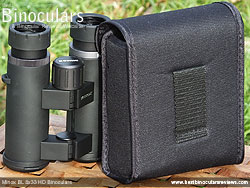 The case that came with my test pair looked to be well made with good quality stitching.
It is a soft case with an average amount of padding that will offer some protection against light impacts, but not more. The material used is not waterproof, but will provide some protection against light rain.
The fold-over lid is held closed using a quick release clip. This is a good secure way of fastening it and I prefer it to options like Velcro and some Zip fasteners which can make a lot of noise when opening that in certain circumstances can lead to you startling a bird or other wildlife.
One the rear there is a simple belt loop and whilst it does not come with it's own carry strap, you can use the binoculars neck strap by threading them through the sides of the lid when the binoculars are inside.
The binoculars fit nice and snuggly inside and unlike many you can (just) close the lid when the eye-cups are extended and with the rain-guard attached on the bin, which is good to see.
The case does not contain any extra pockets either internally or externally.
So overall I would describe it as being functional, but pretty basic and probably a little less luxurious than some in this price range.
Neck Strap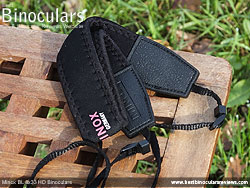 In general, the neck strap is quite similar to that of the carry case. By that I mean it looks to be well made, is functional, but just lacks a little in terms of it's luxuriousness when compared to the actual binocular.
The section that goes around your neck and shoulders is thickly padded and quite elasticated, however at 3.3cm wide, is a little thinner than some, so perhaps does not disperse the weight as the best. However having said that, for a fairly lightweight binocular, this is really not an issue.
The two connectors that join the thin nylon straps the padded section are really good. At first glance they look like they are made from leather with the Minox logo embossed into them, but on closer inspection you find that they are actually made from a very flexible rubber. This works really well and the stitching looks very secure and unlikely to come apart anytime soon.
Objective Lens Caps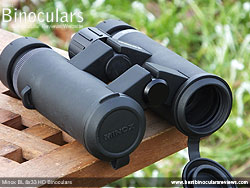 The soft rubber objective lens covers for these Minox BL HD binoculars are excellent.
I love the look of them and their great design ensures a good fit over and into the ends of the barrels, preventing them from coming away very easily by accident, but unlike some also makes them simple to replace.
Each cover also has a separate loop that fits around the barrel and means that they just hang down out of the way under the binocular when you are glassing. I love this system as it helps prevent you from misplacing or loosing them and they are always at hand to quickly replace when you are finished using the bins.
Rain Guard
The ocular lens cover or rain-guard is made from a flexible plastic/rubber. The two cups that fit over each eye-cup are connected via a flexible bridge that enables you to fix it to the bin no matter what setting you have made on the central hinges (IPD setting)
They, like the objective lens covers fit well and won't come away too easily by accident.
There is a loop on the side of the left cup that you can thread the neck strap through should you wish to keep it close at hand at all times.
Cleaning Cloth
The included cleaning cloth is of a reasonable to good quality and is ideal for cleaning of the body and emergency use out in the field. However I still suggest that you get yourself a good optic lens cleaning kit for proper maintenance and lens cleaning.
Quality Control
Within the box you also find a dated and signed slip of paper to prove that the bin has been through Minox's rigorous quality control test.
Instruction Manual
The included instruction booklet is rather generic in that it includes information on all the BL HD models as well as basic information on the parts of the bin, adjusting the eye-cups, focusing etc in a number of languages.
Guarantee
Minox also offer a generous 30 year protection against manufacturing defects and functional failures. However you need to remember to register the bins with them within 30 days from the date of purchase. Full details are contained within a booklet supplied with the bins.
Best Binoculars Rating for Extras & Attention to Detail: 7/10
8x33 Minox BL HD Comparisons
The table below compares some of the main stats and features of these binoculars, along with a number of other similar sized instruments:
| | | | | | | |
| --- | --- | --- | --- | --- | --- | --- |
| | Minox BL 8x33 HD | Celestron 9x33 Granite | Kowa Genesis 10x33 XD | Minox 8x33 BL Binoculars | Pentax 9x32 DCF BC | Swarovski 8x32 Traveler EL |
| Price (approx): | $350 / £380 | $400 / £300 | $1200 / £900 | $470 / £370 | $250 / £300 | $1639 / £1360 |
| Weight: | 22.9oz (649g) | 20.1 oz (570 g) | 20.8ozs (590g) | 22.9oz (650g) | 17.6oz (500g) | 21.5oz (610g) |
| Length: | 5.83in (14.8cm) | 5.4in (13.8cm) | 5.2in (13.3cm) | 5.4in (13.7cm) | 5.0in (12.5) | 5.4in (9.8cm) |
| Width: | 4.92in (12.5cm) | 4.9in (12.5cm) | 4.1in (10.3cm) | 5.1in (13cm) | 5.4in (13.8) | 4.5in (11.4cm) |
| Eye Relief: | 17.5mm | 14.1mm | 15mm | 17.5mm | 16mm | 15mm |
| Close Focusing Distance: | 8.2ft | 8.2ft | 4.9ft | 8.2ft | 8.2ft | 7ft |
| Field of View at 1000yds: | 421ft | 378ft | 357ft | 421ft | 351ft | 420ft |
| Exit Pupil | 4.1 | 3.7 | 3.3 | 4.1 | 3.6 | 4 |
| Twilight Factor | 16.2 | 17 | 18.2 | 16.2 | 17 | 16 |
| ED Glass | Yes | Yes | Yes | No | No | No |
| Phase Correction | Yes | Yes | Yes | Yes | Yes | Yes |
| Prism Coatings | Not Sure | Dielectric | Dielectric | Not Sure | Silver | Dielectric (I think!) |
| Lens Coatings | Fully Multi-Coated | Fully Multi-Coated | Fully Multi-Coated | Fully Multi-Coated | Fully Multi-Coated | Fully Multi-Coated |
| Waterproof | Yes | Yes | Yes | Yes | Yes | Yes |
| Fogproof | Yes | Yes | Yes | Yes | Yes | Yes |
| Tripod Adaptable | Yes | Yes | Yes | Yes | Yes | Yes |
Conclusion
Strong Points: The very wide field of view on the Minox BL 8x33 HD binoculars is excellent and a real highlight and as you can se from the table above even just beats the top of the range Swarovski 8x32 Traveler bins.
As I expected from a hand finished binocular made in Germany, the build quality and overall finish is excellent and whilst they may not incorporate all the high end materials used by far more expensive products, they look and feel as if they do.
Details like the eye-cups, diopter and focus adjustment wheels are all excellent. They are as smooth as silk, work perfectly and look and feel robust, which is quite often not the case within this mid to high end price bracket.
The quality of the optics and their coatings used is as far as I can tell about as good as it gets at this level, which in turn translates to a really great quality image. Their low light performance is also very good for a mid-sized binocular.
Weak points? Compared to the quality of the actual binocular, I was a little disappointed with the level of the neck strap and the carry case.
It is not that they lack in terms of functionality, just that they don't ooze as much class as the main product.
Still if this is an area where Minox had to cut back to keep costs down, I am happy with that and far prefer it than if they had compromised on the build quality or indeed the quality of the optics and coatings used.
Close focus distance is a little long. For most people this will not be an issue at all, but for those who like viewing objects close up, this may be a deal breaker.
Ideal Uses: Mid sized binoculars are by their very size a bridge between full sized and compacts. The idea being that they are just a little easier to carry about with you. This for camping trips or on holidays like perhaps a safari where you have a little luggage space, they are perfect.
Their very wide field of view will bring a huge smile to most birders wildlife observers and hunters, where being able to quickly locate and track your intended target is vital. Their smaller size will also help those who travel over larger distances in search of birds or wildlife.
Once again their small size and wide field of view also makes them a great option for most outdoor sports, including football, motor sports, cricket and horse racing.
Acknowledgements
I would like to thank Minox UK for organizing and then sending these BL HD's over to me to review.
Honest Review
Having said that, I would also like to reassure anyone reading this review that the opinions I have expressed on this page are completely genuine and my honest opinions of the product.
I am in no way compensated by the manufacturers or indeed by anyone else for writing it or any other review here on BBR.