In optics, magnification and the field of view are almost always related and as with most things in life nothing is perfect and you have to make compromises. So if you want a really wide field of view, you usually have to sacrifice on power, whilst if a more powerful magnification is important to you, you usually have to accept that your field of view is going to be compromised. That is one of the main reasons why most good general birding binoculars only have 7x or 8x magnification, so as to get a nice wide field of view and the people who crave more power, like those going on safari to view Africa's large mammals on the wide open plains generally opt for a 10x magnification.
But what if you want the best of both worlds? What for example if you want to go on safari and look at the elephants, lions and the many antelope species out on the plains as well as go birding in the forests? Well Pentax have obviously spotted a gap in the market and are one of the few brands that I know have that have produced a number of binoculars with a 9x magnification, that offer a little more power than the average 8x binocular, but should in theory still have a fairly wide field of view. A compact version is the Pentax 9x28 DCF LV binoculars and below is my full review:
The Body
For a compact roof prism binocular, these 9x28 Pentax DCF LV binoculars have a fairly common single hinge design with a central focussing wheel and an internal focus lens construction. I really like the fact that the objective lenses are set quite deeply within the ends of the barrels (about 5mm) as this can really help protect your lenses when you are out in the field.
On the underside of the body there are two thumb indents in the rubber armor on each barrel, these help by encouraging you to hold the binoculars in the right place, to ensure that they are nicely balanced when holding them up to your eyes.
Weight
At 12.9oz (365g), it must be said that they are fairly heavy when compared to others in their size class, but you have to be a little careful when comparing weights as sometimes very light binoculars are made of much weaker and inferior materials (like plastic). However I can gladly report that this is definitely not the case with these - take a look at the section on build quality below.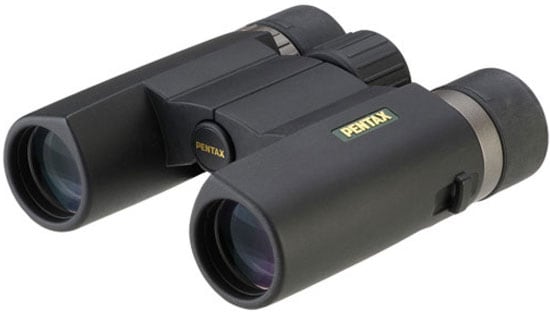 Dimensions
The dimensions (LxWxH) of these 9x28 Pentax binoculars when fully opened are 4.6in (11.7cm) x 4.5in (11.5cm) x 1.7 in (4.4cm), which makes them about average for a roof prism compact.
The The Eye-Distance Adjustment Range (Interpupillary Distance ) can be adjusted from a minimum of 2.3in (58mm) to a maximum of 2.9in (77mm)
When folded (Interpupillary Distance set to minimum), they are 3.5in (9cm) wide, which is pretty standard, and is more compact than most porro prism compacts and they should easily fit into most coat pockets. It is however a bit wider than other roof prism compacts that feature a duel hinge design. To demonstrate what I mean, take a look at the image below shows the difference in width of the duel hinge design on the Steiner Wildlife 10x26 and the single hinged Barr & Stroud 10x25 Sahara when folded. This may be something you wish to consider if you like to carry your binoculars about with you in a small shirt pocket for example.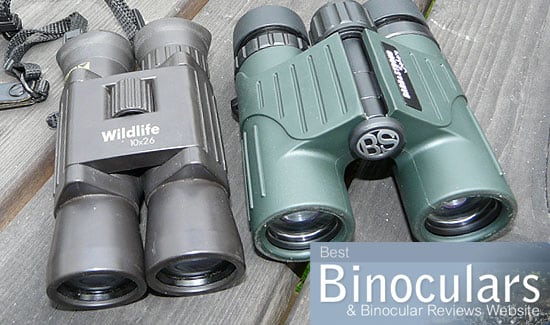 BBR Rating for Body Stats: 6/10
Build Quality
Because a compact binocular is so small and simple to pack away, I end up taking them with me just about everywhere I go. But this also means that they tend get banged about a lot more than my full sized optics that only come out of their case when I specifically need to use them. So for me, a really good compact not only needs to be small and have great optics that produce a quality image, but needs to be a fairly tough little beast as well.
I could not find any details on exactly what the frame is made of and even though I could not test them to destruction (I have to return them!) they do feel very robust and I imagine it would take quite a bit to break them. Like most other modern binoculars, the shell has been covered with in a hard and fairly thick rubber coating. This not only helps with grip, but will also protect them from scratches as well as small knocks and bumps. This is important as I will often carry my compact with me in a bag that contains many other things like money and keys that could easily scratch and damage my binoculars.
This black rubber armouring also ensures that your binoculars are less reflective and less than if the bare metal was exposed and will dampen down any sounds, if say your watch or ring strikes against the barrel, which is important if you want to remain unnoticed when observing timid birds and other wildlife.
Waterproof & Fogproof
These Pentax binoculars are waterproof to 1 meter (JIS-Class 6) which means that I wouldn't go swimming with them, but they should easily handle most wet weather conditions. Important to remember that waterproof binoculars not only prevent moisture from getting into them, but these seals will also stop also any other small debris and dust from getting into the system which could lead to the view through them being spoilt.
As well as being waterproof, they have been "nitrogen purged" which means all the internal air has been replaced with dry nitrogen gas which protects them against internal fogging. Fogging can occur when you get rapid temperature changes or in places that have a high humidity level. A secondary benefit of this is it protects the inner workings from corrosion because there is no internal moisture.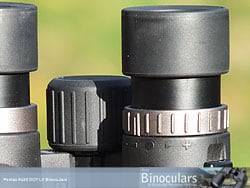 The Eyepiece & Eye Cups The eyepiece housing looks to be made from aluminium or something similar and the twist-up eyecups look to be made from a hard plastic, which has then been covered in a thin soft rubber coating. They are fairly comfortable even when pushed quite firmly against your face. The ocular lens has a diameter of 17mm, whilst the eyecup has an external diameter of 34mm.
The twist-up (helicoid) mechanism on these Pentax binoculars is excellent - it is very smooth and has 4 fixed stops (2 intermediate), meaning that eyeglass wearers have a good amount of flexibility when adjusting the eye-relief to suit their exact needs. The maximum of 18mm of eye-relief is excellent and they easily make it onto my list of long eye relief binoculars. It also means that this should be more than enough for most people who wear glasses to be able use these optics without having to remove their glasses and still get the full field of view without any vignetting. Non-eyeglass wearers will just use the eyecups in the fully extended position.
Diopter Adjustment
As with most roof prism binoculars, the diopter adjustment is located on the right barrel, between the eyecup and the barrel. This is used to correctly focus the binoculars to your particular eyesight and only really needs to be set up once when you use your binoculars for the first time.
You can adjust the compensation from -4dpt to +4dpt and the ring itself has ridges on it and the mechanism has fine click stops that make it simpler to keep it at your desired location. On the pair that I tested, I thought it was tight enough to prevent it from being moved accidentally, yet not too tight to make adjusting it difficult. Apart from the central (neutral) point and a "+" and a "-" sign, there are no markings on the body of the barrel, so if the setting for your eyesight is not neutral, I would suggest making your own mark just incase it did move accidentally, or if you needed to share your binoculars with someone else.
Focusing
Like most roof prism compacts they have a centrally located focussing wheel. I could not see what it is made from, as it has been covered in a soft rubber coating. This coating has nice deep ridges on it to help with grip. The wheel itself turns smoothly and is pretty large for a compact (diameter of 30mm) which makes using them even with thick gloves on really simple.
The focusing mechanism is geared so that it only takes about 3/4 of a turn of the wheel to go from infinity to it's minimum focusing distance of 3m (9.8 feet). What this means is that focusing from near to far (or vise versa) is very quick (some take two full turns or more). Such an aggressive mechanism can sometimes make fine tuning your focus to get it exactly right is just a little trickier, but is not something I had a problem with on these 9x28 DCF's
Best Binoculars Rating for Body Construction Quality: 7/10
The Optics

on the DCF LV 9x28

This roof prism Pentax binocular uses a center focusing (internal focus) lens construction. The eyepiece consists of 5 elements in 4 groups, with the outermost ocular lens having a diameter of 17mm. The 28mm objective lenses consists of 3 elements arranged into 2 groups. Pentax have used good quality BaK-4 roof prisms as opposed to the cheaper and inferior BK-7 prisms. The prisms and lenses also have a number of coatings on them that help to increase their transmittance and the quality of the image produced which I will go thorough in more detail below:

Lens & Prism Coatings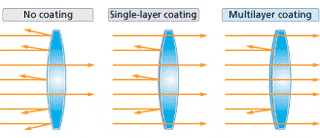 The lenses are fully multi-coated, which means all air-to-glass surfaces have received multiple layers of anti-reflective coatings, which has a dramatic effect on the amount of light that gets transmitted to your eyes and not reflected away. The result is that they produce a brighter image and therefore have a better low light performance.
I have often tested binoculars with small objective lenses like these 28mm ones, but with high quality anti-reflection coatings on all surfaces and they easily outperform binoculars with much larger objective lenses that have fewer or no coatings. It is important to understand the terminology that manufacturers use - fully multi-coated lenses like these are the best, whilst lower quality optics that only add multiple anti-reflection coatings to the outer surfaces of the lenses (Multi-Coated). Cheaper still are optics that only have a single layers of anti-reflection coating added to the outer lenses (Coated). The very cheapest optics have no anti-reflective coatings at all and I highly recommend staying well clear of these.
The table below shows Transmittance levels by type of coating:
| | | |
| --- | --- | --- |
| | Per Single Lens Surface | 10 Lens & Prism Surfaces |
| No Coating: | 96% | (0.96) x Power of 10 = 0.66 66% |
| Single-Layer: | 98.5% | (0.985) x Power of 10 = 0.86 86% |
| Multilayer Coating: | 99.5% | (0.995) x Power of 10 = 0.95 95% |
Pentax have also applied phase-correction coatings to the prism glass, which is only usually only found on higher end optics. This is done because when light waves are reflected at the opposite faces of a roof prism, phase shift occurs which causes a marginal deterioration in image sharpness. So what these phase correction coatings do is keep the light in the correct color phases and therefore produce images that have a higher resolution, better contrast as well as having a better color reproduction than roof prism binoculars that don't have these coatings.
In their marketing material, Pentax also state that they have used a "Sub-prism-Super-refraction coating." I have not been able to find out exactly what this is, but my guess is that it is a highly reflective mirror coating used on the prism. These coatings are often found on the better roof prism binoculars because whilst this prism design has many advantages over the porro prism design, it does have one major problem in that one surface of the prism does not have total internal reflection. Therefore to get the best optical performance it is very important for to raise the reflectivity of this surface and to do this, a mirror coating is used on those surfaces.
On most lower quality optics, an aluminum mirror coating is used due to its low cost and fairly high reflectivity of 87% to 93%. A silver mirror coating is used when a higher reflectivity (reflectivity of 95% to 98%) is needed and the benefits outweigh the increase in cost. The practice of forming high reflectivity optical coatings with silver also takes substantially more effort than with aluminum, in part because of specific material problems that arise from the aggregated structure of depositing thin metallic films.
Whilst these silver mirror coatings are excellent and increase the reflectivity compared to most standard binoculars on the market, some optical manufacturers go even further and use dielectric prism coatings that have a reflectivity of more than 99% - but these are usually only found on binoculars at the very top end of the market.
As I said, I am not sure if, or which one of these coatings are used on this Pentax, but my guess is that it would either be a sliver or aluminium one as if it was a dielectric mirror coating, they would definitely highlight the fact.
Best Binoculars Rating for Optical Components Quality: 8/10
Optical Stats
Field Of View (FOV)
The field of view for these 9x28 binoculars is 98m at 100m / 294ft at 1000 yards (5.6°) - which is pretty good. As suspected it may not be quite as wide as the very best 8 compacts out there, but is better than most 10x ones which is exactly what I think Pentax set out to achieve.
To put it into perspective below are the field's of view of some similar 8x and 10x binoculars:
Close Focusing Distance
With these Pentax DCF LV series binoculars, the minimum distance that you can focus on an object is at 3m (9.8 feet) away, which is not quite as good as the very best. I consider anything under 6ft to be very good, so if you are looking for a compact binocular specifically for things like observing butterflies then I do not recommend getting these. Rather take a look at these close focusing binoculars.
Eye-Relief:
Their maximum eye-relief of 18mm is excellent and and they easily make it onto my list of long eye relief binoculars. It also means that this should be more than enough for most people who wear glasses to be able use these optics without having to remove their glasses and still get the full field of view without any vignetting.
Best Binoculars Rating for Optical Stats: 7/10
Image Quality
Testing was carried out on an overcast and dull morning and at sunset. As I do for all my reviews, I compared the view through these compact Pentax DCF LV 10x28 binoculars with that of my control binoculars with the same or similar configuration:
Contrast & Colour Reproduction
In my opinion, the color reproduction feels very natural unlike the artificial tints that you sometimes find on cheaper binoculars and the image contrast is also very good. Once you have correctly focussed on an object the image is pin sharp and I also thought that the depth of field was also pretty good, which is an advantage that these have over most compacts with a 10x magnification.
Image Brightness
In terms of image brightness, there was a small improvement between these and my benchmark compact binoculars, which was more noticeable when the light was very poor and so because of this I rate them well above average in this department.
More about Image Brightness & Low Light Performance
Being able to capture as much light as possible is most important in low light conditions, like early in the morning, just before sunrise or even in thickly wooded areas, this also happens to be where and when you find that most birds and other animals are at their most active. Full sized binoculars with larger 42mm objective lenses will capture more light, but will also be bigger and heavier and so less convenient to carry about. Compact binoculars with smaller lenses will let in less light, but will of course be much more convenient to carry about - so it is all about compromises and deciding what is most important to you. I would much rather have a compact binocular with me at sunset to enjoy a particular bird than no binocular at all because it was too much of a pain to carry about with me.
What is also very important to remember that the size of the objective lens is not the only factor in ensuring how bright the image you see through them is. Image brightness (and quality) is also very dependent on the quality of the optical system and their transmittance levels. Good coatings on the lenses and the prisms can double the amount of light that gets through the binocular, when compared to those that have none or poor quality coatings and as we have already discovered these Pentax binoculars use very good quality glass and coatings and that is why they produce such a good quality and bright image even though they have relatively small 28mm lenses.
Color Fringing
The easiest way to look for any signs of color fringing on the edges of an object is to focus on a light coloured or even white object sitting directly in front of a dark backgrounds. This is sometimes a hard one to judge as sometimes I can see some color fringing (chromatic aberration) and the next moment I can't. The same was true with these, which is a good thing because it means that unless you are really looking for it, it is not noticeable at all.
Softening
The amount of softening of the image right at the edge of the view is very minimal and only really noticeable if you are actually looking for it. This is very impressive and in this area, it makes theses as good as or better than most in this class and even as good as many binoculars that are far more expensive than these.
Overall and to sum up: The view through these 9x28 Pentax's is as good as or better than any other full compact that I have seen and as such I rate them as excellent.
Best Binoculars Rating for Image Quality: 8/10
9x28 Pentax DCF LV Comparisons
Below is a table comparing a few of the main specifications of this Pentax binocular with a selection of other roof prism compact binoculars:
| | | | | | | |
| --- | --- | --- | --- | --- | --- | --- |
| | Pentax 9x28 DCF | Opticron 10x28 Oasis | Steiner 10.5x28 Wildlife Pro | Leica 10x25 Trinovid | Minox 10x25 BV | Kowa 8x25 BD |
| Price (approx): | $200 (£175) | £199 | $330 (£280) | $630 (£440) | $160 (£110) | $300 (£300) |
| Weight: | 12.9oz (365g) | 9.2oz (260g) | 12.9ozs (366g) | 9ozs (255g) | 9.14ozs (259g) | 11.3ozs (320g) |
| Length: | 4.6in (11.7cm) | 4.2in (10.6cm) | 5.0in (12.7cm) | 4.36in (11.1cm) | 4.29in (10.9cm) | 4.4in (11.2cm) |
| Width: | 4.5in (11.5cm) | 4.1in (10.5cm) | 4.2in (10.7cm) | 3.63in (9.2cm) | 3.85in (9.8cm) | 4.2in (10.7cm) |
| Eye Relief: | 18mm | 15mm | 13mm | 14.6mm | 15.5mm | 15.8mm |
| Close Focusing Distance: | 9.8ft | 12.8ft | 8.5ft | 16.4ft | 4.9ft | 6.0ft |
| Field of View at 1000yds: | 294ft | 258ft | 270ft | 273ft | 290ft | 331ft |
| ED Glass | No | No | No | No | No | No |
| Phase Correction | Yes | Yes | No | Yes | No | Yes |
| Lens Coatings | Fully Multi-Coated | Not Sure | Multi-Coated | Fully Multi-Coated | Multi-Coated | Fully Multi-Coated |
| Waterproof | Yes | Yes | Yes | Yes | Yes | Yes |
| Fogproof | Yes | Yes | No | Yes | Yes | Yes |
| Duel Hinge | No | Yes | Yes | Yes | No | No |
Whilst comparing a mid priced binocular like the Pentax DCF with other binoculars that are far more expensive may seem a little unfair at first, but as long as you keep in mind the price difference, it does throw up a few interesting points and can highlight a few of their relative strengths and weaknesses. For instance as you can see, one of their real highlights is the extremely long 18mm of eye-relief and as predicted their field of view is wider then most 10x compacts apart from the Minox 10x25 BV.
Included Extras & Attention to Detail:
Neck Strap
Not much padding is needed on such small and lightweight optics, so with a pair like these, I never expect too much. Having said that these Pentax binoculars come with a pretty basic nylon neck strap without any padding at all. On some compact binoculars, you do find more luxurious neck straps and even though they are probably overkill, it is still nice to have.
Carry Case
The quality of the soft carry case looks to be very good and the bottom third of it having a nice soft leather finish to it and is padded adequately enough for a compact. The binoculars fit into the case very snugly, so snug that to close the Velcro fastened lid, you have to fully retract the eyecups. It does not come with it's own strap, so to carry it on your shoulder, you feed the binocular's neck strap out the sides of the lid when they are in the case.
There is no loop on the rear of the case that can be used to thread your belt through and there are also no extra pockets on the outside or inside which can be useful for carrying things like lens cleaning cloths, some money, keys or other small personal items.
Lens Covers
These DCF LV's come with a basic plastic eye-piece covers and they have a loop on them that you can use to thread the neck strap through. The covers fit very well over the eye-pieces and should not accidentally fall off. I like the fact that they have a flexible bridge between the two cups that allow for the different distances between the two eyepieces depending on your inter-pupillary adjustment. This is something that is often overlooked by manufacturers meaning that the eyepiece covers wont fit, unless you store your binoculars fully open, which can be a real pain as you have to adjust them every time you use and replace your binoculars.
Guarantee
In the US, the Pentax DCF LV series comes with what they call their "Worry Free Warranty". This is available on all PENTAX Sport Optics products purchased in the United States, on or after March 1, 2006, from an authorized PENTAX Sport Optics dealer. If your PENTAX Binocular, Spotting Scope or Riflescope purchased in the USA from an authorized PENTAX Sport Optics dealer requires repair, PENTAX will repair or replace it to the original purchaser (even if damaged by fault) for a charge of $19.95, to cover handling and return shipping. This warranty does not cover cosmetic damage, theft or loss. (Replacement may be with comparable model at PENTAX's discretion if the original model is no longer available.)
I have been unable to find out the exact warranty information in the UK and other countries, but am sure that Pentax will offer the same kind of service.
Best Binoculars Rating for Extras & Attention to Detail: 6/10
Conclusion
Strong Points: I really like the 9x magnification and they work perfectly as a halfway point between the more conventional 8x and 10x compacts, with just a little more reach than those with 8x, but without sacrificing too much field of view. Their optical performance is very good and they compare very well with compact binoculars that are far more expensive than these.
Weak points? Whilst they are as compact as most out there and will easily fit into your jacket pocket, for them to be absolutely perfect for me, I kind of wished that they had the duel hinge design that would enable them to fold away into an even smaller shape and fit into my shirt pocket - but perhaps I am just being greedy!
Ideal Uses: Like most compact binoculars, these are ideal if you are looking for a take anywhere pair of binoculars, perfect for camping and I would take them hiking with me even if spotting birds and wildlife was not my main focus. I also see them sitting in the cubbyhole of my car, or in my golf or kit bag to be used at any time. Compacts like this are also great for taking to most sporting events.
These also make perfect safari binoculars and most other wildlife holidays as the compact design makes the easy to pack away in your luggage and to carry out in the field. Their rather unique 9x magnification is powerful enough to bring distant wildlife into range, yet they still have a pretty wide field of view to help with quickly spotting nearby birds.
Overall, I think with the Pentax 9x28 DCF LV you get a really good binocular for your money with an excellent optical performance to price ratio.
Acknowledgements
I would like to thank Pentax UK for sending this binocular to me to review - but would also like to point out that all the reviews on this site, including this one are my opinion of the binocular and are not influenced in any way by manufacturers, distributors or suppliers.