On my recent visit to their headquarters in Germany, the guys at Steiner were keen to show me their new products, which included their brand new and really interesting Porro prism Predator AF binoculars:
Steiner Predator AF Binoculars
Aimed specifically at the hunting sector they have a whole host of features that are designed to assist the hunter like special lens coatings that enhance the reddish brown colors of game so that they stand out against the background which I will go through in detail in this review.
Up until now, Steiner Predator binoculars consisted of only roof prism models, but now they have decided to add these two Porro prism models to the series which is really interesting as they potentially offer us a number of advantages.
Available in either a full-sized 10x42 configuration or the mid-sized 8x30 arrangement, Steiner Optik offered me a set to test and then fully review. I decided that because I was about to go travelling to Southern Africa, the smaller and thus easier to pack 8x30 version would be better for my particular needs.
Added to this, I decided to review the more compact 8x30 model because I was also planning to go on a number of walking safaris, where as well as my binoculars, I would also be carrying my camera. Thus it made sense for me to sacrifice a little in terms of light gathering ability to have a binocular that was a little easier for me to carry.
As for the 10x42 Steiner Predator AF binocular, I can see it being ideal for the hunter who operates in wide open spaces and over longer distances and if you are concerned about size and having to carry your binoculars along with your bow or rifle, you could always use a good Hunting Bino Harness that will free up your hands.
Steiner Predator AF 8x30 Binocular Review
Standout Features & Specifications:
Mid-High Level Binos - approx $340 / £340
Body

Open Bridge Design
Dimensions: 4.7in (11.9cm) x 6.5in (16.5cm) x 2.1in (5.3cm)
Weight 19ozs (539g)
Fully Sealed & Nitrogen Filled Chassis

Material: Polycarbonate - Makrolon®

Optics

30mm Objective Lenses
Porro Prisms
Focus Free / Individual Eyepiece focusing mechanism
Steiner's CAT™ game-sensing lens coatings

Optical Stats

Field of View: 302ft at 1000yds
Min Focus Distance: 20 Yards (60ft)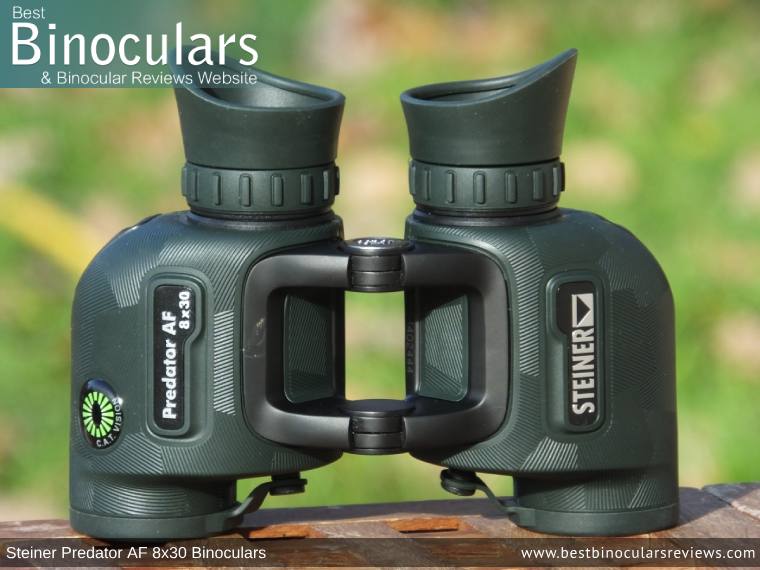 Made in Germany
One aspect that I think is well worth highlighting about these Steiner Predator AF 8x30 Binoculars and indeed all other instruments from Steiner Optics is the fact that they are completely made in Germany. On top of this, apart from the original glass that they get from either Schott (German) or Hoya (Japan) and some of the accessories that they outsource to another German company, every part of the production process is carried out in-house in their facility in Bayreuth, Germany.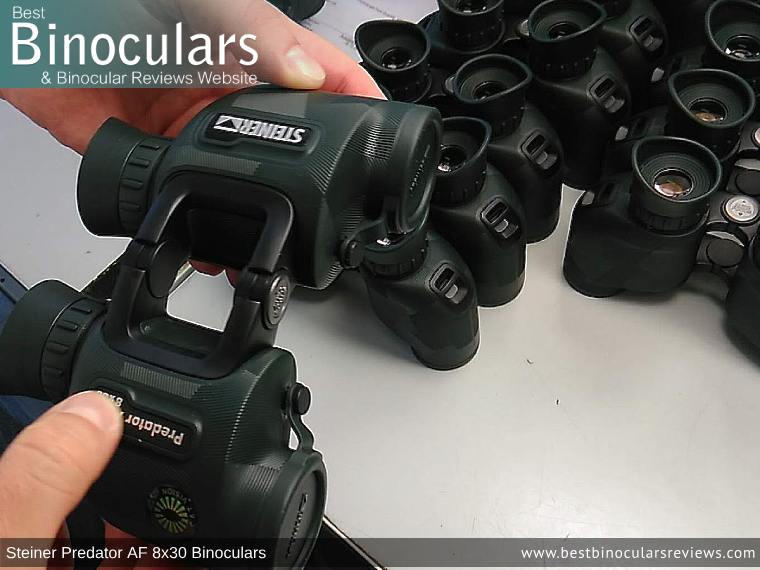 Testing & Quality Control
During my recent visit to their facility, I was also really impressed by just how rigorous their testing of the binoculars, scopes and other equipment is.
I witnessed these binoculars being placed in ovens to make sure they can survive extreme heat, then they also leave them in fridges for extreme cold, there are also pressure chambers (important for transporting in planes, especially for the military) and they have a machine that basically crushes the binocular to make sure that it can withstand very high forces. Note, not every single product goes through these rigors, instead, a selection from each batch is taken and tested to make sure it can handle situations far and above what you would expect to encounter under normal conditions.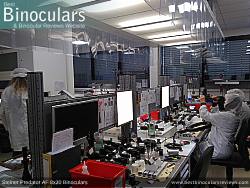 During the entire production process and after testing, each component and then the final binocular is also subjected to a whole host of quality control checks. This includes polishing and shaping of the lenses and prisms, the assembly of the parts and the application of the optical coatings.
The time this takes and the skilled people working on each product and checking them is really impressive and which is why I do feel that it is well worth highlighting in this review.
The Body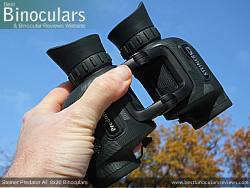 Whilst not as narrow as the straight through design of a roof prism binocular, the more traditional "Porro prism" shape does have a number of advantages, that I think in most cases more than makes up for them being a touch wider:
Firstly because the objective lenses are positioned a little further apart, you get a better stereoscopic view and increase in the depth of view, which for these focus free binoculars is doubly important.
Added to this, the standard "Porro Prism shape" is extremely ergonomic and comfortable to hold onto as it just naturally fits into your hands.
However, Steiner have taken this design a step further with their unique open bridge arrangement:
Open Bridge Porro Prism Design
Whilst there are many open bridge roof prim binoculars on the market and quite a few Porro prism binoculars that have two thin bridges connecting the barrels, all the ones that I have come across have the focus wheel positioned in between these two bridges. But, because these binoculars have a focus free system, they don't have a wheel and thus you get this beautiful open bridge design that I REALLY love on these Steiner Predator AF 8x30 binoculars.
I say this because not only is it extremely comfortable to hold when glassing, but the space left by the vacant focus wheel opens up more of the barrels and makes for a very secure as well as a comfortable region with which to hold onto. Therefore, if you are anything like me and often walk about with your binoculars in just one hand and without a neck strap, then this is a feature worth keeping in mind.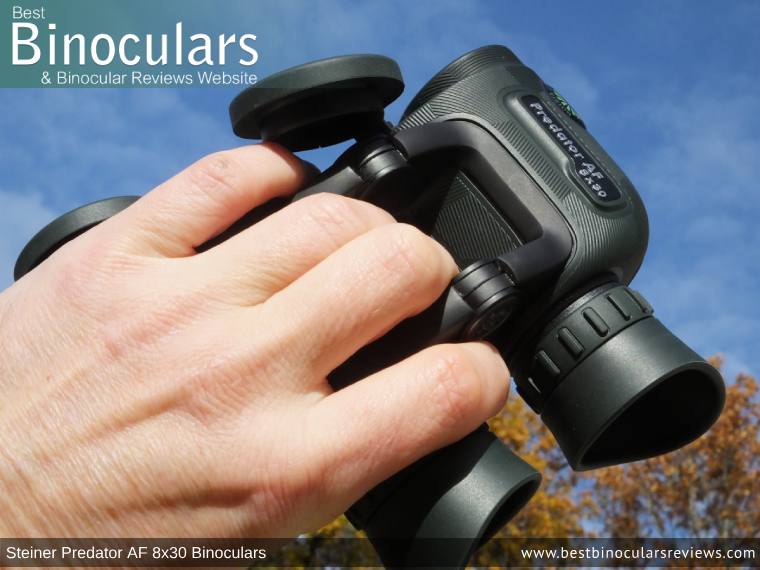 Main Chassis
As with many of their other higher end instruments, Steiner uses a special a type of Polycarbonate called Makrolon® for the main housing.
Produced by Bayer, it's main characteristics include being lightweight and very robust, which I am sure you can appreciate, both of which are highly desirable for this particular application.
On top of this, Makrolon® does not corrode and it also has an excellent resistance to temperature-related expansion and contraction. This is important as excessive movement can cause the optics to become misaligned and is one of the reasons why most Steiner binoculars are guaranteed to continue working even after subjecting them to extreme temperature and pressure changes.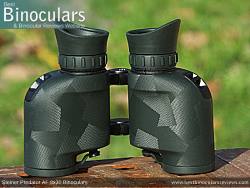 Exterior Covering
Steiner Optics have updated the design of their rubber armor exteriors on many of their models and this includes these Predator AF instruments.
The now have a cross hatch pattern etched into the rubber which not only looks great but certainly significantly increases grip levels and reduces how much light gets reflected off the surface. For hunters who need to remain hidden this is important and when you include the neutral green color then it results in a well-camouflaged instrument.
The material itself remains the same and they use their excellent "NBR Long Life" rubber:
NBR stands for Nitrile butadiene rubber which is far superior to that used on many of their competitors. Often know as Buna-N or Nitrile rubber, one if its main attributes are that it is able to resist the perishing effect that oil, fuel, and other chemicals have on most other types of rubber.
NBR rubber also has an excellent level of resistance to the ageing and hardening caused by sunlight and heat. Whilst these may seem like fairly minor points, from experience I can say that over time the rubber armor on many binoculars deteriorates well before the optics and thus I feel is well worth keeping in mind.
Hinges & Inter-Pupillary Distance (IPD)
As well as having a tough chassis and rubber armor, it is very important to note that the two hinges on my sample were extremely robust and I would say that it would take a massive force to bring the two barrels out of perfect alignment.
The amount of friction/resistance to movement as you open and close the hinges was also good (if perhaps a tiny fraction too tight). However, I far prefer this than to have them open and close too easily as this makes it almost impossible to keep the right setting to match the distance between your eyes and gets very annoying.
Speaking of which, I measure these Steiner Predator AF 8x30 Binoculars to have an Inter-Pupillary Distance (IPD) range of between 5.5cm with the hinges closed and 7.2cm with the hinges fully open.
For a mid-sized binocular this is a good range and means that they will cater for a wide variety of users. Indeed if we take their shape, size, ease of use (no focusing necessary and moderate magnification) and good minimum IPD into account then I would say that as well as for adults, this binocular would make an excellent choice as the first serious pair of binoculars for the teenage hunter.
Fully Sealed
The body on these Steiner Predator binoculars is fully sealed and filled with Nitrogen and thus they are described by the manufacturer as being both waterproof and fogproof.
Not Easily Tripod Adaptable
Most roof prism binoculars make it very easy for you to fix them onto a tripod by unscrewing the dust cap on the front hinge and then screwing in an adapter in its place.
This is not possible on these Steiner Predator AF 8x30 Binoculars, but with their small size and moderate magnification, I doubt there will be many users who would need them to be fixed to a tripod.
However, if you do need this option, all is not lost as it is still possible. Take a look at my section on Tripod Adapters and you will find some Universal Tripod Adapters that use different methods of attachment that will work just fine with this instrument.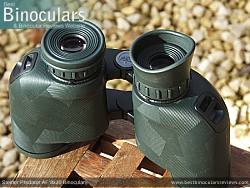 Eye-cups
Made from a soft silicone rubber, which when combined with their face fitting form, it makes for an eye-cup that is about as comfortable as any that I have ever used.
The distinctive eye shield shape is a common feature on Steiner binoculars and is something that I really like. This is because it does an excellent job of blocking out light and any distractions from the periphery of your view.
This may not sound like much, but it really does help in a number of ways.
Firstly it provides you with a far more immersive experience and then secondly for uses like hunting, it helps you block out any distractions and direct 100% of your focus onto your target.
The design is also clever in that the shields can be rotated so that you can ensure that they are correctly positioned, no matter what IPD setting or shape of face you have.
Rather than having twist-up eyecups, Steiner Optics has opted to stay with the simpler fold up/down design on these Predator AF 8x30 Binoculars.
So here you have the option of using the full amount of eye-relief, or if you wear glasses, fold them down to reduce the gap between the ocular lenses and your face to a minimum. In this situation, your glasses take up this extra space and thus it allows you to continue to wear them take in the full field of view.
Whilst this works well and will be more than adequate for most users, however, it is not as customizable as the best good twist-up eyecups.
For more on this take a look at my article on How To Use Binoculars With Glasses: Eye-relief & Eye-cups Explained.
Always in Focus
The "AF" in their name indicates that these Steiner Predator AF 8x30 binoculars use their "Sports-Auto-Focus" system.
Whilst somewhat misleading, it essentially means that once you have adjusted the diopters (see below) to match that of your particular vision, everything from 20 yards (60ft / 18m) away right to infinity will be sharp and no focus adjustments are necessary.
The massive advantage of this fixed or always in focus system is that once they have been set up, the time it takes to lock onto a subject is reduced and onto of this, it is much easier to use these binoculars, especially with one hand as you do not have to make any adjustments.
So at one moment you could be observing a bird in a nearby tree and the very next viewing some deer on a distant field.
The downside to Always in Focus binoculars is that to achieve such a deep field of view, the minimum focus distance is relatively long and thus these are not ideal should you often like to observe objects from very close range. Note: You can get around this somewhat by adjusting each of the diopters, which will allow you to reduce the minimum focus distance a little, but even so this is not as effective as a standard binocular at close range.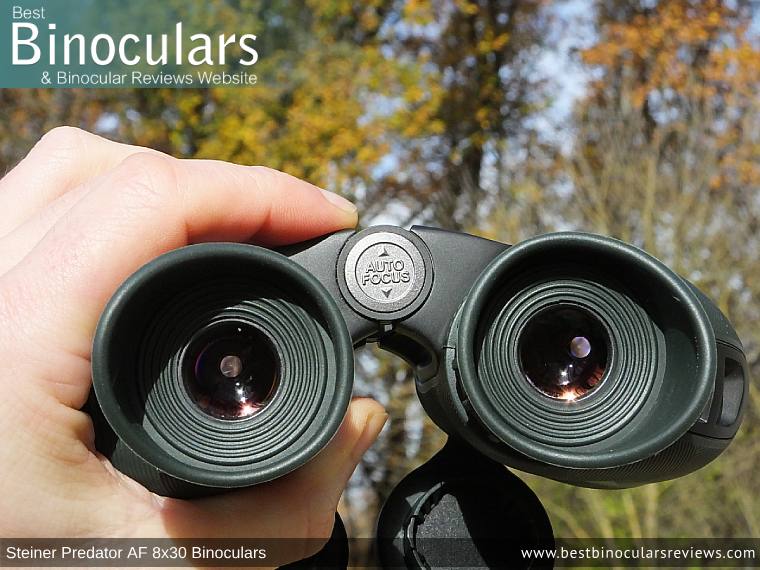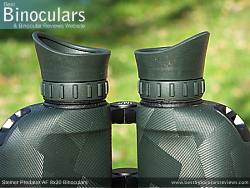 Diopter Adjustment
Most binoculars that have a focus wheel also have a single diopter on one eyepiece. This enables you to calibrate the binoculars to your particular vision and compensate for any differences in vision between your left and right eyes.
On these Steiner Predator AF binoculars and indeed most other always in focus/focus free binoculars, there is a diopter on both eyepieces. This increases the range of adjustments that can be made and so can accommodate more users and if you wish it also makes it possible to reduce the minimum focus distance a little if you moving both diopters by the same amount.
Whilst this is a little more time consuming than using a binocular with a single focus wheel, it does mean that if you have to focus on something nearer to you, it is possible.
Rating for Body Construction Quality: 8/10
Weight
As you can see from the comparison table below, these Steiner Predator AF 8x30 binoculars sit around mid-table in terms of their weight when compared to a wide selection of other mid-sizes binoculars.
Keep in mind that whilst they are not the lightest in this size class, they are by no means heavy and compare well against other higher quality instruments. They are also noticeably more lightweight than most quality full-sized (42mm) bins.
Dimensions
Looking at the table above, you will also notice that compared to a roof prism binocular these Steiner AF binoculars, like most that porro prism instruments are a little wider, but also a little shorter.
If the width is super critical to you, this may be a factor, but for me the advantage of the more comfortable shape to hold and the better stereoscopic image created by the wider set objective lenses more than makes up for this.
BBR Rating for Body Stats compared to Mid Sized Bins: 7/10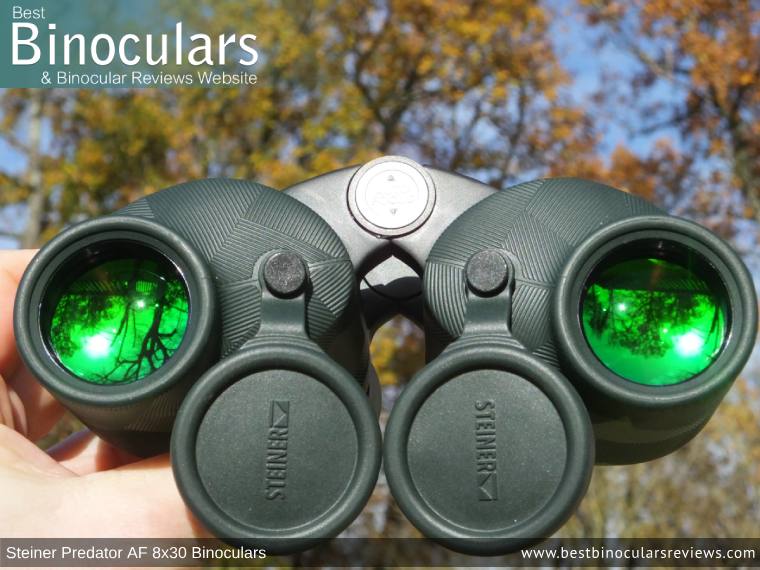 The Optics
Optical Coatings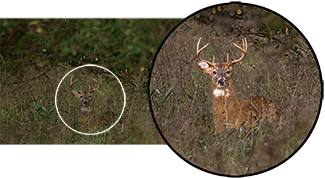 As with all other Steiner Predator binoculars, one of the standout features is that these use special lens coatings that help certain game and other wildlife like deer stand out against their environment.
Know as their CAT™ Color Adjusted Transmission, I found that it essentially made green colors less vibrant and emphasized the orange-brown colors more.
At first, I was a little sceptical as to how effective this would be, but I can honestly say that whilst it is subtle, it most certainly works and for hunters/wildlife observers in some environments this is of great benefit.
One thing to keep in mind, especially if you are using these binoculars to identify things like birds, is that the colors that you see through the Steiner Predator AF Binoculars are not true to life and you have to make allowances for this.
A good example of this was on a bush walk I had with some friends whilst we were in Zimbabwe. We spotted some swallows swooping low over the grass catching insects. Not sure what they were, I called out that they had a red/dark orange rump which was very clear to me whilst looking through these binoculars. This confused the others in the group as this was hardly noticeable to them, indeed most thought that it looked to be a dull brown color.
Referring back to our bird book, we managed to identify them as being Greater Striped Swallows (Hirundo cucullata) that do indeed have a chestnut brown rump and not the dark orange, almost red color that I had seen.
Anti-Reflection
As we would expect at this level the optical system on these Steiner Predator AF 8x30 Binoculars is fully multi-coated, which excellent as it means every outer surface throughout the entire optical pathway has multiple layers of an Anti-reflection material added to them.
Compared to bins that are only "multi-coated" or "fully-coated", the result is brighter images with better contrast and because you get less unwanted reflections, you also get an improved image definition.
Lenses
Objective Lenses
The 30mm objective lenses on these Steiner Predator AF binoculars are set back nice and deeply from the ends of the barrels.
This offers them a good level of protection and the overhang acts like the camera hood used by professional photographers to reduce glare and sun-flair in certain lighting conditions.
The majority of mid-sized binoculars use 32mm lenses and so whilst only slightly smaller it does mean that these Predators are potentially less able to collect light and they also produce a slightly smaller exit-pupil.
This means that like for like, these 8x30's will in theory be fractionally less effective in low light situations when the pupils of your eyes have dilated to a size larger than the exit pupil size. However, having said that when I compared these against my 8x32 benchmark binoculars (see image quality section below), I could not observe a difference in brightness, even in very low light.
Also just keep in mind that if low light performance is of high importance to you, you may be better off sacrificing a little weight and size and opt for a full sized or even larger binocular instead. Something like the Steiner Nighthunter / Shadowquest 8x56 Binoculars for example that has a simply stunning low light performance.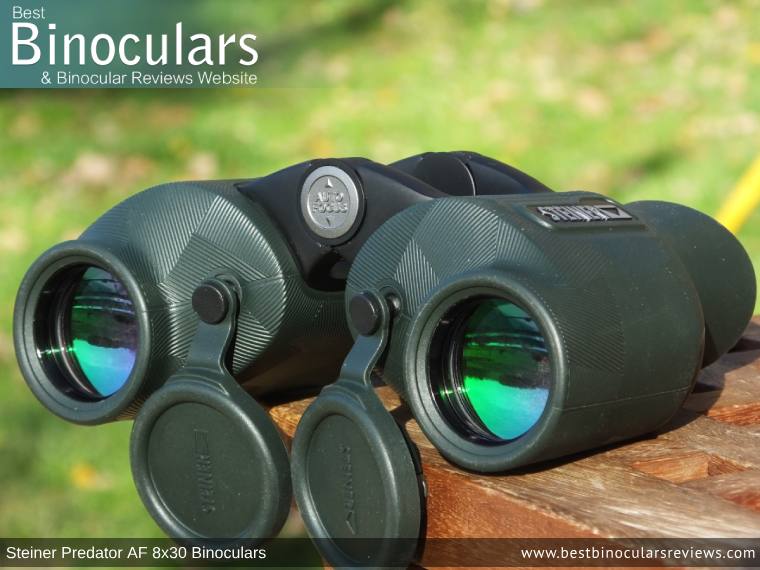 Eyepieces
The exterior lens on the eye-piece measures 17mm diameter, which is about average on a mid-sized binocular. Larger ocular lenses do potentially offer some advantages which I go through in detail in my section on Ocular Lens Size in Binoculars.
Prisms
These Steiner Predator AF 8x30 binoculars have Porro prisms inside them to invert the image and are the main reason that they have this distinctive shape with the objective lenses sitting further apart than the eyepieces.
Whilst this does make for a slightly wider binocular, this design of prism does have a number of advantages over the now more commonly used roof prism ones.
Apart from the ones that i have already mentioned, another important advantage is that they do not need any extra coatings on them to correct the light going out of phase nor do they need any reflective material added as the design transmits 100% of the light off every surface.
This means that they are much easier to make and perform at a very high level.
Steiner Optics also uses N-BaK-4 HT glass from the German company Schott and which are widely considered to make the finest optical glass in the world.
Optical Components Quality Rating: 8/10
Optical Stats
Field Of View (FOV)
At a distance of 1000yds, these 8x30 Predator AF binoculars offer you a view that is 302ft wide or approximately 100.6m wide at 1000m in metric terms.
For a mid-sized 8x binocular, I have to say that this is a little disappointing and to put it into perspective, take a look at the table below. As you can see, their FOV is a little narrower than what you would expect from an 8x instrument and places them at the bottom of the table when compared to a variety of mid-sized bins with 8x and even 9x magnifications. Indeed some of the widest 10x instruments will be able to produce a wider view.
So not brilliant, but do keep in mind that these are not designed for close range observation, where an especially wide view is of most importance.
My personal thoughts after using them are that yes, I would have preferred a wider view, but at the same time for their intended purpose and at mid to longer distances where these are able to focus from, the view really does not feel overly narrow.
Therefore unless you specifically require a wide view, I would not worry too much about it.
Close Focus
As we spoke about earlier on in the review, fixed focus binoculars all tend to have a relatively distant minimum focus distance, so it is no surprise that the close focus on these is 60ft / so yards as this is about standard for this type of instrument.
Eye-Relief:
Steiner do not specify the level of eye-relief that you get with these, but to me it looks to be a reasonable amount.
To test the eye-relief, I folded down the eye-cups and wore my sunglasses. Here I was just about able to view the entire field of view without any black rings forming on the edges. So for most users there will be more than enough eye-relief. For eyeglass wearers, I would say that it these are ok, but not what I would consider to be a long eye-relief binocular.
Optical Stats Rating: 7/10
Image Quality
For this review, I compared the view through these Steiner Predator AF 8x30 Binoculars against that of my 8x32 benchmark binoculars. I conducted these comparison tests before leaving for my trip to Africa, once in good light during the day, then again in poor light as the sun was setting. Below are my thoughts and observations:
Image Brightness
Due to the clever use of very high-quality optics and coatings, I thought that these produced an image that was every bit as bright as my slightly larger benchmark 8x32 binoculars.
Even in low light conditions, to my eyes, both binoculars looked even. When you consider that these produce a 3.75mm exit pupil compared to the larger 4mm ones on the 8x32 configuration, this is outstanding.
However, with lenses that are only 30mm in diameter, these and indeed all mid-sized binoculars are not really designed for use in extreme low light conditions. So whilst they perform extremely well in good to moderately low light. In very bad light, these and indeed any other mid-size binocular can't compete against an instrument with larger lenses and of equal quality.
If you do require excellent low light capabilities, you may be better off sacrificing a little weight and size and opt for a full-sized or even larger binocular instead. Something like the Steiner Nighthunter / Shadowquest 8x56 Binoculars for example that is designed to excel in low light situations.
Contrast & Color Reproduction
Due to the fact that these intentionally use special coatings on the lenses to alter the colors and thus make wildlife stand out from the environment, I will not judge them in the same way as that of a normal pair of binoculars.
Indeed my experience is that their CAT™ Color Adjusted Transmission seems to make green colors less vibrant and it emphasizes the brown-orange colors, making them a little more vibrant.
These changes are quite subtle, but if you look closely you can notice that the colors you see through these Steiner Predator AF binoculars are not exactly true to life.
In terms of the contrast, I think they show an excellent variance between light and dark. Thus the image is nice and bright, but at the same time does not looked washed out.
Color Fringing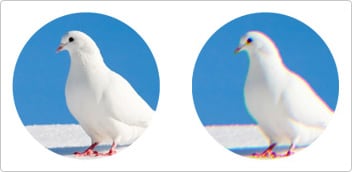 The color fringing that you sometimes see along the edges of an object is caused by chromatic aberration. In general, the higher the magnification, the more noticeable it becomes. It is also easier to see along the edges of a dark object lit up by a bright background.
So to check for this I usually look at a telephone or electricity wire against a bright sky as this is what I would call an extreme situation.
In this test these Steiner Predator AF 8x30 binoculars performed extremely well and showed as little as just about any 8x binocular that I have tested which is very impressive.
Image Flatness & Softening
During my use and whilst testing, I never noticed any type of image distortions where the image can look to curve inwards or outwards, or look wavy.
I was also very impressed by how the view also remains completely sharp, right to the edges of the view. Once again, in this particular area, these are as good as any in this class.
Conclusion
The image quality is for me one of the real highlights on these binoculars and they punch well above their weight in terms of what I would have expected from a 30mm instrument.
What is more, these 8x30 Steiner Predator AF binoculars looked to me to produce an equally bright image in low light situations as that of my 8x32 benchmark, which if you consider that they have smaller lenses and a smaller exit pupil, this is impressive.
Image Quality Rating for a mid-size, 8x binocular: 9/10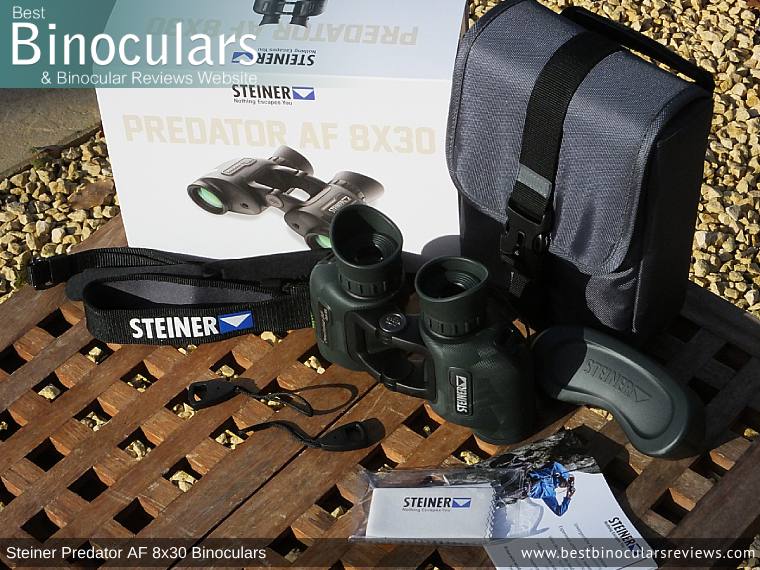 Included Accessories:
Whilst the list of accessories that are included with these Steiner Predator AF 8x30 binoculars is pretty standard, the design of them is anything but ordinary and are very far from being generic.
You can instantly tell that quite a lot of thought has gone into each of them and unlike many of their competitors that use generic accessories to save costs, each of these is either made by Steiner or specifically for Steiner for this specific binocular.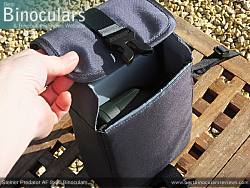 Carry Case - Main Points
Excellent build quality & materials
Soft case with a lot of padding = excellent protection
Quick Release Clip Closure - Very secure, makes less noise than Velcro
No Extra Pockets- Internal or External
Use Binoculars Carry Strap, attaches onto a couple of loops with the quick release clips, very easy to do
Excellent fit of binoculars inside - Do not flop about, but at the same time lid is easily closed with binoculars and all other accessories inside.
The Steiner branded carry case is a good example of this individuality. The binoculars actually fit into the case sideways, which for this Porro prism shape, really makes sense. The fit itself is excellent and with plenty of soft padding the instrument is very well protected inside.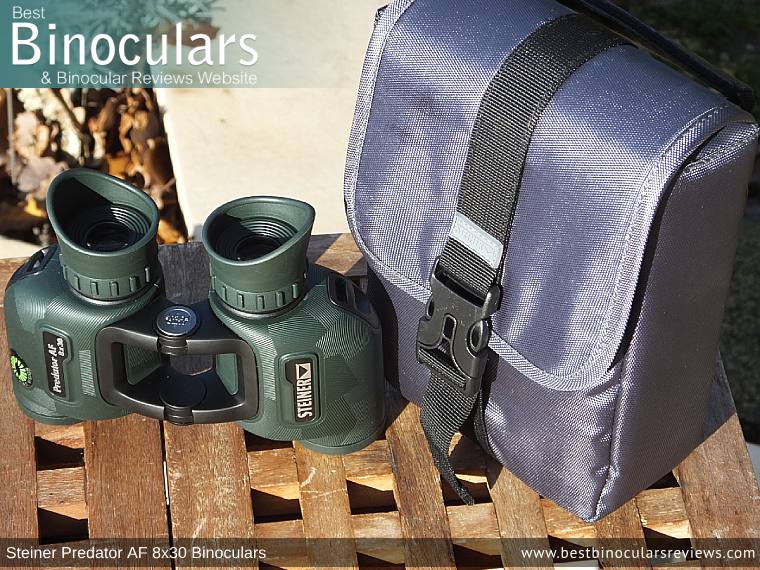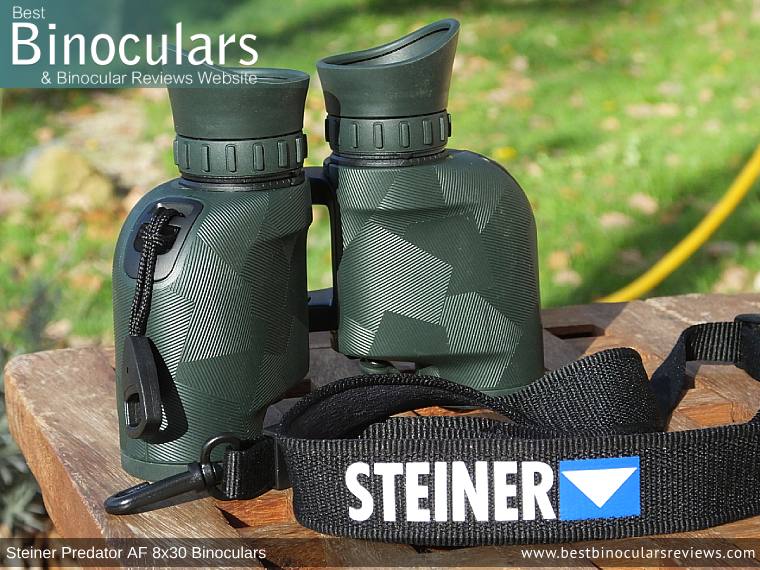 Neck Strap
The neck strap is great, but in my opinion, it is just missing one element that would have elevated it to be truly excellent.
I like the fact that it is branded and thus obviously made by Steiner, or specifically for Steiner. As with the carry case, the build quality, stitching and the material used are excellent and thus it is made to last. For me, the only downside is that it is a little thin at the neck section and it lacks any sort of padding.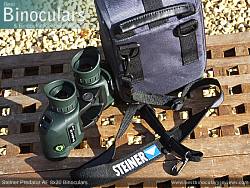 I know the binoculars are relatively lightweight, so having a padded strap is not really necessary. Indeed I used these binoculars a lot and went on some very long walks (some well over 3 hours) and I have to say that I did not ever really feel uncomfortable, but even so, just for the luxuriousness, I have to say that it is still nice to have the padding.
Main Points
Excellent quality materials & stitching
No padding, relatively thin and no grip underside
Quick release clips makes it easy to remove switch between strap and binocular harness or attach the strap to the carry case
Length adjustable
Objective Lens Covers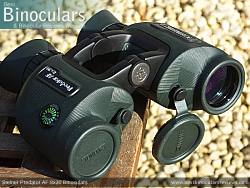 I love the objective lens covers and they easily rank with the very best that I have ever seen or had the pleasure of using.
Firstly, they are Steiner branded and obviously specifically made for these particular binoculars. Rather than fitting over the ends of the barrels like many do, these fit into the ends which really makes for a much smoother, more integrated look.
The fit itself was just perfect on my sample. So just tight enough to make taking them off and replacing easy, but not too loose so that they come away by accident.
I also like the way the covers are tethered to the instrument using a small rubber ball joint that fits into the chassis next to the lenses. This works really well and the covers hang down out of the way when you are glassing, but are always there, ready to be replaced once you have finished. You can also completely remove them should you wish.
All of this is in sharp contrast to the many binoculars that use unbranded generic covers that simply fit over the barrels and tethered with a rubber loop. Sure these work and many fit well, but they never quite look integrated and part of the instrument itself and are more of an afterthought.
Main Points
Tough but flexible rubber - stronger and longer lasting than the majority of others I see
Excellent fit into the ends of the barrels
Tethered for easy access
Rain-Guard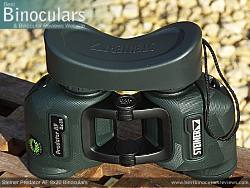 Steiner have opted to use a more traditionally shaped rain-guard for the ocular and eyepiece cover.
As with the objective lens covers, it looks to be made out of a tough, but flexible rubber. Once again it has the Steiner logo embossed into it and the shape is designed to accommodate the eye shields on the eyecups.
It also has a simple nylon cord that is loped so that it can be easily be threaded through the neckstrap to keep you from dropping it when not attached to the binocular.
The one downside to this design is that I feel that it comes away just a bit to easily, especially if you don't fully open the hinges on the binoculars when replacing it.
Cleaning Cloth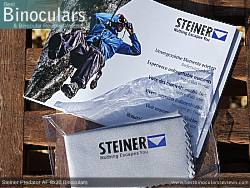 These Steiner Predator AF 8x30 binoculars are supplied with an excellent quality cleaning cloth that is more than adequate for cleaning the body and certainly light use on the lenses when out in the field.
As good as it is, I would still recommend that you make the small investment in a lens cleaning kit to ensure that you don't mark the lenses when thoroughly cleaning them.
Instruction Manual
The included instruction booklet is reasonably comprehensive and provides you with all the basic information that you need to get up and running as well as cleaning the instrument.
Extras Rating: 8/10
Steiner Predator AF 8x30 Binocular Comparisons
The table below displays a small selection of mid-sized binoculars with an 8x magnification in the BBR database. For more
open the table in full screen mode to view the full results.
Review Conclusions:
I have to say that I really love using these Steiner Predator AF 8x30 binoculars and for their price they certainly make excellent value for money.
Strong Points:
A major selling point for me is just how comfortable they are to use and hold. The eye-cups are soft, I love the cross-hatch etching on the rubber armor and the body shape with its open bridge just nestles within your hands. For longer observation periods, I doubt that you will ever find a more comfortable and easy binocular to use.
The view that you get through the 8x30 Steiner Predator AF binocular is certainly another very strong point. The use of quality optical components and the more simple Porro prism makes for a sharp, bright image with an extremely low level of color fringing. Indeed I would say it was about as little as I have ever seen.
The image is surprisingly bright when you consider they have relatively small 30mm lenses. I would go as far as to say that it is as bright and with a low light performance that is as good as any 8x32mm instrument that I have ever used.
Before using them, I have to say that I was a little skeptical as to how effective the Steiner CAT™ game-sensing lens coatings would be. After testing them in the bush, I have to say that the effect of slightly dulling the green colors and emphasizing the reddish-brown ones does work and makes it easier to spot some species of wildlife.
As you would expect from Steiner, the build quality and the materials that they have used are excellent.
Just like all their other binoculars that I have tested and used over the years, I love Steiner's eye-cup shields. These do a fantastic job of cutting out light and distractions from the periphery of your view. This, in turn, allows you to better focus on your subject and experience a much more immersive view. It is so good that I am surprised so few other brands copy the idea.
For their intended use, the focus free system with their diopter adjusters on both eyepieces works well and once set up you do have a much easier instrument to use. I have reviewed and tested several fixed focus binoculars in the past but most are designed for either astronomy or marine uses where the distance to your subject is either very far or infinity. So here it was something of an eye-opener for me to see just how well the system works at closer ranges.
The objective lens covers are also excellent. The way they fit into the ends of the barrels is neat and tidy and the attachment system is far more attractive, less likely to break and simply works better than the rubber loops used on most of their competitors.
Weak points:
Eyecups: Whilst I love them on one hand as they are so comfortable and the eye shields are excellent, the one downside to folding eyecups as opposed to twist-up ones is that they are less customizable. With folding cups, you can either have the full amount of eye-relief or reduce it to the minimum by folding the eye-cups down. For the majority of users this is perfectly fine and all you will ever need, however, there will be a minority of users (perhaps those with thin glasses) that would benefit from being able to position the eye-relief at half distance.
There is a lot I really like about the neck strap: I like the way it can be quickly removed from the binocular and then used on the carry bag if you wish. It is well made and nicely branded. However, it would have been even better had it been a little wider, padded and perhaps had a neoprene underside to grip a little better around your neck to prevent sliding from side to side.
The field of view is relatively narrow for an 8x instrument, which at closer ranges and for fast moving wildlife/birds is not ideal. Having said that, at the medium to longer ranges that these are designed to be used at, for me it was not a major concern.
Ideal Uses & Users
Designed for hunting, all Steiner Predator binoculars are obviously ideal for this purpose. Where the two AF porro prism models will excel is in situations where you need an instrument that is comfortable to hold and which you can easily use with one hand. The fact that you don't need to focus makes this possible and it is also faster and easier to locate and then track faster moving targets.
Travel & Hunting
This particular 8x30 model is ideal to those going on a hunting vacations or for those who want a smaller device that is just that bit easier to carry in the hands, like if you do a lot of hiking/stalking on foot and/or carry a lot of other gear with you on your hunts.
Lady Hunters
Whilst I found the binocular very comfortable to hold, this particular shape and small size means that they are also great for those who have smaller hands and which is why I feel these will certainly be a good option for many women.
Teenage Hunters
Once again the smaller size is important here. However, if you also add to this their ease of use because you don't need to make focal adjustments, the lower magnification which makes it easier to keep the view still, makes target acquisition easier and the narrow minimum IPD setting that will cater for those with narrow set eyes, then I feel that in the Steiner Predator AF 8x30 Binoculars, you have the perfect first serious hunting binocular for a teenager or young adult.
As well as hunting, I think that these binoculars would also be great for general wildlife observation, is a good travel binocular and fantastic on safaris, camping and hiking holidays.
Sports
I also think that these binoculars are an excellent option to take along to many/most outdoor sporting events. Their small size, makes them easy to pack into a day sack and their wide view ensures that you can take in more of the action. The lack of a focus wheel also means that you can view what is going on pitch side one moment to scanning the crowd at the other end of the stadium the next without having to make any adjustments. Not having to change focus at different distances also means you much less chance of missing any on field action.
Birding?
For birding they can also be very effective at longer ranges and the lack of having to focus means that it is easier to locate and then follow fast moving birds. Although keep in mind that you do have to take into account that with the special "game-sensing lens coatings" the colors that you see are a little different than true-life.