Steiner 10x42 XC Binoculars ReviewMini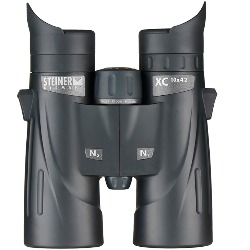 US

Ca

De

Au

In

UK
Buy & Compare Prices for the

Steiner

XC 10x42 Binoculars
Price Range:
(4/6) Mid-High Value Binoculars

Ideal Uses:

General Use
Birdwatching
Outdoor Sports
Safari & Travel

General Wildlife

Hunting
Marine Use
Please Note: This is a "BBR ReviewMini" of the Steiner XC 10x42 Binoculars. About BBR Mini Reviews
As usual, Steiner are more than a little cagy when it comes to listing many of the important features (like prism glass and the coatings used on their optics), so whilst I am pretty sure that these are fully multi-coated and that they have BaK-4 glass prisms, I can't state it for sure.
What we can do is take a look at some of their specifications and see how the Steiner XC 10x42 binocular stacks up and compares against other 10x42 binoculars I've reviewed:
What I Like
Field of View
At 354ft wide @ 100yards, the field of view is pretty good for a 10x binocular, making these a great choice for those who want the added image detail that 10x gives you when compared to 8x binoculars, but who also need a wider view. I see this as being an advantage to both longer range birders and hunters in general.
ClicLoc Neck Strap Attachment
The Steiner ClicLoc neck strap system is great - I have used them before and love the way it looks and how easy it is to remove the strap and replace it with a harness or completely go without
Other Highlights
Lifetime Warranty
Wings on the eyecups - these do a good job of blocking out light from the sides and just make the image look brighter. Usually you have to buy these as an extra - see my review of the Eye Shields for an example.
6ft close focus distance is excellent
What I Don't Like
Eye relief?
Steiner Optics don't supply this information, which I am sure for all those who wear glasses is more than a little annoying!
Compare Prices & Where to Buy the Steiner Binoculars
Price & Where to Buy
Price & Where to Buy
Main Specifications & Features:
Size: Full Size Binoculars
[explain prism types]Prism Type: Roof Prism Binoculars
Magnification: 10x
[explain objective lens]Objective Lens Diameter: 42mm
[explain waterproofing]Waterproof: Yes
[about fogproofing]Fogproof: Yes


[explain exit pupil]Exit Pupil: 4.2
[explain twilight factor]Twilight Factor: 20.49
Close Focus Distance: 6.0ft


Weight: 26.5ozs (751g)
Length: 5.8in (14.7cm)
Height: 2.4in (6.1cm)
Width: 5in (12.7cm)


[explain field of view]Field of View: 354ft at 1,000 yards


Chassis Material: Polycarbonate
Image Stabilization: No
[about ED Glass]Extra Low Dispersion Glass: No
Auto Focus: No
BinoWizard BinoWars:
Compare the main specifictions & features above versus all other:
---
More Information:

About Steiner
|
View all Steiner products I have written reviews on
View All:
Full Size Binoculars
|
Roof Prism Binoculars
|
General Use Binoculars
|
Close-Focus Binoculars
|
Mid-High Value Binoculars
---
Similar Binoculars:
Below are similar pairs of Binoculars that you may also want to have a look at:
Mid to high end binoculars from Athlon that include many of the components and coatings found on the very best high end optics...
---
Binocular Price Comparison
Where to buy the Steiner 10x42 XC Binoculars

General Price Range: (4/6) Mid-High Value Binoculars
Below is a link that will take you to a page with online retailers in both the US and UK that sell Steiner 10x42 XC Binoculars this page makes it easy to compare prices and then to buy from your preferred option:
---
BBRMini Reviews?
What this means is that this Steiner XC 10x42 Binoculars review is al little shorter and not the usual super in-depth hands-on type of review that you may be used to seeing here on BBR.
This is because I have not had any hands-on time with the product and thus I have not been able to comment on aspects like the build quality or that of the view quality where it would require me to actually handle and use them.
Instead, I have used my experience to form some basic and logical opinions based on research as well as the stated specifications and features supplied my the manufacturers.
Why Are you Making Them?
The main reason for me providing this mini listing is to get these Binoculars added into my database so that we can then compare their stats and features against all the other binoculars on the BBR website that I have fully hands-on tested and reviewed.
Helpful?
Despite this not being a 100% review, I hope that you still find it both interesting and the information and my opinions useful in your search. As always any comments and feedback is always welcomed.
---