If you are on the lookout for a high quality, very high powered long distance viewing binocular specifically designed for long range hunting and wildlife observation, but also great for uses like plane spotting, observing boats leaving the harbor, viewing ships at sea or even security needs like border patrol, then the Vortex Kaibab HD 18x56 binoculars look to be a very interesting prospect.
So, in this review, I am going to take a very close look at their main features, components, and specifications to see if the 18x56 Vortex Kaibab HD binocular makes the grade. Then at the end of the review, we will also look at how they compare to the other options on the market.
So let's get started...
Vortex Kaibab HD 18x56 Binocular Review
Main Points: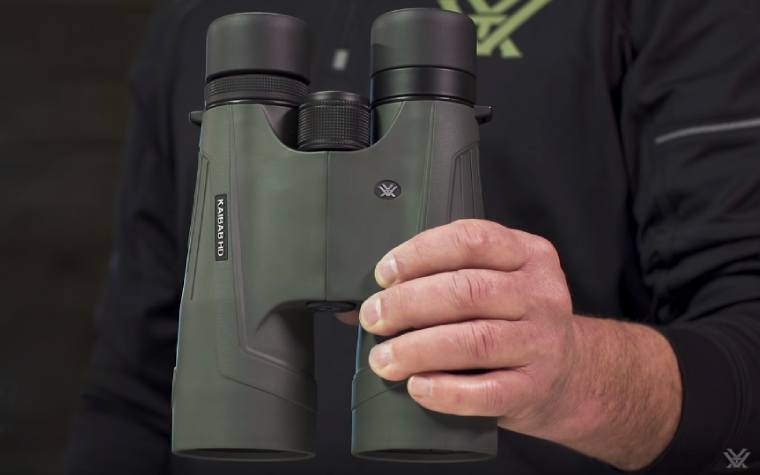 The Optics
18x56 Configuration
Before exploring the optical components, coatings, and potential image quality, I first wanted to talk a little about the rather unique and very interesting 18x56 configuration and what this brings to the table:
Having a very high 18x power and much larger than normal 56mm objective lenses brings with it a number of advantages but at the same time also some disadvantages:
High Magnification
The Advantages of a much more powerful magnification include a far greater reach and greater image detail.
On the flip-side, the disadvantages of using a very high power binocular like this Vortex Kaibab includes a reduced field of view, increased image shake and potentially a reduced low light performance.
You also may (see optical components quality below) have a slightly less bright image produced in general. This is because thicker lenses are needed to make higher magnifications, which have a lower light transmission as it makes it harder for light to pass through them.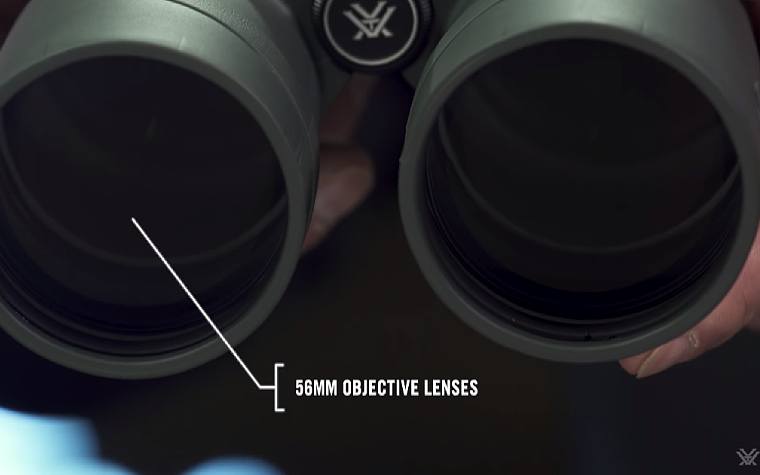 Large Lenses
With their very larger 56mm objective lenses and the use of very high-quality optics and coatings, Vortex Optics has been able to counteract much these light performance issues.
Firstly, just like the windows in your house, larger lenses are able to capture more light than smaller ones.
The downsides here are those larger lenses are also heavier and make for a larger, bulkier binocular. Bigger lenses are also more expensive to make and is one of the reasons why large, high powered binoculars tend to be more expensive than the standard 42mm versions in the same series.
Exit Pupil & Low Light Performance
By dividing the objective lens size (56mm) by the magnification (18x) we get 3.1. This means that the 8x56 combination generates a shaft of light (exit pupil) that is 3.1mm in diameter.
This is relatively small. In normal daylight conditions, it is not at all a problem as the pupils in your eyes will be roughly the same sort of size and so these binoculars will be supplying your eyes with enough light for you to see a bright image.
However, in low light, when the pupils in your eyes dilate in order to take in more light, the small 3.1mm shaft of light will be insufficient and thus this Vortex Kaibab HD 18x56 binocular will look to produce a less bright image than an equal quality binocular that produces a larger exit pupil.
A good example is an instrument like the Steiner Nighthunter 8x56 that is specifically designed to excel in low light. Note that it has exactly the same size 56mm lenses, but because of the lower 8x magnification, it will look to produce a brighter image in low light because the 8x56 combination generates a very large 7mm exit pupil (56÷8).
Thus in low light, we can see that instruments like these the Vortex Kaibab 18x56 binoculars will not make the ideal choice and is definitely something to keep in mind if you are considering a high power binocular for hunting or game watching in the early evening or very early mornings.
For more on this subject, take a look at my complete guide to the exit pupil.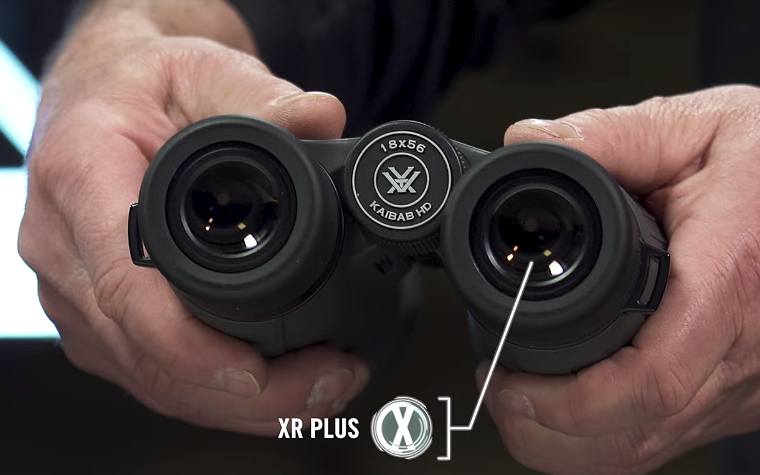 Optical Components & Coatings
Now that we have discussed the potential issues that the high 18x magnification has with image brightness, I think it is very important to point out that as well as using large 500mm lenses, these Vortex Kaibab binoculars also use a very high level of optical glass and coatings to further counteract this problem:
Dielectric Mirror Coatings
To start with and one of the major highlights on this Vortex 18x56 Kaibab binocular is the use of the very best dielectric mirror coatings on the prisms. These coatings are able to reflect more than 99% of the light across the entire spectrum which far more than the silver coatings used on many other lesser quality binoculars. The use of this not only improves brightness, but the images end up being clearer with more accurate color reproduction.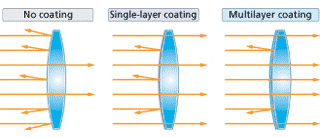 As you would expect at this price level, they also have a fully multi-coated optical pathway.
This means that all exterior glass surfaces have multiple layers of an Anti-Reflection material added to them which reduces unwanted light reflections and results in a real and visible improvement in image brightness and quality.
Note, not all anti-reflection coatings are created equal and in their marketing, Vortex Optics highlight the fact that the Kaibab uses their top of the range XR Plus anti-reflection coatings which are applied with Plasma Tech, a state of the art coating application process that improves the durability and performance of the coatings.
I can't vouch for the coatings of the process as there is no data to go with it, but it is reassuring is to know that this is their "top of the line" level.
HD Optics
As the name suggests, the objective lenses on this Vortex Kaibab HD binocular have an HD element contained within them.
This "premium extra Low dispersion glass" is better able to direct the individual wavelengths of light and thus reduce color fringing around the edges of objects for higher definition images.
For a very high power binocular, this is of great importance as you generally see more color fringing the more an image is magnified.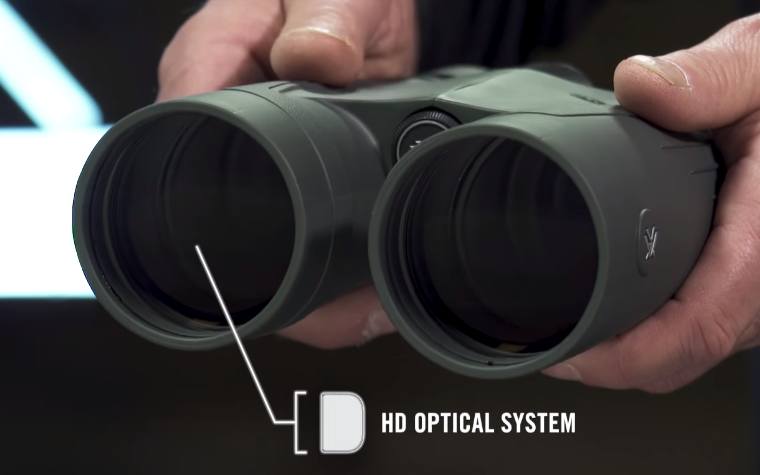 APO Lens System
Another major highlight on these Vortex binoculars is the use of an Apochromatic lens (APO) design.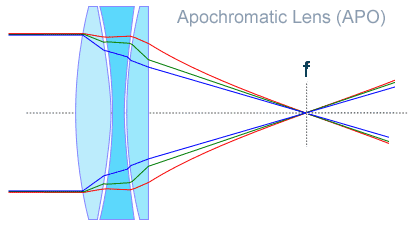 The majority of binoculars, even many high-quality ones use achromat lenses which are usually made up of two lens elements (a concave and convex lens).
These are able to make two wavelengths of light (usually red & blue) come into focus in the same plane.
However, APO lenses like those used in these Vortex Kaibab HD Binoculars have three lens elements and so can bring three different wavelengths of light (most often red, green & blue) to a common focus.
This has the potential to further improve chromatic aberration which is the t cause of color fringing as well as reduce spherical aberration.
Due to the fact that APO lenses are technically difficult and costly to make, they are not commonly used. Note: Using three instead of two elements also makes the binocular heavier.
Protective Exterior Lens Coatings
Vortex Optics also uses their ArmorTek® coating on the exterior lens surfaces.
This extremely hard and durable material protects the glass from scratches and repels, oil (often from fingerprints) as well as dirt.
Lenses with these type of coatings require less frequent cleaning and then when you do need to clean them, less force is needed to remove any marks, which in conjunction with the scratch resistant properties ensure the lens surface remains in pristine condition.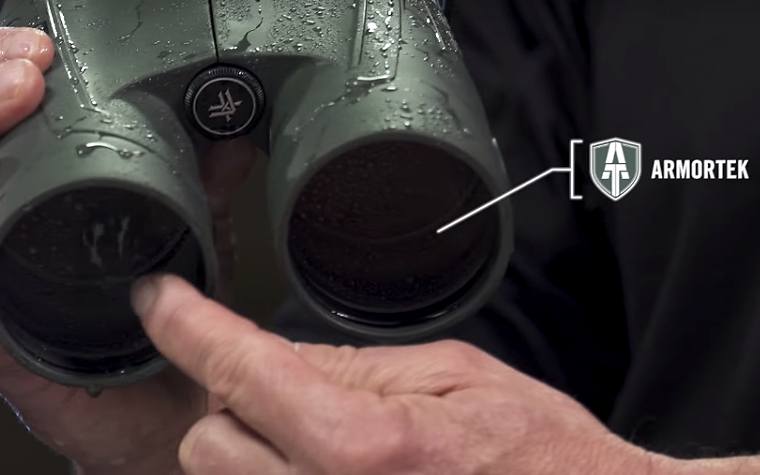 Optical Stats
Field Of View (FOV)
Another downside to a high power is the more zoomed in you are, the narrower your field of view (FOV) becomes.
This "effect" is clearly demonstrated on these 18x Vortex Kaibab HD binoculars as they have a FOV that is 194 feet at 1000 yards / 64 meters at 1000 meters. This gives us an angular field of view of 3.7 degrees which is quite a lot less than your average 10x binocular that will have a FOV of well over 300ft @ 1000 yards and substantially less than your average 8x binocular with a FOV that can be more than 400ft wide.
For most uses, a wide view is desired as it makes it easier and thus often quicker to locate what it is that you want to see within your view and then in the case of moving objects, it is easier to keep it in view.
To be fair, a wide view is more important at close range which these are definitely not designed for, but even then at long distances, a wide view does make it a little easier to scan an area for potential objects or animals of interest. This is one of the downsides to a high power that you just have to accept.
Minimum Close Focus
At 19.8 feet (6 meters) the minimum focus distance on the Vortex Kaibab is not at all "close", but then again these are not designed for close range use, so for me this just something to note, but should not be an issue for anyone using them as intended.
Eye-Cup & Eye-Relief
Vortex Kaibab binoculars have multi-position twist-up and down eyecups, which combined with 16.4 mm of eye-relief is perfectly adequate and should be enough even if you wear glasses.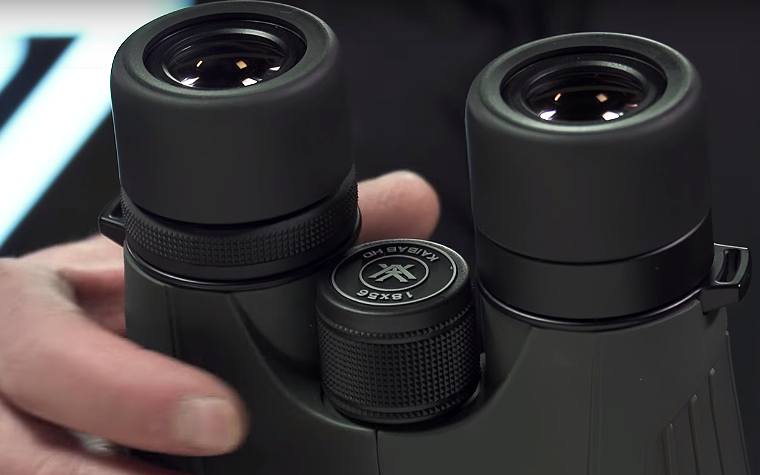 The Body
Apart from the larger dimensions, the body on the Vortex Kaibab HD 18x56 Binocular is pretty typical for a modern roff prism binocular.
They have a large centrally located focus wheel with an internal focus mechanism, a diopter adjuster on the right eyepiece and twist-up eyecups.
The exterior has a rubber armor and the waterproof chassis is O-ring sealed to prevent moisture as well as dust from getting at the optics contained within.
As with many Vortex binocular, they have an Argon gas interior and not the normal Nitrogen to prevent the internal optics from fogging. You can take a look at the advantages to this in my guide to Fog and Waterproofing on Binoculars.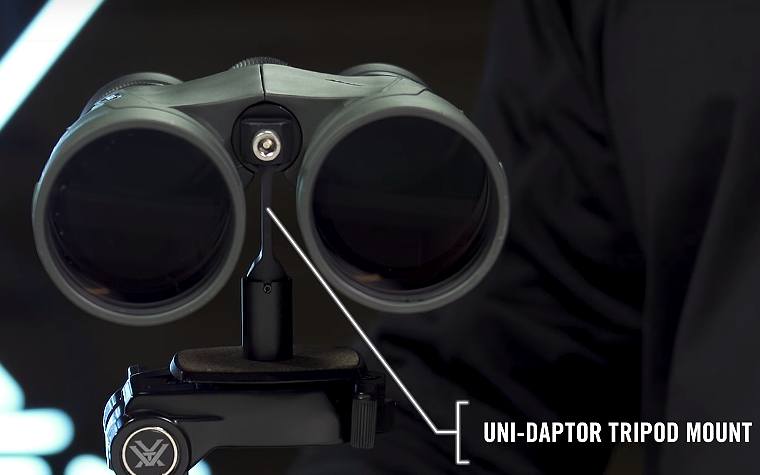 Tripod Adaptable
An important point to note is that because of the high magnification and the resulting difficulty in keeping the image shake free, these Vortex Kaibab HD 18x56 binocular are Intended to be used with a tripod or a or car window mount that will eliminate this issue.
So because of this, not only are they tripod adaptable, but Vortex's excellent uni-daptor tripod mount is bundled in with them and which makes them really easy to fix to any standard tripod.
For more, check out my guide to Binocular Tripod Adapters and view some tripods, car window mounts and tripod heads which I have reviewed here.
Size & Weight
As we have already discussed one of the downsides to the large lenses is that it increases both the size and weight of the binocular. So just how big and heavy is the Vortex Kaibab HD 18x56 binocular?
Below is a table which lists a number of other 56mm binoculars as well as some 50mm and standard 42mm ones that wilkl put it into perspective.
As you can see within their size class, these Vortex Kaibab 18x56 HD binoculars are perfectly normal and as this instrument is intended to be used with a tripod, the weight will only really be an issue as you are transporting it and not when in use.
Included Accessories:
The Vortex Kaibab HD binocular comes with the usual accessories included. This consists of a carry case, neck strap, lens covers, rain guard and a lens cleaning cloth.
Tripod Adapter
As we have already discussed, also included is a tripod adapter.
Warranty Information
The Vortex Kaibab HD comes with the companies excellent VIP warranty as standard which states that "in the event, your binocular get damaged or defective, Vortex Optics will repair or replace it at no charge to you".
Vortex Kaibab HD 18x56 Binocular Comparisons
The table below lists the main features and specifications of these Vortex binoculars as well as a small selection of other similar binoculars in the BBR database. To view the full results, open table in full-screen mode.
Ideal Uses:
Hunting
These binoculars have been built from the bottom up with long range hunting in mind and so it is no surprise that this is an ideal use for them.
For general widlife observation at long distances, these are also perfect. Just keep in mind the low light performance side of things is you are often out in a hide at night or very early in the morning.
Target Shooting
These binoculars are perfect for use at an archery or shooting range. Mount them on a tripod next to you or with a spotter.
Security / Search & Rescue
The Vortex Kaibab HD 18x56 Binoculars will also be a good choice for some security and search and rescue applications, were you are based at a static location and long distances are involved. I am thinking that certain border patrol needs will be met like these, like along game fences and the like..
Other Uses
Another ideal use would be to set them up on your balcony to view things like ships, yachts or in some cases, whale and seal spotting from the shoreline. In these situations, you will really appreciate the extra reach and detail you get with these.
As plane spotting binoculars these could work, but just be aware of the fairly narrow field of view which will make it harder to locate a relitively fast moving plane at closer range.
As binoculars for SpaceX rocket launches these would be incredible! So long as you are happy to take along a tripod and a fairly large instrument, just imagine the view!
Whilst I would not suggest the Vortex Kaibab HD 18x56 Binoculars as an ideal choice if your primary interest was astronomy, but for the occasional use, you will get some excellent views of the Moon as well better views of our nearest planets like Venus, Mars. Here a tripod is essential.