Choosing Birding & Birdwatching Scopes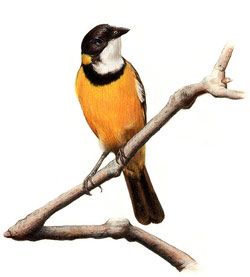 The vast majority of people looking to buy a spotting scope will be doing so to observe nature and I would say a large proportion of these will be doing it for birding. Manufacturers know this and so most of the terrestrial spotting scopes on the market will be suitable for general bird watching, but even so with a little thought as to how you will be mostly be using your scope and what type of birding you mostly do, you can get the best one for your particular needs.
How to choose birdwatching scopes
As with many things in life there is no such thing as the perfect or best birding scope, it is all about compromises. For example if you want a huge magnification, you are going to have to sacrifice field of view and some brightness. So I think the best way is to go through each of the main elements and discuss the pros and cons and in that way you will hopefully be able to decide, based on your needs, what are you ideal birdwatching telescopes.
Magnification
Unlike something like binoculars, the magnification you decide on is a little less critical to get right from the beginning as many of the best spotting scopes have interchangeable eyepieces and the ones that are not interchangeable usually come with a zoom eyepiece. So you can either buy different eyepieces to suit different situations or uses or a single zoom eyepiece which you can adapt as you need it. A common misunderstanding to those new to scopes is that thought that the more powerful the magnification the better the scope. This is often not the case as there are many drawbacks to having bigger magnifications and it is all about compromise and deciding what is right for you:
A spotting scope is basically a compact telescope designed primarily for terrestrial observing and is mostly used in situations that require magnifications far larger than that of most binoculars, with anything between 15x and 250x. Most people recommend an eyepiece with a magnification of around 20x to 30x for a good all-round bird spotting scope. Why not any more powerful? Well as you increase the magnification a few things on the scope will get worse:
The brightness of the image produced tends to decrease
Your field of view decreases
Image shake increases

Zoom Eyepieces
Zoom eyepieces offer you the most flexibility as they enable you to change the magnification power and you can get them that can go from 20x to as high as 60x with a single, simple adjustment. You can either get interchangeable zoom eyepieces or now days many of the mid-priced and cheap scopes come with fixed zoom eyepieces. Compared to fixed magnification eye-pieces, zooms can suffer from a loss in image brightness and sharpness. This has however improved and they are now far better than in the past when old scopes with a zoom lenses often produced an image which was too dark to see much detail especially as you moved towards the higher magnifications like 60x. So viewing in poor light conditions like at dawn or dusk was very frustrating.
Not all eyepieces are equal and my general advice is to get the highest-quality scope you can afford.
Field of View
The field of view is basically the width of the image that you see through your spotting scope. The ideal birdwatching telescopes have a very wide field of view as this makes it much easier to locate fast and erratic moving objects like birds. The problem is in order to achieve a very wide field of view, you usually have to sacrifice magnification. This is why in the world of binoculars the most commonly used magnifications for birding tend to be only 7x or 8x, when you can get much stronger magnifications. With scopes it is the same and generally for a good all round birding scope I would suggest an eyepiece with a magnification of around 20x to 30x. Also keep a look out for scopes that either come with or you can get eyepieces that have very wide fields of view. The Swarovski 25-50x W zoom eyepiece or their 30x W Eyepiece are good examples and are ideal choices for birders. Also take a look at my page on Nikon Fieldscope Eyepieces where I have put together a table comparing the eye-relief of different eyepieces.
Objective Lens Diameter
To get the brightest image possible, you need the scope to take in as much light as possible and to do so you need a large objective lens. The problem is the larger the objective lens, the bigger and heavier your spotting scope will be as well as more expensive. So again here we have to make some compromises. Most scopes come with objective lenses from about 50mm to about 90mm in diameter and the most common sizes are 60mm or 80mm. The size you get will depend on what is most important to your personal needs. If you value a compact size over the brightest possible image you may opt for a smaller objective lens. If however you are using very powerful magnifications or want to use your scope for digiscoping, I would recommend getting the bigger sizes.
Straight-through or Angled Scope
Again here there is no right or wrong choice and it will be up to how you wish to use your scope. The main advantages of an angled scope is that it allows you to use it in a more relaxed position when looking through the scope and the tripod can be set at a lower position making it easier to swap between both tall and short people. So if you are often go birding in a group or with your children an angled would probably work better for you. Angled scopes also make it easier to view birds in the sky. On the other side, straight through spotting scopes make it easier to quickly find and track moving targets like birds and they are easier to use if you are viewing birds below your own level e.g. at the bottom of a cliff. A straight design is also the best option for those who enjoy birding from cars as you can mount the spotting scope on the window with many types of window mounts now available in the market.
For more on which is right for you, read my article on Angled or Straight Spotting Scope.
Eye Relief
Eye Relief is basically the distance between the eye-piece lens and the point where your pupil is positioned to enable you to see the full field of view. The eye relief will vary in different eyepieces. Long eye-relief eyepieces are only really important to those who wear glasses and want to use the scope without having to remove them.
Focusing
Ideally for bird watching you are looking for a scope that can quickly focus from near to far, but one that can is easy to fine tune your focus to get the crispest view. The two most common ways of focusing on spotting scopes are either a grip around the scope barrel that can be twisted (e.g.: Swarovski Scopes) or a knob on top of the scope that is turned. Scopes with the barrel grip focusing method tend to focus quicker, but it can be harder to fine tune your focus. Where the knob on top of the barrel is often slower, but more accurate. Look out for scopes that have a double focusing knob, one for fast focusing and the other to fine tune the focus (like on many Kowa Scopes).
Coatings, Prisms & Glass Quality
The main reason most people get a scope to view birds with is to enjoy them as close as possible in all their beauty and in as greater detail as possible. Cheap scopes with poor quality prisms, lenses and coatings can totally spoil this experience. The very best spotting scope lenses are made with fluorite-coated, HD (high density), or ED (extra-low dispersion) glass. The difference in brightness and image clarity between these high-quality scopes and those made by the same manufacturers using standard glass is very noticeable, especially in low-light viewing conditions, at high power and is even more important for digiscoping. The down side is that these spottingscopes can be many times more expensive and I am not suggesting that you MUST get one of these. The best advice I can give is that you get the best quality scope that you can afford and if at all possible stay away from the very cheapest scopes.
Fog & Waterproofing
Most standard quality scopes will be fine in light rain and humidity, so unless you plan on going out in bad weather I would not worry too much about waterproofing. Water-resistant scopes may be a good choice as they will handle the occasional splashes, but don't drop them in the pool! If you are an "all weather" birder, then waterproofing could be essential depending on where you live and go birding. Another important feature to look out for is fog proofing, this prevents internal fogging caused when subjecting your scopes to rapid temperature changes or extremes, especially in high humidity. Water and fog proofing can also help keep dust and fine debris from entering your optics. For more information read my article on Waterproof Spotting Scopes.
---
Featured Birdwatching Scopes
Below are a few featured scopes ideal for birding: View All Birding Spotting Scopes that I have reviewed.
View >> All Bird Watching Scopes reviewed on The Best Spotting Scope Reviews website.