Hawke Spotting Scopes by Hawke Sport Optics
About Hawke Sport Optics
Whilst a relatively new brand in the US, Canada and the rest of North America, Hawke Sport Optics has been producing optics in Europe and the UK for more than thirty years and they now supply binoculars, riflescopes, crossbow scopes as well as spotting scopes and accessories to over forty countries throughout the world.
Hawke Spotting Scope Range
Hawke Sport Optics currently produce five different ranges of scopes and thus cover most peoples needs and budgets. Below are the details of each series:
Hawke Endurance Spotting Scopes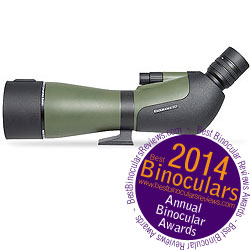 There are now six different models within the Endurance range, with both angled and straight through options and some with ED glass in their lenses and some without.
Firstly there are a couple of travel friendly scopes with 50mm objectives, these don't have ED lenses, but do cost considerably less than those that do. I also thought in my review of the Hawke Endurance 12-36x50 Spotting Scope that whilst they may not quite reduce color fringing as much, the quality of the view was still very good.
Then you get the 68mm versions that strike a nice balance between portability and light gathering, whilst the large 85mm versions are designed to collect the maximum amount of light for the best quality and brightest images even in very low light situations.
As you can see in my full review of the 20-60x85 Endurance ED, this series combines a whole host of high end optical components with a well designed and lightweight magnesium alloy body, to produce a scope with an impressive performance level, but which Hawke Sport Optics have still managed to keep the costs down to appeal to a wider audience.
Indeed this 85mm version bagged the award as the Best Spotting Scope for 2014 and in my opinion is most certainly one of the best ever within this class.
Key Features:
Fog & Waterproof Magnesium Alloy Body
Dual Speed Focus Wheel
Extra-Low Dispersion glass (ED) Lenses on some models
Fully multi-coated
BAK4 Phase Corrected Prisms
Supplied with zoom eye piece
Stay-on soft scope cover
Available Models & Reviews
Hawke Endurance ED 20-60x85 Spotting Scope - (HT3803)
Price Range & Where to Buy
Hawke Panorama ED Spotting Scopes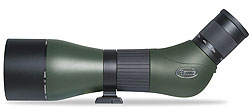 The Panorama ED Series from Hawke Sport Optics is currently their flagship scope and as you would expect for a top of the range, spec product they use the finest materials both in the body design and in the optical system.
Key Features:
Flat Field View
ED (Extra-Low Dispersion glass) element in the lenses
Fully multi-coated optics
Dielectric coated, BAK4 Prisms
Supplied with zoom eye piece
Fully waterproof
Stay-on soft scope cover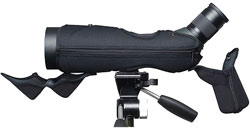 The Panorama ED spotting scope is fully waterproof and comes with a removable zoom eyepiece that has a twist-up eye cup that ensures you maintain the correct eye-relief no matter if you wear glasses or not.
The use of ED glass elements in the lenses help to ensure that chromatic aberrations are minimized, which in real terms almost completely eliminates color fringing on the viewed image.
Fully multi-coated optics and a dielectric coated prism ensures that as much of the collected light is transmitted to your eyes, for the best quality and brightest image possible.
Digiscoping
Hawke advertise that this scope is compatible for use with almost all cameras and supply a number of adapters depending on your needs.
Price Range & Where to Buy
Hawke Nature Spotting Scopes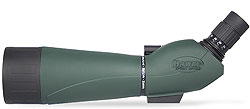 Described by Hawke Sport Optics as the ideal beginners spotting scope kit, the angled Nature scopes come with either 60mm or 70mm objective lenses and are obviously aimed at the more budget conscious observer.
To keep costs down to a minium they of course lack most of the most expensive coatings, yet they still seem to have all the basic bases covered, including optics that are fully-multi coated and thus should still deliver a bright and good image quality: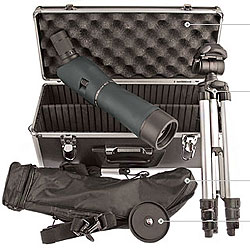 Main Features:
Fully Multi-coated Optics
Waterproof Body
Included Hard Storage Case
Soft Carry Pouch
Included Tripod
Available Models & Reviews
Hawke Nature 24-72x70 Spotting Scope - (HT3653)
Hawke Nature 20-60x60 Spotting Scope - (HT3651)
Price Range & Where to Buy
Where to Buy Hawke Scopes:
Featured Hawke Scope Reviews
Below are a the most recent Hawke spotting scope reviews that I have written:
With an included 20-60x zoom eyepiece, large 85mm objective lens with Extra Low Dispersion Glass elements, fully multi-coated optics, phase corrected BaK-4 prisms with highly reflective dielectric coatings all wrapped up in a lightweight, waterproof magnesium body it is no surprise that this Hawke Spotting Scope produces a very bright and stunning quality image.

What is really surprising to me however is the relatively low price tag especially when you consider just how much scope you are getting for your money.
Ultra compact and lightweight spotter from Hawk Optics that combines high end optical components, a wide range 12-36x zoom eye-piece with a well made chassis that is tough, water and fog proof.

For the money this is certainly for me on of the best travelscopes that I have had the pleasure of testing.
View >> All Hawke Spotting Scopes reviewed on The Best Spotting Scope Reviews website.
Hawke Spotting Scopes on Amazon:
As well scopes, Hawke Sport Optics manufacture a large selection of binoculars in a wide range of sizes and price categories designed for all types of pursuits and uses including birding, hunting, general wildlife observation, camping, hiking, safaris, traveling and general use.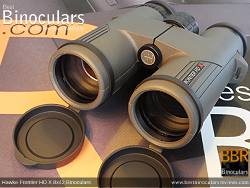 Popular Models & Reviews
Hawke Sapphire ED 8x42 Binoculars - Just like their top ranking scopes, the Sapphire ED (pictured right) incorporates the latest optical components and coating to produce a stunning quality view, this includes fully multi-coated optics with ED glass lens elements and dielectric coatings on the BaK-4 roof prisms.

All this, along with a very wide field of view, high quality finish, fog and waterproof magnesium body, it is not surprising they achieved an "Outstanding" 85% score when I tested them, ranking them up there with the very best and they went on to win the award as the Best Birding Binocular of 2013.


Hawke Nature-Trek 8x42 Binoculars - Whilst the Nature Trek may be a low cost binocular aimed at the more budget minded observer, it still comes with a surprising array of quality features that are not usually found within this price range, but which ensure that they easily outpace most if not all of their direct competitors.

Their single top hinged Polycarbonate body is lightweight, comfortable, fog and waterproof. Optics are fully multi-coated and they come with good quality BaK-4 roof prisms.
For these and many other reviews I have written on Hawk bins, as well as to get a more detailed overview of all their binoculars be sure to check out my Hawke Binoculars Section on BBR.
Contact Details - Hawke Sport Optics
Deben Group Industries is as far as I know the sole supplier and distributor of Hawke:
Address:
Deben Group Industries Ltd,
Avocet House, Wilford Bridge Road Melton,
Woodbridge IP12 1RB
UK
Phone: 01394 387762
Fax: 01394 386255
Email: sales@deben.com