The newest line of spotting scopes from Nikon are the very impressive Nikon EDG Fieldscopes. I have wanted to get my hands on the EDG 85A Fieldscope for a while now as not only have I heard loads of good things about them as a spotting scope, but as part of a digiscoping set-up, they are said to be fantastic. The 85A is the angled version of the Nikon EDG 85 Fieldscope that I have also reviewed.
Nikon EDG Optics
EDG?
Nikons EDG is pronounced "edge" and comes from their use of Extra-low Dispersion (ED) Glass that offer what they say is edge-to-edge brilliance and outstanding performance including natural color reproduction and crisp clarity. So what exactly is Extra Low Dispersion Glass?

Extra Low Dispersion Glass
Extra low dispersion glass is not only used on spotting scopes, but is used to make lenses on high end cameras, microscopes, binoculars and telescopes. It prevents chromatic aberration because it concentrates and directs the light wavelengths more effectively onto your eyes. Lenses made from extra low dispersion glass have less air bubbles and glass deformities that are more likely to cause image distortion.

Fully Multi Coated
Nikon uses multilayer coatings on all the lens and prism surfaces that transmit light on the EDG Spotting scopes. Most spotting scopes have antireflection coatings on their air to glass surfaces, but only the best are fully multi-coated. These coatings assist light transmission by minimizing the loss of light due to reflection.

Prisms
Nikon EDG fieldscopes use roof prisms that have been phase corrected with a set of coatings on the prism glass that keeps light in correct color phases this enhances resolution, contrast, and color fidelity. The angled 85-A fieldscope achieve what Nikon says are clearer images with the use of a roof prism with total reflection on the internal surfaces, which I cannot vouch for, but can say that my view through them was one of the best I have ever tested. Easily bright enough for the poorest light conditions an even good enough that they can be used for the occasional astronomical observation. 

Body Design
Overall the design is stylish as well as tough enough to handle most day to day knocks. They are well balanced, but I did find them a little bit on the heavy side (2030g) but I think this does reflect the excellent build quality and if you take into the account they have larger 85mm objective lenses than most full size spotting scopes it is understandable. If weight is an issue you may wish to look at the more compact 65 and 64-A Nikon EDG Fieldscopes.

Waterproof and Fogproof
The main bodies and eyepieces of the EDG 85-A Fieldscopes have O-ring seals and nitrogen gas inside them, making them both fog and waterproof up to 2m deep for 10 minutes, meaning you can use your EDG Fieldscope in pretty much every weather condition.

Tripod Mounting
The Nikon EDG Fieldscope 85-A is generally well balanced and come with three tripod mount screw holes for a flexible mounting position, that can really help especially when digiscoping.
Nikon 85A EDG Fieldscope Eyepieces
Nikon has produced 7 different fully multilayer coated eyepieces that are compatible with the Nikon EDG 85A Fieldscope giving you the greatest flexibility possible. There are 5 wide angle eyepieces ranging from 20x to a massive 75x magnification, one with a 20-60x zoom eyepiece that offers superb optical performance with minimized distortion and long eye relief (18.4-16.5mm).
The eyepieces mount onto the body with a bayonet locking design that is really easy to attach and release as well as secure. As well as being both fogproof wand waterproof, Nikon have a field flattener lens system that corrects overall aberration for a sharper, clearer edge-to-edge image. 
The image below simulates the effect of each Nikon EDG eyepiece, the first magnification is when they are used on the EDG 85/85A Fieldscopes, whilst the second magnification is with the EDG 65/65A Fieldscopes.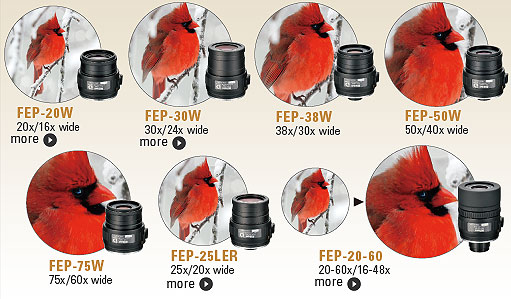 Eyepiece Key Features
Fully multilayer coated
Fog-free and waterproof up to 2 m for 10 min.—thanks to use of O-rings and nitrogen gas (water-resistant main body/eyepiece joint)
Eyecup moves in and out at turn of eyepiece ring and stops at any of three click-stops to facilitate observation and digiscoping (not applicable to FEP-30W, FEP-25LER and FEP-20-60)
FEP-30W offers a choice of eyecup: soft rubber cup for observation and digiscoping eyecup for connecting with the Digital Camera Bracket FSB-series
FEP-25LER has ultra long 32.3 mm eye relief
FEP-20-60 features long eye relief (18.4-16.5 mm) and minimized distortion with aspherical lens
Numerous COOLPIX series compact digital cameras can be attached to EDG eyepieces (except FEP-20-60) with digital camera bracket FSB-series
Digiscoping with the Nikon EDG Fieldscopes
Nikon are one of the worlds biggest and well known names in photography, their EDG fieldscopes have all been designed for digiscoping and connect very easily to both compact and SLR digital cameras.

Conclusion
Extremely versatile with incredible optical performance, I would say that these are definitely one of the best spotting scopes that I have ever been lucky enough to review. Their quality is however reflected in their price tag, but as they say you get what you pay for and with the Nikon EDG Fieldscope 85-A you are getting one of the best spotting scopes available.

Field Scope or Spotting Scope?
May people ask what is the difference, but essentially they are the same thing: a small portable telescope optimized for the observation of terrestrial objects.The term "spotting scope" originally comes from the sport of shooting on the target range as a spotter uses a scope to avoid walking to the target to verify the placement of hits. Nikon have added to the confusion in that they call their top-end scopes "Fieldscopes" and their cheaper scopes "Spotting Scopes".