Whilst I have used, tested and reviewed a whole host of Vanguard tripods and binoculars over the past few years, the arrival of the Vanguard 580 High Plains spotting scope on my desk was my first chance to try out one of their spotting scopes.
Vanguard have a reputation of producing excellent value for money products and almost without exception all of their binoculars that I have reviewed punch well above their price tag and so I had "high" hopes that this "high" plains spotting scope would provide me with more of the same.
Part of their High Plains 500 Series, which are aimed at the more budget conscious observer, the 580 is an angled spotting scope with an 80mm diameter objective lens and comes with a 20-60x eyepiece. It also comes supplied with a kit that includes a table-top or hide tripod with a pan & tilt head and a quick release plate that enables easy scope mounting and removal. Also included is a soft carry case as well as a heavy-duty aluminium flight storage and carry case.
Below is my full review of the Vanguard High Plains 580 spotting scope:
Important Features & Highlights
Fully Multi-coated Lenses
BAK-4 Prisms
Eye Relief: 16mm - 22mm
20-60x Eyepiece
Field of View at 1000m: 26m - 14m
Weight: 1610g
Waterproof
Dimensions (L x W): 42cm x 15cm
Includes: Steel Carry Case & Tripod
The Body
Build Quality
As mentioned earlier, this Vanguard spotting scope has 80mm diameter objective lens and is angled at 45 degrees, meaning that the eye-piece is meets the main body at 45 degrees. For more on the shapes of scopes and their relative strengths and weaknesses, read my article on Angled vs Straight spotting scopes.
The chassis itself is made from very strong and lightweight die-cast Magnesium alloy which has then been CNC (Computer Numerical Control ) machined for a very precise finish. This is actually really impressive in a spotting scope in this price range as most in this class use cheaper Aluminium, with Magnesium usually preserved for much more expensive scopes. Obviously I was not able to (or even wanted wanted to) test it to destruction, but the scope has a nice solid as well as robust feel to it, without being too heavy or "clunky".
The front half of the lens, the sun shield as well as the rear end of the body has been covered in a hard rubber armouring, that as the name suggests will help protect these parts of the scope from day to day knocks and bumps as well as provide you with a more tactile and "grippy"surface to hold onto.
The armor is also less reflective than exposed metal, which can actually be an important feature, especially if you want to remain hidden like when when observing timid birds and other wildlife.
This armour also has the added benefit of helping to dampen down any sounds when something like your watch or ring strikes against the barrel, which once again is important if you want to remain undetected.
I really like that fact that the mounting plate (tripod adapter) that fits onto the main body of the scope has a collar that goes right round the barrel. This can be loosened via the knob on the side of the body meaning that the spotting scope can be rotated by a full 360° which allows you to change the orientation of the eyepiece. This is a really nice feature not often seen on scopes in this price range, but is very handy if you have to place your tripod on uneven ground or if you use something like a Gimbal tripod head to mount your scope to your tripod.
The mounting plate itself is 5.5cm long which is a little shorter than some that I have used. It also only has only one location where you can screw your tripod head into. This is fine for observation as it is perfectly balanced, but if you are digiscoping for example, the extra weight of the camera and adapter can change the balancing point of your scope on the tripod. You can get around this by getting a tripod head with a sliding plate to help with balancing.
The underside of the plate is grooved which helps to keep it secure on the tripod head plate.
At the end of the barrel is a extendable Sunshade / Sun Shield, or as it is sometimes called a Dewshield, whatever the name, it is used to protect your lens from moisture or from the sun which, depending on it's location in relation to where you are looking can spoil your view without a shield. To use the shield, you just pull it out from the body, there is enough friction to keep it in place, yet it is not too tight as to make adjusting it awkward. It extends out 3.5cm providing plenty of protection.
Unlike some some scopes that I have used, this shield does not have a raised sighting line on it, that can be used to help when lining up objects, but to be honest is not something that I really use anyway, but if you do, it maybe something to take note of.
Waterproof & Fog Proof
I did not test this, but Vanguard advertise that the High Plains 580 telescope is O-ring sealed and therefore fully waterproof. As well as moisture, these O-rings also prevent dust and other small debris from getting inside the scope.
All the air inside the system has also been replaced dry Nitrogen to inhibit internal fogging. This moisture free environment also helps to protect the internal workings from any corrosion. Once again these are features that are not always found on scopes in this price range.
Focusing
To focus the Vanguard High Plains 580 spotting scope, you used the centrally located focussing wheel, which was nice and smooth on the sample I was testing.
The wheel is large and fairly prominent which makes reaching and using it, even with thick gloves on no problem whatsoever. It has also been covered in rubber and is deeply grooved to help with grip.
Because the focussing wheel is centrally located, it is equally easy to reach with either hand, unlike the side mounted ones that you sometimes find which are normally located on the right side of the body, which can make it harder for those who prefer to focus with their left hand.
Unlike some dual speed mechanisms, this scope uses a single speed focussing mechanism which takes 3 and 3/4 turns to go from infinity to it's minimum focussing distance 13-16m (42.7-52.5ft).
Rating for Body Construction Quality: 7/10
Weight
At 56.8oz (1610g), the Vanguard 580 is about average in terms of weight for an 80mm spotting scope. This will partly be down to the fact that Magnesium has been used in the construction of the chassis, which has a very good weight to strength ratio.
Interestingly scopes in this price range usually use Aluminium for the chassis, with Magnesium reserved for elite scopes like the Kowa TSN-880's for example. To put their weight into context, I have included the weights of other similar sized scopes below:
I must add though that weight alone can sometimes be a little misleading as some of the lightest scopes on the market are also amongst the cheapest (and worst) - this is because some very light spotting scopes are only this weight because they use sub-standard materials in their construction that may be lighter, but are definitely not as durable. For me I'd rather have a slightly heavier scope that feels both robust and durable, than a very light "plastic" scope which does not feel like a quality optical instrument and could easily break with the slightest knock.
Dimensions
With the sun shield fully retracted, I measured their length as being 42cm (16.5in), which is their advertised length. Completely extending the sun shield their length extends to just under 46cm (18in).
Their width at the widest point is 9.2cm (3.6in) and I measured their height at the maximum point which includes the mounting plate at 15cm (5.9in), which is what Vanguard also advertise.
Overall, these dimensions are about average for an 80mm scope.
Rating for Body Stats: 7/10
The Optics
The Prisms and their coatings
Vanguard have used high quality BaK-4 prisms on all their High Plains scopes, which is an improvement to the cheaper BK-7 ones that you sometimes find on cheap spotting scopes. BaK-4 glass is a superior optical glass which helps to produce a clearer image.
Phase Correction Coatings 
Whilst researching the High Plains 580, I came across an article that mentioned that Vanguard have added their proprietary P2 phase correction coatings onto the prism. These coatings are added because when light waves are reflected at the opposite faces of a roof prism, "phase shift" occurs which means that you get a small amount of deterioration in sharpness. Phase correction coatings counter this by keeping the light in the correct color phases and therefore produce images that have better contrast, a higher resolution and improved color reproduction. These coatings are only usually found on higher end roof prism scopes and so their inclusion on this scope is quite impressive and so for me it is a little strange that they don't shout about it more in their marketing material.
Lenses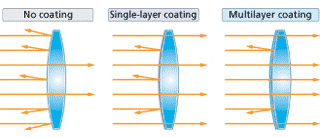 Vanguard don't go into too much detail about the lenses on the High Plains scopes, except to say that they have been fully multi-coated which means all air-to-glass surfaces have received multiple layers of anti-reflective coatings which is great and what you want to see on your scope:
Anti-Reflection coatings are designed to increase light transmission by minimizing the amount of light reflected away and thus help to produce a brighter image and therefore have a better low light performance. It is not unusual to look through a scope with a smaller objective lens, but with more and better quality anti-reflection coatings and seen them outperform a scope with a much larger objective lens, but with fewer or no coatings.
The table below shows Transmittance levels by type of coating:
| | | |
| --- | --- | --- |
| | Per Single Lens Surface | 10 Lens & Prism Surfaces |
| No Coating: | 96% | (0.96) x Power of 10 = 0.66 66% |
| Single-Layer: | 98.5% | (0.985) x Power of 10 = 0.86 86% |
| Multilayer Coating: | 99.5% | (0.995) x Power of 10 = 0.95 95% |
This is why it is very important, especially when comparing scopes in this price range to pay attention to how the manufacturer describes their Anti-reflective coatings as they can make a really big difference on the brightness of the image produced, but not all are created equal:
Lower quality optics often only add multiple anti-reflection coatings to the outer surfaces of the lenses (Multi-Coated) and even worse are scopes that only have a single layers of anti-reflection coating added to the outer lenses (Coated). The worst are ones that have no anti-reflective coatings at all and I highly recommend staying well clear of these.
Rating for Optical Components Quality: 6/10
The 20x-60x Zoom Eyepiece
The Vanguard High Plains 580 zoom spotting scope comes with a 20x-60x Zoom Eyepiece which means that it should be suitable for a wide range of uses and conditions. The eyepiece is fully multi-coated to help with light transmission as well as image contrast.
The eyepiece itself cannot be removed from the body and changed with another, this is a little disappointing, but not uncommon in this price range. One of the advantages of this is that it makes it easier for the manufacturer to make the scope airtight and waterproof.
The Eye Cup
Unlike the twist-up and down mechanism found on many scope eyepieces, the High Plains has a fold-down eyecup which means that you literally fold own the rubber cover on the eyepiece to adjust the amount of eye-relief.
Whilst this method works well enough for controlling the maximum and minimum distance your eyes (or glasses) are away from the eyepiece lens, it does not allow you to fine tune it as well as a twist-up mechanism that has fixed intermediate stops between fully retracted and fully extended does.
Optical Stats
Field Of View
Using the 20x-60x (8-24mm) Zoom Eyepiece the field of view at 20x magnification is 26m @ 1000m (78 feet@1000 yards) and 14m @ 1000m (42 feet@1000 yards) at full 60x magnification. Whilst this is sufficient, it does fall a little short of the best:
To put this into context, the Celestron Regal 100 F-ED Spotting Scope with it's 22x-67x Zoom Eyepiece has a field of view at 22x of 33m @ 1000m (100 feet@1000 yards) and 17m @ 1000m (50 feet@1000 yards) at full 67x magnification.
The FOV for the Nikon FEP-20-60x eyepiece attached to the very top of the range Nikon EDG Fieldscope 85-A, ranges from 38-19 @ 1000m
Close Focusing Distance
Depending on the magnification setting, the High Plains 580 has a minimum focussing distance that ranges from 13-16 meters ( 42.7-52.5 feet), which has to be said is a little far off from the best. 13 meters will be fine for most people, but keep this in mind if you know that you will be looking at objects at close ranges.
For comparison, the Celestron Regal 100 F-ED Spotting Scope has a minimum focussing distance of 7.9m (26ft), whilst the flagship TSN-880 series of spotting scopes from Kowa has a minimum focusing distance of 5m 16.4ft), but just remember the Kowa TSN is a far more expensive scope.
Eye-Relief:
Depending on the magnification setting, the amount of eye-relief ranges from 16-22mm, which should be more than enough for most people who wear glasses.
Rating for Optical Stats: 6/10
Image Quality
As I do with all my reviews, I compared the view through this Vanguard High Plains 580 with that of my control 80mm spotting scope, which also has a 20-60x zoom eyepiece. Testing and comparisons were carried out on numerous days that included a bright sunny day, overcast day and just at and after sunset. I also used the scope at night for astronomy on a few occasions.
Image Brightness
I would say that in terms of image brightness at different light conditions and at a range of different magnifications these looked to me to be about the same as my 80mm benchmark spotting scope and so because of this I rate them just above average in this department.
More about Image Brightness & Low Light Performance
Good light gathering ability is important because quite often you will find yourself in situations where the lighting is sub-optimal, especially if you do a lot of your wildlife and bird spotting early in the morning just before or at sunrise or late afternoon and early evening when most birds and other animals are at their most active. Scopes with larger objective lenses have the potential to take in more light and therefore have the potential to produce a brighter image.
But no matter how much light your spottingscope gathers, it is no good if that light is not passed onto your eyes (transmittance) and this depends hugely on the quality of the glass and optical coatings and not just the size of the objective lens. Good coatings on the lenses and the prisms can in some cases double the amount of light that gets through the scope, when compared to those that have none or poor quality coatings.
Color Fringing
To check for any color fringing (chromatic aberration), I focus on light coloured and white objects sitting in front of a dark backgrounds as this is where it is easiest to notice if there is any on the objects edges.
I had to look very hard, but I could just notice a very small amount of colour fringing on this Vanguard scope, which is most noticeable at 60x magnification. This is where scopes that use ED (extra low dispersion glass) can make a difference, but having said that, the amount of chromatic aberration was very minimal and only really noticeable if you are really looking for it.
Softening
There was a very minimal amount of softening of the image on the periphery of the view, once again this is more noticeable at 60x magnification and you only really can see it if you are looking for it. Compared to others in their class these perform very well in this area being as good as or better than most I have used.
Contrast & Colour Reproduction
I thought that the amount of contrast was good and the colors that are produced look and feel pretty natural.
Overall and within their price range, I would rate the view through this Vanguard Spotting Scope as being good to very good.
Rating for Image Quality: 7/10
Included Extras & Attention to Detail:
The High Plains 580 comes supplied with a kit that includes a deceptively versatile table-top/hide tripod that has a good quality pan & tilt head and a quick release plate that enables easy scope mounting and removal. Also included is a soft carry case as well as a heavy-duty aluminium flight storage and carry case:
Hard Carry Case
Whilst Vanguard specialise in making photographic accessories, I still did not expect what essentially is a budget spotting scope to come with such a high quality hard flight storage and carry case. These bought separately are often worth more than $50 / £45 and so it is a real bonus to get one with the scope and is not something that I have ever seen included even with much more expensive scopes.
The case itself is made from aluminium and has steel-reinforced corners. The inside of the case has been filled with pre-cut high density foam that fits the scope and the folded tripod perfectly. Combine this with the flexible Velcro straps and you have got the ultimate spotting scope protection.
There are also two elasticated loops on the inside lid of the case which holds and keeps the soft carry case in place.
Soft Carry Case
The included soft carry case looks to be well made, but is fairly basic and rather lightly padded.
Unlike some scopes that come with a carry case that can be kept on the scope when you are using it to provide some sort of protection against the elements, this one is designed purely for carrying your case and you cannot keep it on when using the scope.
The case basically wraps around the scope and is zipped closed. It also comes with a good quality carry strap, which you can adjust the length of with a couple of sliders.
When not in use, the carry case can be folded up and stored neatly away within the lid of the hard carry case (see image above).
Tripod
Also included with the scope is a very compact tripod with a full pan & tilt head. Before seeing it, I thought that like many "free" things that come with a product, it would be fairly cheap and nasty. This is definitely not the case with this little tripod and whilst it may not win an award for the best tripod ever made, I was very pleasantly surprised as it looks to be pretty well made and will definitely get used in the right circumstances.
Obviously out in the field, you would still want a full sized tripod, but this really small tripod is ideal for setting up your scope on a table at home or in a hide and the fact that it is so small and compact, it easily fits in the hard carry case (see image above) and makes it really simple to carry about where ever you take your scope.
Whilst it is short, it comes with legs that extend out really wide making the scope very stable when mounted onto it. The tripod also comes with a two-way pan head that is ideal for use with a scope making it simple to aim your spotting scope and quick to lock into place when you have located your target.
Lens Covers
The eye-piece cover is a metal tube that covers the eyepiece and can be screwed onto the body of scope, it is well made and will provide plenty of protection.
The hard plastic objective lens cap looks well made and fits very well onto the end of the scope with a couple of spring loaded quick release clips (like the ones you find on the ends of camera lenses) and so should not easily come off accidentally.
Other Included Accessories
Inside the box you will also find a good quality lens cleaning cloth, a warranty card and a fairly generic user manual that includes details like focusing, eye relief, changing the magnification etc.
Rating for Extras & Attention to Detail: 9/10
Digiscoping
It is possible to digiscope with the Vanguard High Plains 580 and indeed with all the High Plains Scopes as Vanguard sell a whole range of DSLR digiscoping adaptors specifically designed for use with all their scopes.
If you are using an SLR camera, you will first need a TA adapter for your camera:
TA-100 adaptor ring attaches directly to most Sony DSLR lenses
TA-101 adaptor ring attaches directly to most Nikon DSLR lenses
TA-101 adaptor ring attaches directly to most Canon DSLR lenses
Then, for the High Plains 580, you need to use the PA-107 digiscoping adaptor that can be attached directly to your DSLR camera body using one of the TA adapter rings above. The PA Adapter then slides over the eyepiece and screws onto the body of the scope.
The PA-107 has cut-outs on it enabling you to adjust the zoom level on the scope's eyepiece.
These adapters can be found on websites like Amazon and are fairly innexpensive:
Conclusion
Strong Points: The scope is well made out of high quality components and material which really helps it to look and feel far more expensive than it's price tag.
The fact that it has a magnesium chassis makes it strong and helps keep the weight down, it has fully multi-coated optics, a Bak-4 phase corrected prism and a tough waterproof body all of which are really good points and not alays available at this price point.
Whilst it would be unreasonable to expect this scope to compete with ones costing 10x or more, within it's price range it easily performs as well as, if not better than most, in almost every area and I thought that the quality of the view was as good as and better than many in this class.
The quality of the hard carry case is exceptional and you wont find better and the excellent little table-top tripod is also a really nice touch and will please those who have a table to set up their spotting scope at home or in a hide.
Weak points? Whilst there is nothing really bad about the High Plains 580, there are a few things that could be better. Personally I would prefer to have seen a slightly wider field of view and some people may also wish for a removable eyepiece enabling them to fine tune the scope using different eyepieces for specific uses.
Ideal Uses: With the included 20x-60x Zoom Eyepiece, this scope is ideal for a variety of uses including birdwatching, general nature and wildlife observation, target shooting and the fairly large 80mm objective lens means that you can even use it for for astronomy.
I actually tried the scope out at night, taking in some excellent views of the moon and it's craters and also stayed up to see Neptune on the 24th of August, which was when it reached opposition giving it the year's biggest and brightest appearance.
So to sum up and considering it is currently available for less than $250 / £200, I was honestly expecting the scope to perform fairly badly and whilst the Vanguard High Plains 580 and every other scope in this range can't compete with a high end spotting scope, I think it still offers incredibly good value for money, especially for those just starting out or those looking for a good quality scope, but don't want to spend big money.
Acknowledgements
I would like to thank Vanguard for sending this scope to me to review. I would also like to point out that this and all the other reviews on this site are my opinion and are not influenced in any way by manufacturers, distributors or suppliers.