Over the last few years I have reviewed many Vanguard products including quite a few of their scopes, camera bags, tripods, tripod heads and almost all of their binoculars. One aspect that invariably stands out for me on almost all of them is that they generally are really good value for money.
The Endeavor HD series is Vanguard's flagship range of spotting scopes and as you would expect they utilise many very high end optical components and features, yet true to form they still cost somewhat less than most other top end scopes currently on the market. However this is not the whole story as the most important aspect on any scope is just how well they actually perform.
So with this in mind and to see if their performance really does surpass their price tag, I recently arranged for an 82mm angled version of the Endeavor HD to be sent to me to so that I could fully test it. Below is my in-depth Vanguard Endeavor HD 82A spotting scope review:
Main Feature & Specifications
82mm Objective Lens containing Extra-low Dispersion Glass (ED) elements
Dual Focus Wheel
100% Fog and Waterproof
Fully Multi-coated Lenses
Phase Coated BAK Prisms
Eye Relief: 19mm - 20mm
20-60x Interchangeable Eyepiece
Field of View at 1000m: 110m - 52m
Weight: 1810g
Dimensions: 38cm x 18cm
The Body
The overall shape of the Vanguard Endeavor HD 82A is that os a fairly typical of an angled scope, with the eyepiece connecting to the main body at a 45° angle, which means that you don't need to have the scope at eye level height to comfortably look through it and is easier to view upwards. For more details on the relative strengths and weaknesses, take a look at the article I wrote on Angled vs Straight spotting scopes.
In keeping with the very best spotting scopes, the main chassis is constructed from magnesium. This is not the cheapest material, but it is generally considered superior to aluminium and whilst it may not be as light, it is much better than the polycarbonate bodies found on many cheap scopes.
The Endeavor differs slightly from the norm that have a rubber armour that covers most of the body because Vanguard have left much of the metal chassis exposed (apart from a small amount of detailing neat the eye-piece). This probably offers the optics a little less impact protection, but it does make for a very high quality looking finish.
This exposed metal has a fine texture to it, which does help a little with grip but is not as grippy as the rubber near the eyepiece.
This texture, combined with the black finish, also reflects a little less light than if it was left smooth. However as you can see from my photo below, it is more shiny than the rubberized section. This may be something to keep in mind if you are worried that reflections will give away your position or potentially startle wildlife. However a way around this and one that will add increased protection to the scope would be to use it with the included padded cover - see more on this in the Accessories section towards the end of this review.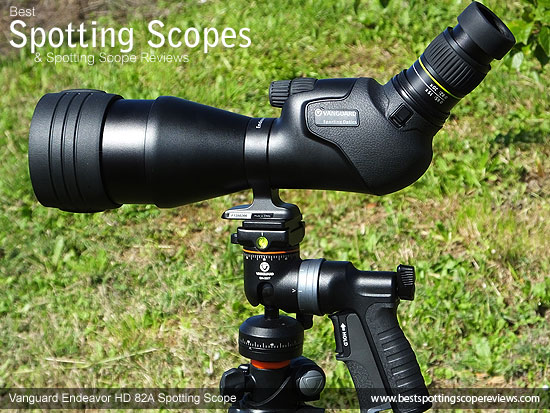 Made from what looks to be a very hard plastic and covered with a rubberized coating, the Vanguard Endeavor ED spotting scope has an extendable sunshield/dewshield that is designed to prevent glare in direct sun or protect the lens from light rain. It extends out about 4cm and so does provide plenty of protection.
Also located on the shield are a couple of raised sighting lines that in some situations and for some people makes it easier to line up objects to get them into view more easily.
Mounting
The mounting plate is 6.5cm long and 3.8cm wide, which combined with the grooves on it, gives you a nice sturdy base with which to fix it to your tripod. It is well positioned, in that it is almost at the exact balancing point of the scope (with the eyepiece attached) which is good to see.
However these is only one threaded recess with which to fix it to the tripod head, so if you are digiscoping, unless you have a sliding plate, you cannot allow for the extra weight of the camera on the rear which obviously changes the balancing point. Whilst most tripods and tripod heads that are designed to take heavier weights should be able to cope with this, an unbalanced setup can sometimes make it a little more tricky to aim.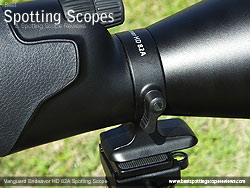 Like most good scopes, the mounting plate is connected to the body using a collar that encircles the barrel.. This can be loosened using a small lever on the right hand side (see image on the right), which then enables you to rotate the scope should you need to, for example if your tripod is positioned on uneven ground and you cannot get it's platform level.
Throughout my test I used the Scope with the Vanguard ABEO Pro 283CGH Tripod that comes with the GH-300T Pistol Grip that worked really well.
100% Waterproof
The body of the Endeavor HD is completely sealed and the company advertise that it is 100% waterproof, although they do not stipulate to what or any specific recognized standard.
Fog Proof
To prevent the internal glass surfaces from misting up, which can sometimes occur to unprotected optical devices when you have a quick temperature change, they have also replaced all the internal air with a dry gas (usually Nitrogen). This moisture free atmosphere inside the scope also prevents any corrosion from occurring and so prolongs the live of the product.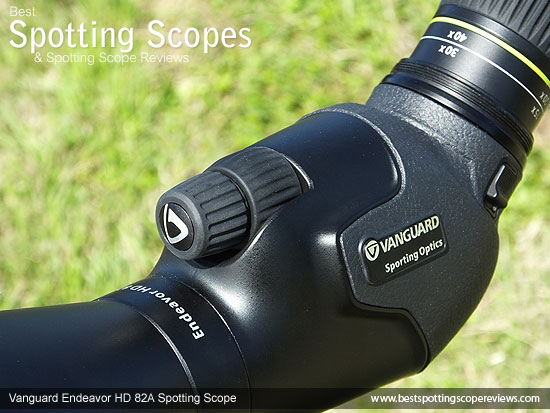 Focusing
The Vanguard Endeavor HD spotting scopes come with duel focus wheels which are differently geared. The wheel closest to the eyepiece is geared much higher and is for quickly changing the focus over larger distances (it takes 3 and 3/4 turns to go from one extreme to the other), whilst the other wheel is for fine tuning your focus to get it spot on for the perfect view. This system works really well and in my opinion is far better than those that only come with a single focus wheel.
Centrally located on top of the scope, making them equally accessible with either hand, the wheels themselves are reasonably large, prominent, grooved and rubber covered which makes them simple to find and easy to turn, even in very cold conditions and you have thick;y padded gloves on your hands.
Rating for Body Construction Quality: 8/10
Weight
Weighing 63.8oz (1,810g) the Endeavor HD is reasonably heavy for a scope this size. However you must remember that unlike some cheap scopes that use plastic, this like other top models has a magnesium chassis, which is heavier, but far superior.
Dimensions
Vanguard state their dimensions as being 38cm long, which is measured with the eyepiece attached and the sunshield retracted. Extending the shield, extends the length to 41cm.
The depth (height) of the scope is 18cm from the top of the eyepiece, to the base of the mounting plate, whilst I measure the width at the widest point to be 10.1cm.
Rating for Body Stats: 7/10
The Optics
Lenses
Ocular Lens
Other than to say that the ocular lens in the eyepiece has a diameter of 22mm, I could not find out any more information on it's design and construction.
Objective Lens
The multi-element 82mm objective lens has an element that is made from ED glass (extra-low dispersion) which gives the optical designer more freedom to better direct the light so that after it has passed through the lens, all the wavelengths of light are more accurately focused at the same point. This can drastically reduce or even eliminate the amount of chromatic aberrations, which in turn results in an image that can have far less color fringing around the edges of objects than many scopes that don't use ED glass.
Prisms
This Vanguard Spotting Scope uses a roof prism to correct the inverted image, which has been made from BaK4 glass.
Optical Coatings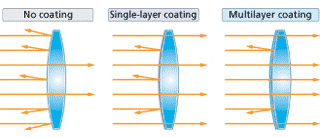 Fully Multi-Coated
As the light posses through this scope, it comes into contact with many optical surfaces and each time there is the potential for the light to be reflected in an unwanted way, which can result in a far less bright and lower quality image. To help minimise this coatings of an anti-reflection material are added to these glass surfaces.
Cheaper scopes will often only be "Fully-Coated", which means only some of the surfaces have been multi-layer coated. Even worse are ones that are simply "Coated", which means only some surfaces have has a single layer coating.
Vanguard describe the optics on the Endeavour HD as being Fully-Multi-Coated. What this implies is that ALL glass surfaces within the optical system have been coated with multiple layers of an anti-reflection material, which can make a really big difference to the image produced.
The table below gives an indication as to how the transmittance is improved according to the amount of anti-reflection coatings:
| | | |
| --- | --- | --- |
| | Per Single Lens Surface | 10 Lens & Prism Surfaces |
| No Coating: | 96% | (0.96) x Power of 10 = 0.66 66% |
| Single-Layer: | 98.5% | (0.985) x Power of 10 = 0.86 86% |
| Multilayer Coating: | 99.5% | (0.995) x Power of 10 = 0.95 95% |
Phase Correction
The roof prisms on these scopes have also had phase correction coatings added to them, which is designed to correct the "phase shift" that occurs as the light is reflected around the prism. Because the light waves are now kept in the correct color phases, the result is an image that has improved color reproduction, resolution and contrast.
Rating for Optical Components Quality: 8/10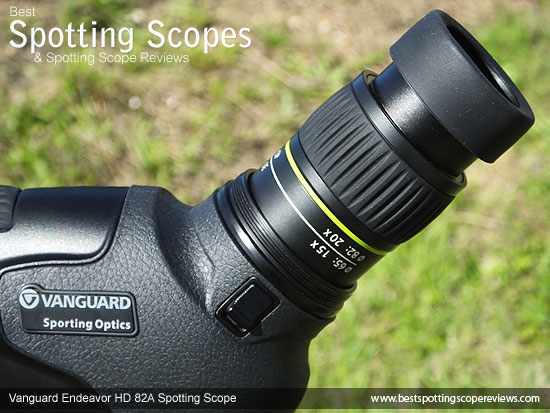 The 20x-60x Zoom Eyepiece
The Vanguard Endeavor HD 82A comes with a removable zoom eyepiece that is fully waterproof and fogproof.
It is designed to work with all of their 65mm and 82mm spotting scopes. On this 82mm scope, it gives you a 20x - 60x zoom range, which you change by turning the large grooved and rubberized ring near the eyecup.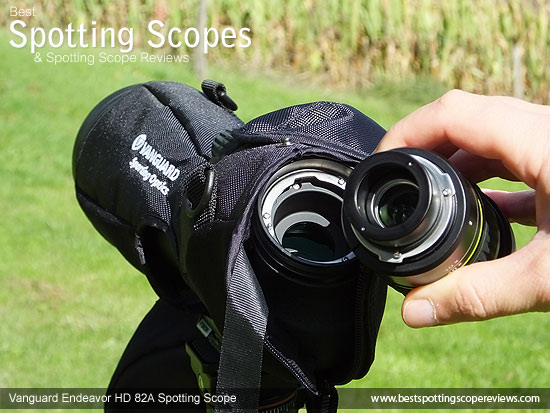 The eyepiece is interchangeable and is connected using a bayonet mount which has a locking mechanism. It is removed by pulling down on the small slider located on the left side of scope near the eyepiece and then twisting it clockwise. To replace it, you simply locate the end of the eyepiece into the socket and then turn anti-clockwise until it clicks into place.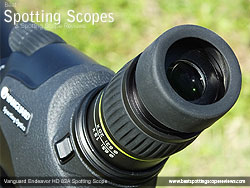 The lens has a diameter of 22mm, whilst the eyecup has an external diameter of 50mm and is rubber coated which helps a little with comfort. The twist-up mechanism works smoothly and although there are no fixed intermediate stops, there is enough friction to enable you to stop and use it at any point between fully retracted and extended
Optical Stats
Eye-Relief:
Depending on the magnification, the eye-relief ranges from 19mm - 20mm, which is a good amount and should be enough for you to use the scope with your glasses on and still view the whole image.
I tested this with my sunglasses on and with the eyecup fully retraced was indeed able to view the whole image without any dark rings on the edges.
Field Of View (FOV)
The FOV or the width of the image that you see varies depending on the magnification, getting smaller the higher the power.
At 20x the FOV the width of the image you can see is 110ft wide at a distance of 1000 yards (37m at 1000m) away, which translates to a viewing angle of 2.1°. Whilst at full 60x power the view is 52 feet wide (17.3m) at the same distance (1° viewing angle), because you are "zoomed" in on the object.
This FOV compares very well with other scopes using similar powered eye-pieces and really makes it quite a bit easier to locate an object, getting it into view quickly:
Close Focusing Distance
The closest you can focus on an object away varies between about 6m and 6.5m (19.7ft - 21.3ft) away depending on the magnification used, which is pretty good and compares favourably with other similar high end scopes:
For example the Celestron listed above has a minimum focussing distance of about 7.9m (26ft), whilst the Kowa's is 5m (16.4ft).
Optical Stats Rating: 8/10
Image Quality
I have a mid-level benchmark 80mm spotting scope that also has a 20-60x zoom eyepiece, that I use to compare and judge the view with the scope under review. This helps me to be as consistent as possible with my thoughts.
I conducted the following comparisons and observations twice, once in good light and then again in very overcast conditions.
Image Brightness
To me the image slightly brighter on this than my benchmark scope and on top of this there was far less darkening of the image when moving from 20x magnification to 60x.
Whilst I know that at 82mm, this Vanguard has a slightly larger objective lens which has the potential to collect more light than my 80mm benchmark, the fact that it also uses good quality glass and is full multi-coated means that more of the potential light is actually transmitted to your eyes.
Therefore I would rate image brightness on the Vanguard Endeavor HD 82A as very good to excellent.
Color Fringing
By focusing on objects that contrast with their backgrounds, I looked very hard for obvious signs of color fringing caused by chromatic aberrations. Occasionally I spotted a very faint blueish line on the object edges, but it was very faint and really at all noticeable unless you are rally looking for it.
This is where the proper use of the ED glass (extra low dispersion glass) does make a difference and I would say that whilst I consider my benchmark to be good in this area, the Endeavour ED was even better.
Softening
Whilst there is a small amount of blurring or image softening right at the edges of the view, the amount is very small and no more than what I would expect from a scope in this class.
Contrast & Colour Reproduction
For me there were no issues with the colors or the contrast and the to me the image looked vivid and the colors looked natural, without any noticeable artificial tints that you sometimes get, especially through cheap spotting scopes.
Rating for Image Quality: 8/10
Included Accessories:
Protective Cover
Described by Vanguard as a padded raincoat, the stay-on cover performs a number of functions:
It comes with a sling or strap that you can attach to it that enables you to carry the scope on your shoulder. This shoulder strap is un-padded and fixes to the cover via a couple quick-release clips and looped connectors. I found it worked really well and was a reasonably comfortable and really secure way of transporting the scope when not in use.
Whilst it is only lightly padded, it will provide some protection to the scope from small impacts and will also keep the scope from getting wet or dirty in rainy or dusty conditions. It has separate but tethered objective and eyepiece covers that can simply be removed or replaced and there is a small flap that protects the focus wheels.
The cover also reduces the reflectivity of the body and offers improve sound dampening, both of which can be important if you are on the trail of timid wildlife and birds.
For me this has to be one of the better scope covers that I have ever used as not only is it very well made, but is fairly quick to put on and take off, yet fits very tightly. You can also use and adjust everything on the scope whilst keeping it on, this includes the focus wheels, the zoom on the eyepiece, the sun-shield and loosen the collar to rotate the scope relative to the mounting plate.
Lens Covers
The ocular lens cover is made from a soft plastic that fits snugly over the rubber eye-cup
The objective lens cap is spring loaded with quick release clips (similar to many that you find on the ends of camera lenses) and fits very well into the end of the barrel, preventing it from coming away by accident.
You cannot attach this lens cover when you have extended the sun-shield, which is one thing that for me is a little annoying, but is the case with almost every scope I have used.
Other Included Accessories
Vanguard also supply the scope with a good quality micro-fiber lens cleaning cloth and inside the box you will also find the warranty card and a simple user instructions with basic details on how to care for, use and clean the scope.
Rating for Extras & Attention to Detail: 7/10
Digiscoping
Digiscoping with the Vanguard Endeavor HD spotting scopes is simple as all you need to get is a Vanguard PA Adapter. The PA-202 Digiscoping Adaptor is the one I got that fits to all Endeavor HD and Endeavor XF Spotting Scopes.
This adapter goes over the eyepiece and then screws onto the scope near where the eyepiece connects to body. It has a 58mm thread and also comes with a 52mm step-down ring, wither of which you can connect to your camera lens or camera depending on your setup.
Like many similar adapters, the PA-202 has cut-outs on the sides that enabling you to adjust the zoom level on the scope's eyepiece with it attached..
These adapters can be found on websites like Amazon and are fairly inexpensive:
Final Thoughts
Strong Points: The internal chassis and exterior is well made using great quality materials and this really shows as this Vanguard scope looks and feels like a high quality spotting scope.
The use of good quality optical glass and coatings is reflected in the quality of the image that is produced, which to my eyes was excellent and easily as good as or better than any I have used in this price range.
The eye-relief is excellent as is the wide field of view, which really makes a difference in the time it takes to get an object into view at higher magnifications. This wide FOV also makes it easier to follow birds and wildlife.
The protective cover is also excellent, it provides enough impact protection and from the elements, is simple and fast to take on and off, yet fits very tightly, maintaining the overall profile of the telescope.
Focusing with the duel speed wheels is smooth, fast and accurate.
Weak points? At the moment, Vanguard only make the 20x-60x zoom eyepiece, but it would be nice if they also produced a few fixed magnification ones that would offer just a little more quality in certain circumstances.
Ideal Uses: As you would expect the 20x-60x Zoom eyepiece makes the scope very versatile and is therefore a good choice for a wide range of situations and uses. With it you can be observing a small bird in a tree halfway down your garden and then the very next, zooming in on a deer on a distant field.
Like other similar scopes it is ideal for most birders needs as well as larger wildlife observation and is perfect for target shooting and archery.
Whilst an 80mm scope like this and an included tripod could never truly be described as very portable, with the included sling, or by holding the scope and tripod over your shoulder, it is possible and indeed fairly comfortable to take this setup on longer walks.
The large 80mm objectives and bright image make it great for occasional astronomy as you can especially get some fantastic views of the moon. However for dedicated astronomy use, you will be far better off getting a telescope designed for the purpose.
Conclusion
I started this review by wondering if this high end scope could perform as well as it's individual parts, coatings and specifications suggest it could and therefore outperform it's price tag. Whilst I don't believe it quite lives with the very top end scopes that often cost more than $2000 / £2000, I do believe it easily matches and indeed is better than many on the next tier. Make no mistake this is a great piece of kit that I do believe is in keeping with Vanguard's reputation of great value for money.
100% Honest & Real Review
Whilst researching the spotting scopes that I review, I come across many bogus reviews that look to me to be little more than adverts for the product, written by people who have never used or seen the scope in question.
I would like to assure you that not only have I spent a lot of time with the Vanguard Endeavor HD 82A, both testing and using it in my office and out in the field, but what I have written about it is my genuine and honest opinion and to the best of my knowledge. However I can and do sometimes make mistakes, so if you spot one, please contact me to let me know.