It was not that long ago that really high quality spotting scopes with top spec features like a fully sealed full magnesium body, dual speed focus wheels, interchangeable eyepieces, ED glass and dielectric prism coatings, really were only the preserve of the professional or the wealthy.
However with increased competition and much better and more efficient manufacturing techniques, the price of owning a really great spotting scope has dropped significantly and now, even if you are just getting into it as a hobby, you really don't have to settle for a low quality product that produces a substandard image.
A good example of this looks to be the Endurance series from Hawke. Whilst it is not not their flagship range and even though they cost almost half the price of the headlining Hawke Panorama ED, they still utilize almost all of their high end components, which to me looks like they have the potential to deliver a great user and viewing experience into the reach of a much wider audience. So to see if Hawke Sport Optics have managed to pull it off, take a look at my full Hawke Endurance ED 20-60x85 Spotting Scope review below that I wrote after testing and using it for a couple of weeks:
Main Feature & Specifications
Large 85mm Objective Lens
Magnesium Body
100% Fog and Waterproof
Dual Speed Focus Wheel
ED (Extra-low Dispersion Glass) Lens Elements
Fully Multi-coated Lenses
BaK-4 Phase Corrected Prism
Highly Reflective Dielectric Prism Coatings
Eye Relief: 18mm - 20mm
Supplied 20-60x Interchangeable Eyepiece
Field of View at 1000yds: 105ft - 52.5ft
Weight: 1590g
The Body
The Hawke Endurance ED spotting scopes come in two sizes, a travel friendly 65mm version and this larger 85mm version for greater light gathering and thus no compromises on image quality & brightness. Both sizes have what looks like a classic and standard angled body shape, with the eyepiece set at a 45° angle.
The main advantages of this angled shape verses the straight through design is that you don't have to raise the scope right up to to eye level to use it and it makes it much easier to look upwards through it.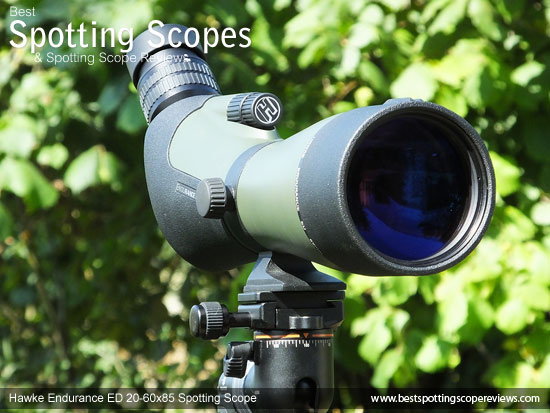 Chassis & Exterior
Hawke have not skimped on the body and chassis materials as the main body is made from an alloy of magnesium, which is both strong and lightweight and is usually preferred by most users to aluminium bodies and definitely better than the much cheaper to make plastic/polycarbonate bodies, which can also be found on some within this price range, but especially on cheap scopes.
Most of the body exterior has been left exposed, with only a small section towards the rear having a reasonably thick rubber coating. This finish does looks great, but because it is not completely rubber armored it does not provide as much protection or grip as those scopes that are.
Exposed metal surfaces can also reflect more light than rubber, which in turn can give your location away and possibly even frighten some birds or larger wildlife in certain circumstances. To reduce this reflectivity, Hawke have ensured that the body is not completely smooth as it has a very fine texture (which also helps a little with grip) and on top of this, it is colored in a neutral green for a little camouflaging.
So I do not think this will be much of an issue, however if you are at all worried about the protection or indeed the reflectivity, then you can always also use the scope with the included cover on it. This will not only provide protection from rain, but as will also protect it from smaller knocks and scratching as well as make the exterior very unreflective. You can read more about the cover in the Accessories section of this review near the bottom of the page.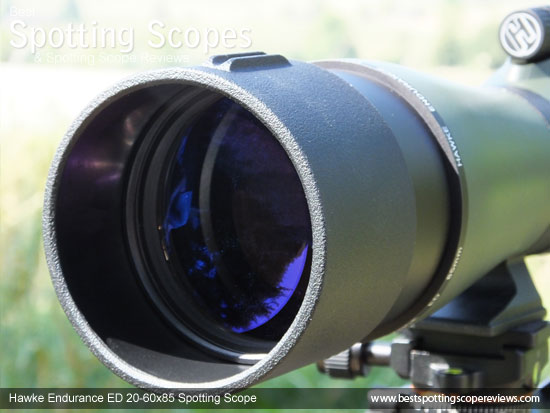 Sunshade
Covered in a somewhat thick black rubber coating, there is a sliding sleeve at the end of the barrel near the objective lens on the Hawke Endurance ED spotting scope. Known as a sunshield/dewshield, it is designed to protect the lens from dust and light rain but more importantly from lens flair, glaring and other unwanted reflections often caused buy the sun in certain lighting situations/directions.
This shield itself slides in and out smoothly and it also has a sight located on it that can help with lining up the scope with what ever you want to see.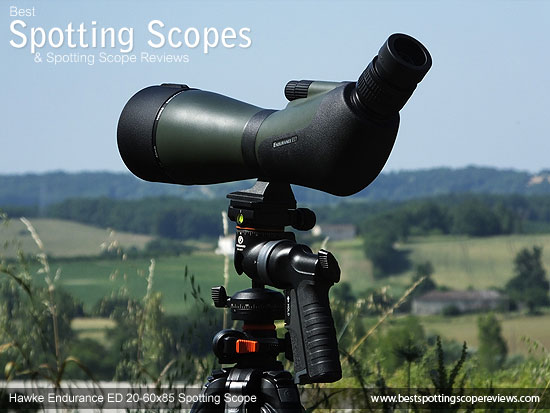 Mounting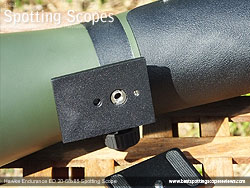 There is a metal collar that runs around the body on this Hawke spotting scope located near the middle of the body. Attached to this is the all metal mounting plate, which is 6cm long and 4cm wide, which provides you with a large and secure platform to mount the scope onto a tripod with. I found that it was well positioned near the balancing point, which makes it much easier to aim the scope. Although remember the exact balancing point will can a bit depending on your sunshield setting and what eyepiece you are using etc.
The single threaded recess uses the standard sized thread and so will attach to most tripods/tripod heads very easily.
There is also a knob on the collar, which when loosened allows it and thus the mounting plate to rotate around the scope's body and so when it is mounted on a tripod, you can rotate it a full 360° for more flexibility and viewing options. Take for example it can help if you are on uneven ground as it is sometimes quicker to quickly loosen the collar and rotate the scope a little than to spend time adjusting the tripod head or legs to get it level.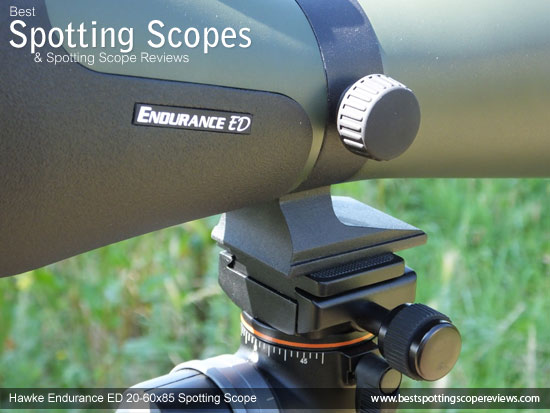 Water & Fog Proof
Hawke Sport Optics advertise that the Endurance ED is waterproof, although they do not go further and mention if it is tested to a recognized level or standard.
When the unit is sealed during manufacturing, they also replace all the internal air with a dry gas (Hawke don't specify which gas, but it is usually nitrogen). This dry interior helps stop corrosion and prevents the internal glass surfaces from fogging up which can easily occur on untreated instruments when you get rapid temperature changes.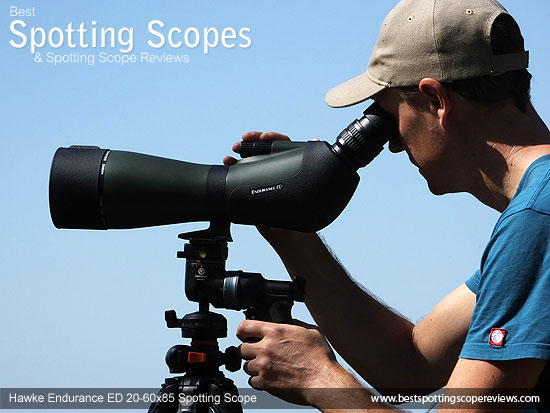 Focusing
As with the majority of scopes, focusing is achieved by rotating the knob(s) just in front of the eyepiece.
The Hawke Endurance ED spotting scopes are fitted with dual speed focus knobs. What this means is that the smaller focusing wheel nearest the objective lens has a finer/lower gear and so moves the focusing plane a lot less distance for the same amount of turning as the larger one.
This makes it much easier and quicker than those scopes that only come with a single speed focus to very accurately adjust the focus to get it completely sharp using fine focus wheel once you have gotten close to it using the coarse/higher geared knob.
The larger coarse/higher geared wheel takes about 5½ turns (1980°) to go from one near to far focus, which in itself is comparatively fairly lowly geared, meaning that big changes in focusing distances do take a little longer than on those scopes that require less turning of the wheel. However it also means that you will find it easier to get close to the exact focus distance before having to using the fine tune wheel and I also found that I would almost never go right past the focus point and have to go back again, which I do often do on more aggressively geared scopes.
Both wheels are comparatively large and prominent making them easily accessible, which combined with a very smooth mechanism that had no unwanted free play made adjusting the focus simple and hassle free. These features as well as the deeply grooved rubber that covers them also meant that I was able to easily and accurately adjust them even when testing whilst wearing my thick winter gloves on, which can be very important in winter.
I also like the fact that on the Hawke they are positioned right on the top and not to one side which I have seen on some scopes, so you can adjust the focus with your right or left hand.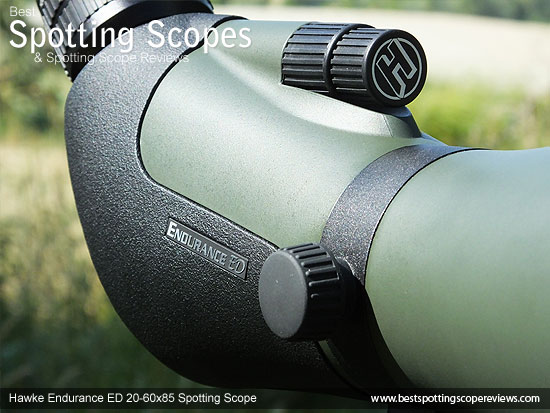 Rating for Body Construction Quality: 8/10
Weight
At just 56oz (1590g), this 85mm Hawke Endurance ED one of the lightest scopes I have tested, which if you consider the large 85mm objective lens and the fact that it does not have a cheap (and lightweight) plastic body, this is really impressive.
Practically this does make it a little easier to carry about in the field and potentially make it easier for your tripod to support it without any slipping or movement.
Dimensions
Interestingly Hawke Sport Optics do not publish the dimensions, but I measured them as being:
Length: 15.4in /39cm (excluding the eyepiece and with the sunshield retracted). Attaching the eyepiece the length moves out to 43cm, then by twisting out the eyecup this extends to 44cm, then by extending the sunshield the maximum length is 48cm.
Height (depth): 7.1in / 18cm from the base of the mounting plate to the top of the eyepiece.
Width: 4.1in / 10.5cm, which includes the knob on the collar.
Rating for Body Stats: 8/10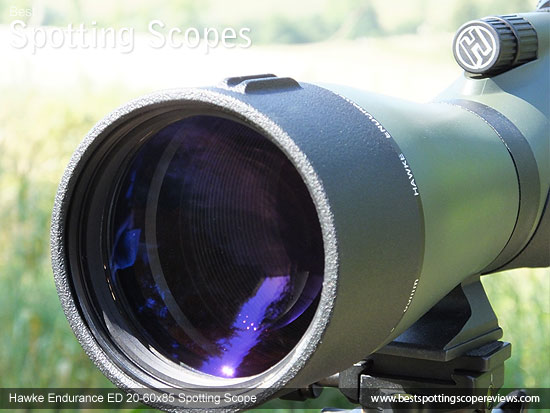 The Optics
Lenses
Ocular Lens
Hawke don't go into much detail regarding the make up of the lenses in the zoom eyepiece so all I can say is that I measured the external lens to have a diameter of 19mm, which is a little smaller than say on the similar Vanguard Endeavor ED which has a 22mm eyepiece lens diameter.
Objective Lens
The 85mm objective lens is nice and large, which increases the light gathering potential, which is important for both the quality of image and low light performance of the scope.
As is highlighted in the name, the compound lens has ED (extra-low dispersion) glass elements within it. This glass has special properties that basically enables the designer of the optical system better manipulate the individual wavelengths of light so that more of them are more accurately focused onto a single point after the lens.
If this is done correctly this glass can play a big part in reducing or even eliminating the color fringing caused by chromatic aberrations that that you sometimes see, especially at higher magnifications and/or when viewing the edges of objects that have a big contrast in brightness compared to their background.
Prisms
The roof prism on this Hawke spotting scope is made from high quality BaK4 glass that is generally considered superior in this application than the the BK-7 glass that is sometimes used mostly on cheaper instruments.
Optical Coatings
Phase Correction Coatings
One of the downsides to the roof prism design used in this and indeed most scopes is that the different wavelengths of light become out of phase as they reflect off the different prism surfaces. This is known as "Phase Shift" and if left uncorrected, results in a poorer quality image that has a lower resolution and less contrast.
Here again, Hawke have not compromised on the cheaper Endurance ED as they have added phase correction coatings to this prism surface as they do on their more expensive scopes. These coatings prevent the phase shift from occurring, but is technically difficult to achieve and thus expensive to do and so is not something that you will always find on a scope in this price range.
Mirror Coatings
One of the glass surfaces on the roof prism does not reflect all of the light that hits it, which left uncorrected results in a a lesser quality image.
So to increase the reflectivity of this surface, manufacturers sometimes add highly reflective coatings to this surface. The cheapest way is to use aluminium but this does not reflect as much light as the silver mirror, or even better still (and much more expensive) dielectric coatings.
Most aluminum coatings tend to have a reflectivity of between 87% and 93%, whilst silver mirror coating increase this to about 95% to 98%. Whilst the very best dielectric coatings cause the prism surfaces to act as a dielectric mirror and can have a reflectivity of more than 99% across the whole visible light spectrum, meaning that it provides almost the same brightness as that perceived by the naked eye as well as helping to produce very clear, high-contrast images with a true color reproduction.
In this price bracket I would expect to see most scopes having either aluminium or silver mirror coatings, but incredibly, especially when you consider the price, is the fact that Hawke have used dielectric coatings that are usually only found on really top end alpha scopes.
Fully Multi-Coated
From the time the light hits the objective lens until it exits the ocular lens and goes into your eye, it comes into contact with many glass surfaces in the lenses and the prism (usually more than 10). Each time it hits a surface there is the potential for unwanted reflections to occur which can negatively affect image quality and result in a less bright image.
To help minimize this, a layer(s) of a special anti-reflection material is (are) applied to all or some of the surfaces. How many layers (coatings) that are applied to how many surfaces depends largely on cost. The more that are applied, to some or all of the surfaces, the higher the cost of producing the product.
The great news is that the optical system on the Hawke Endurance ED scope is fully multi-coated which means every external glass surface throughout the whole scope has had multiple layers of this anti-reflection material applied to them.
This really can make a visible difference, especially to the brightness when compared to lower quality scopes with none or only only single coatings on some surfaces. As a rough guide, take a look at how the transmittance is improved depending on the amount of anti-reflection coatings in the table below:
| | | |
| --- | --- | --- |
| | Per Single Lens Surface | 10 Lens & Prism Surfaces |
| No Coating: | 96% | (0.96) x Power of 10 = 0.66 66% |
| Single-Layer: | 98.5% | (0.985) x Power of 10 = 0.86 86% |
| Multilayer Coating: | 99.5% | (0.995) x Power of 10 = 0.95 95% |
Rating for Optical Components Quality: 9/10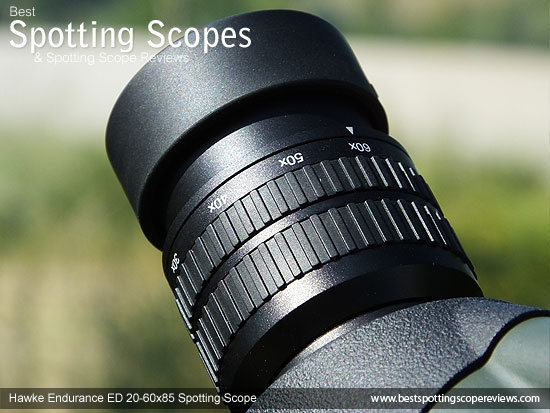 The 20x-60x Zoom Eyepiece
The Hawke Endurance ED 85A Spotting Scope comes with a removable zoom eyepiece that offers a variable magnifications between 20x and 60x, that can be adjusted by rotating the grooved ring near the eyecup. This eyepiece is also completely sealed and so is waterproof.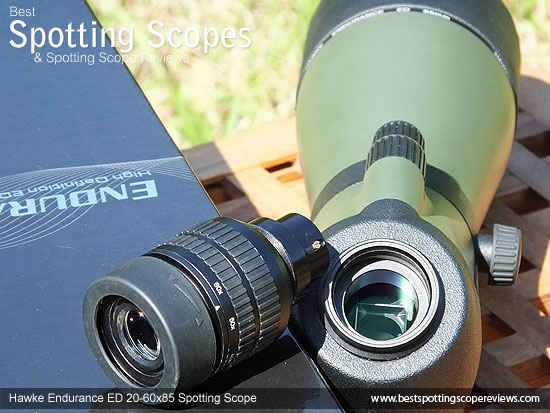 Hawke use a screw thread to fix the eyepiece to the main body of the scope, once unscrewed, it can be exchanged for others or when digiscoping (see accessories section below for additional eyepieces).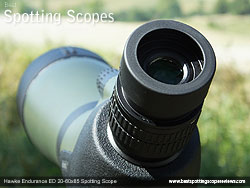 The ocular lens is 18mm in diameter, which is a little smaller than on some, however the eyecup is large (50mm in diameter) and made of a soft rubber making it comfortable to use, even over long periods.
I like the feel of the twist-up mechanism on the eyecup that clicks into each of the 5 separate click stops (3 intermediate) with a rather satisfying clunk. These is no unwanted play and with this many fixed stops and large amount of eye-relief (see below), you have plenty of room to customise it so that it is perfect for you.
Optical Stats
Eye-Relief:
The amount of eye-relief varies from 18mm - 20mm depending on what magnification you have selected. This distance should be plenty for everyone, even those who wear glasses to be able to view the entire image without any blurring or dark rings forming on the edges.
So whilst I don't wear glasses, I did test it using my sunglasses and can confirm with them on and with the eyecup twisted in I was able to get the entire view.
Field Of View (FOV)
The width of the image that you see varies through the scope depends on the magnification you have set the eyepiece at. As you zoom in (use a higher magnification) the image gets more detailed, but the width of your view gets narrower.
With the magnification set at 20x, the width of the image you can see (FOV) is 105 feet wide at a distance of 1000 yards away (35m at 1000m) away, which translates to a viewing angle of 2°. Whilst at full 60x power the view is 52.5 feet wide (17.5m) at the same distance (1° viewing angle).
To put this into perspective and so see that it compares very well with other similar powered scopes, take a look at the list below.
This reasonably wide FOV at 20x power makes finding and then following your target relatively simple and fast. The once you are locked onto whatever it is you want to view, you can zoom in to get a more detailed view. The importance of this cannot be over stressed as a really narrow FOV can mean you spend more time searching for what you ant to see than the time you actually spend looking at it.
Close Focusing Distance
Strangely Hawke Sport Optics don't publish the minimum focusing distances of this scope. I measured the closest I could focus on an object as being 8m (26.2ft) away with the magnification set to 20x on the scope I was testing.
Which I have to say is a little further than some, for example the Vanguard Endeavor HD 82A has a close focus of 6m (19.7ft) and the Celestron Regal 100 F-ED is 7.9m (26ft).
Optical Stats Rating: 8/10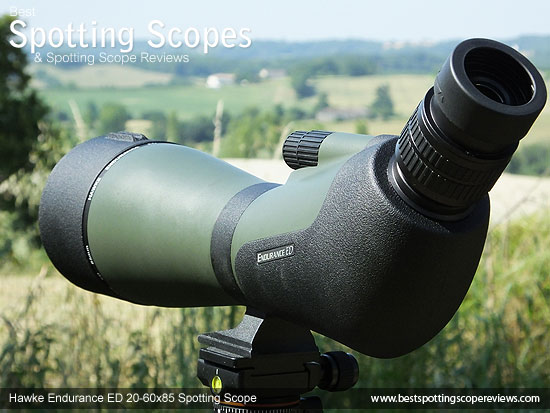 Image Quality
Because it is so subjective and the differences so small, describing and indeed judging the quality of the view is for me always the most difficult part of a scope review. But to try and be as objective and consistent as possible, I compare the image I see against a similar control or benchmark scope that I have and rate what I see in a number of different areas against them.
For this review this Hawke Endurance ED was compared against a mid level benchmark 80mm spotting scope that also has a 20-60x zoom eyepiece. These comparisons were carried out in good light conditions and then once again in very poor light.
Image Brightness & Low Light Performance
Before comparing, I thought that the image brightness on this Hawke was really good and I was not to be disappointed. Especially In poor light, I could really see the improvement on the Hawke, which became more apparent at higher magnifications.
This improvement will be in part down to the larger 85mm objective lens that initially collects more light and thus also produces a larger exit pupil at the same magnification than a scope with a smaller lens. But the really good quality glass, highly reflective dielectric coated prism and the fully multicoated optics also play their part in maintaining a high transmittance level to get as much light to your eyes as possible.
So because of this comparison, I am able sat that the image brightness on the Hawke Endurance ED 85A is excellent and easily as good as or better than most at this price level.
Color Fringing
The use of ED (extra low dispersion glass) in the lens is designed to reduce chromatic aberrations which are then seen as color fringing around the edges of objects in the view.
Hawke have once again done an excellent job as I found it really difficult to see any, even when using the scope at 60x magnification and looking carefully around the edges if objects that contrast a lot against their background.
Once again leads me to rate them as excellent in this area when compared to others in this class and they will match many costing much more.
Softening
Blurring of the image around the edge of the view is also extremely minimal and on the whole the image looks completely flat and is as good as or better than any within this class in my experience.
Contrast & Colour Reproduction
I thought that the colors produced are bright and vivid, but still look normal without any of the artificial tinting that you sometimes see on poorer quality scopes. Contrast is also good with a nice difference between light and dark which can really help some objects stand out from their backgrounds.
Rating for Image Quality: 9/10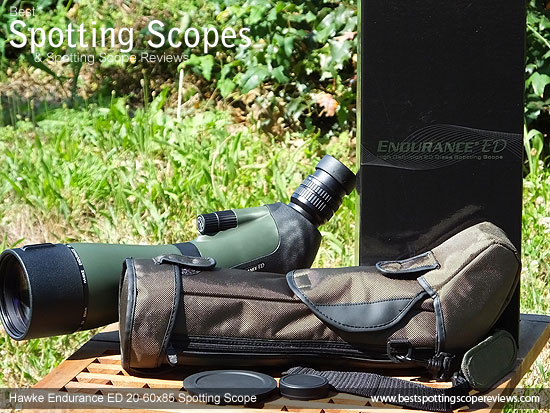 Included Accessories:
Protective Cover
The included stay-on soft scope protective cover is great and is most certainly up there with the best ones I have seen and used.
Firstly I say this because it really does look to be really well made and fits perfectly over the scope making it really easy to take off and put back on again. In my experience, this is not always the case and can become a real pain, so this for me a good and easy fitting cover is a real plus.
It has a shoulder strap/sling that is attached to the cover at two points using a couple of swiveled quick release clips, which works well in stopping the strap from getting twisted. You can adjust the length of the strap and whilst it is not padded, it does have a sliding shoulder padded section that does make it a little more comfy.
The cover itself is only thinly padded and so whilst it provides good protection from light rain, dust and scratching, it will not protect the scope from larger blows. Apart from the obvious reasons to keep your cover on, it will also make the scope less reflective and dampen down sounds a little, both of which can be important should you want to remain hidden or not frighten away wildlife.
Tethered to the main cover are separate objective and eyepiece covers that can be removed should you wish to use the scope with the cover on the body. It also has a flap that is held closed with Velcro, that when opened exposes the focus wheels allowing you to change focus with the cover still on.
Lens Covers
The large objective lens cover is made from a flexible rubber, which on my sample fitted very well into the end of the barrel. Note, almost all others I have used, it cannot be attached if you have extended the sunshield, which in some ways is a shame.
I also feel it would be great if a scope manufacturer would make an objective lens cover that is tethered to the body, similar to what is fairly commonly done with binoculars as I am forever searching about for it after I have finished using the scope and want to move on. A simple rubber ring would enable it to hang down under the body and would be always easily at hand to replace.
The eyepiece cover looks to be made from a soft and flexible plastic and fits nicely over then end of the eyecup and will not come away easily by accident.
Hawke also supply the scope with a couple of other protective covers, that ere used if you remove the eyepiece. There is a cap that fits over the hole that is left if you unscrew the eyepiece and another one to cover this part of the eyepiece that is now exposed. Nothing fancy, but does show a good attention to detail.
Lens Cloth
This Hawke Endurance ED spotting scope comes with a reasonably good micro-fiber lens cleaning cloth, however if/when you want to clean the lens, I would really suggest getting yourself a proper optical lens cleaning kit as this will ensure that you don't mark or damage the coatings on the lenses.
Also included in what I have to say is a great looking box is a fairly standard and rather basic user manual that contains information on focusing, the eye-cups and how to care for the scope.
On the last page, there is also the information on the Hawke Worldwide Warranty, which in the UK last for 10years, whilst the rest of the world is a lifetime warranty. The eyepiece also has a 2 year warranty against failure due to defects in workmanship or materials.
Rating for Extras & Attention to Detail: 7/10
Optional Accessories:
Eyepieces
As well as the included 20-60x zoom eyepiece, Hawke also have a number of fixed eyepieces that can be purchased for the Endurance ED scope:
27x (68mm) or 33x (85mm) [HX3792]
43x(65mm) or 59x(80mm) [HX3761]
26x(65mm) or 36x(80mm) [HX3762]
20x(65mm) or 24x(80mm) [HX3763]
16x(65mm) or 20x(80mm) [HX3764]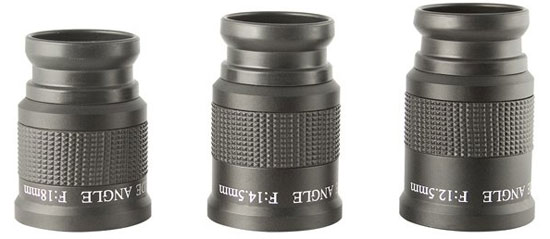 Digiscoping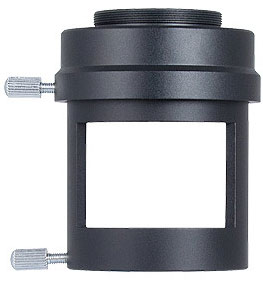 Whilst I did not have time to digiscope with this Hawke scope, it is compatible for digiscoping and you can use a number of different adapters to connect the Endurance ED to your digital SLR, compact camera or even the camera on your smart phone.
You can use a number of universal adapters or Hawke also make a number of adapters depending on your needs and camera equipment, this includes:
Hawke Digiscoping Adaptor for Endurance ED and Endurance Spotting Scopes (Code: HX3790)
SLR T2 Camera Adaptor (Code: HX3716)
Hawke Universal Compact Camera Holder (Code: HX3723)
Hawke Adapter Ring for Endurance ED (Code: HX3729)
Hawke DG Ring (Code: HX3726)
These adapters are all fairly inexpensive and can be ordered from the manufacturer or found on sites like Amazon or Ebay:
Hawke Endurance ED Comparisons
To help you make a few quick comparisons, below are the main specifications & features of this Hawke Endurance ED spotting scope as well as that of a number of others that I have also fully reviewed:
| | | | | |
| --- | --- | --- | --- | --- |
| | Hawke Endurance ED 20-60x85 | Vanguard Endeavor HD 82A | Celestron Regal 100 F-ED | Kowa TSN-883 |
| Approx Price: | $750 / £450 | $600 / £650 | $1000 / £600 | $2400 / £1700 |
| Objective Lens | 85mm | 82mm | 100mm | 88mm |
| Body Material | Magnesium | Magnesium | Aluminium? | Magnesium |
| Interchangeable Eyepiece | Yes | Yes | Yes | Yes |
| Supplied Eyepiece | 20-60x zoom | 20-60x zoom | 22x-67x zoom | None |
| Weight: | 56oz (1590g) | 63.8ozs (1809g) | 89ozs (2523g) | 53.6ozs (1520g) |
| Length: | 15.4in (39cm) | 15in (38.1cm) | 20in (50.8cm) | 3.5in (34.3cm) |
| Width: | 4.1in (10.5cm) | 4in (10.2cm) | | |
| Height: | 7.1in (18cm) | 7.1in (18cm) | | |
| Eye Relief: | 18mm -20mm | 19mm - 20mm | 20mm | Depends on Eyepiece |
| Duel Speed Focus | Yes | Yes | Yes | Yes |
| Min Focusing Dist: | 26.2ft | 19.7ft | 26ft | Depends on Eyepiece |
| FOV at 1000yds: | 105ft - 52.5ft | 110ft - 52ft | 100ft - 50ft | Depends on Eyepiece |
| ED Glass | Yes | Yes | Yes | Yes |
| Phase Correction | Yes | Yes | Yes | Yes |
| High Reflective Prism Coatings | ? | ? | ? | Think Dielectric |
| Lens Coatings | Fully Multi-Coated | Fully Multi-Coated | Fully Multi-Coated | Fully Multi-Coated |
| Waterproof | Yes | Yes | Yes | Yes |
| Fogproof | Yes | Yes | ? Think So | Yes |
Final Thoughts
Strong Points: The build quality is excellent and for the most part is made using superior materials usually found on more expensive scopes. A good example of this is the fully fog & waterproof magnesium chassis that helps keep the weight down and even though this has a larger objective than many of it's direct competitors, it weighs less.
The optical components and coatings used are all excellent and especially the use of dielectric mirror coatings on the phase corrected prisms is more than what I would normally expect to find in this price range. These have also obviously been implemented really well as the image produced by the 85mm Endurance ED scope is very bright and of a extremely good quality and in my opinion beats most in this class and easily matches many more expensive scopes out there.
The eyepiece has a long eye-relief and the twist up eye-cup works really well meaning that everyone, including those who wear glasses can be sure of getting the full image. The included zoom eyepiece is really good and the FOV is wide enough at 20x to make finding and tracking your target quick and easy and then you can zoom right in to 60x to get a very detailed view.
Add this to the the dual focussing wheels which are really smooth and reasonably fast but very accurate and you have the best chance of getting a great view of that bird before if flies off!
The well made protective cover fits perfectly making it a breeze to take on and off if you want to, but should you want to keep it on, the removable bits are well thought out and positioned so that the cover really does not get in the way.
Weak points? At about 8m, the close focus on this scope using the included zoom eyepiece is a little longer than the best, but for the most part this should not be a deal breaker for most people.
Whilst the objective lens cover fits snuggly enough, I think it would be better if it could be attached with the sunshield extended and even better if it was tethered to the body, making sure that you don't misplace it.
Ideal Uses: The 20x-60x Zoom eyepiece ensures that the scope is versatile enough to be used in a variety of applications and I can see it being the ideal scope for birders, wildlife observers, hunters and at the target range for both shooting and pursuits like archery.
Whilst it won't match a dedicated telescope, the really large 85mm objective lens and bright image produced means that as well as terrestrial use, you can have a lot of fun with it by turning it towards the heavens at night as well.
Even though I don't think you can ever really call a full sized scope with a large objective like this as being portable, it is reasonably compact and lightweight, which if you also take into account the stay on case with the sling, I found that it was not that much more difficult to carry about in the field than the smaller 65mm scopes that are designed to be more portable, but you get a much better performance from this, especially in low light.
Conclusion
Whilst the Endurance ED not be the premier scope in the Hawk Sport Optics stable, it has almost all of the most important features and components which means that it matches many that come with much higher price tags in almost all areas and to be honest I am amazed that they are able to offer such a high spec scope at such a reasonable price.
The very high end scopes that cost more than three times (and sometimes 4x) the cost of this one do still have the edge, but that edge is getting blurred and the difference in most areas is really not that great. So if you are after a very high performing spotting scope at a fraction of the cost that you will pay for an alpha product then I feel this Hawke Endurance ED 20-60x85mm spotting scope should most definitely be on your very short list.
Genuine Review
One of my main motivations behind me starting the Best Spotting Scope Reviews website was the fact that I had so much difficulty in finding detailed and unbiased information on the web in this area. Most of the other "reviews" that I come across are little more than copies of the manufacturers marketing blurb and are mostly written by people when I feel have never even seen the scope in question!
I can assure you that not only did I fully test the Hawke Endurance ED 85 spotting scope, both in my office and out in the field in real world conditions over a number of weeks before writing the review, but I spent a considerable amount of time researching all the details, which I believe to be correct. However if you spot any errors or omissions, please feel free to contact me so that they can be corrected or added.
I would also like to make it clear that all the opinions expressed in this review are my own and completely unbiased. Apart from sending me the instrument to review, the manufacturer has no input as to what or how I write about their product and I am not compensated or funded in any way by them to write in a particular way or slant.