Over the years I have used a number of low cost and indeed cheap spotting scopes and for the most part, I am usually quite disappointed at both the build quality and the image quality. Now whilst I don't expect a scope that costs between 5x and 10x less than a high end one to equal it in all areas, but you do still want an instrument that will last and perform to a reasonably high standard so that you can enjoy it for years to come.
The Blaze series of scopes from Levenhuk is essentially a lower costing range aimed I guess at the more price conscious user, but by the looks of it, they still have enough higher end components to deliver an image that you can appreciate.
This to see if Levenhuk Optics have actually managed produce a low costing scope with a good performance, I spent a couple of weeks using the Levenhuk 30-90x90 Spotting Scope and below you will find my complete and in-depth review:
Main Feature & Specifications
Large 90mm Objective Lens
Polycarbonate Body
Water & Fog Proof
Single Speed Focus Wheel
Fully Multi-coated Lenses
BaK-4 Roof Prism
Eye Relief: 15mm - 18mm
Supplied 30-90x Interchangeable Eyepiece
Field of View at 1000yds: 78.6ft - 42ft
Weight: 1400g
The Body
Shape
Whilst some of the smaller Blaze models come with a straight through body shape, the Levenhuk Blaze 30-90x90 spotting scope is only currently available in the more popular angled body shape and whilst they don't state it, it looks to me as though the eyepiece is set at an angle of around 45° which is fairly typical.
For most people and uses an angled scope is preferable as it means you don't need a really tall tripod to raise the scope right up to your eye level as you do without the angle. There are a number of other advantages too (as well as a couple of reason why a straight scope may be better for some) which you can read about in my article on angled verses the straight through scopes.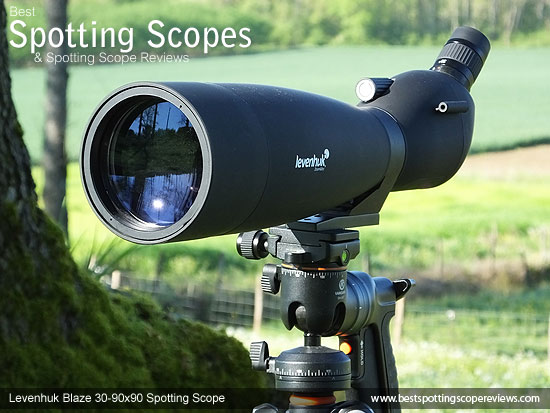 Chassis & Exterior
The main frame is made from a polycarbonate plastic, which at this price level is typical as it is cheaper to produce than the aluminium or magnesium bodies found on some usually far more expensive scopes.
Whilst a polycarbonate body like this may not be quite as strong as a magnesium or aluminium one, unless you plan to really abuse the scope (which would probably ruin the internal optics anyway), it should easily be tough enough. It also has the advantage of being a lighter material and so generally makes for a more lightweight scope.
Besides, if you are worried about the scope getting damaged, marked, wet or even just dirty, you can always put on the included stay-on cover (see the Accessories section) which will most certainly help in this regard.
This Levenhuk scope has a very thin coating applied to the exterior surface of the body, which unlike some scopes and most binoculars that have a thick rubber armour for protection, this coating is more for adding a little grippiness as well as making for a more classy matte finish.
This dulled exterior also offers the benefit of being far less reflective than a shiny plastic one and so helps to keep your position hidden, which for some uses like bird watching or hunting from a hide is really important.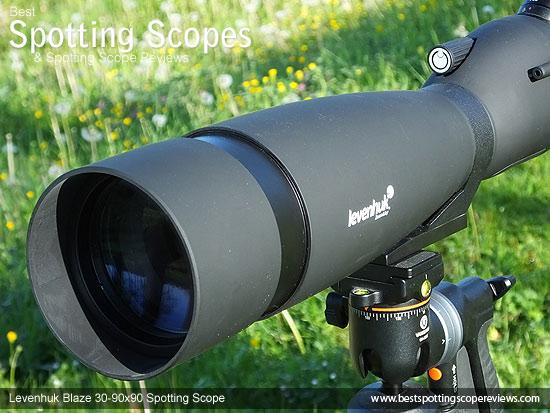 Sunshade
The extendable sunshield has the same external covering as the main body and looks like it is made from a hard plastic.
It is designed to offer a little more protection to the lens from falling dust or rain as well as from getting scratched etc. However it's main function is to prevent lens flair and other undesirable reflections caused by the sun when you have the scope pointed in certain directions or under certain circumstances.
The shield fits rather tightly and at first was a little difficult to extend, but after a few uses, was fine. I definitely prefer it to be a little tight than loose and having it slipping down all the time.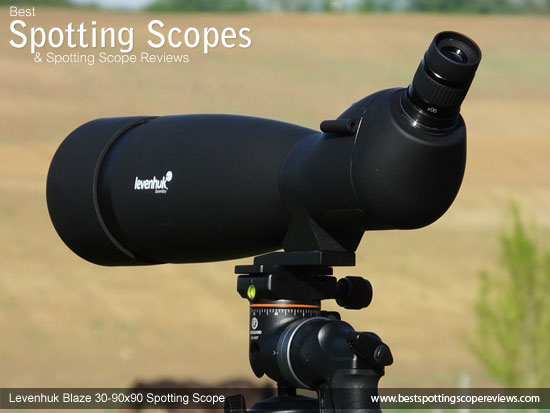 Mounting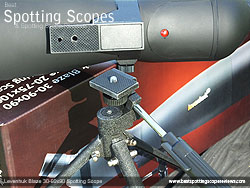 The mounting plate on this scope is long and thin (9.5cmx2.6cm) which gives you plenty of area to make a good contact with the tripod head.
As well as this part of the plate has an grooved section added to it for extra grip. Located in the center of this section is the single standard sized threaded recess for really easy attachment to almost all tripods/tripod heads. Just in front of this is another small hole that accepts the safety pin that you find on some tripod setups.
This mounting plate is attached to a collar that wraps around the body of the scope and which has a knob which enables you to loosen it and rotate the body of the scope and thus change the position of the eyepiece relative to the tripod.
This can be useful in some circumstances, for instance target shooters may have the scope positioned next to them and at head height. With the eyepiece at an angle, they can then simply look over and then through it without having to get up every time.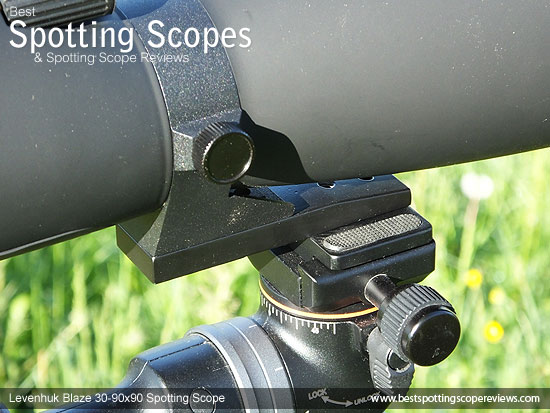 Water & Fog Proof
The body of the Levenhuk 30-90x90 Blaze spotting scope is fully sealed during manufacture and thus it is described as being waterproof. This obviously helps in preventing moisture from getting inside in bad weather, but remember it will also will stop dust from potentially ruining the instrument in dry areas.
Also at the time of manufacture, Levenhuk take out all the air from inside the body and replace it with Nitrogen gas. This "dry" gas prevents the internal optics from misting up and which is why they describe it as being fogproof as well.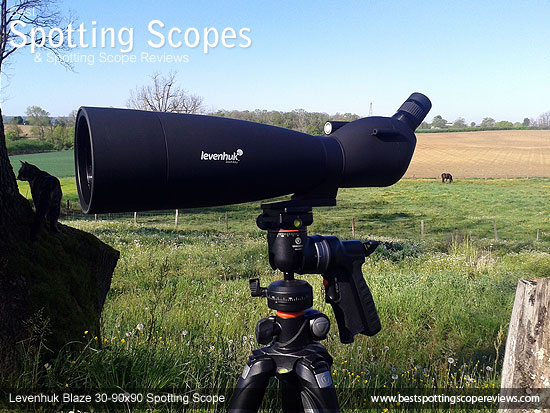 Focusing
Positioned near the eyepiece and right in the center of the body, making it equally accessible to both left and right handers is the focus knob. It is also fairly large (2.3cm long with a diameter of 1.7cm) and has a grooved rubber track running around it which makes it easy to find without having to lift your head from the eyepiece and offers more than enough grip.
As with the majority of scopes, focusing is achieved by rotating the knob(s) just in front of the eyepiece.
To take the focus from one end of the focus plane to the other (near to far or vice versa) takes a full 13¾ turns of the focus knob. This is quite a few turns and so whilst it is easier to fine tune your focus with this low geared mechanism, it takes quite a bit longer than many to make large changes.
To get around this problem, some scopes come with two focus wheels, each geared differently, one for making fine adjustments and the other for the large changes.
The wheel itself turns reasonably smoothly and there were no rough areas, sticking points or areas of free play on the sample that I was testing.
Aiming
To help a little with quick target acquisition, Levenhuk have added what I will call an aiming tube to the side of the scope. Whilst it is very simple, it is also effective and I found it to be quite useful at higher powers as it makes it a little easier for you to quickly line up the scope in the right direction without having to reduce the power on the eyepiece.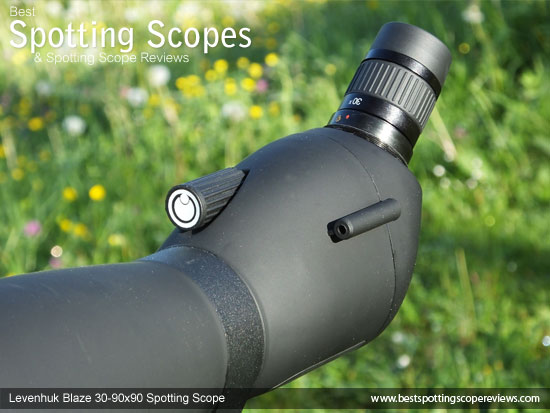 Rating for Body Construction Quality: 7/10
Weight
Even with it's really large 90mm objective lens, at 1.4kg (49.3oz), the Levenhuk 30-90x90 spotting scope is very light. The polycarbonate body definitely helps with this low weight, but even so it still weighs less than many others I have tested no matter what body material they have used:
Whilst if you have your scope set up in a fixed position on a balcony or something this probably wont interest you at all, but out in the field and on a long walk for example, you really do appreciate this low weight.
During testing I combined this scope with my full sized, Vanguard ABEO Pro 283CGH carbon tripod and it made for one of the lightest setups I have ever used. So whilst the body may not exude all class you get from a scope with a metal housing, in some situations it's low weight more than make up for it.
Dimensions
Levenhuk do not advertise the dimensions of the scope, so below are the measurements that I took of it:
Length: 47.5cm - From the end of the eyepiece to the end of the barrel with the sunshield retracted. Extending the sunshield the maximum length of the scope is 50.5cm.
Height (depth): 16cm from the base of the mounting plate to the top of the eyepiece.
Width: 11cm
These dimensions are fairly standard for a full sized scope, so not too much to comment on here.
Rating for Body Stats: 8/10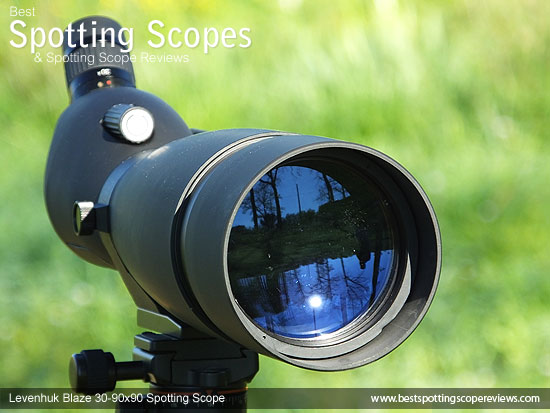 The Optics
Objective Lens
I like the really large 90mm diameter objective lens which is bigger than the 80mm you will most often find on cheaper full sized scopes. This larger diameter may increase the overall dimensions and weight of the scope a little, but I feel that this is a acceptable trade off when you consider the increase in light gathering ability and the resultant benefits it potentially brings to both the brightness and quality of the image.
Other than it's size and the use of coatings (see below) Levenhuk do not go into detail as to the exact make-up of the lens, so I cannot comment further.
Prisms
This scope uses a roof prism to invert the image once it has passed through the lens. Levenhuk do not mention what glass it is made from in their product description, however with a little detective work, I have managed to establish that they use BaK-4 glass. In most cases for the use on scopes and binoculars, Bak-4 is thought to be a better option than the BK-7 glass that you occasionally find, especially on cheap scopes.
Optical Coatings
Fully Multi-Coated
As the light hits the objective lens and passes through the optical system, leaving the ocular lens and onto your eyes, it either passes through or bounces off many glass surfaces (often greater than 10).
Every single one of these glass surfaces can produce a loss in image quality and brightness because they can cause the light to reflect off in an undesired direction.
In order to reduce these negative reflections, manufacturers can add a special material to some or all of these surfaces. Lower quality optical instruments sometimes have single coatings of this anti-reflection material applied to some of the glass, usually the exterior ones on the objective and ocular lens as this is the cheapest and easiest option. These optics are referred to as being Coated and whist they may be far from the best, it is still far better than having no coatings at all.
Then there are some that may add multiple layers to some surfaces - they are referred to as being Multi-Coated and whilst this improves their performance compared to coated devices, it is still far from ideal, but is something you will often see on cheaper scopes.
The best solution is to have multiple layers to All glass surfaces throughout the system - this is referred to as being fully multi-coated and is what I can happily report is what the Levenhuk Blaze is.
As you can see from the table below, this makes a big difference to the amount of light that is transmitted through to your eyes, which in turn makes a real and visible improvement to not only the brightness, but the quality of the view:
Transmittance Levels
Per Single Lens Surface
10 Lens & Prism Surfaces
No Coating:
96%
(0.96) x Power of 10 = 0.66 66%
Single-Layer:
98.5%
(0.985) x Power of 10 = 0.86 86%
Multilayer Coating:
99.5%
(0.995) x Power of 10 = 0.95 95%
Silver Mirror Coating
Whilst Levenhuk do not advertise it, I have managed to find out that they use a Silver coating on the prism to increase it's reflectivity.
To explain, the design of a roof prism means that one surface does not reflect 100% of the light that hits it. Left unchecked this results in a lower quality and less bright image.
Very high end optics will use dielectric coatings on this surface that can reflect more than 99% of the light, however this is a very technical and costly process and not one which I would expect to see at this price range.
Cheap scope will often use the much cheaper Aluminium coatings, which reflect about 87% to 93% of the incident light, which is much better than not using anything and is what I would have expected these Levenhuk's to have considering their price point.
Thus it was a really nice surprise to learn that the Levenhuk Blaze scopes have a Silver mirror coating, which costs more than Aluminium, but also has a higher reflectivity of about 95% to 98% and is used by most mid to higher level scopes.
Rating for Optical Components Quality: 6/10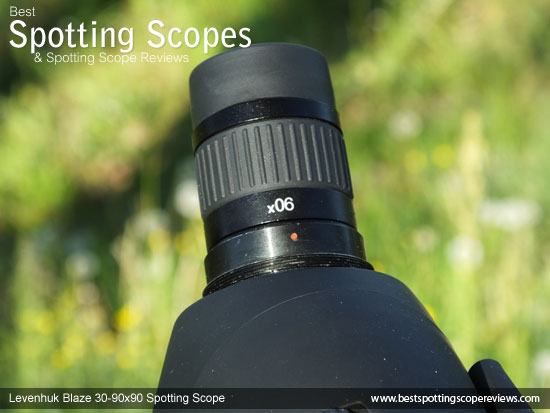 The 30x-90x Zoom Eyepiece
Unlike some that can be removed and swapped for other eyepieces, the eyepiece on the Blaze is fixed to the body. Whilst this is a little disappointing, it is much cheaper and easier to make an airtight scope this way and so almost all low cost scopes and many mid-level scopes tend to have non-removable eyepieces like this.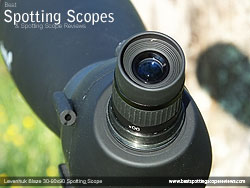 However this scope does comes with a zoom eyepiece that covers a very wide range (30x - 90x) and so should enable you to get the level you need in almost all instances.
The most commonly supplied zoom range is 20-60x, so this Levenhuk is on the more powerful side. This does have the advantage of giving you more reach and more image detail. On the downside, you get a smaller exit pupil at higher powers, which in turn means less light gets through, which in certain circumstances can make for a less bright image being observed. For more on this, take look at my complete guide to the exit pupil on my BBR website - even though this mostly refers to binoculars, the concept is still exactly the same.
However because you also have a larger than normal 90mm objective lens on this Blaze, which collects more light than say the more common 80mm objective, it balances out the light loss of the higher powers, so for me, image brightness was never a major issue.
Levenhuk like most manufacturers don't supply any details as to the exact make-up of the lenses in the eyepiece so I can't comment much other than to say that I measured the ocular lens to have a 12mm in diameter, which is a bit smaller than on many I have used.
Eye-cup
Once again and like the majority of scopes in this class, these come with a fold up/down rubber eyecup because they are cheaper to manufacture. Whist this works reasonably well, you do not get the more precise adjustments to the eye-relief that are possible with a twist up/down eyecup. I also found that the small rubber lip would sometimes flick up again on it's own after folding it down, which could get annoying it if you always wear glasses and want it folded down all the time.
The external diameter of this eyecup is 35mm, which is a fair bit less than on a lot of scopes I have used, but I did not find it to be uncomfortable, even after longer observation periods.
Optical Stats
Eye-Relief:
The eye-relief varies from 15mm at 90x magnification to 18mm at 30x power. Whilst this is just enough for those like me who don't wear glasses and apart from having to be a little more careful and precise when lining up my eye with the exit pupil at higher magnifications to ensure you don't get dark rings forming on the edges of the view. This is because of the shorter amount of eye-relief at these high powers (about 15mm), which when combined with the smaller exit pupil means that you have to be far more precise when lining up your eye to the now small shaft of light exiting the eyepiece. However if you are just a little more careful and push down a little more onto the eyecup, you can still get the full uninterrupted view without much problem.
However for those who do wear glasses, depending on their thickness and how far away the glasses sit from your eye, you may find it hard to get the full view without any dark rings on the edges at higher magnifications.
To test this I put on my sunglasses and folded down the rubber lip on eyecup. At lower powers, I actually had no issues and could still see the full field of view. It was only at higher powers (about 70-90x) where I encountered the problem of not being able to see the edges of the view.
So to sum up if you don't wear eye glasses when scoping then the smaller eye-relief will not be a problem, if you do, then this may be an issue.
Field Of View (FOV)
Levenhuk advertise the field of view on these as varying (depending on the magnification used) from 120 yards wide at distance of 1000 feet away at 90x power to 234 yards wide at 30x magnification.
These numbers initially look massive, but most manufacturers describe their FOV as being a certain amount of feet wide at a distance of 1000 yards away and not the other way around, so it is a little confusing and I must say makes me feel someone has made an error!
So to see how these actually compare to others, it took their advertised angle of views: 1.5° at 30x and 0.8° at 90x magnification.
Then to translate these angles (x) into a distance of (y) meters wide at a distance of 1000 meters away you use the following formula:
y = tan(x)*1000 (result in meters)
So:
At 30x magnification, y = tan(1.5)*1000 = 26.2 meters wide at 1000 meters or approx 78.6 feet wide at 1000 Yards away
At 90x magnification, y = tan(0.8)*1000 = 14 meters wide at 1000 meters or approx 42 feet wide at 1000 Yards away
This is far more in line with the numbers I normally expect to find and indeed considering their much higher power is actually still very good:
What this all really means in real terms is that at lower powers, I found it nice and simple to quickly locate my intended target with the fairly wide field of view and then if I wanted to and with the scope locked in place on the tripod, I just zoomed into get a more detailed view of my subject which is exactly what you want.
Close Focusing Distance
The closest distance away that you can focus on an object is advertised as being 32.8ft / 10 meters. This is a touch on the long side when compared to the average scope and is one of the drawbacks to the higher magnifications.
For most people looking to observe objects from further distances this close focus distance will be no issue at all, but if you know you often like to view objects at nearer than 10 meters away then this will most certainly be a factor.
Optical Stats Rating: 6/10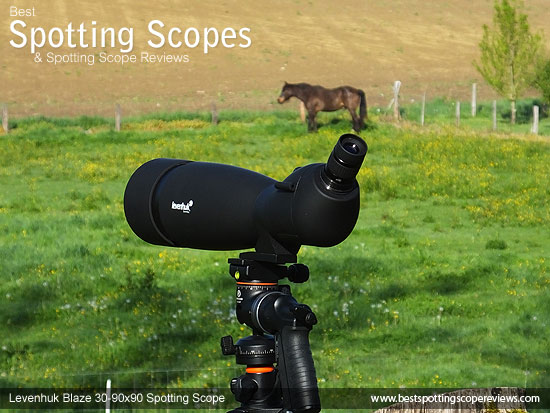 Image Quality
Describing and then judging the quality of the image produced is always the hardest part of the review, yet in many ways it is the most important. To help me be as consistent as well as objective as I can, I compare the scope under review with that of a similar benchmark instrument that I use for all scope reviews in this size class. It is in this way I can compare the view to this base and then rate it compared to all others I have done before.
In this case the view through the Levenhuk was compared to that of my benchmark 80mm spotting scope that has a 20-60x zoom eyepiece. I conducted these comparisons twice, once during the day in what I would describe as being good light and then again at and just after sunset.
Image Brightness & Low Light Performance
Even though this is low costing scope, which understandably does not possess all the high end optical components and things like super reflective dielectric coatings on the prism as that of top tier models, the combination of the larger the normally found 90mm objective lens and fully multi-coated optics, contribute to the comparatively bright image it produces, especially at lower powers.
At very high magnifications, say from 80x to 90x and as the as the size of the exit pupil gets really small, you can notice the image getting a little less bright in poor light. This is understandable and is one of the trade-offs to having a higher powered eyepiece. However comparing the brightness between this Levenhuk and my benchmark at 60x, the image brightness looked to me to be about equal in both good and bad lighting conditions.
Thus within their class, I would describe the brightness of the image as being very good. Against scopes of all prices it is fair to good and unless you need to use it at the highest powers in very low light, it is not something that you really need to worry about.
Color Fringing
Almost all spotting scopes and other highly magnified optical devices exhibit some sort of color fringing along the edges of objects that have a high contrast to their background.
This is caused by chromatic aberrations, these can be reduced by careful design of the compound lens to focus all or as many as possible of the wavelengths of light back onto the same plane. On some scopes ED (extra low dispersion) glass is used in the lens which can help, however this is not cheap and the lens and the rest of the optical system still has to be expertly designed for it to work.
So even though this scope, like almost all others at this price does not have ED glass, it does not automatically mean that they will exhibit more color fringing than all those that do.
By carefully focusing on the edges of highly contrasting images, I could see that there was some color fringing on this Levenhuk Blaze scope, but to me it was no more than what I see on all but the very best and so once again, I feel that it is not something to be overly concerned about.
Image flatness & Softening
The overall image looks nice and flat to me, unlike on some where it looks like it is either curving inwards or outwards.
The amount of softening right on the edges of the view, whilst present is minimal even at high magnifications. This amount is no more than what I would expect to see in this class of scope.
Colors & Contrast
To me the image looked neutral - this is a good thing as both the colors and the amount of contrast were to me normal unlike on some scopes (especially cheap ones) where you get an artificial hue or an overly contrasting image.
Rating for Image Quality: 7/10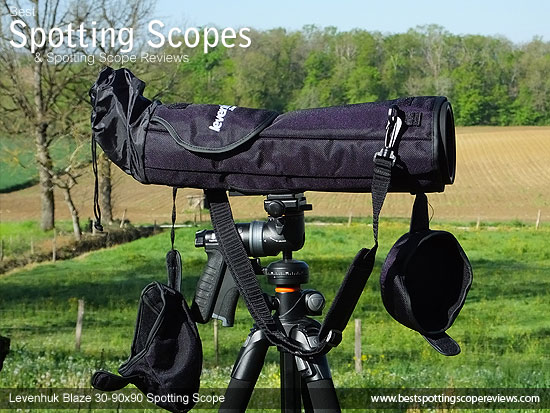 Included Accessories:
Protective Cover
The design of the included soft stay-on scope cover is fairly typical and is one which works really well in a number of ways:
The long Zipper that runs almost the whole length of the cover on the underside makes it reasonably simple and quick to put on and take the cover off. I have seen some that use Velcro and whilst this may seem like a good idea, I always find them to be less secure and actually take more time to line up and get tight than the Zip versions.
The fit of the cover when on is good, nice and tight so that it offer plenty of protection, yet not so tight as to make it difficult to put on.
On the front of the cover is a removable, yet tethered lens cover that fits over and then attaches to the main part with a small strip of Velcro. This works really well allowing you to quickly add or remove it as an when needed. It is also very well padded on the inside and thus provides plenty of protection.
The main eyepiece cover is similar in that it is also tethered to the main section and once again simply fits over the eyepiece part of the scope and is fixed in place with a couple of strips of Velcro. It is also well padded providing a good amount of impact protection.
Under this and part of the main cover is a light canvas section that has a draw string that you can use to either completely cover the eyepiece or position at the base of it when in use.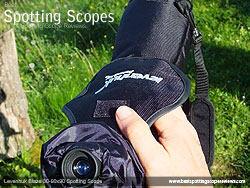 The cover also has a flap located over the focus wheel, once again it can be fastened using a Velcro strip and when opened you can easily reach the focus wheel underneath to adjust it even whilst it is raining and not get the scope wet.
Also attached to the cover at each end using a couple of quick release clips is a separate strap. Whilst not padded, this strap also has a more padded shoulder pad that you can slide along the strap to position it correctly when carrying your scope. The quick release clips are swiveled which allow for more freedom of movement and ensures that it is easy to unwind, should it get twisted.
The main part of the cover is comparatively lightly padded when compared to the lens sections, so whilst I feel it provides very good protection from light rain, scratching and sand or dust in dry windy environments, it wont completely protect the scope should you drop it for example.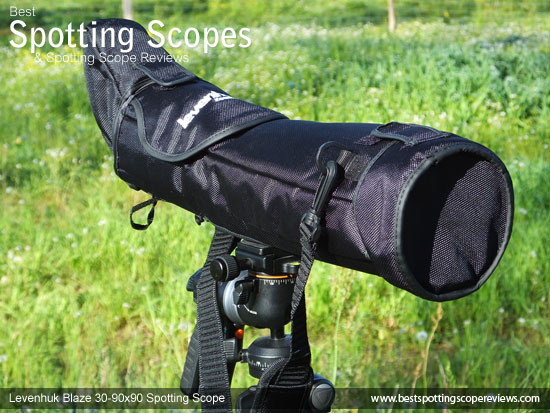 Tabletop Tripod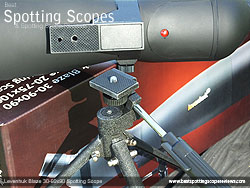 Like a few other scopes that I have used within this price range, the Levenhuk Blaze 30-90x90 spotting scope comes with an included table top tripod.
However what is different is the one that you get here is much better quality than most "free" tripods and whilst it can't compete with a high end full sized tripod, it actually holds the scope fairly securely as well as still and is perfect for use in many instances like some hides or at home where a full sized version will not work.
Made from metal, the legs fold out nice and wide to give you a good solid base to work from. The two-way pan head that you simply twist to lock/unlock works well and makes fairly easy to quickly aim the spotting scope.
The mounting plate includes it's own thumb screw that you simply turn into the mounting plate on the scope and does not require any tools or a coin to get it nice and tight.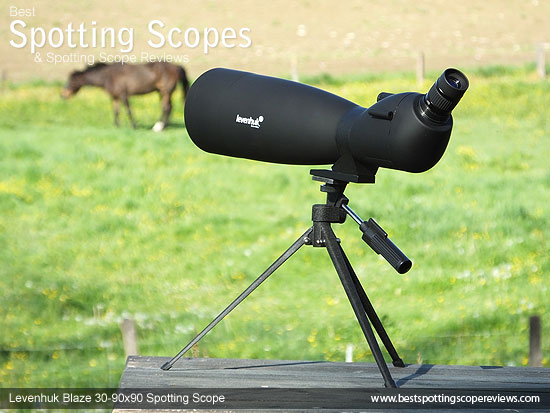 Objective Lens Cover
Like almost all scopes, this Blaze comes with an objective lens cover to protect and keep it clean whilst not in use. Made from what looks like a soft plastic, it fits over the end of the sunshade. This for me is better than many that I have seen that fit into the end of the barrel as it means you can replace the cover with the sunshade extended, whilst those that fit into the end o the barrel cannot. This is a small detail, but I feel is worth mentioning and giving credit for as trust me if you have to do it many times over the course of a day it can get really annoying.
The cover itself fits really well onto the scope, indeed it is almost completely airtight! I noticed this because if you are not careful to let some air escape when replacing it, the pressure does actually push the cover off after a short time. Until I discovered the reason for this, it really baffled me for a while as I kept finding the cover laying on the floor and wondered if my daughter was taking it off!
So to make sure it does not pop off, just remember to push it on slowly and it is fine. Related to this, I wish scope manufacturer would design these covers with a tether to the body of the scope, as is often the case with the lens covers on binoculars. Not only would this prevent it from falling on the ground and getting dirt on it when it pops off, but you would not have to put it somewhere every time you use your scope and then search for where you put it every time you finish up and what to replace it!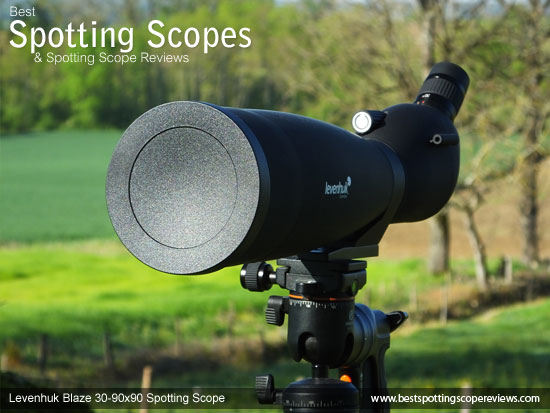 Eyepiece Cover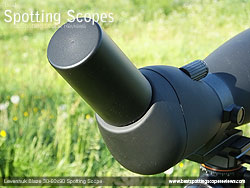 Also supplied with this Levenhuk Blaze spotting scope is a screw on metal eyepiece cover. Because it is made from metal and because you screw it into place, it is very secure and does a great job of protecting the relatively fragile eyepiece.
However replacing it does take a little time to screw it on and off, you probably will only use it when transporting or storing the scope and not for simply covering the eyepiece after every use when out in the field.
It is for this reason that it is a slight shame that they don't also supply you with a simple plastic cover to go over the eye-cup to protect and keep the ocular lens clean when out in the field. However to be fair to Levenhuk, very few manufacturers do supply one, which is a small attention to detail that most miss.
Lens Cloth
Whilst Levenhuk do include a reasonably good quality cleaning cloth with the Blaze, for me this would be suitable for very light emergency cleaning when out in the field and you really should still invest in a specialist optical lens cleaning kit for thorough and proper cleaning of the lenses without the risk of scratching or marking the lenses or it's coatings.
User Manual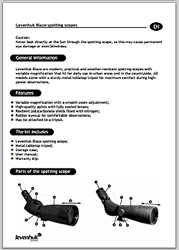 Levenhuk also include a user manual in the box. Written in a number of languages it includes basic information like the parts of the scope, main features, how to use the scope, precautions when using it, care and maintenance and warranty details. If you wish, you can download a PDF version of it here: Levenhuk Blaze Spotting Scope User Manual (893kb).
Lifetime Warranty
Like all of Levenhuk's optical instruments, these come with a Lifetime Warranty, which I think is excellent and demonstrates the belief they have in their own products. Please note that in some of the user manuals this warranty is described as being for a period of 3 years only, however I have been told by Levenhuk that this was their old policy and these booklets have yet to be update with the new information.
Rating for Extras & Attention to Detail: 7/10
Levenhuk Blaze Comparisons
The table below lists the main specifications and details of this Levenhuk Blaze spotting scope, along with a few others that I have reviewed in a range of price points. In this way I think it makes it easier to quickly spot the relative strengths and weaknesses as well as giving you an idea of some of the features and materials that you get at different price levels:
| | | | | | |
| --- | --- | --- | --- | --- | --- |
| | Levenhuk Blaze 30-90x90 | Hawke Endurance ED 20-60x85 | Vanguard High Plains 580 | Celestron Regal 100 F-ED | Acuter DS20-60X80A |
| Approx Price: | $220 / £200 | $750 / £450 | $350 / £250 | $1000 / £600 | $300 / £250 |
| Objective Lens | 90mm | 85mm | 80mm | 100mm | 80mm |
| Body Material | Polycarbonate | Magnesium | Magnesium | Aluminium? | Aluminium |
| Interchangeable Eyepiece | No | Yes | No | Yes | Yes |
| Supplied Eyepiece | 30-90x zoom | 20-60x zoom | 20-60x zoom | 22x-67x zoom | 20x-60x zoom |
| Weight: | 49.3ozs (1400g) | 56oz (1590g) | 56.8ozs (1610g) | 89ozs (2523g) | 63.5ozs (1800g) |
| Eye Relief: | 15mm -18mm | 18mm -20mm | 16mm - 22mm | 20mm | 20mm |
| Duel Speed Focus | No | Yes | No | Yes | Yes |
| Min Focusing Dist: | 32.8ft | 26.2ft | 42.7ft | 26ft | 21.3 |
| FOV at 1000yds: | 78.6ft - 42ft | 105ft - 52.5ft | 78ft - 42ft | 100ft - 50ft | 111ft - 57ft |
| ED Glass | No | Yes | No | Yes | No |
| Phase Correction | No | Yes | Yes | Yes | No |
| Lens Coatings | Fully Multi-Coated | Fully Multi-Coated | Fully Multi-Coated | Fully Multi-Coated | Fully Multi-Coated |
| Waterproof | Yes | Yes | Yes | Yes | Yes |
| Fogproof | Yes | Yes | Yes | ? Think So | ? Think So |
Final Thoughts
Strong Points: For the price I think the scope is well made using good quality components and whilst it may not match the feeling of robustness that you get from expensive magnesium bodies, it does not look or feel at all like a cheap plastic product. Indeed it is quite the opposite as in my opinion it looks like a far more expensive instrument than what you actually pay for.
I found the image produced to be both bright and of a really good quality, once again and in this area, this Levenhuk scope is as good as or better than any other that I have used at this price level.
I really like the well designed and well made stay-on protective cover. Not only is it simple to put on and take off, but it offers an excellent level of protection from the elements and you can still quite easily use it whilst on.
The included table-top tripod may not win any awards as a stand alone product, but it is a lot better than most "included" tripods that I have come across and does it's job of holding the scope steady with out any fuss.
Weak points?
Whilst in no ways bad (especially for those who do not wear glasses), the eye-relief is a little on the short side. This combined with a fold-up/down eyecup as opposed to a twist up/down one that generally works better, making it easier to use the scope and not get dark areas around the periphery of the view. It is also mostly for this reason that in my opinion and for general use, this scope would be better with a slightly lower powered eye-piece as not only would this provide you with an even wider field of view, but it would also let through more light with a larger exit-pupil and thus make it far easier to use without getting dark these areas in your view.
At a distance of 10m / 32.8ft, the minimum focus distance is a little on the long side, however it is not that often that you should want or need to view objects at a closer range than this with your scope, so this should not be a major issue for most.
Whilst the "air tight" objective lens cover fits very well, it's habit of "popping off" is annoying and what is more, because it is not tethered, it usually ends up on the floor where it can easily get dirt or moisture on it. However there is an easy fix to this as you can simply drill a small hole into the end of it that will let the air out and release the pressure.
Ideal Uses: The large zoom range of the 30x-90x eyepiece makes sure that this scope can be used effectively for a wide variety of applications including the most common ones of wid life and bird watching, hunters based in a hide and at the target range for shooting and archery.
You will never get the same experience with a spotting scope as you can with a dedicated telescope, but the large diameter 90mm objective lens takes in plenty of available light and it is well worth occasionally taking it out at night to point towards the heavens.
Conclusion
For what is essentially a low costing device, the Levenhuk Blaze 30-90x90 spotting scope easily competes with and in my opinion beats most within this price range in almost all areas. I especially like the large 90mm objective lens on this version, which may bloat the overall dimensions a little, but more importantly it also ensures more light is captured and so whilst it (like most others in this class) may lack all of the specialist coatings you get on expensive high end scopes, it is still able to produce a good quality as well as bright image ensuring that it can still be used effectively in sub-optimal conditions.
I personally would prefer a slightly lower powered eyepiece that would not only provide a wider field of view, but also let through more light with a larger exit-pupil, however even so, if it is a cheap spotting scope that you are after, then I would most certainly suggest that you place this Levenhuk Blaze onto your shortlist.
Genuine Review
It really annoys me to see so many "reviews" on the web written by people who know almost nothing about the product that they are writing about and in most cases have never even seen!
I would like to re-assure you that this Levenhuk spotting scope review as well as all others on this site were written after I had fully researched, used and tested it.
What is more, the opinions that I express are genuine and I am in no way compensated or asked to write in a certain way or bias. If I think something is good, I say so, if it is bad, I do the same.