Opticron MM3 GA ED Travelscopes
Completely embracing the companies motto of "smaller, lighter, brighter, sharper" and based on the original and hugely popular Mighty Midget series, the range of Opticron MM3 GA ED travelscopes come with over twenty years of evolution and refinement.
Available in straight through or angled designs with either 50mm or 60mm sized objective lenses Add to this a host of impressive looking highlights and features, from the outside they certainly seem to have the pedigree as well as the potential to be something a little bit special.
Opticron MM3 60 GA ED Travelscope Review
To put all this potential to the test, I managed to get my hands on the 60mm angled version and added the high quality HDF 40862 zoom eyepiece to it. So after a lot of research and use in real word conditions, you can now read my full Opticron MM3 60 ED Travelscope review below:
Main Feature & Specifications
60mm Objective Lens
Fully Multi-Coated Optics
BAK-4 Roof Prism
Polycarbonate & alloy Chassis

Water Resistant
Two Speed Focus Wheel
Weight: 25.7oz / 729g
Length: 9.72in / 24.7cm

Tested with the HDF 40862 15-45x Eyepiece

Eye Relief: 17-22mm
Field of View at 1000yds: 138-63ft
Minimum Focus Distance: 11.5ft / 3.5m
The Body
Shape
This tiny scope has a very classic angled spotting scope body shape and so apart from it's size, looks exactly like most full sized versions. It is only when you get it in your hands that you get a true feeling of just how small it is.
Also available in a straight through body shape, I decided on the 45° version for the test due to a number of reasons (which you can read about in this article: angled verses the straight scopes), but mostly because angled scopes don't require you to use such large tripods which makes sense if you focus is on keeping your equipment as small and lightweight as possible.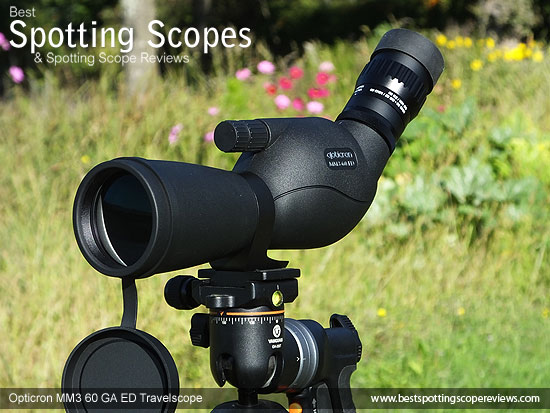 Weight
With an advertised weight of 729g (25.7oz), the Opticron MM3 60 ED is as you would expect, substantially lighter than almost all full sized scopes out there:
As far as similar sized 60mm scopes, it sits around mid table in terms of weight:
Note: I measured the weight of my sample Opticron MM3 ED 60 spotting scope as being fractionally lighter at 721g (without eyepiece). Adding the Opticron HDF 40862 15-45x zoom eyepiece increased the weight to 950g.
Dimensions
Probably more important to most people than weight when choosing a travel type scope is it's dimensions. Opticron advertise the length as being 24.7cm (9.72in) without the eyepiece, which as you can see below is nice and short and on average around 15cm less than most full sized scopes:
For those who are interested, I measured the length with the Opticron HDF 40862 15-45x eyepiece attached at 31cm and it's width as 7.7cm at the widest point.
Rating for Body Stats (compared to other compact scopes): 8/10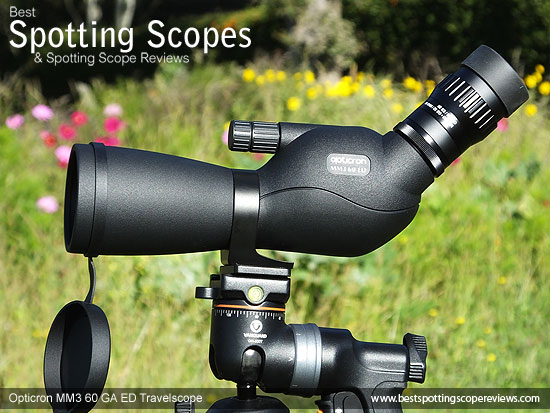 Chassis & Exterior
The Opticron MM3 ED 60 Travelscope has a very hard and thin rubberized coating on most of the exterior. This adds some protection and increases the grip, but not as much as those that have thicker and more spongy rubber coatings. On the plus side the hardness makes it more durable and less likely to perish over time. For me it also looks a little more classy than the real soft rubber armors.
No Sunshade
One feature missing from this scope that you often see is that of a sunshade.
These act a little like a hood used by photographers on their DSLR cameras and are designed to reduce glare are sun flaring in some lighting conditions. As well as from the sun, sunshields are also useful when used in light rain to keep the lens dry and clear of dirt in dusty areas.
So the absence of one is not ideal, but for my money is also not a deal breaker.
Mounting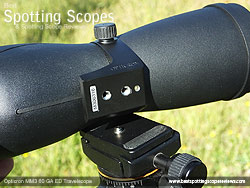 A small and lightweight scope like this obviously does not require quite as large a base to keep it steadily mounted onto the tripod as that of a full sized scope.
So it is not surprising to find that with dimensions of only 4.5cmx2.6cm it is a lot smaller than that of your average full sized scope.
During all my testing and even when adding extra weight from adding adapters and my phone whilst digiscoping, I never had an issue with the scope becoming unsteady or loose at the base.
A nice touch is having two threaded recesses. This helps a little when you are digiscoping to keep your setup nicely balanced, which in turn makes moving and aiming the scope on the tripod that much easier as it has less of a tendency to want to tip or fall over.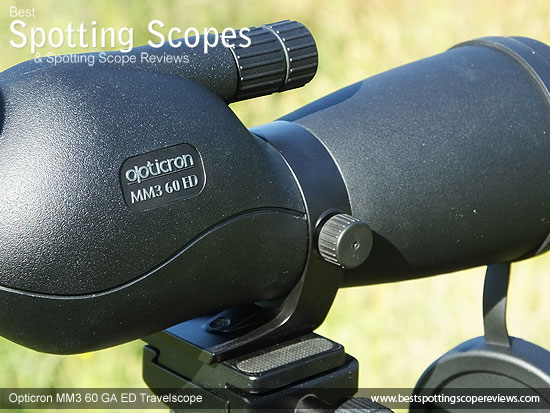 Collar
This mounting plate does not connect directly to the body of the Travelscope, but is part of a metal collar that goes around the body. This can be loosened via a knob on the side and so enables you to change the orientation of the scope relative to the tripod head.
For most uses keeping the scope at it's standard vertical position will be the best choice. However in some situations, like for example target shooters who sit next to their scope, rotating the eyepiece to the side and having it positioned at 90° (see image below) means that they can quickly glance through it to check their shot without having to get up.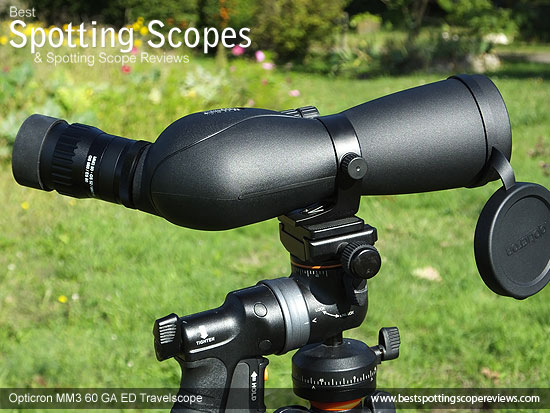 Weatherproofing
Opticron describe the body of the MM3 as being "Fully rain and dust proof" which to means that whilst it is sealed, it is not completely waterproof.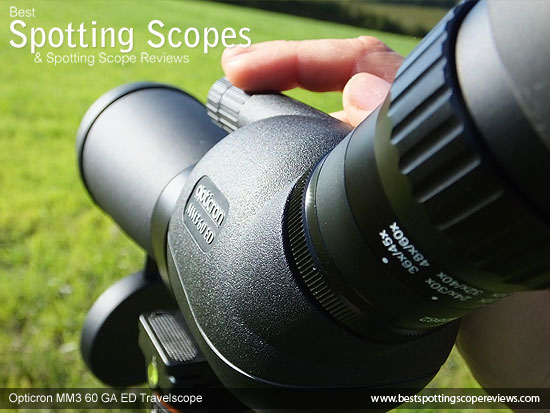 Focusing
Like all the best full sized scopes, this Opticron Travelscope features dual speed focusing knobs. These give you the best of both worlds: Use the higher geared one for making large focus adjustments faster and then the low geared (8:1) knob on the front for fine tuning the focus to get it pin sharp more easily.
Unlike some focus knobs that are positioned on the side of the body, because these are centrally mounted on the top of the body, it can be adjusted using either hand which is a small feature that is often overlooked.
I found both the focus knobs on my test scope to be very smooth to turn and neither had any rough points or sections of free play that I sometimes find which is good.
Rating for Body Construction Quality: 8/10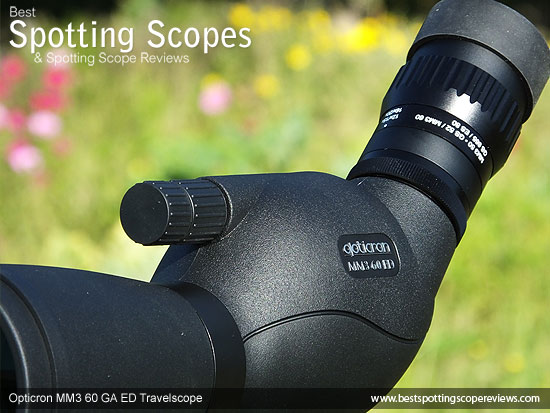 The Optics
Objective Lens
The objective lens is 60mm in diameter which is considered small for a scope. The down side to this is that the smaller surface area cannot capture as much light as those that are larger and so cannot compete in terms of image brightness.
In most cases when there is plenty of ambient light, this difference will most probably not be visibly noticeable as there will be more than enough light being delivered to your eyes through the ocular lens. However in bad light, the larger exit pupil (at the same magnification) on a scope with a larger lens can make a difference. For more on the theory behind this please take a moment to read my guide to the exit pupil.
However on the flip side, this smaller lens is much lighter and allows for a smaller scope body to be produced.

ED Glass
The lens itself contains an element made from extra-low dispersion glass (ED). In as simple terms as possible, the unique properties of this glass ensure a minimum of dispersion for each of the individual wavelengths of light, which in turn gives the lens designer more options to better direct the light as it goes through the lens.
Potentially and as long as the whole optical path is designed well, this can reduce chromatic aberrations and thus produce an image that exhibits far less color fringing.
Another potential advantage of using ED glass is that because they can perform almost on a par with that of an apochromatic triplet lens that are sometimes used in very high end scopes. You now only have 2 lens elements instead of 3 and thus a cheaper more lightweight lens is produced with almost the same performance levels.
For more, please take a look at this guide to ED Glass.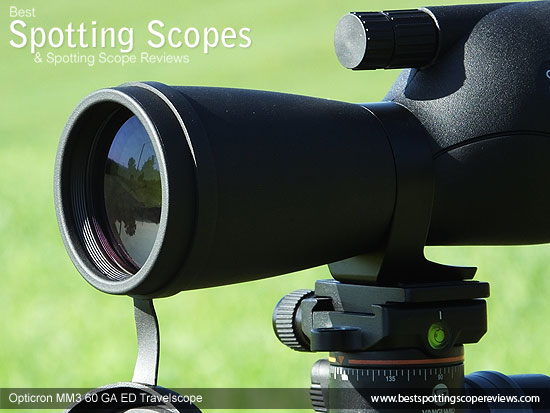 Prisms
Opticron do not make any mention as to the design or what glass is used for the prisms inside the MM3 ED Travelscope. I have written asking for clarification, but cannot comment until then.
Optical Coatings
Fully Multi-Coated
Opticron do state that the MM3 uses a "High contrast FMC optical system", which I will take to mean that the optics are fully multi-coated.
This means that every single glass surface (usually more than 10) from the start of the optical path (objective lens) right through to the exit (ocular lens) has multiple layers of an anti-reflection material added to them which is great.
This ensures that a lot less light is lost or reflected in an unwanted way than optics that have fewer coatings on fewer surfaces (either Fully Coated or just Coated) and results in a visibly brighter and better quality view.
Transmittance Levels
Per Single Lens Surface
10 Lens & Prism Surfaces
No Coating:
96%
(0.96) x Power of 10 = 0.66 66%
Single-Layer:
98.5%
(0.985) x Power of 10 = 0.86 86%
Multilayer Coating:
99.5%
(0.995) x Power of 10 = 0.95 95%
Prism Coatings
Once again, no mention is made as to the coatings used on their prisms, so I cannot comment in this area.
Optical Components Quality: Not enough Information supplied to give a score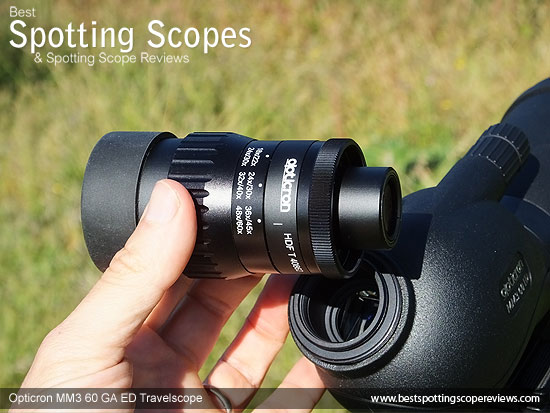 The 15x-45x Zoom Eyepiece
The Opticron MM3 60 GA ED Travelscope does not have an eyepiece that is permanently fixed to the body. Indeed as with most high end scopes, the eyepiece is usually purchased separately (unless you buy it as part of a bundle), which means that you can choose one specifically for your particular needs and budget.
Unlike some that have a bayonet system, the eyepiece is attached to the scope with a simple threaded collar which makes it a little more time consuming to attach, but I feel that it is a little more secure once firmly screwed into place.
So along with the scope, Opticron sent me their HDF 40862 15-45x Zoom Eyepiece to use whilst testing. Like most variable magnification eyepieces, this high end one with its large 24mm lens will work well in many situations and so is ideal for general use.
Adjusting the magnification is achieved by simply turning the top end of the eyepiece. This mechanism was smooth and without any free play or rough sections on my sample. I also felt that the resistance to movement was spot on, so that it was not too easily moved by accident nor too hard to make adjustments to.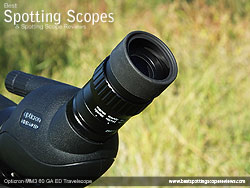 Eye-cup
Designed to keep your eye at the correct distance from the ocular lens so that you can easily take in the full image without any black rings forming on the edges, the eyecup, along with the amount of eye-relief (see below) is an undervalued, yet important feature on any scope.
Many use a simple rubber cup that you can fold down to give you either the full amount of eye-relief or none at all.
Much better are the twist-up and down eyecups like that found on this Opticron Travelscope. I say much better because it gives you the option of stopping anywhere in between the two extremes and thus can be fully customized to ensure that you and your personal face shape get the full view, with or without glasses on.
Optical Stats
Eye-Relief:
The HDF 40862 eyepiece gives you between 17mm and 22mm of eye-relief depending on the magnification you are using, which is excellent.
Even when I tested them with my sunglasses on, I had no problems at all achieving the fully view by fully twisting down the cup and as such would recommend this as a good option for those who wish to keep their glasses on whilst scoping.
Field Of View (FOV)
The HDF 40862 eyepiece offers you a view that is a maximum of 46 meters wide at 1000 meters in distance at 15x magnification and then when fully zoomed in to 45x the view is 21 meters wide. (138ft - 63ft @ 1000yards)
Depending on the magnification you use, the field of view goes from 157 feet wide (at distance of 1000 yards) at 12x power to 84ft wide at 36x power. Metrically this equates to a FOV of between 52-28m at 1000 meters away.
Because of the lower magnifications, this view is considerably wider than that you will see through many variable eye-pieces used on larger scopes. .
Comparing their FOV to a selection of other scopes with the same size objectives and magnifications, you can see that once again this is very good:
The big advantage of a wider FOV is that it makes finding your target much easier and thus often quicker. It is also easier to follow things like birds as the hop about in a tree for example. Speaking from experience, if you are considering using your scope for digiscoping birds or even larger wildlife, being able to quickly locate your subject is of paramount importance.
Close Focusing Distance
At only 11.5ft / 3.5 meters away the close focus distance is excellent for a scope and is far less than many of it's competitors.
I found this feature particularly useful when trying to observe and digiscope butterflies, bees and other insects on flowers as it enabled me to get in nice and close to them and thus get some great views and apart from my lack of skill (and a little luck), I should have also been able to get some great images!
Optical Stats Rating (compared to other compact scopes): 9/10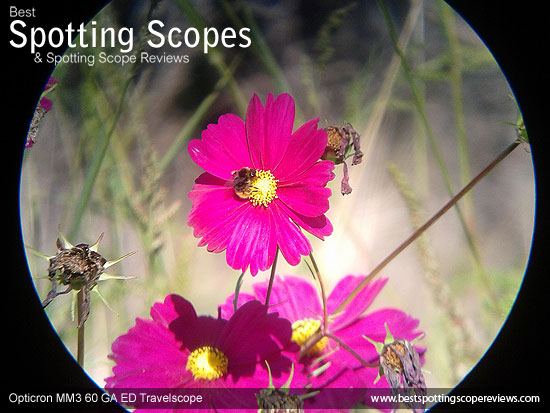 Image Quality
I often get asked why I don't simply post images taken through the scope by digiscoping (like the one above) to demonstrate the image quality rather than trying to describe it.
The answer to this is that a photograph usually in no way represents the quality that you actually see through the scope as it relies on a number of other factors which are really hard to replicate for every review in order for any meaningful comparisons to be made.
Color Fringing
For example the digiscoped image of a bee on a flower that I took through the Opticron MM3 60 GA ED Travelscope above is ok, but shows a fair amount of fringing around the edge of the view, which I can assure you is not at all what you see when looking through the scope and is probably due more to the quality of the camera on my phone or perhaps not having it lined up 100% correctly than anything else.
Indeed I would say that the amount of fringing that I could observe through the Opticron MM3 using the DF 40862 eyepiece at 45x power was extremely minimal. This was even the case when taking it to the extreme by focusing on the edges of a dark telephone line viewed against a bright blue sky which is really very impressive and in my experience in terms of fringing, this combination of scope and eyepiece really does rank up there with the very best.
Colors & Contrast
You can sometimes notice a faint tinting or hue to an image that is not natural, this is especially the case with cheaper scopes that use lower quality glass and coatings. This was not at all observable with the MM3. To me, the colors were vibrant and there was a good level of contrast, but all without looking unnatural.
Image Brightness
For this test I compared the view through the 60mm Opticron MM3 GA ED Travelscope against my mid-range 80mm spotting scope that I use as a benchmark for all my reviews.
In good light, you really could not observe a difference in brightness between the two, however in poor light and especially when using higher magnifications, I was able to observe that the larger scope delivered a slightly brighter view.
This is to be expected as not only does the smaller lens on the 60mm scope collect less light than the larger 80mm scope, but at the same magnification, it also has a smaller exit pupil. For more on why take a look at this complete guide to the exit pupil, written for binoculars, the same principles apply with scopes.
I would like to stress however that the difference was not that great and whilst any 60mm scope is not the perfect choice for low light use, it is also far from being a terrible one. It is a pity that I do not have a 60mm benchmark to compare this Opticron against, but I would imagine that it compares very well and I really would not worry about this aspect of the view at all.
Distortions & Softening
On some spotting scopes you occasionally get a distorted view where the image looks ever so slightly like it is either curving inwards or outwards, this was not the case on the Opticron MM3 ED 60 Travelscope and to me it looked perfectly flat from edge to edge.
Also very impressively was just how sharp the image remains right to the edges, with almost no image softening. Once again this scope is up there with the very best in this area.
Rating for Image Quality: 9/10
Included Accessories:
Carry Case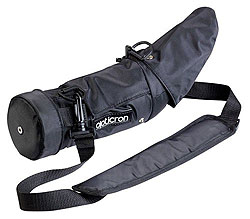 Rather surprisingly no protective cover or case is included with the Opticron MM3 GA ED Travelscope. Opticron do make them however. They are available in both black and green and should you wish, they can be purchased separately:
US
The Opticron MM3 60 GA ED Angled Spotting Scope Case costs around $80 in the US - check current prices here on Eagle Optics
UK
They cost around £60 in the UK (check current prices on Amazon.co.uk here
)
Tabletop Tripod
It is quite common especially with cheaper scopes for a small table top tripod to be supplied. This is not the case with the MM3.
Lens Covers
Made from a soft rubber, the objective lens cover is very similar to that you now find on many binoculars. It simply fits over the end of the barrel and has a ring that remains attached to the barrel so that you can remove the cover and have it hang down under the scope whilst observing.
I really like this solution and wish it was available on more scopes as it ensures that the lens cover is not so easily misplaced and always available for you to easily replace when you need it. This your lens remains protected and cleaner for longer.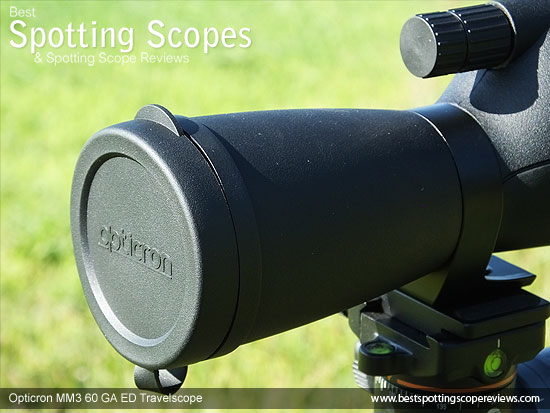 Eyepiece Covers
The scope body comes with a separate small plastic cover that you use when no eyepiece is attached. The HDF 40862 eyepiece that I was supplied with also came with a couple of plastic covers to protect the lenses. Whilst quite simple, they are on a par with what you usually get and performed their task well enough.
Lens Cloth
Whilst no cleaning cloth was supplied, I would have suggested that you invest in a reasonably good quality optical lens cleaning kit anyway as these will ensure proper cleaning of the optics with far less risk of you damaging the coatings.
User Manual
The small instruction booklet is basic, but contains the essential information on compatible eye-pieces, parts of the scope, how to use your scope, care, cleaning and a small section on telephotography and digiscoping.
30 Year Guarantee
At the back of the instruction booklet are the details of the comprehensive 30 year guarantee that you get as well as how to register your scope.
Rating for Included Accessories: 5/10
Opticron MM3 GA ED Comparisons
Below is a table containing the main details, specifications and features of this as well as a number of other scopes in a variety of price ranges that can give you a quick idea of some of the strong as well as weaker points of this instrument:
Final Thoughts
Strengths:
I will make no apologies for stating right of the bat that I really like this scope a lot, in almost every way it was a real pleasure to test and use and for me it is just a shame that I have to send it back!
The build quality is superb and in my experience the image it and the eyepiece produces is on a par with the very best that I have ever used.
Whilst not quite as bright as a quality full sized scope, the difference is not massive and I feel it in many situations, this is well worth the trade-off for having a far lighter and smaller instrument that is just so much easier to carry about with you.
Weaknesses:
For me the only slight let down is the lack of an included protective cover. However having said that if by including it, they would have to raise the price to cover the costs, perhaps it is better to have the choice as to whether you require one or not.
For example there may be many users who keep their scope indoors, perhaps mounted on a tripod in a room that overlooks their garden or perhaps the ocean. In this case they would not require a waterproof cover and so for them this saving makes complete sense.
The lack of a sunshield may also be an issue to some people, but to me it really made almost no difference in most circumstances.
Conclusion & Ideal Uses
On a whole this is a fantastic small scope that can be used very effectively in a wide range of uses.
Obviously it's small size and low weight make it the ideal traveling companion and I would personally love to take it with me on a safari type holiday.
For me it was also a pleasure taking it on longer walks whilst testing it. Using it in combination with a lightweight carbon fiber tripod made it far easier to carry abut than a full sized scope.
Because of it's high quality finish and good understated looks, I can also see this scope sitting quite comfortably on a tripod in the corner of a room or balcony that overlooks a garden or ocean view, ready to be used at any moment.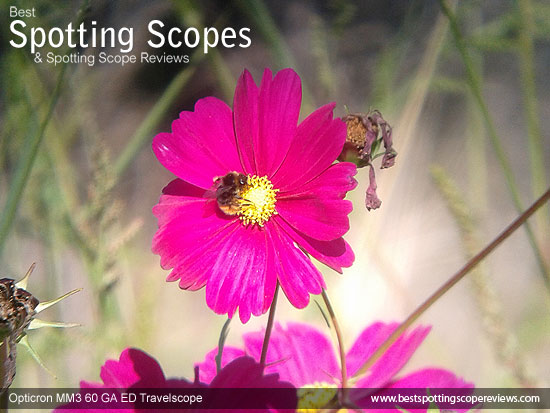 Digiscoping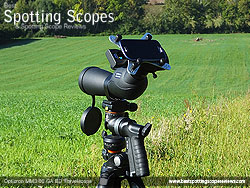 Whilst I did not test the Opticron MM3 60 GA ED with a camera, I did digiscope with it using my phone and the excellent X-wing Adapter from Snypex that I found worked really well.
It was nice to be out in the field with as small amount and lightest equipment as possible, so a lightweight scope, travel tripod and using a phone which you would carry anyway rather than a camera made complete sense.
I found that this setup worked really well, and the lower magnifications with a wider field of view and relatively close minimum focus distance on the MM3 made it much easier to capture images like the one of the bee and the flower above.
However in poor light and for those who really want a long telescopic range, a larger more powerful scope would be a more logical choice.