It has been quite some time since I last tested and reviewed a straight bodied scope. This is not because I have anything against them, but is rather down to the general popularity of angled scopes and as such manufacturers tend to send me their most popular models to try out. Thus if a particular model is available in both an angled and straight through shape, I usually get the angled version to test.
Anyway when I wrote about the release of the new Snypex Knight T80mm ED APO Spotting Scope, that is currently only available in the straight through body shape, I immediately contacted Snypex Optics to see if they would send me a sample to test and review.
Thankfully they agreed and so after a whole lot of using, testing and digiscoping out in the field, you can now read my complete and in-depth Snypex Knight T80mm ED APO Spotting Scope review below:
Main Feature & Specifications
Straight Through Body Shape
80mm Objective Lens
APO Lens with ED Glass Elements
Water & Fog Proof
Twin Speed Wheel
Fully Multi-Coated Optics
Eye Relief: 16mm - 25mm
Supplied 20-60x Interchangeable Eyepiece
Field of View at 1000yds: 78.5ft - 57.6ft
Weight: 2083g
The Body
Shape
So as I mentioned in the opening few paragraphs of this review, this 80mm Snypex Spotting Scope has a straight through body shape, which basically means that the view you take through the eyepiece is parallel with the objective lens and not at an angle as you get with many scopes.
As with most things in optics neither choice is simply better than the other as both body shapes have their unique advantages over each other, which you can read more about in this article on Angled or Straight Spotting Scopes and the right one for you boils down to how you prefer to use your scope and to some degree what if any size of tripod you may already have.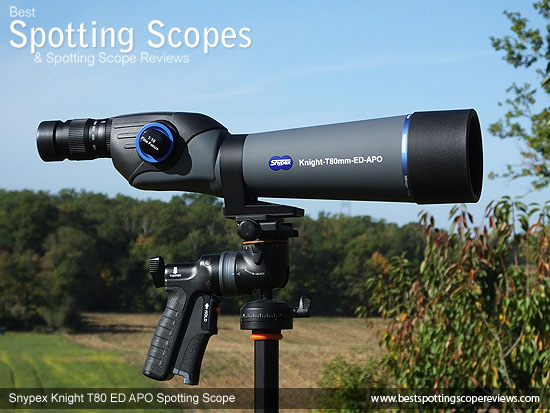 Chassis & Exterior
Whilst they do not state it, I would be surprised to find out that the main shell is not made from aluminium. Although almost all aluminium bodies are heavier than either plastic or magnesium ones, it is stronger than the plasti ones and I think cheaper to produce than the magnesium ones.
On top of this shell, Snypex have added a hard rubberized coating. The hardness of which potentially makes it more durable than softer rubbers, but also offers a somewhat lower level of grip and combined with it being quite thin, I would assume will not absorb as much energy from impacts as thicker and softer rubber coatings.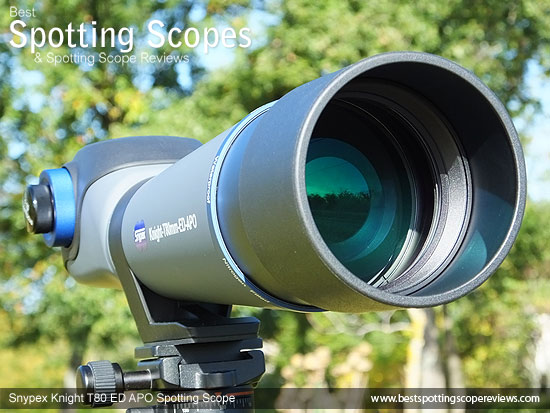 Sunshade
The hard plastic shield that can be extended out over the objective lens is usually known as a sunshield.
As the name suggests it's purpose is to prevent sun from shining directly onto the lens, which in turn can lead to flaring of the image.
It's secondary purpose it to offer protection from light rain or even dust that can mark or dirty the lens, which in turn means that you need to clean it less often and thus reduce the risk of permanently marking it the coatings.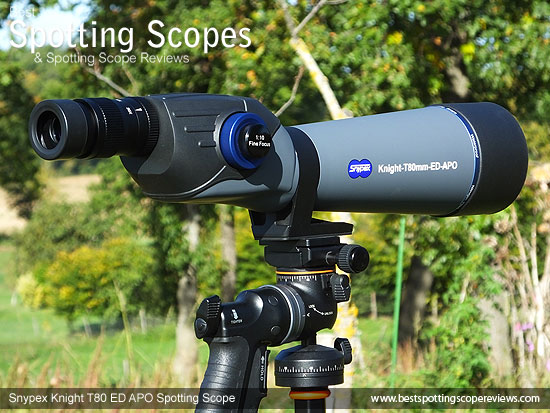 Mounting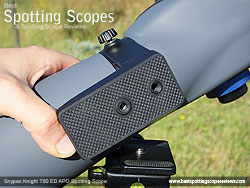 As you would expect to find on a scope of this size and weight, the mounting plate is nice and large.
There are also two mounting points so that you can slightly change the position of the scope on the tripod head to get the best balance possible, which in turn makes it much easier to aim the scope. Being able to shift the balance point can also be important if you digiscope with a large and heavy SLR camera which obviously vastly changes the balancing point of the instrument.
I also liked the non-slip rubber grip stuck onto the base of the mounting plate, which meant that I did not have to over tighten the screw on the tripod head to ensure that the scope would never move.
Collar
As is customary with almost all modern scopes, the mounting plate attaches to a collar that loops around the scope body. By loosening a know on the side, you can then rotate the scope around the mounting.
On an angled scope this can be very useful is some situations, but for a straight through scope it is less obvious why you would want or need to do this.
One instance would be when digiscoping as this can be a simple way to change your composition from landscape to portrait by rotating it 90°.
Another reason would be to move the focus wheels from the right side to the top or even the left side of the scope by turning it a full 180°.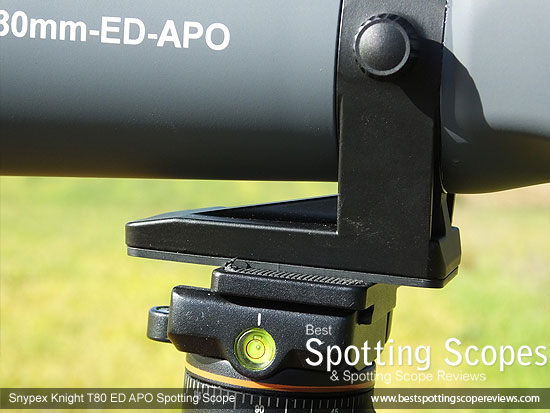 Water & Fog Proof
Snypex Optics describe this scope's body as being both water proof and mention that it has been filled with nitrogen, which will help to prevent any of the internal glass from fogging.
Remember a fully sealed scope is not only a benefit in wet weather, but in dry conditions as well as it makes it impossible for dust to get inside the system.
Focusing
The machined metal focus knobs are for me one of the real highlights on the Snypex Knight Spotting Scope and quite unlike the majority of others out there.
Placed on the right hand side of the body near the eyepiece, you make large adjustments to the focussing plane by turning the the blue dial. Fine (1:10) adjustments are then made by turning the smaller black dial positioned at it's center.
The action of both is as smooth as silk and really are a pleasure to use.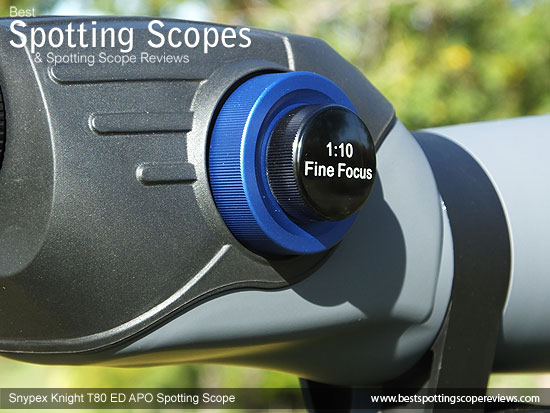 The location of the focus knobs on the side does make it a problem should you prefer to change focus with your left hand. If this is a major problem for you, you could always loosen the collar and rotate the scope around 180° and effectively use the scope upsidedown, so that now the focus wheels are on the left hand side. The only minor issue with this "solution" is that it looks slightly odd, but in terms of function, it works perfectly fine.
Rating for Body Construction Quality: 8/10
Weight
As is demonstrated by the list below, at just over 2 kilograms is weight, the Snypex Knight 80mm spotting scope is not a lightweight scope:
This weight is something to keep in mind should you like to take your scope on long walks or travelling. However if much of the time your scope is positioned at a stationary point like on a balcony or if you take it to a hide, or even on short walks it's weight should not be a problem as long as you use it with a sturdy tripod.
For interest I used the scope exclusively with my Vanguard ABEO Pro 283CGH carbon tripod combined with Vanguard's GH-200 pistol grip tripod head and never experienced any issues regarding stability.
Dimensions
As well as weight, the dimensions and especially the length are important aspects when discussing a scopes suitability for travelling or even taking on long walks. At 66.5 cm long, 15.7cm deep and 13.1cm this Snypex scope is fairly typical for a full sized scope.
These dimensions are however a fair amount larger than a specifically designed travel scope. However important to keep in mind is that a smaller scope with a smaller lens is most certainly not going to perform as well in bad light and will probably not deliver quite as high a quality image as that of a scope with similar quality optics.
Rating for Body Stats: 7/10
The Optics
Objective Lens
The name of this scope gives us quite a lot of information regarding the make-up of the lens used on this instrument:
APO
The APO in the title indicates that this scope has an Apochromatic lens design, which is a little bit special. You see most scopes will have achromat lenses that only use two elements made of different types of glass with unique properties that when designed well will correctly focus two wavelengths of light at the same point after the lens.
An APO lens consists of three elements and can thus correctly focus three wavelengths of light (usually red, green & blue) onto the same plane.
Thus assuming it has been designed well, an APO lens does a better job of reducing both chromatic aberrations and spherical aberrations than the best achromat lenses are able to. The main reason not all scope use this design of lens is because technically they are far more difficult to make and thus cost more. The extra element also makes the lens heavier, which for some uses may not be ideal.
ED
At least one of the lens elements in this APO lens is made from ED (Extra Low Dispersion) Glass, the properties of this glass is such that it is possible for the wavelengths of light to be better directed in a desired direction and thus you have the potential to better focus them onto a single plane after leaving the lens and thus compliments the APO lens design by helping reduce aberrations. The result is a higher resolution image with less color fringing.
Prisms
Snypex make no mention as to the design of the prisms used on the Knight T80 and so I cannot comment here.
Optical Coatings
Fully Multi-Coated
The Snypex Knight T80 Spotting Scope is advertised as being Fully Multi-Coated, which is great news as it implies to us that all glass surfaces through the whole optical system have been coated with multiple layers of an anti-reflective coating.
Lesser quality optics are either Multi-Coated (Only some surfaces have multiple coatings), Fully Coated (All surfaces are coated, but only with a single layer) or just simply Coated (Only some surfaces have a single coating)
These coatings reduce the level of light that is reflected in an unwanted direction as it comes into contact with the glass. The result is more light gets through the optical pathway for a higher resolution and brighter view.
This difference can most certainly be observed, but to give you an idea of by how much, the table below shows the amount of light that gets transmitted through a single glass surface and then through 10, which is nearer to the amount you often find in an optical system of a scope:
Transmittance Levels
Per Single Lens Surface
10 Lens & Prism Surfaces
No Coating:
96%
(0.96) x Power of 10 = 0.66 66%
Single-Layer:
98.5%
(0.985) x Power of 10 = 0.86 86%
Multilayer Coating:
99.5%
(0.995) x Power of 10 = 0.95 95%
Optical Components Rating: 9/10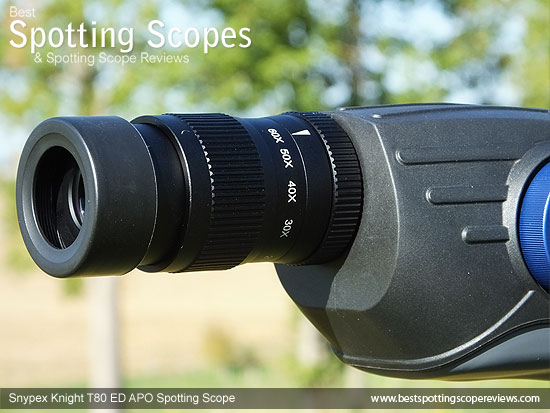 20x-60x Zoom Eyepiece
Bundled in with the scope body is a 20x-60x zoom eyepiece (SNY0824Z-A) which is great news as many scopes within this price range do not include an eyepiece.
The eyepiece is interchangeable, meaning that it can be removed by unscrewing it and exchanged with another. However as of yet, I do not think Snypex produce any other variations, so you will have to look around for others that use the same size thread.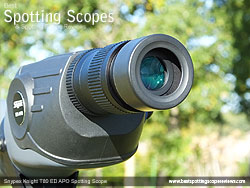 Snypex do not mention what size threading is used, but I am endeavouring to find out and will publish it here along with some compatible eyepieces as soon as I find out.
Eye-cup
The twist-up and down eyecup is of a good quality and the mechanism works well enough. For me a twist-up eye-cup like this is far preferable to the simple rubber fold up and down ones that you sometimes get as you get a more stable base with which to place your face against and they have far less chance of perishing.
Optical Stats
Eye-Relief:
Even at the maximum of 60x magnification you get a large 16mm of eye-relief with this eyepiece. This should be even be enough even for most people who wear glasses whilst observing to view the full image without dark rings on the edges of the view.
At 20x magnification there is a massive 25mm of eye-relief which for the most part is great, except I found that for me the eye-cup did not actually extend back far enough and so to get the full image at lower powers, I had to position my eye by "hovering" it a little distance from the fully extended eyecup. Whilst this is not a insurmountable issue, it is also not ideal.
Field Of View (FOV)
At 20x magnification, this eyepiece gives you a view that is 78.5ft wide at a distance of 1000 yards.
As you can imagine, as you "zoom in" by increasing the magnification the FOV decreases, until at 60x it is 57.6ft wide.
In metric terms this converts to a FOV that varies from 26.2m to 19.2m at 1000 meters in distance.
As you can see from the comparisons of similar sized and powered scopes that I have reviewed below this FOV is not bad, but at the same time is somewhat shy of the best:
Close Focusing Distance
The Snypex Knight T80 ED EPO spotting scope is rated as having a close focus distance of 24ft / 7.3 meters, which is fairly typical and so not much to expand on here.
Optical Stats Rating: 7/10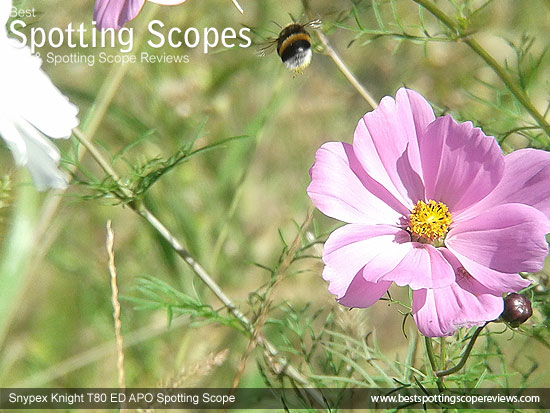 Image Quality
Whilst I never advise you to judge the quality of the image that you can actually see through a scope by any digiscoped images taken through it, because so many other factors also come into play (like the skill of the user and the quality of the camera), the fact that I have managed to take such excellent quality images just with the camera on my phone is surely a good sign (see digiscoping section below).
Colors & Contrast
In my opinion, both the colors produced as well as the level of contrast the you see in the image is what I would describe as being fairly neutral. This is good as I think that the image looks to be very natural and lacks any sort of artificial tinting and is neither overly contrasted or too washed out by being to bright with little contrast.
Image Brightness & Low Light Performance
With a large objective lens and very high quality glass and coatings, I was not only expecting to see a good quality image, but expected the scope to offer up a bright image even at high magnification levels (when the exit pupil is at it's smallest) and in poor light.
I was not to be disappointed. I really could not observe any obvious differences in brightness between this Snypex scope and that of my high end 82mm benchmark spotting scope. Be that in good ambient light during the day or in poor light late in the afternoon and just after sunset. This was true at any magnification level. On top of that I could easily notice that this scope was brighter than that of may small 60mm travel scope.
Thus in my experience the brightness and low light performance of this scope is excellent and on a par with the best full-sized scopes that I have used.
Color Fringing
The levels of color fringing, even at maximum 60x magnifications are minimal and in most cases you will never notice it unless you are actually looking for it.
However I was expecting this Snypex scope to outperform my benchmark in this area. I say this because whilst both contain ED glass, the Snypex has the triple element APO lens, which in theory can reduce the chromatic aberrations that cause fringing even further. But to my eyes they were about equal, which is still excellent, but as I say I had hoped that I would have been able to witness a difference between the two. Remember what you see depends on the quality of the optics in the eyepiece as well as that of the actual scope and so this may be one of the contributing factors.
It is very important from a users point of view to put this into context. I am only making such a big deal of it because I have to be thorough for the review, but I feel that the level of color fringing is well below that of your average scope and as I say to really notice it, you have to look quite hard by doing things like focusing on the edges of a dark leaf or branch highlighted against a bright sky.
Image flatness & Softening
This is one area of the view where this scope really excels. Once correctly focused onto something, the image is razor sharp right to the very edges of the view, without any sort of fuzziness or softening that you usually see on the edges.
I also could not notice any sort of anomalies where for example the image you see can sometimes look like it is curving either inwards or outwards as you move about the view. To me it was completely flat which is what you want.
Rating for Image Quality: 8/10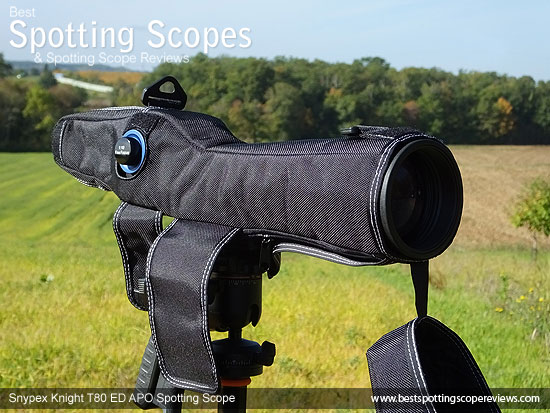 Included Accessories:
Protective Cover
The stay on protective cover that comes with this Snypex spotting scope is one of the best that I have come across and I say that for a number of reasons.
Firstly it looks extremely well made using a good quality material with double stitching. When in place this cover will offer a good degree of protection to the scope from impacts as well as from dirt and the weather.
The fit is also excellent and by that I mean when completely enclosed and Zipped up, the scope does not move about inside it's jacket, yet putting it on or taking it off is also relatively straight forward.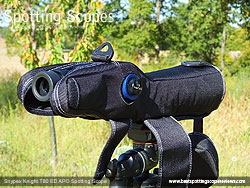 I really like the way it can be used whilst your scope is attached to your tripod and in use. By simply and quickly unzipping the rear, you can expose the eyepiece and the lens cover is also easily removed as it is fastened using a strip of Velcro. This lens cover is tethered to the rest of the main cover via a cord and so just hangs down out of the way whilst you are using your scope, yet is always available to quickly replace without fear of being lost or misplaced.
A simple Velcro fastened flap then protects the focus wheels on the side.
This stay on cover included a couple of belt clips located on the top, which I will assume accept a should strap making it easy for you to carry about your scope, however my sample did not come with the strap. I am pretty sure that the retail versions will have this strap and can only assume that the strap for my test sample was misplaced by a previous journalist.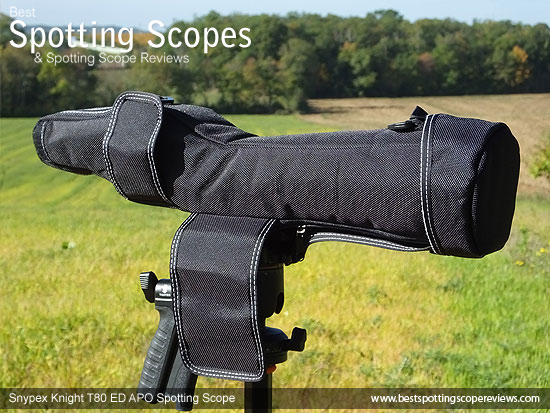 Objective Lens Cover
I have a real love hate relationship with this part of the scope:
I really love that unlike most plastic ones you get these days, this Snypex lens cover is made from metal and really does look and feel the part. It screws into the end of the barrel, which provides the best and most secure amount of protection to the lens that you can hope to get.
On the flip side, the thread on this cover is very fine and so it can take a little time to line it up correctly to screw it back on after you have finished using your scope. Because this process can be a little time consuming, I found that I would do it less often than those that are really easy to replace. In this way I was actually leaving my lens exposed more often and for longer and thus increasing the chances of it getting scratched, marked or just dusty.
Another small point is that the cover is not tethered to the body as you sometimes find and so once removed you have to find a clean place to place it and then remember where you put it when the time comes to replace it!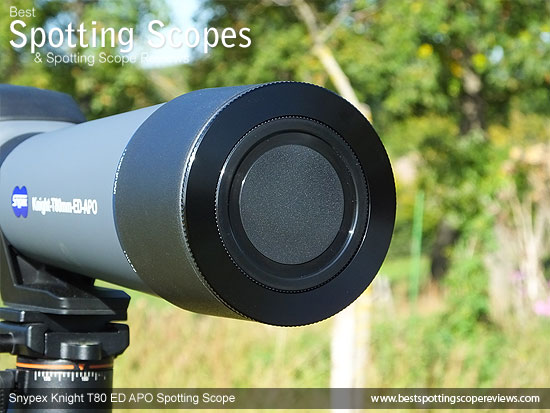 Eyepiece Cover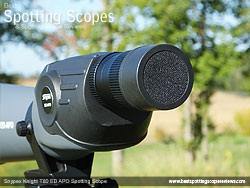 Snypex also supply a simple plastic cover that protects the lens on the eyepiece.
It had a good fit by which I mean that it does not come away too easily, but at the same time is not too difficult to put on or take off.
On the whole this type of cover is fairly standard and on a par with most others that I come across.
Lens Cloth
Somewhat surprisingly, this Snypex Knight scope did not come with a cleaning cloth. However, whilst most do, I would still advise you to get a specialist optical lens cleaning kit for cleaning the lenses so that you can properly clean them without damaging the coatings or glass.
Rating for Extras: 7/10
Snypex Knight T80 Comparisons
I have included the main details and specifications of this Snypex scope alongside a number of other similar sized scopes that I have reviewed in a variety of price ranges for you to be able to make some quick comparisons against:
Final Thoughts
Strong Points: The undoubted highlight for me is the very high quality optics used and the resultant image that it produces, that is quite easily on a par with anything that I have used in the past and in my opinion up there with some of the best.
Whilst not overly friendly to those that like to focus with their left hand, I really love the all metal and super smooth focus knobs on the Snypex Knight T80 ED APO spotting scope. They are quite simply a pleasure to use, allowing for big adjustments to be achieved quickly and for very fine tuning the focus to be achieved easily and accurately.
The stay on cover is excellent. Made well, offers a good level of protection, fits well, is easy to use the scope with it on and as easy as it gets to take off and put back on.
Weak points?
Whilst the included zoom eyepiece is versatile and most certainly contributes to the excellent image quality, the relatively narrow field of view you get from, is not for me a deal breaker, but it is a little disappointing.
Also a little disappointing for me was that at lower magnifications (around 20x), the amount of eye-relief needed to get the full view with this eye-piece is greater than that offered by the eye-cup and so I had to hover my face a little behind the eyecup.
In terms of it's quality and the security that it offers to the objective lens, I really love the metal screw on lens cover. However removing it takes a little longer than most that simply slide on and replacing it is potentially even more time consuming as the thread that is used is very fine and so you have to line it up very well.
Ideal Uses: The included 20x-60x zoom eye-piece and the fact that it can be unscrewed and changed for another obviously make this scope a very versatile instrument that can be instantly and very effectively used right out the box in a wide range of areas and then later modified by changing eyepieces to align better with any specialist requirements that you may have.
Add to this the high quality optics and the large objective lens and for me you have an ideal scope for bird watching, general wid life observation and many hunting applications, especially those based from a stationary point like a hide.
I would suggest however that for most people, as a travel scope to take on adventures like safaris etc, this may just be a little too big and heavy. In these situations, you may be better off sacrificing a little on the image quality and brightness by opting for a smaller diameter scope.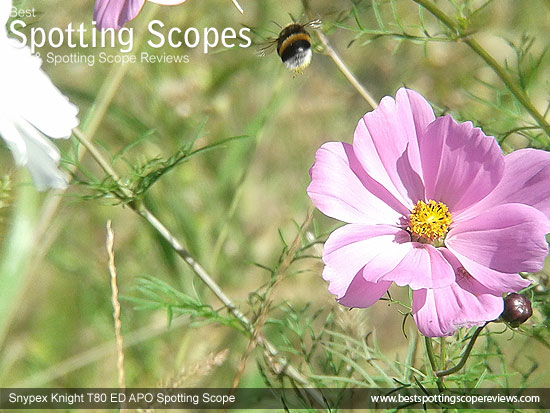 Digiscoping

Snypex offer a number of adapters that will enable you to connect almost any SLR or lower powered compact camera to the Knight T80 for digiscoping.
They also make the excellent X-Wing Adapter which accepts almost any modern smart phone and permit you to use it's camera to take pictures through the scope (Check out my full review of the X-Wing - coming soon).
I spent a good amount of time digiscoping with the Snypex Knight T80 ED APO spotting scope using my phone and their X-Wing adapter with what I would describe for my ability as some reasonable success.
The large objective lens and high quality optics really help you capture good quality images even at the maximum 60x magnification which is impressive and will perform better in lower light than smaller and lesser quality scopes.
Whilst the straight body shape helps make it easier than on angled scopes to line up your target and I was using the Vanguard GH-200 pistol grip which also helps with aiming, for me the only real negative was the fairly narrow field of view (FOV) you get from the included eyepiece.
This fairly narrow view made it somewhat more difficult than those with a wider FOV to locate your desired subject and almost impossible to track moving ones like butterflies and birds at higher powers. Thus I would suggest if you plan to do a lot of digiscoping with the Knight T80 that you also invest in an eyepiece with a wider FOV.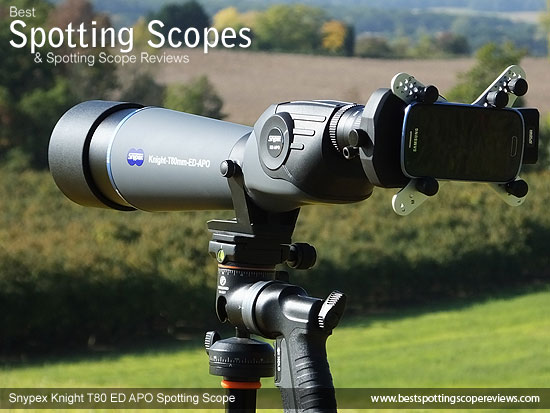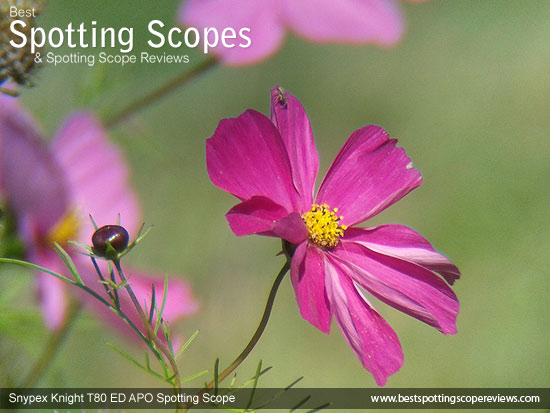 Conclusion
Before arrival I was expecting and indeed hoping to find a high quality optical instrument that delivered a superior image and which would be an excellent choice for digiscoping.
After a lot of testing, I have come to really enjoy using this scope and have to say as long as you have a good quality tall tripod, the ease of aiming with a straight scope is a joy for most applications. Sure it has a few quirks that take a little getting used to, but almost all do and I feel that on the whole the Snypex Knight T80 ED APO Spotting Scope completely delivers on it's promise.
This I have no hesitation in recommending it as a really good option within it's price and size class. For digiscoping it is a great scope as the bright high quality image really help you take better photographs. But to make life even better, an eyepiece with a wider FOV would be preferable.