It has been quite some time since I last reviewed a large spotting scope and well overdue and so when Bresser contacted me to let me know about their updated Gen II version of their popular 80mm Pirsch spotter, I of course immediately jumped at the chance to have it in for testing.
Added Bonus!
Along with binoculars, scopes, telescopes, microscopes and a bunch of other cool optical gear, the respected German brand Bresser also produces a wide range of related products and accessories. Thus I also took the opportunity to also suggest to them that it would be even better if at the same time I could also test one of their tripods and if so could they send one they thought would make a perfect match for the scope.
They agreed and so as a result, this review contains not only the details and my thoughts on the Bresser Pirsch Gen II 20-60x80 Spotting Scope but also includes an initial overview and some details on the top of the range Bresser BX-5 Pro tripod with a Liquid-Mounted Video head as well! Note: I do plan to write a full review on the tripod as well in due course.
New Bresser Pirsch Spotting Scopes
Also available with an even larger 100mm objective lens the Pirsch series has recently been updated and improved:
From what I can see, the new Gen II versions now have a slightly more modern-looking appearance to them and it looks like Bresser has also used higher-quality mirror coatings on the prisms. These very highly reflective dielectric mirror coatings should further improve light transmission levels, which in turn, should lead to a brighter, higher quality view.
The Gen II Pirsch scopes are now also filled with nitrogen gas protecting the inner lenses from fogging-up, whereas I don't think this was the case on the older versions.
Bresser Pirsch Gen II 20-60x80 Spotting Scope Review
Contents: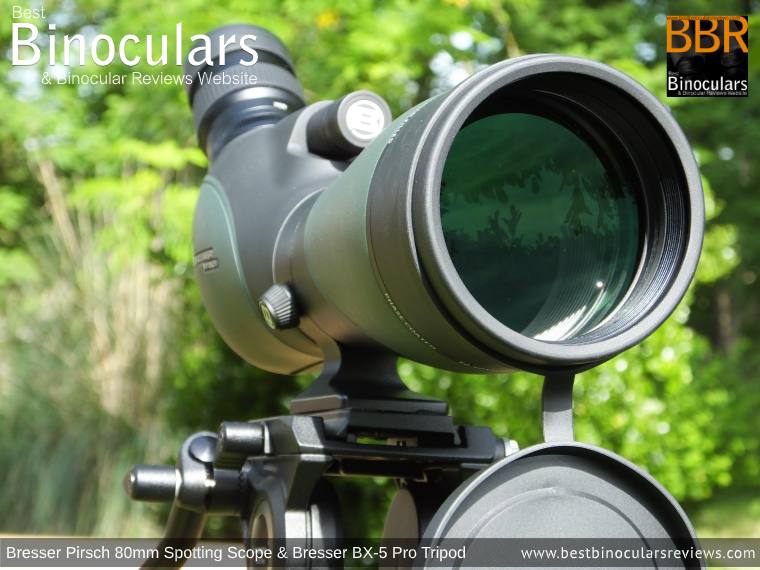 The Body
Main Shape
Both this 80mm model and the larger 100mm Bresser Pirsch scope have a modern, but at the same time, fairly typical looking angled body design with the eyepiece set at 45°.
Note there are no straight through options available which is something that I now see quite often. So whilst both angled and straight scopes have their respective advantages and disadvantages that I go over in detail in this article on Angled versus Straight Spotting Scopes, it seems that the angled version is a far more popular choice and so it is easy to see why many companies are consolidating and only producing one type in a given series.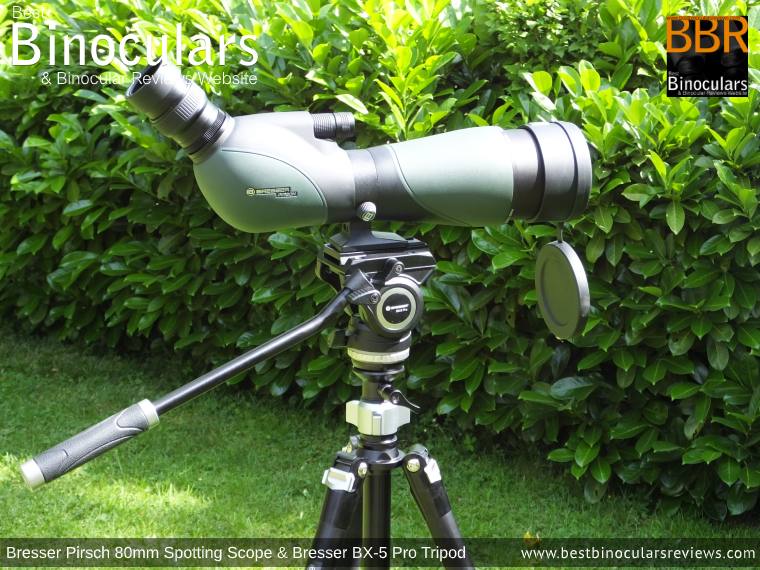 Chassis
Bresser has gone with a combination of aluminum and polycarbonate for the main body materials:
Aluminum only scopes are generally considered to be a little more robust and are usually more expensive, but they are also heavier, so like most things there are pros and cons to both of these commonly used materials. By using both as Bresser had done in this case, it could be a smart move in that you can use the stronger aluminum in the parts where strength is needed most and then to save weight and costs, plastic elsewhere.
Bresser does not state which material is used where, but it is obvious that parts like the collar and the tripod-mounting foot are metal and to me, it looks like most of the main barrel is polycarbonate, whilst the end section that holds the objective lens in place is certainly metal which is good to see.
Either way, the scope itself feels very robust and in no way resembles some of the cheap and nasty all-plastic scopes that I have come across over the years. Indeed I would say that the opposite is true and this scope looks and feels more expensive than it actually is.
Exterior Armor
As is the norm these days, most of the outer surface on the scope is covered in a rubber armor, but there are a few sections of exposed metal.
As well as offering some extra protection to the instrument, the fine-textured surface also improves grip and is non-reflective which for some uses where skittish birds and wildlife are concerned or indeed any situation you need to remain hidden, this seemingly insignificant detail can be important.
Another point to mention here is that the armor is tight and fits very well onto the chassis underneath. I highlight this because on more than one occasion I have had scopes where the rubber "jacket" moves or slides about which is not only very annoying, but looks terrible.
The rubber that Bresser has used is also very thin which must be said will not offer as much impact protection as thicker and softer rubber, but at the same time, in my experience, softer rubbers are usually not as durable and more often perish or become sticky over time.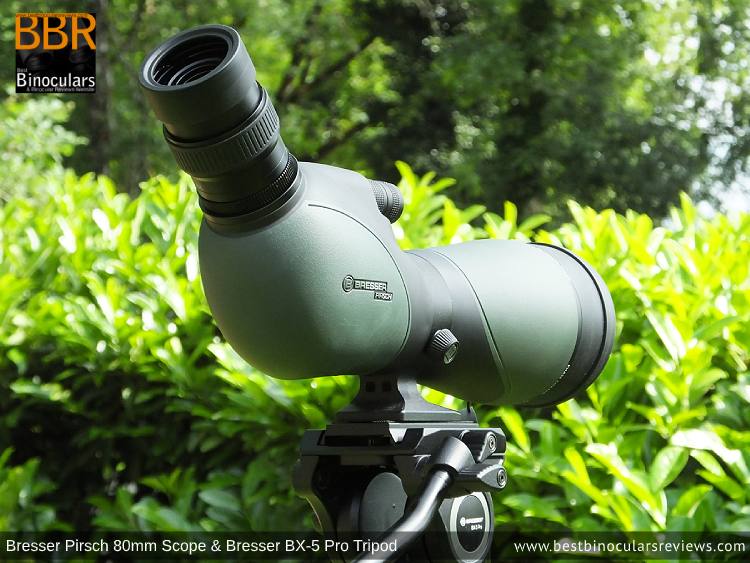 Water & Fog Proof
The housings on the Bresser Pirsch spotting scopes are waterproof and unlike the older versions, these new Gen II versions are now also advertised as being filled with nitrogen.
This completely moistureless gas ensures that it will not condense on the inner glass surfaces, unlike unsealed scopes or indeed any that have "standard" air inside of them which also contains moisture that can lead to the fogging up of the lenses and other surfaces inside the chassis.
This is especially important if you subject the scope to rapid temperature changes. For example when you first walk out your front door on a cold winter morning!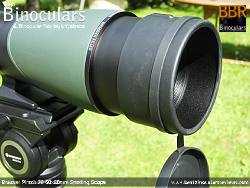 Sunshield
Like the hood on a camera lens, the Bresser Pirsch scope has a sun-shield that is designed to prevent glare or flaring of the image in certain light conditions. It can also prevent dust and light rain from reaching the lens.
Unlike many that I have tested, the extendable sunshade on this Bresser Pirsch Gen II 20-60x80 Spotting Scope is made from metal and not plastic which was unexpected, but a good surprise to me. This is not instantly obvious as it is covered in rubber, but as you can tell by looking carefully and is more obvious with how it just feels much better put together and a lot smoother than the plastic ones when pulling the shade outwards.
This is because plastic shades are often either too loose or too tight as the tolerances involved tend to be not as precise. In this case, the sunshade on my sample was just tight enough so that it did not extend when not wanted, but at the same time was nice and smooth when you do pull it out. I know this is a very small detail, but I do think it is an important sign of the overall quality and level of detail shown that all add up.
Whilst I am not 100% sure, here again, I think this is an upgrade from that older version that I believe used plastic and not metal.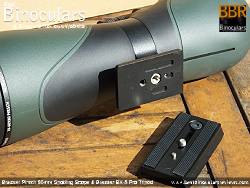 Mounting
As you would expect to find on a full-sized scope like this, the tripod mounting foot/plate is relatively large and made from metal, it gives you a good, solid base from which to work from.
Unlike some scopes that have two threaded mounting points on the foot, there is only one on this scope, which does give you one less option when it comes to making sure that your scope is perfectly balanced onto your tripod head.
For normal use, only having one mounting location under the plate is really not a problem as the foot itself is well-positioned right at the balancing point of the scope. However, should you be into digiscoping and looking to mount a phone or camera onto the eyepiece using an adapter, this will alter the balancing point of the system which can be by a large amount if you use a large SLR camera.
Even so, you can make sure this does not become a problem and indeed for me it wasn't the Bresser BX-5 Pro tripod has a very large "video" tripod head and mounting plate, this enabled me to make large changes to the fore and aft mounting locations and thus counter a large imbalance in either direction.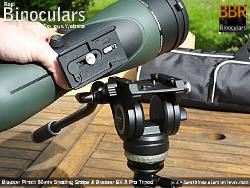 This is certainly something that you want to keep in mind if you plan on digiscoping with this and indeed any scope and I feel that the tripod you choose to use is as important as the scope itself in ensuring that you are easily able to take the best photos possible at high magnifications.
Another point to mention about the mounting plate on this scope is that unlike some, it does not have a non-slip rubber grip stuck onto its base.
These can help increase grip levels between the scope and the tripod head,, but I have also found that on some they end up coming away over time which can get annoying.
Besides, most good quality tripod heads have a rubber grip on their mounting plates and thus will ensure that you can lock it into place tightly enough and so a rubber pad on the foot of the scope is not necessary. Once again this is exactly what I found when testing the Bresser Pirsch 20-60x80 Spotting Scope along with the Bresser BX-5 Pro tripod together, so for me this was not at all an issue.
Collar
The foot/mounting plate attaches to the scope in the form of a collar that loops around the main body of the scope. This collar has a knob on the right side that when loosened enables you to rotate the scope within the collar and thus position the eyepiece at an angle to the mount which in some situations can be useful.
Here, it is important to mention that like the rest of the mounting plate, the collar is metal, and once tightened, I found it to be sturdy and secure.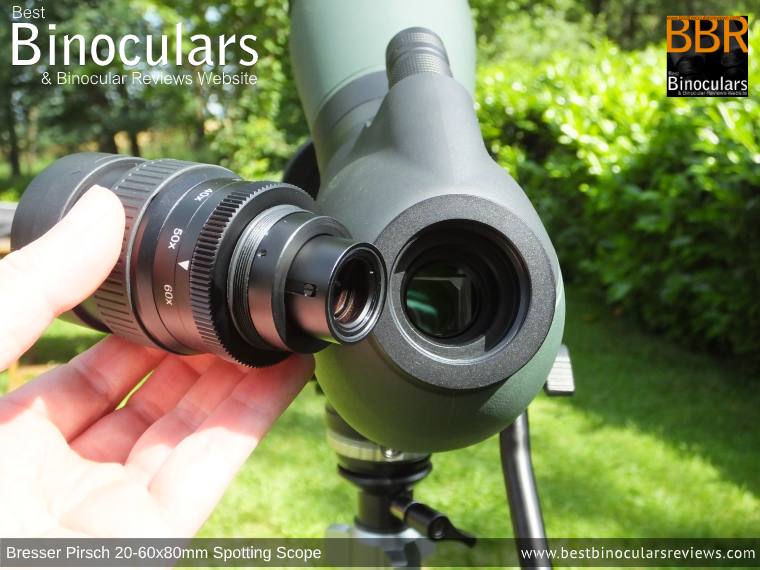 20x-60x Zoom Eyepiece
Most cheap, entry-level and intermediate level scopes come with an eyepiece, but they are often permanently fixed to the body and thus cannot be swapped out and changed with another. On the other end of the scale, high-end spotting scopes are usually sold without any eyepiece included, aimed at the more advanced user, leaving it up to you to decide which type is most suited to how you plan on using the instrument.
Bresser supplies this scope with an included zoom eyepiece which is great, but what is excellent is that it can be unscrewed and exchanged with another should you wish. Bresser does not go into detail as to the makeup of the lenses, but all the exterior parts are made from metal and overall the quality of the eyepiece looks to be excellent.
For most users and indeed uses the supplied eyepiece will be more than adequate, but for those who specifically need an extra-wide field of view or extremely high power, for example, being able to swap out the zoom eyepiece and replace it with a different one is great news.
The 20-60x variable magnification does give you a lot of flexibility and is why it is included as it is often the perfect base to start with. I find that I will often begin on the lowest power, which with its much wider field of view makes it much easier to locate what I am aiming for and then once locked onto it, I will increase the power and zoom into the object to get a more detailed view by turning the ring to the level that I want.
However, and as with every zoom eyepiece, as you zoom in not only will you notice how the field of view diminishes, but you will also see how the image becomes less bright, which is especially noticeable in low light conditions. In good light, the effect is not as pronounced and in very good light I could hardly notice it at all.
This is mostly due to how the size of the exit pupil also decreases as you increase the magnification and thus your eyes (or camera if you are digiscoping) are being supplied with less light to work with.
Eye-Cup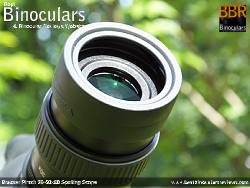 The eye-cups are often an under-appreciated aspect of a binocular and particularly on a scope. Most people assume they are just for comfort whereas the most important function is to ensure that your eyes are positioned at the correct distance (eye-relief) behind the ocular lenses in order to see the full image without black rings forming on the edges.
Different people have different shaped faces and then you also get some users who want or need to wear glasses whilst looking through their optical device which not only prevents your eyes from getting right up to the ocular lens, but different glasses have different shapes and frame thicknesses and so all are different and thus being able to adjust the setting to your particular requirements is important.
Unlike some usually lesser quality, lower costing scopes that incorporate a simple folding rubber eyecup design, Bresser Pirsch spotting scopes use the helicoidal screw-up/down design of eye-cup, which if it is well made like this one is, are generally superior in my opinion.
Firstly this because rather than just having the maximum and minimum settings when you fold down or unfold the eyecup, a twist-up eyecup usually also gives you a number of intermediate click-stop positions. Indeed this is the case with the Bresser Pirsch Gen II scope which offers two intermediate click-stops on top of the maxim and minimum fully twisted-up and down positions which is excellent.
It also looks to me as if the eye-piece housings are made from metal (probably aluminum), whereas many use plastic. Whilst this certainly increases the weight, it also happens to be one area on a binocular or scope that is most often damaged when dropped, so this is important.
Being metal, I could also notice that smoothness of the twisting action and just how well they work, which is far superior to that of almost any plastic one.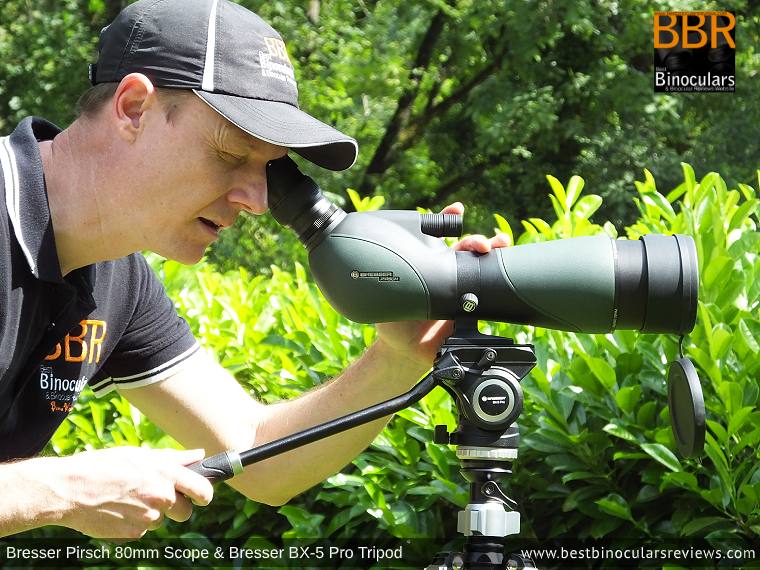 Focus Wheels & Focusing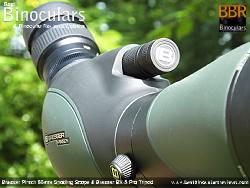 The dual-speed focusing system on this Bresser Pirsch 20-60x80 spotting scope is excellent.
Being located on top of the body in the middle (some that are on one side), it means that it can be used with either hand.
The slightly longer focusing knob nearest the eyepiece has a higher gear ratio that allows you to make large focus adjustments relatively quickly (it takes 3.5 turns to go from one extreme to the other) and then you simply move your finger forward and onto the smaller knob that has a very fine 10:1 ratio which enables you to fine-tune the focus and easily get it pin-sharp.
I found this most useful at higher magnifications when you are trying to take in every single detail of an object and so being able to make very fine focal adjustments at 60x power is important.
On the sample I was supplied with, both the focus knobs had an extremely smooth mechanism without any rough sections or areas of free play anywhere along the entire focusing plane.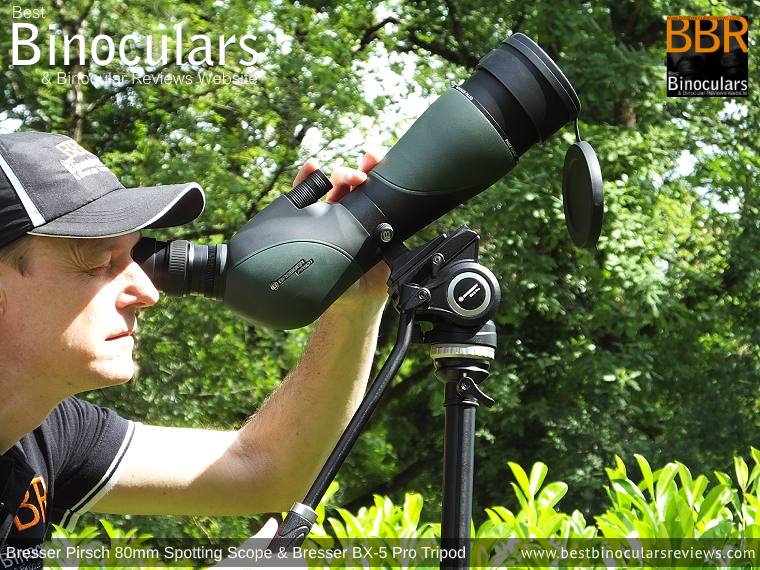 Body Construction Quality: 8/10
Weight
As you can see from the comparison table below, at just 52.6ozs / 1492g (without accessories) this Bresser Pirsch is amongst the most lightweight 80-90mm scopes that I have come across which is made all the more impressive when you consider that they are not 100% polycarbonate and do have many metal parts on them.
Dimensions
As for their dimensions, apart from the Snypex Knight T80 ED APO Spotting Scope which is a straight-through and not angled scope, all the instruments within this 80mm - 90mm size category are fairly similar in terms of their dimensions and this Bresser is no exception.
What is more interesting is if you compare them against the smaller 50mm - 60mm scopes, not only are these generally more lightweight but have considerably more compact dimensions and thus are far more travel friendly, which may be something just to keep in mind depending on how you plan on using or taking your scope.
Also, just keep in mind that the larger lens on scopes like this Bresser 80mm Pirsch will most certainly result in a brighter image than an equal quality one with a smaller lens. This is especially true at higher magnifications and in low light conditions, so this is the balancing act and the trade-offs that you have to consider when deciding what size scope to buy.
Body Stats Score (80-90mm): 8/10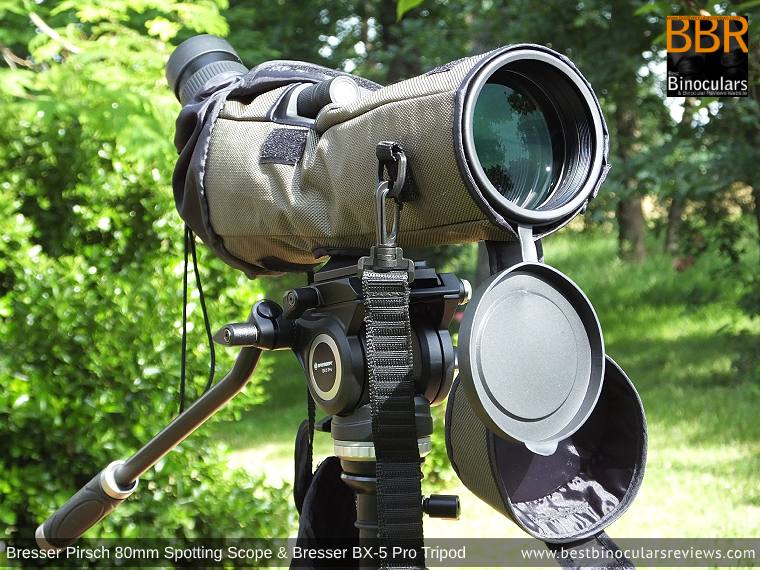 The Optics
Both the 100mm and this 80mm Bresser Pirsch Spotting Scope incorporate a good level of optics and coatings and I feel at this price level you are getting great value for a high-quality scope. Indeed they closely match their series of binoculars bearing the same name. For example, if you take a look at my review of the Bresser Pirsch 8x34 binoculars, you will notice that the glass and coatings used are very similar.
Ocular Lens on the included 20x-60x Zoom Eyepiece
Bresser does not include any information in regards to the make-up of the optics on their eye-piece, so I can only go on what I know:
The exterior ocular lenses on the 20x-60x Zoom Eyepiece that comes with the Bresser Pirsch Gen II 20-60x80 Spotting Scope measures 23mm in diameter, which is nice and large.
Not too much is written in regards to how the size of the lenses on the eyepieces affects performance, but from my research, they can deliver a wider field of view and can potentially produce a higher image resolution. You can read more on this in my guide to ocular lens sizes.
One thing that I do know for sure is that larger ocular lenses definitely make it easier to line your eyes up with them and thus view the full image without black rings on the edges.
80mm Objective Lens & 20x-60x Magnification
The 80mm objective lens on this Bresser Pirsch Spotting Scope and other scopes in this size category, I feel strikes a good balance between the size and weight of the instrument and the light gathering ability.
This, in turn, enables a high maximum magnification with a corresponding exit pupil that is large enough to be usable in reasonably good light conditions.
So to take the supplied 20x-60x eyepiece on this 80mm scope as an example:
Mathematically, at 20x magnification, you get a 4mm exit pupil (80÷20), and then at the other extreme, at 60x this reduces down to 1.33mm (80÷60).
If you take a step back and look at the light exiting the eyepiece, you can actually see the exit pupil diminishing and then enlarging again as you increase and then decrease the power.
I did this and actually measured the exit pupil size to be a little different from what the equation says it "should be" and got 5mm at "20x" and 2mm at "60x".
The mathematical equation does not always reflect the exact exit pupil size you get as there are other factors involved, the difficulty and inaccuracy with measuring it by eye, and the magnifications stated are not always exactly correct, but it does offer a good guide as to what you can expect. You can find out more in my complete guide to the exit pupil..
Whatever the case, using an 80mm at 20x magnification you get a nice large (but not massive) exit, a pupil that helps deliver a bright view and will perform reasonably well even in very low light.
At 60x magnification, you get much more detail, but the image brightness noticeably drops off in anything other than good light conditions.
Prisms
Unlike Bresser's Pirsch binoculars that use roof prisms, Bresser Pirsch Scopes have a Porro prism inside of them to correct the inverted image. The good news here is that a Porro prism does not have the problem of phase shift and so does require phase correction coatings.
Whilst not as compact as a roof prism (hence why it is not used in their binoculars), another advantage of a Porro prism is that it reflects 100% of the light and so also forgoes the need for special mirror coatings.
However, when researching this scope, I did notice that Bresser states that they use their "Ultimate Reflection Coating" on this scope which is the same as which is used on their binoculars. I thought that this may be a mistake, so got in touch with them and was very interested to learn that as well as the Porro prism, there is a second prism inside which needs a mirror coating and thus they use their the UR coating to reflect as much light as possible to get the best results.
I must confess to not knowing this before and am not sure if this is the case on most scopes or not? If anyone can enlighten me, I would love to hear from you.
Optical Coatings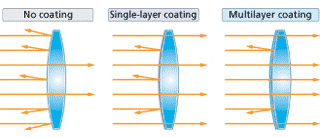 Anti-Reflection Coatings
As with the binoculars in this series, the optics on the Bresser Pirsch Gen II spotting scopes are "Fully Multi-Coated", which is exactly the wording we want to read.
Some scopes at this level will only be "Multi-Coated", which means that only some of the lens surfaces are treated with anti-reflection coatings as opposed to all of them (usually the first and last).
The difference this makes in terms of image brightness and quality is noticeable and for me is one of the most important things to look for when comparing many optical devices.
Prism Coatings
As already mentioned, Bresser uses their "Ultimate Reflection Coatings" on the prism surface that does not reflect all the light that hits it. Whilst they may have their own "special sauce" they are essentially silver mirror coatings from what I have been able to learn which usually have a reflectivity level of between 95% to 98%.
Whilst not as good (in terms of their level of reflectivity) as the Dielectric coatings (more than 99%) found on more expensive instruments, including their own Bresser Pirsch ED binoculars, they are a definite improvement on the aluminum ones (87% to 93%) that you will often find on cheaper scopes and occasionally at this mid-tier price level.
Optical Components Quality Rating: 7/10
Optical Stats
Field Of View (FOV)
In their specifications, Bresser gives us a field of view that is 38 meters wide when measured at a distance of 1000 meters which translates to an angle of view that translates to an angle of view from the scope of 2.17 °
As you increase the magnification you are more "zoomed into" the image and thus it is perfectly understandable that as you increase the magnification on the zoom eyepiece, the field of view reduces.
So this measurement given relates to the FOV at 20x magnification, but unfortunately, Bresser does not give us a measurement at 60x.
Anyway, we can still compare this figure with some other scopes and their eyepieces:
What we can see is that firstly their FOV is compares very favorably to some of the best spotting scopes out there using eyepieces with magnifications of about 20x - 60x and secondly, if they follow the trend and I have no reason to believe they won't, their FOV at 60x power would be about 19m @1000m.
This reasonably wide FOV directly translates to what I found when using the Bresser Pirsch Gen II 20-60x80 Spotting Scope out in the field: At 20x magnification, it was much easier to find and then follow my target (if it was moving - like a bird or even a plane).
Then, if I wanted, I could zoom in to get a more detailed view.
With such high magnifications when compared to binoculars, the importance of this ability cannot be overstressed as the narrow FOV at 60x makes it much more time consuming and at times almost impossible to locate your target, which in some cases means you spend more time searching than observing and often with things like birds or when plane spotting, what you were looking for is gone before you get to see it!
Close Focus
For high-powered spotting scopes, the minimum focus distance is usually not the priority nor indeed their strength, but even so and as you can see from some of the photos of me using and digiscoping with this Bresser scope, the views that you can get of things like flowers and the insects on them from close range are incredible and thus I do feel that this is something that you should do and which is why the minimum focusing distance is important.
The Bresser Pirsch 20-60x80 Spotting Scope has an advertised minimum focus distance of 5.5 meters, which I found to be fairly accurate, but a little on the conservative side as I was able to focus on objects at 4.56 meters away at 20x magnification and 4.95 meters at 60x magnification.
Either way, for a spotting scope, in this class, this is excellent in my experience and well worth keeping in mind.
Eye-Relief:
Other than to confirm that it has "pieces for eyeglass wearers" Bresser does not indicate the amount of eye-relief you get on this scope which is a shame as I am sure I would be highlighting it as being an impressive amount.
I say this because I tested it using my sunglasses that sit pretty far from my eyes and by fully twisting down the eye-cup I was very easily able to achieve the full field of view without any tunneling effect or black rings forming at the edges all the way from 20x right up to 60x, which I have to say is impressive and thus combined with the great quality eye-cup, I would most certainly recommend this spotting scope to those who wear glasses.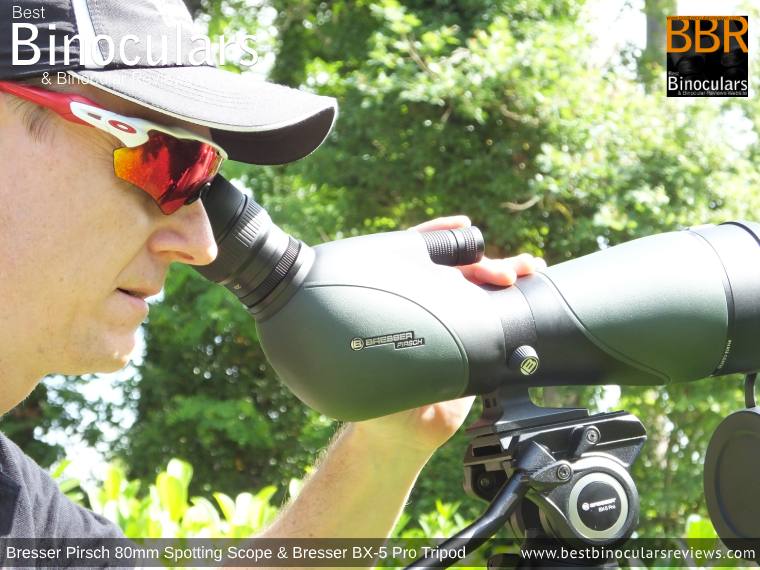 Optical Stats Score (18x-80x Scopes): 9/10
Image Quality
Describing the image and its quality is very subjective, the differences are often very small and always the hardest, yet probably also the most important part of my reviews!
So to try and be as objective and consistent as possible, as with my binoculars, I compare the image I see against a similar scope that I use as a control/benchmark for all my reviews.
As this is a common configuration, for this Bresser Pirsch 20-60x80 Spotting Scope review, I compared them against my own a mid-level benchmark 80mm spotting scope that also has a 20-60x zoom eyepiece fitted.
I performed these comparisons twice, first in good light conditions, and then once again later on in the day in poor to very poor light as the sun was setting.
Photos & Video?
People also often ask why don't I just take photos through the scope and use them instead of words. Whilst I do include some digiscoping photos and videos on some of my reviews, this is only for me to test how the instrument performs for digiscoping and should not be a judge as to the quality of the view as what I see is usually far better than what I am able to achieve when taking a photo.
This is due to a number of reasons, the camera I use often changes, and thus so does the quality (recently I just use my phone as it is easy to do and I think this what will interest most users) and then there is my lack of skill. An expert digiscoper or one who practices more often than I do will take far superior pictures and videos with the same scope than what I can achieve.
Color Reproduction, Vibrancy & Contrast
Just how vibrant the colors seem and the corresponding level of contrast there is closely related to just how much available light there is, this holds true with or without using a scope.
So on a dull and gloomy day, the colors you "see" don't look to be as vibrant as if you were to look at the same view on a bright sunny day. So to judge how well an instrument performs in this area, I compare what I see not only with my benchmark, but also just simply against the un-magnified view of my eyes alone where I am looking to see if/how it deviates.
High magnifications can throw you a bit though as you get a much shorter depth of view, which if there is plenty of light can make objects at reasonably close ranges really "pop out" from the background and truly look spectacular.
In good light, this is exactly the experience I had with the Bresser Pirsch Gen II 20-60x80 Spotting Scope and they compared very favorably to my benchmark scope when looking at things like flowers, birds and even the donkeys in the fields at the end of our property and is something which no matter how many times I experience it, always impresses.
In low light, and when increasing the power up to the maximum 60x, the vibrancy does drop off, but what I will say is that in general, the colors are vibrant but at the same time look true to life. If you get too much vibrancy and contrast, the image can look a little cartoon ish, but this wan not what I experienced with this Bresser scope.
Image Brightness
As I have already mentioned the perceived image brightness is not only as a result of the size of the objective lens, the quality of the optics used and their coatings but is also very closely related to the magnification, the resultant exit pupil size and indeed the amount of ambient light available.
In good and even average light, the image I observed through the Bresser Pirsch 20-60x80 Spotting Scope looked very bright and was easily on a par with my benchmark no matter which magnification level I used.
In low light, you can definitely notice that the smaller exit-pupil has an effect and the view seems far less bright when turning the eyepiece up to the higher magnification settings.
Importantly the Bresser's performance against my benchmark was good and I would have no hesitation in describing this as delivering a bright image at any given setting.
Color Fringing
In terms of binoculars, Bresser makes two variants of the Pirsch series: the "standard" ones like the Bresser Pirsch 8x34 Binoculars that I have reviewed and which this scope is aligned with and then there is the ED series like the Bresser Pirsch ED 8x56 Binoculars that I have also tested.
As the name implies, the ED series contains Extra-Low Dispersion (ED) glass elements within their lenses that are mostly included to decrease the aberration that causes us to see as color fringing in the view.
Bresser does make an ED Glass scope: Bresser Dachstein 20-60x80 ED 45° Spotting Scope, but as of the time of writing this review there is no Bresser Pirsch ED Spotting Scope and so whilst you can and often do get non-ED glass binoculars and scopes that show just as little color fringing in the view as ED glass ones, this is one area that I was a little worried about this scope especially as color fringing becomes more and more evident the higher the magnification.
So compared to binoculars the higher power on a scope almost always means you see more color fringing, but even so, the best ones reduce it to a level where unless you are really looking for it, it does not detract from the view.
In terms of color fringing, was this Bresser the best I have seen, no. But even so, I would say that the level you do see is more than acceptable and easily on a par with many mid-range ED glass scopes that I have used.
At 20x, you do need to look quite hard and focus on the edges objects that contrast with their background, so a telephone line against a bright blue sky is a test that I always use:
At 60x, color fringing becomes much more obvious, but as I say it is no worse than what I would have expected to see at this level, with or without ED glass.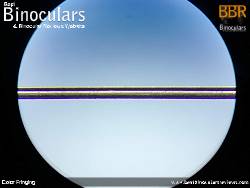 Now I know that earlier I said that I don't use photos when describing the quality of the view, but whilst testing this scope, I did take a series of photos using just my phone through the eyepiece without an adapter, which is a reason for the blue hue at the edge of the view, but other than that, I think pretty accurately depicts the level of color fringing that I see with my eyes at 60x magnification.
Please just keep in mind that these were taken with the camera on a phone and into the sun and so the apart from the fringing, these do not represent the overall quality of view, which is far better:
This first image is my usual test of looking along the telephone line that runs past my house against a blue sky - here at 60x you can see the purple halo. At 20x this is far less noticeable.
What is interesting is I then took a couple of other photos from the same location, the same magnification and with the same light conditions. As you can see the color fringing on the edges of objects is greatly dependent on the background: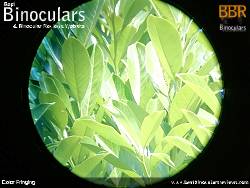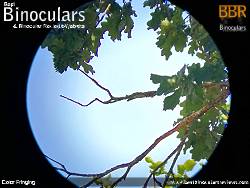 As I say, in my experience these levels are perfectly normal for a scope at this level at high magnification, I just showed them to demonstrate what I was referring to for those who have not seen it before.
Image Flatness & Softening
Image flatness on this Bresser scope was excellent, which on a high powered instrument like this where your focus is very much on image detail, an image that when correctly focused remains sharp from the center, right to the edges of the view is very important, otherwise, you have to continuously move subjects into the center of the view to study the details.
Some scopes, usually the ones at the cheaper end of the scale can have an image that looks curved and with large areas of vignetting (or softening) at the edges, which was not at all the case with this Bresser and I would describe the level of softening right at the edges of the view as very minimal.
Image Quality Rating: 8/10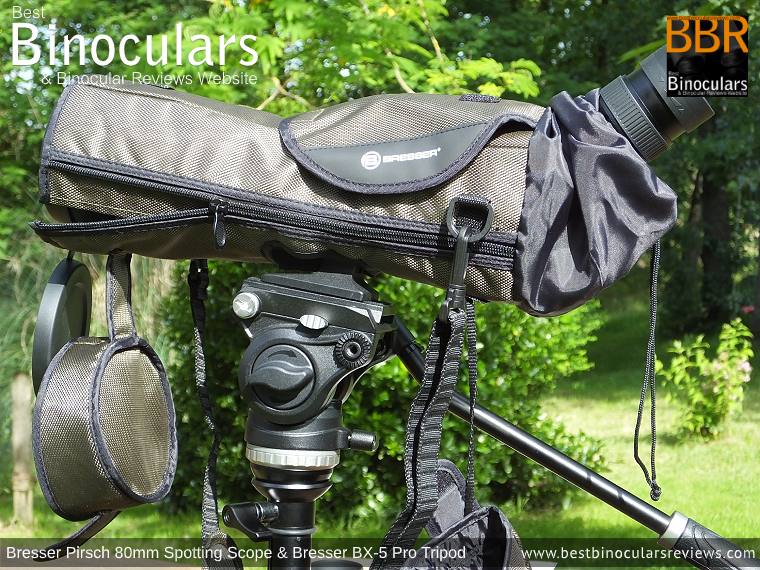 Included Accessories:
Body Cover
Whilst very typical in its look and overall design, the included stay-on protective cover is certainly amongst the better ones that I have come across for a number of reasons:
From the looks of it and after a close inspection, it seems very well made, using good quality material and quality stitching so it should last and whilst you can never be 100% sure, the body length zipper also looks to be reasonably robust I would say that it too should last so long as you are careful with it.
The cover itself fits fairly tightly over the scope and I would describe this as a good fit. So whilst this means it does take a little longer to "dress" the scope than loose-fitting covers, I prefer it as once on it has it not only looks better but does not slip about and cover sections (like the focus wheels) unless you specifically want it to.
It also comes with its own shoulder strap/sling with a small slideable shoulder pad. The strap attaches to the cover at two points via a couple of swiveled quick release clips and so can be completely removed should you wish. I personally like this as it means I can put on the cover when going out on a rainy day, but also remove the strap to reduce clutter if I know that I will have the scope attached to the tripod at all times.
Being only lightly padded, the cover is obviously designed more to protect the scope from scratching or in bad weather and although the scope is waterproof, it is just always nice to have the added feeling of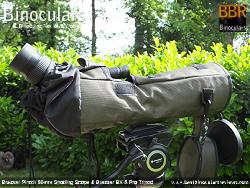 security with a full cover on in wet conditions.
The cover can be adjusted to fully cover the scope, the objective lens, eyepiece, and focus wheels, or if you wish you can open up some or all of these and use the scope almost as normal.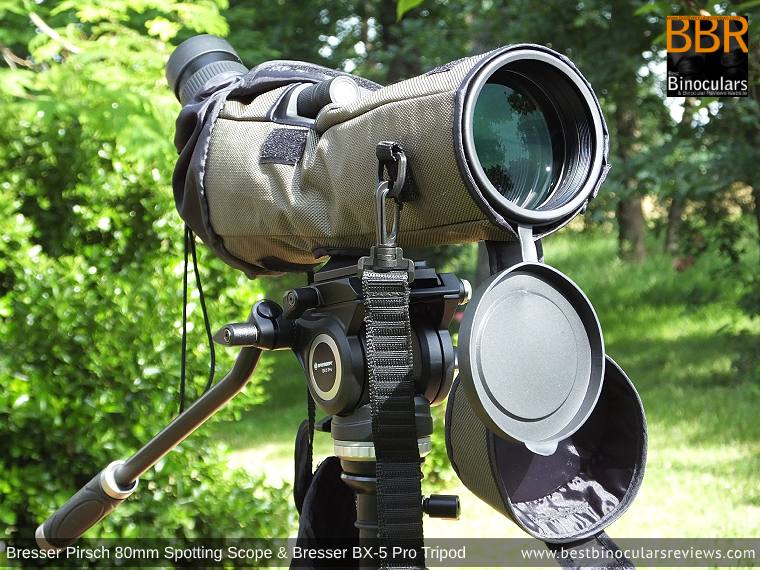 Lens Covers
Similar to what you get on most binoculars, Bresser includes a soft rubber/plastic objective lens cover to protect the lens when not in use.
It fits reasonably well over the end of the barrel and thus is simple enough to replace and remove, yet will not come away too easily by accident.
I really like the fact that it is tethered to the scope and thus to use your scope you simply flip open the cover and let it hang under the body out of the way.
For whatever reason, many scopes that I have tested do not have a tethered cover, and whilst this may seem like a very small point, it does become a real pain having to find somewhere to store the cover, making sure you don't misplace or leave it behind!
I often end up leaving untethered covers at home because of this which only means that the lens on my scope is left up-protected when it does not need to be. Apart from the extra chance of damage, it just means it gets dirtier more quickly, resulting in me having to clean it more often, which is never ideal. So a tethered cover is a good thing!
The eyepiece has two soft rubber covers, one that fits over the end of the eye-cup and then another that you use to cover the other end should you unscrew the eye-piece from the body.
Neither are tethered and as they do not have any loops, they cannot be easily tethered to anything which is a shame, but on the plus side, they both fit well.
On the negative side, it is a shame that the lens covers, especially the objective one is so generic. I could have been much nicer if Bresser had used this large area for some branding to help it stand out from the crowd.
Also nice would have been if the cover had fitted into the end of the barrel, rather than over it. This along with branding would make it feel more a part of the instrument rather than just an afterthought.
Cleaning Cloth
My sample Bresser Pirsch 20-60x80 spotting scope came with a simple microfiber cleaning cloth that will be fine for cleaning the body and perhaps light use on the lenses when out in the field.
But for properly cleaning the lenses, I most certainly encourage you to obtain a Lens Cleaning Kit. These don't necessarily need to be expensive, but a good kit used correctly will enable you to thoroughly clean the lenses without the risk of scratching.
Manual
Bresser includes a very basic instruction manual with the scope. Written in a number of languages it includes very brief information on how to set up the scope, the controls, and cleaning.
Warranty & Service
At the back of the manual, you will also find details on the two-year guarantee that comes as standard.(in the UK and I think the rest of Europe. I am not sure about North America as it will come with a different manual). However, after an online registration, Bresser then upgrades this to their Premium guarantee that grants you an unlimited warranty and a full repair warranty for life which is excellent:
There are also contact details should you need to get hold of Bresser.
Extras Rating: 7/10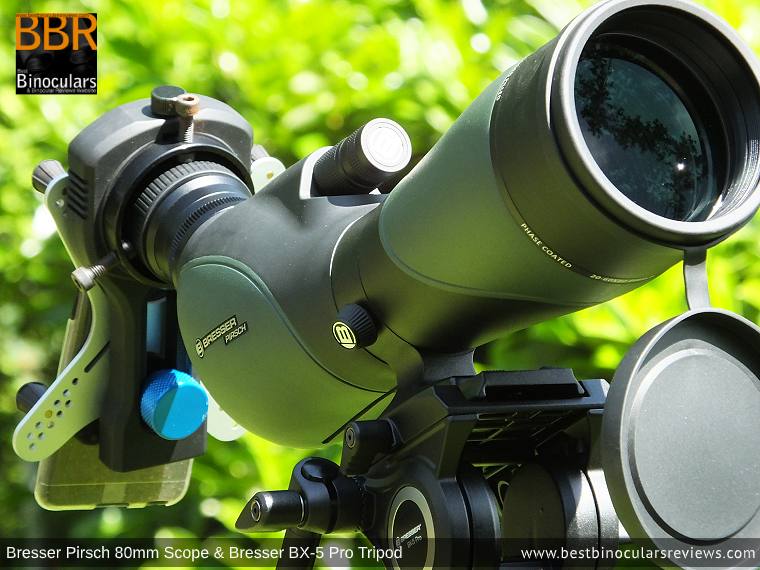 DigiScoping & Ideal Uses:
Please note that whilst I used to do a lot of digiscoping in the past, over recent years this has greatly diminished and it has been a while since I last gave it a go. In some ways for this review this is good as I will assume that many people thinking of getting their first spotting scope will also be new to digiscoping and like me will be far from being an expert!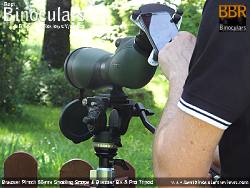 Bresser does make a number of camera adapters and you can always use a universal adapter as the eyepiece on the Bresser Pirsch Spotting Scope is pretty standard in it's design.
Adapters will either just fit over the eyecup or you can get ones where you remove the eye-piece altogether. Which one you get will largely depend on what type of camera you use, be that a mirrorless camera with interchangeable lenses, a compact camera or indeed just the camera on your phone as I did.
For the phone, I have used a number of digiscoping and digibinning adapters over the years, my favorites are the Snypex X-Wing SPA1 Universal Smart Phone Adapter and the SnapZoom Universal Digiscoping Adapter.
In my experience all require a little playing around before you get it right and depending on your phone size some can be better than others.
At first it took me a while to get back into the "groove" of digiscoping. Remembering how best to fit my camera to the adapter, then fitting the adapter to the eyepiece and then adjusting the eye-cup on the eyepiece to make sure that the eye-relief was correct in order to get a full image.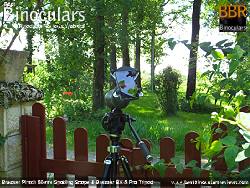 However, after about 15 minutes, I was up and running and in no time I was taking what I think are fairly decent photographs through the scope.
I lack in many of these areas, the camera on my phone is not great and on top of that I needed to get this review done, so I decided to stick with flowers as they don't run or fly away! My point is don't judge the quality of my samples to be the best you could achieve!
Flowers are a great place to start as they look great and in the past I have managed to get some great photos of bees and other insects whilst training my camera at a well chosen flower!
Anyway below is an initial sample taken from the photos that I managed to get from my first try and from the position above. I will post more in due course when i get more time to use it for this purpose, but overall I would say that my initial experience in using the Bresser Pirsch Gen II 20-60x80 Spotting Scope was a good one and would recommend it if you fancy doing a little digiscoping as well as observation.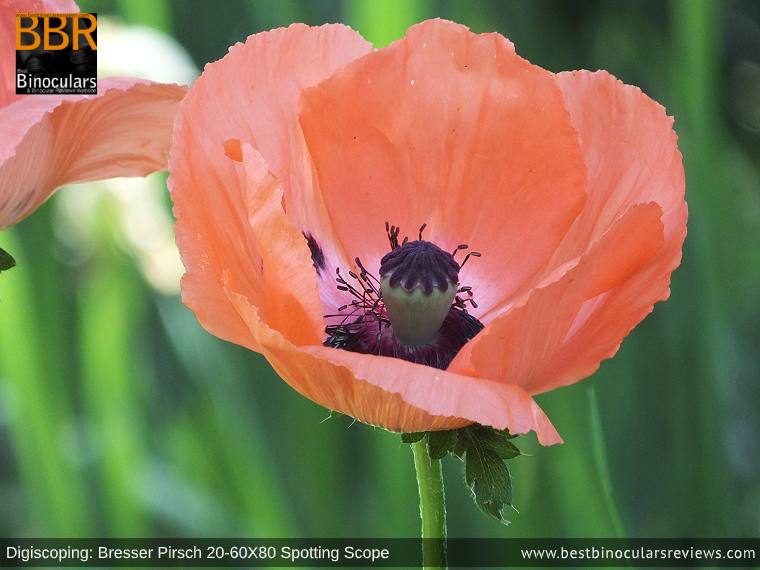 A few points to mention: Like all scopes with zoom eyepieces, you get much better results and it is much easier to digiscope at lower magnifications when the exit pupil is large. This photo above was taken fairly near to the subject and at about 20x magnification.
This not only lets in more light for the camera to work with the larger exit pupil makes it much easier to find and line up through the lens of your camera.
Tripod
A tripod is absolutely essential and as you know I was using the scope mounted on top of the Bresser BX-5 Pro tripod with it's video pan and ball head that I cannot fault no indeed recommend enough. 100% rock solid, extremely easy to aim with and is so smooth when panning or moving up and down. Highly recommended. Look out for my full review which i will be writing and adding soon.
Ideal Uses Include:
Target Shooting & Archery
Birding
Security Surveillance, Border Patrol, etc..
DigiScoping
Also Good for:
Study of flowers & Insects - from about 5 meters, the views are incredible
Review Conclusions:
Bresser Pirsch Gen II 20-60x80 Spotting Scope
This scope looks and indeed performs beyond its price tag and is very much in the same vein as the Bresser Pirsch binoculars, where I think the mid-level Bresser Pirsch Gen II 20-60x80 spotting scope delivers a very good performance to price ratio and I would most certainly recommend it to those looking for a more serious scope but on a fairly tight budget.
Strengths:
Very good build quality using quality materials and components
Many metal parts, lift it well above similar scopes that only use plastic.
The focus wheels and their silky smooth mechanism are truly excellent
The removable supplied 20x-60x eyepiece is excellent offering a good level of performance and flexibility
Wide field of view, good minimum focus, and plenty of eye-relief
Low weight and compact dimensions for an 80mm spotting scope
Excellent image quality and brightness
Weaknesses:
Included cleaning cloth and manual are very basic
Whilst they work well, the lens covers are unbranded and very generic and does not match the quality of the scope. If the cover was designed to fit into the end of the barrel, rather than over it, it would also make it feel more a part of the instrument rather than just an afterthought
Bresser BX-5 Pro Tripod
I cannot praise the combination of the Bresser BX-5 Pro tripod with its video pan and ball head enough and it is most certainly one of the best combinations that I have ever used on a scope. I have now even decided to keep it and will be using it myself for spotting scopes, astronomy binoculars, and indeed my camera when taking product photos and video for the BBR YouTube Channel.
Look out for my full review which I will be writing and posting soon, but for now, I would sum it up by saying the tripod and the head are 100% rock solid, super easy to aim with and is extremely smooth when panning or moving up and down and I highly recommend it.