It was not so long ago that I tested the large 80mm version of this scope, which if you take a look at the full Bresser Pirsch Gen II 20-60x80 Spotting Scope review, you'll see that whilst not perfect (but what is?!), it did impress me and I felt that it performed well beyond its relatively modest price tag.
Thus as I am currently on a personal quest to find myself some of the best value compact binoculars and spotting scopes for a number of camping, hiking and backpacking trips that I have planned for this year and next, it seemed obvious for me to reach out to Bresser and see if they would be willing to send me their very new and much smaller 56mm version to test and potentially add to my selection of adventure travel companions.
Gen II Bresser Pirsch Spotting Scopes
As well as this small 56mm option and the 80mm scope that I previously reviewed, the German manufacturer Bresser Sport Optics also makes an even larger 100mm scope in this series, which by the way has also fairly recently been updated and improved (indicated by the Gen II label in the name)
These new versions now have a slightly more modern-looking appearance to them and it looks like Bresser has also opted for to use better quality dielectric mirror coatings on the prisms.
These very highly reflective coatings further improve the level of light transmission, which in turn, results in a brighter, higher quality view. The main bodies and I believe the eyepieces on the new Gen II Pirsch scopes are now also waterproof and filled with nitrogen gas protecting the inner lenses from fogging-up, whereas I don't think this was the case on the older versions.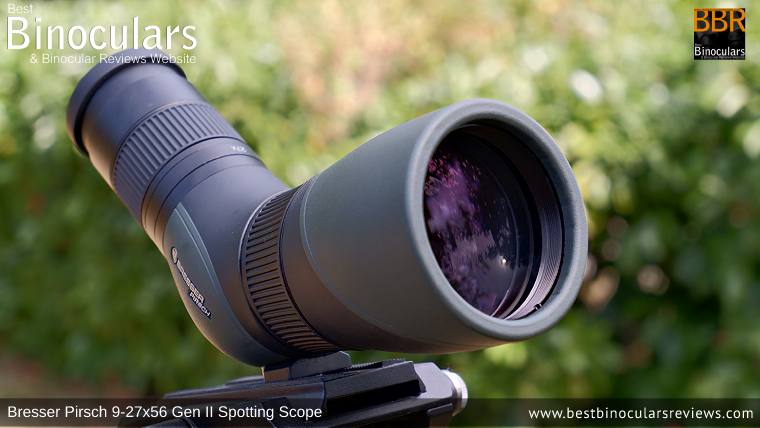 Bresser Pirsch 9-27x56 Gen II Spotting Scope Review
Contents:
Mid-to-High End Scope - approx $300 / £230 / €249
Body:

Very Compact: 20.cm / 7.9in Long
Very Lightweight: 635g / 22.4oz
Water & Fogproof (Nitrogen Filled)
Single Speed Focusing Ring
Twist-up Eyecup
Zoom Eyepiece (9-27x)

Optics:

Full Broadband Multi-Coated Optics
BaK-4 Porro Prism
"Ultimate Reflection" Dielectric Mirror Coatings

Optical Stats

Magnification: 9-27x
Field of View at 9x zoom: 240ft @ 1000yds (80m @1000m )
Angle of View at 9x zoom: 4.57°
Near Focus: 2m / 6.6ft
The Body
Main Shape
Apart for being a heck of a lot shorter and generally more compact all-round, the overall silhouette of the 56mm Bresser Pirsch is very typical to that of most modern angled spotting scopes and thus unless you have some sort of reference in which to gauge just how small it is, you most likely would notice any difference to many standard sized scopes when just looking at product images of it.
As with all the other Gen II Bresser Pirsch Scopes, this has an angled body design with the eyepiece set at 45° from the barrel and main objective lens.
Note that there are a few small differences between this and the larger versions, like a single focus ring instead of the duel focus knobs which I will cover in the relevant sections later on in this review.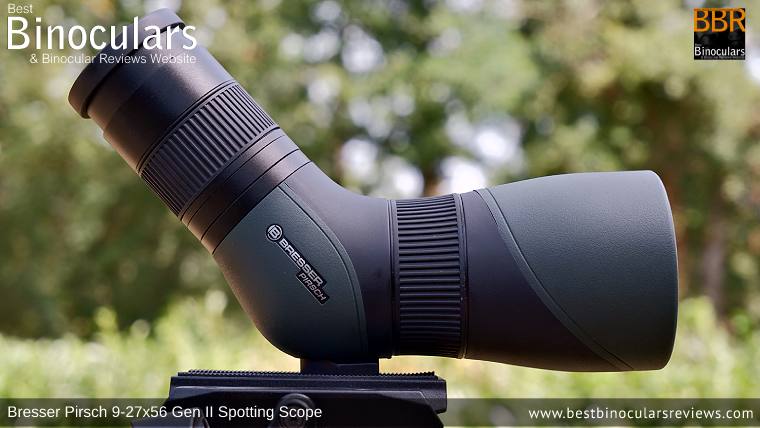 Chassis
In their spec sheet, Bresser Sport Optics states that the body material is mixture of metal and plastic. I am not sure exactly which plastics and metals are used, but the scope itself feels both solid and robust without being too heavy. Also important to stress here is that it feels far superior to some of the very cheap all-plastic scopes that I have tested and reviewed in the past.
Exterior Armor
As with the larger version, almost all of the exterior has a rubber armor to protect it. This is relatively thin and so perhaps does not offer as much protection as a thicker rubber, but I would say that for such a small lightweight instrument, it is sufficient and if you are concerned you could always keep the stay-on cover on the scope to add a layer of protection.
Fog & Waterproof
The main housing on this and indeed all the new Bresser Pirsch Gen II spotting scopes are now both waterproof and filled with nitrogen to prevent the internal glass surfaces from fogging up, which can and does happen with unsealed scopes, especially when you get a rapid temperature change, like stepping out your warm house on an early winter morning.
As well as preventing moisture from entering, the seals also prevent dust from entering in dry conditions. It is also for me a definite indicator of quality as most low cost, poor quality scopes will be unprotected.
No Sunshield
The majority of the full-sized scopes that I have tested have an extendable sunshield on the end of the barrel (this includes the 80mm and 100mm Bresser Pirsch) which not only helps prevent lens flare in some light conditions, but also protects the lens from dust or rain.
However, this 56mm version of the Pirsch does not have one. This is quite typical for a compact scope and whilst maybe a slight shame it is somewhat understandable on a instrument where you want to keep the size and weight to an absolute minimum.
Tripod / Monopod
As this Bresser Pirsch 56mm scope is so small and comes with a relatively low 9x -27x magnification range, it is just about possible, although still awkward to use it from the hands without a tripod and thus to get the best out of this or indeed any scope, you should really mount it onto some sort of stable surface. Not for achieving sharp images, this is essential for digiscoping.
During all my testing, I used my Bresser BX-5 Pro tripod - partly because it is also from Bresser, but mostly because it is one of my favorite tripods and whist such a large tripod may be considered a little overkill for such a small scope, I would highly recommend it as the neat thing about this tripod, is that you can easily remove one of the legs to use as a monopod, which is obviously not nearly as stable, but makes for a far less bulky arrange meant as not only do you remove two legs, but also remove the need for a tripod head.
In this form and as a monopod, this was may preferred way to use a small scope like this when out in the field or travelling. Whilst back at home, it was nice to then be able to convert the monopod back into the tripod form and set up the scope on top of it to have it trained out onto the views towards the back of my property for spotting whatever comes about.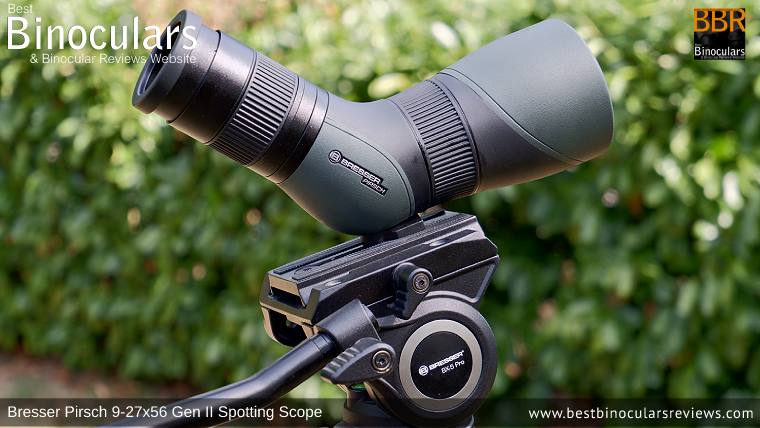 Monopod & Tripod Mounting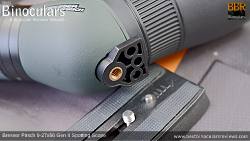 Actually mounting this scope onto a standard tripod or monopod is all straight forward and very easy:
On the underside of the body you will find the scope's foot which has a tripod adapter thread using the usual DIN standard and thus can be attached to any tripod using the same standard, which in my experience is just about all tripods.
A definite sign of quality here is that the thread on the foot consists of a brass insert and not a plastic one which I have come across before on small lightweight scopes.
Compared to larger scopes, the foot on the Bresser Pirsch 9-27x56 Gen II Spotting scope is very small, measuring just 2.7cm long and wide which does present less surface area in order to achieve a secure, stable platform when mounting onto a tripod. Many scopes will also have a textured rubber sole fixed to the foot which helps with grip which this scope does not.
The foot does however have the small recess just in front of the thread which is designed to accept the spring-loaded nipple on your tripod head or mounting plate (if it has one) also really helps prevent the scope from moving from side to side and so I was glad to see this was still included and certainly makes up for the lack of a rubber sole.
For such a small lightweight instrument the small size is understandable and I personally did not encounter any issues with mounting stability or slipping, even when digiscoping where I added the extra weight of an adapter and my phone.
No Collar
One aspect where the smaller 56mm Bresser Pirsch scope differs from the larger versions is that they lack a collar:
The foot on many larger scopes like the Bresser Pirsch Gen II 20-60x80 Spotting Scope does not fix directly to the body as with this 56mm version. Rather it forms part of a collar that wraps around the barrel which can be loosened via a knob, which in turn enables the scope to rotate around the foot.
Being able to rotate the eyepiece relative to the foot can be useful in some situations like on uneven ground for example or when placing the scope next to you at a shooting or archery range so you can more easily look through it just by turning your head to one side.
So whilst the lack of a collar may be a shame to some users, I think it is understandable on a device where you are doing as much as possible to keep the size and weight of this scope to a minimum and as such many compact, travel scopes don't have a collar. Once exception I do know of is the Opticron MM3 60 GA ED Travelscope.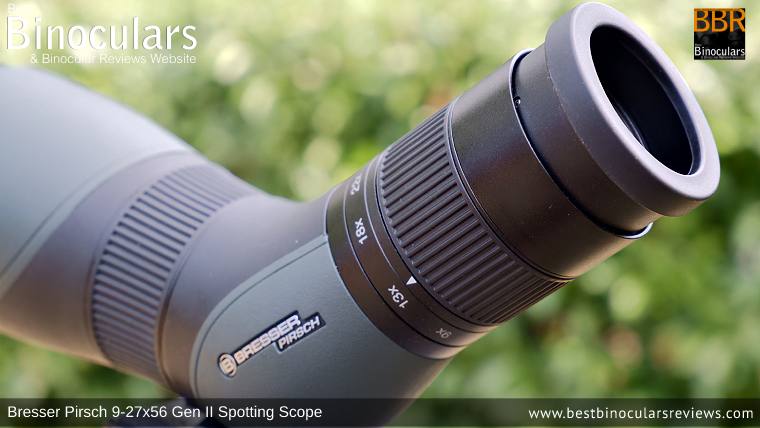 9-27x Zoom Eyepiece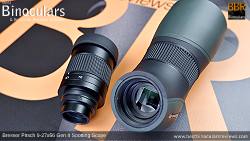 Unlike cheaper, usually less well-made instruments, the eyepieces on the whole range of Bresser Pirsch Spotting Scopes are not permanently fixed to the body, rather they can be unscrewed and remove and replaced with another eyepiece should you wish.
This is not only a definite indicator of quality, but can be very useful for some specific applications where you may want to swap out the eyepiece for another with a fixed magnification with a very wide field of view or perhaps a very high power for example.
Many of the very top-end "alpha-level" scopes like those from Zeiss, Swarovski, and Kowa don't automatically come with an eyepiece included (unless you buy it as part of a bundle) and they need to be purchased separately depending on your needs.
Bresser however does supply an eyepiece with this scope and to ensure that it is as useful in a wider range of applications as possible for as many users as possible, they have chosen a zoom eyepiece which enable you to adjust the magnification anywhere between 9x and 27x.
Attachment
There are some spotting scopes on the market that incorporate a bayonet system, but the eyepiece on all the Bresser Pirsch scopes use the more common threaded attachment, with the body having the female thread and the eyepiece the male.
However, I am not sure what thread is used (I have reached out to find out and will update this as soon as I know), but what I can say is that unfortunately it is not the same as that which used on their 80mm Pirsch and thus they are not interchangeable which is a shame.
Magnification/Zoom Adjustment
To alter the magnification on the zoom eyepiece you simply turn the rubber track on the eyepiece.
On my sample the mechanism was nice and smooth without any free play or rough sections and I like the fact that the track is nice and wide making it relatively easy to quickly locate when not looking and/or when wearing thick gloves in winter.
Eye-Cup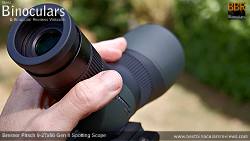 The included eyepiece on this Bresser Pirsch has the twist-up/down eyecup design that I feel is far preferable to the simple folding rubber ones in the majority of cases. This is especially true when it comes to spotting scopes with zoom eyepieces where the ideal amount of eye-relief can vary depending on what magnification level you are currently using.
This is because a good twist-up/down eyecup gives you far more flexibility in this area, allowing you to fine tune and set the eye-relief to any position between maximum and minimum, whereas a folding rubber eye-cup is mostly all or nothing, with nothing in between.
The Bresser eyepiece on my sample was very good in almost every area in that the housing is made of metal and not plastic and the twisting mechanism was nice and smooth with almost no free-play.
However, I would have liked there to be a little more resistance to movement in between the max and Min. positions which would prevent it from moving inwards when you place your face firmly against it. As i say, it is fine at the maximum and obviously minimum settings, but anywhere in between, you just have to be a little careful not to push too hard against it.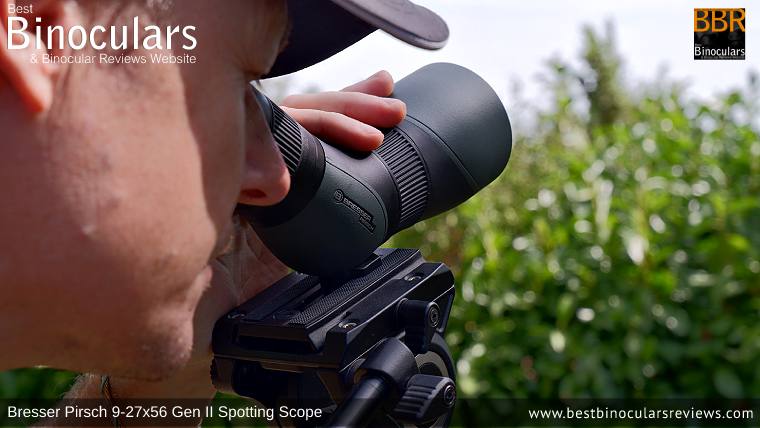 Focus Ring & Focusing
Unlike the larger 80mm and 100mm models in this series, the compact Bresser Pirsch 9-27x56 Gen II Spotting Scope has a single speed focus ring and not the dual-speed focusing knobs.
This is a slight pity as the scopes with the two speed focus knobs make it easier to make large focal adjustments with the one and then fine tune the focus with the other.
With the single ring that goes all the way around the body, you do have more surface area with which to work with, but fine tuning the focus is a little more difficult as it is more awkward rotating the ring in between two fingers with your wrist than simply using a single finger on a dial as you would with the other system.
On a large, more powerful scope this would be more of a problem as there is generally a much larger range and at very high magnifications it can be more difficult to dial in the focus perfectly, but with this 9-27x range, I found it to be ok. Bresser also makes it easier by the fact that the ring itself turns nice and smoothly and the gearing is not too aggressive.
In fact it takes just under two full rotations of the ring to move the focus from one extreme to the other, helping to make fine tuning the focus not too difficult. Although on the flip side there is more rotating to do when you need to make large focal adjustments.
Body Construction Quality: 7/10
Weight
At just 636g / 22.4oz the Bresser Pirsch 9-27x56 Gen II Spotting Scope is certainly amongst the most lightweight scopes that I have come across. This is made all the more impressive because it is not all plastic and has many metal parts (like the eyecup housings) and the fact that it has a 56mm lens whilst many of the other ultra lightweight compact scopes use a smaller 50mm lens and as we know glass is a relatively heavy material:
Dimensions
As with the weight, the dimensions on this Bresser Pirsch 9-27x56 Gen II Spotting Scope are impressive and once again, even though it's lens size is closer to that of a 60mm scope, the dimensions are more compact than most 50mm scopes!
This is important because a larger lens has more area with which to "capture" or let in light and thus without considering size or weight (and not taking into account the quality of the glass and coatings), you would like as large a lens as possible in order to achieve the brightest, best quality image.
However, if you need a compact instrument you have to compromise, so with this Bresser it is nice to see that you get a larger lens for light gathering, but a body that is as small (or smaller) and lightweight as just about any good quality 50mm scope.
As you can also see from the image below, this 56mm scope is far smaller than the 80mm version: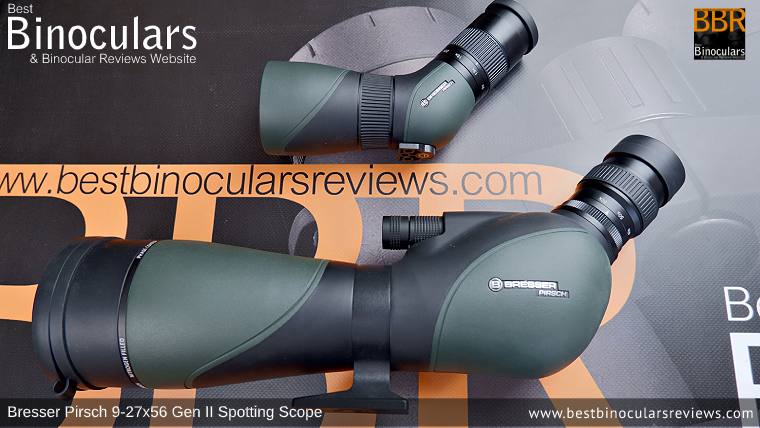 Body Stats Score (50 - 60mm Scopes): 8/10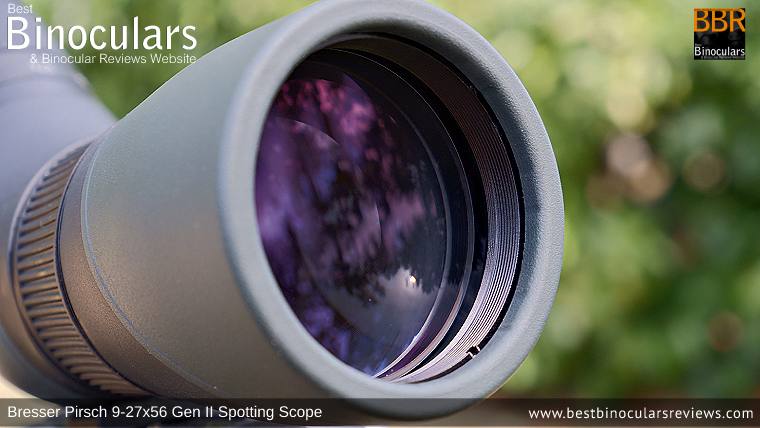 The Optics
Just as with the larger version of this scope I tested and indeed all the Bresser Pirsch binoculars that I have reviewed over the years, I do feel that with this instrument you get a very good deal in terms of the quality of optics to price ratio:
56mm Objective Lens
Whilst they are not completely unique in the regard, the choice of a 56mm objective lens for what is essentially an ultra-compact spotter is an interesting one from Bresser. I say this because many other brands instead go for the far smaller 50mm option.
So because of this you would think that this scope would end up being closer in size and weight to a 60mm one, making it far less marketable as a ultra portable device, yet as we have seen above this is not at all the case as it compares very well and indeed often beats many 50mm scopes and you get the added benefit of having a larger lens with which to gather more light.
Bresser Sport Optics does not go into specifics in regards to the exact makeup of the elements that form the main objective lens and so I cannot comment more in this regard.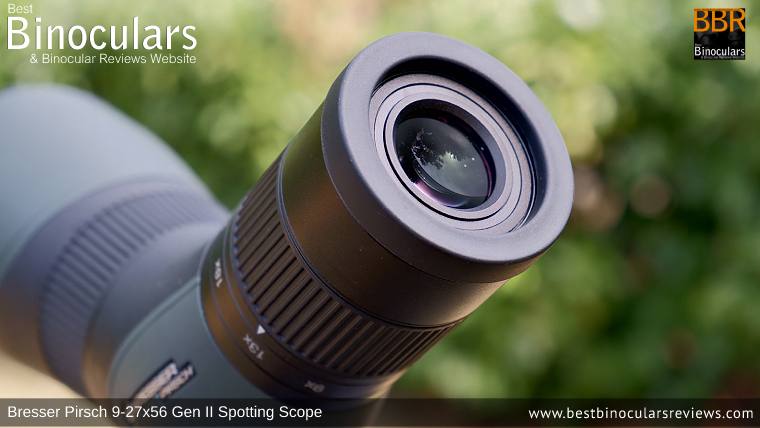 Ocular Lens on the 9-27x Zoom Eyepiece
The outer lens on the included eyepiece has a diameter of 21mm, which is relatively large.
Larger ocular lenses can present us with a number of potential advantages including helping produce a wider field of view and a higher image resolution, but for certain it makes it easier to line your eyes up with them and thus see the full image without black rings on the edges.
Configuration: 56mm Objective Lens & 9-27x Magnification
As compact and travel friendly as any 50mm scope, yet the larger 56mm lens on this Bresser Pirsch Spotting Scope does have a number of advantages over them and whilst there may be some that wish for higher magnifications, this combination I feel presents us with a number of important advantages that are well worth going over:
Mathematically, at the minimum 9x magnification, you get a generous 6.2mm exit pupil (56÷9).
If you compare this with your typical 50mm scope that often has something like a 12-36x zoom eyepiece, their maximum exit pupil size is only 4.1mm, meaning that not only does the Bresser have a larger lens with which to gather more light, but the larger exit pupil also means that even in very low light conditions when your pupils are dilated to their maximum size, this scope will be providing your eyes with a shaft of light that is large enough for you to perceive a brighter image and certainly larger than most 12-36x 59mm scopes. If you are uncertain as to why this is and why it is so important, please take a moment to read my complete guide to the exit pupil.
Once you are fully zoomed in and at 27x power, this 56mm scope now delivers an exit pupil of just over 2mm (56÷27). Now whilst this is certainly not ideal in low light conditions, it is a whole lot larger than what you get with many other similar scopes at maximum power.
Obviously, large scopes with a larger lens are able to gather more light, and thus assuming all else is equal (in terms of optical components and coatings) they will most probably perform better, especially in low light conditions, but even so, for its size, this scope should in theory offer a reasonably good performance in fairly low light situations, especially at lower magnifications and especially compared to others in this size category.
Exit Pupil Size & Digiscoping
Also I feel that it is important to mention here that having a large exit pupil is most certainly an advantage for digiscoping as not only does it make it easier to line up the camera with the light exiting the eyepiece, but having more light to play with almost always results in a brighter, better quality photograph.
Prisms & Prism Coatings
To begin with, Bresser states that the prisms are made from Bak-4 glass, which for this application is quite common, but is good because it is generally considered to be a better option than BK7 glass that is also often used.
Unlike the Bresser Pirsch binoculars that exclusively use roof prisms inside them to correct the inverted image, Pirsch Scopes use a Porro design as the main image correcting prism.
The good aspect to this is that a Porro prism is more efficient than a native roof prism of the same quality as it is able to reflect 100% of the light that enters it and thus does not require expensive mirror coatings to boost the level of reflectivity.
On top of this Porro prisms do not cause the individual wavelengths of light to step out of phase with each other and so once again, unlike Roof prisms, they do not need special phase correction coatings to deliver the highest definition images.
Bresser also states that they use their "Ultimate Reflection Coating" on this scope which is the same as which is used on their binoculars. If I am not mistaken, this mirror coating is used on the secondary prism that used to angle the light at 45 degrees for this angled scope. The fact that Bresser uses this very reflective surface is once again good news as it helps make sure that you get a very high level of light transmission.
Other Optical Coatings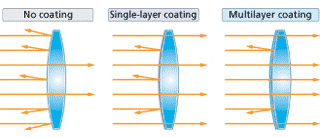 Anti-Reflection Coatings
Whilst it would be a shock to discover anything less at this price level, it is important to confirm that as with the binoculars and the larger scopes in this series, the optical system on the Bresser Pirsch 9-27x56 Gen II Spotting Scope is "Fully Multi-Coated", which is exactly the wording we want to read.
Lesser, usually cheap scopes will only be "Multi-Coated", which means that only some of the lens surfaces are treated with anti-reflection coatings as opposed to all of them (usually the first and last).
The difference this makes in terms of image brightness and quality is certainly noticeable and for me is one of the most important things to look for when comparing many optical devices.
Optical Components Quality Rating: 7/10
Optical Stats
Field Of View (FOV)
Unlike a fixed magnification eyepiece that also has a fixed field of view, the width (and height) of your view changes depending on what magnification or zoom level you have set the eyepiece to.
So the more zoomed in you are, the narrower the field of view becomes.
Unfortunately Bresser does not supply the full FOV range, but I can confirm that at the lowest 9x power, you are presented with a view that is 80 meters wide at a distance of 1000 meters (240ft @1000yds).
This field of view can also be represented at an angle taken from the scope and is sometimes referred to the angle of view, which on this Bresser Pirsch 9-27x56 Gen II Spotting Scope is 4.57°.
So here is one area where we can really see the advantage of keeping the magnification levels down, because for a spotting scope this is a very wide view, which in turn makes it much easier to more easily (and quickly) locate and then follow objects when looking through the scope.
For moving objects like birds, animals or even aeroplanes, this is really important and cannot be overstated. I find the best way to lock onto them is to first set the magnification to the minimum of 9x and then once you have what ever you want to observe in view, you then zoom in to the higher powers.
So how well does this Bresser Pirsch 9-27x56 Gen II Spotting Scope compare with others, well as you can see in the table below, extremely well, but do keep in mind that this is largely down to it having a lower minimum magnification. But even so, for observing moving and or small objects this is invaluable:
Minimum Focus Distance
I imagine most users will be interested in viewing objects way off into the distance with their scope and thus the minimum focus distance may not seem that important.
However, if like me, you also like to study and digiscope things like butterflies and other insects on nearby flowers or even birds on a nearby feeder, then having a good minimum focusing distance is important.
With the included eyepiece, this Bresser Pirsch 9-27x56 Gen II Spotting Scope has an advertised close focus distance of 2m / 6.6t, which I found to be about right during my testing.
For a spotter, this is a very close minimum focus distance. In fact it is the nearest I have ever come across and it really did help me, especially when I was trying to take video and photos through the scope of insects on flowers, which you can see on my digiscoping examples below.
Eye-Relief:
Other than to highlighting that it has "eyepieces for eyeglass wearers", Bresser does not indicate the amount of eye-relief you get on this or indeed any of their other Pirsch scopes which is a shame as I am fairly certain that I would be highlighting this as a highlight on this scope.
I say this because like the larger version, I tested it using my sunglasses that sit pretty far from my eyes and by fully twisting down the eye-cup I was very easily able to achieve the full field of view without any tunneling effect or black rings forming at the edges all the way from 9x right up to the maximum 27x.
This is impressive and important for those who need to wear eyeglasses, or those like target shooters for instance who will often use some sort of protective eye wear.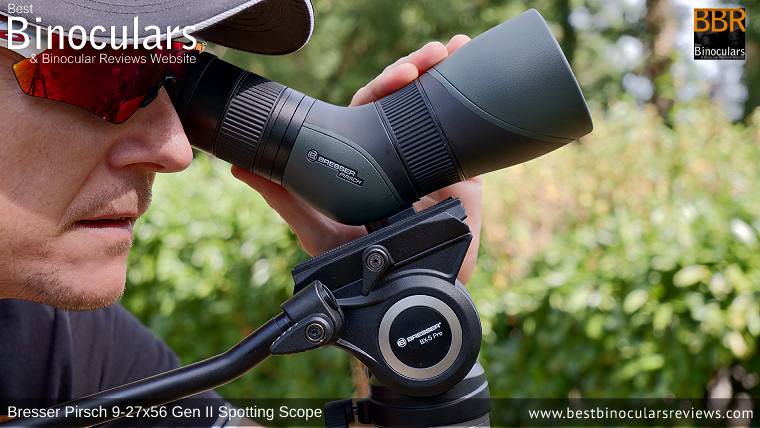 Optical Stats Score for a compact scope with a zoom eyepiece: 9/10
Image Quality
Describing and rating the view I see is certainly the hardest part of every binocular and spotting scope review that I write. So why not just use photos or video taken through the device you may ask?
Well, whilst I do include some digiscoping photos and videos on some of my reviews, this is only for me to test how the instrument performs for digiscoping and I don't recommend that you use them to judge as to the quality of the view as what I see is usually far, far superior to what I am able to achieve when taking a video of photos.
Apart from my obvious lack of skill as a digiscoper, the other problems include the fact that the camera quality I use is not always the same, not it's setting, and this along with the amount of available light makes a huge difference to the image produced.
Also, some scopes and binoculars are just harder to take images through, and thus the results are never as good as those instruments that are easier to digiscope with, but this does not mean that the image you see with your eyes is certain to be inferior ion these devices.
Finally just keep in mind that in order to publish a photo or video on the web I also need to do some sort of processing. At the bare minimum this involves making the file size smaller, which will reduce the quality, but also could involve color grading, etc, which will obviously mean that it deviates from the original. image
So if I do use digiscoping images and video for any reviews, I would look at them in just this context and not as a guide to image quality overall.
Benchmarks
For most of my reviews I will use a benchmark instrument in the same size and magnification category to help me to be as consistent as possible.
I currently don't have an exact benchmark scope in this size category, so for this review, I used my mid-high end 60mm spotting scope that has a 15x-45x zoom eyepiece fitted.
Whilst not ideal, I still think the results are interesting, especially if you are undecided as to whether you should be going for a larger 60mm scope or this more compact, travel-friendly 56mm option.
I carried out some comparisons twice: once in good light conditions during the day and then again that evening at and just after sunset in deteriorating light conditions:
Color Reproduction, Vibrancy & Contrast
In general, I found the views through this Bresser scope to be vibrant, with a good (normal) level of contrast, but at the same time, not to much so as to make the image look unreal or cartoon like if that makes sense.
Some optical devices can produce a tinted image be that on purpose or due to poor quality glass, but to my eyes there was not artificial tinting to the image on this 56mm Pirsch and to me the view is what I would describe as being neutral and pretty much true to life in terms of the colors.
Image Brightness
Just how bright I perceive the image to be when looking through this or indeed any scope depends on many factors that include the ambient light conditions, if you are looking at a bright shiny object or into a dark bush, the size of the objective lens, the quality of the optics used, the optical coatings and what magnification you are using and thus it can not only be very hard to judge, but even making direct comparisons is quite difficult unless you have both scopes set to the same or very settings and look back and forth often.
However, in general I would sum up image brightness on this scope as surprisingly good, although having said that even though it has a very small body, the 56mm lens is larger than most compact scopes with their 50mm lens and much larger than that of most binoculars. On top of this Bresser has I think been quite smart in not trying to overpower it with very high magnifications, which would only result in a tiny exit pupil and resulting dull looking image.
In good, average end even poor light conditions, the Bresser Pirsch 9-27x56 Gen II Spotting Scope was equal to that of 60mm benchmark scope when matching the magnifications between the two. Although if you reduce the magnification on this scope to the minimum 9x, then the larger 6.2mm exit pupil (65÷9) on occasions (poor light) actually made this scope seem a fraction brighter to me than the 60mm scope at 15x power (60÷15 = 4mm exit pupil).
So whilst it is hard to judge like for like, especially as this scope has a lower magnification, I would rate the image brightness on the Bresser Pirsch 9-27x56 scope as being very good to excellent for a compact/travel spotting scope and thus it would be a good option if you need a small scope that will perform better than most in this size class under challenging light conditions. Be that after or before the sunrise, on dull rainy days or in deep, thickly wooded forests.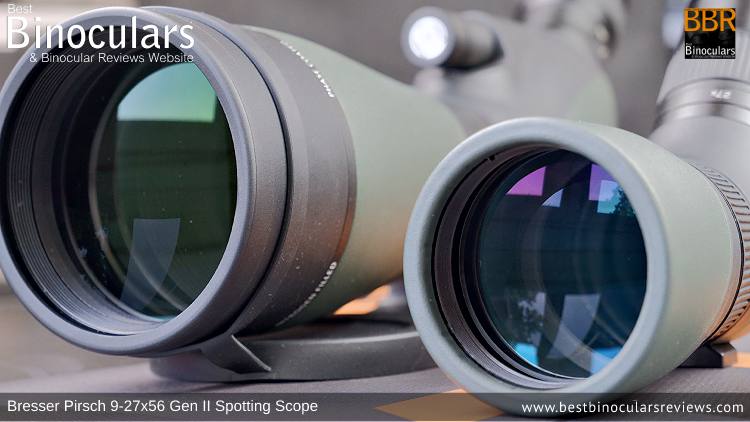 Image Brightness Versus Larger Scopes
Any small scope like this is never going to compete against large 100mm and 80mm scopes in terms of its light gathering ability and thus the resulting image brightness, especially in low light conditions (at the same or similar magnifications), nor are they trying to do so and thus it would be unfair to rate them in this regard. However, I do feel it is important to just know how much different they are, just so you know what to expect and how much of a hit you are taking when opting for a compact scope over a full sized one.
Well, the good news is that in good light, when both sizes of scope are able to supply your eyes with more than enough light than you need, they compare very well, indeed it is often very hard to tell which is brighter (especially at different magnifications). Then even in low light (late in the afternoon on a very overcast rainy day and looking into a dark bush), I was surprised at just how bright the image I observed on this compact 56mm Bresser scope when compared to the larger 80mm Bresser Pirsch Gen II.
9x56 vs 20x80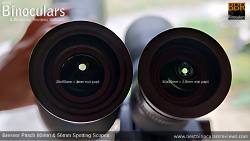 Now, it has to be said this first scenario was when I was using both scopes at their minimum magnification settings, so I was effectively comparing a 9x56 configuration (with the resulting 6.2mm exit pupil) versus a 20x80 one (4mm exit pupil) and thus even though the smaller lens on the compact scope was not able to collect as much light, its larger exit pupil meant that I my eyes (and brain) were still being supplied with enough light for me to perceive a bright image that made up for it.
Whereas at this setting, the larger scope was able to initially collect more light with its larger lens, but then because my pupils were dilated in low light conditions, it meant that they needed more light delivered to them than what the 4mm exit pupil at 20x80 scope was supplying.
20x56 vs 20x80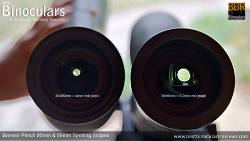 Next I adjusted the zoom on the 56mm scope to around 20x, so that it would match that of the minimum magnification setting on the 80mm scope.
Now the 20x56mm scope had an exit pupil of only 2.8mm, whilst the 20x80 was still at 4mm.
At this setting and in the same low light conditions, it was obvious to me that the image produced by the 20x80mm Pirsch was brighter, which is to be expected as not only is it able to collect more light, but was also producing a larger shaft of light from the eyepiece for my eyes to work with.
All these results were pretty much what I had expected based on the theory, but even so, it was interesting and really nice to be able to confirm it in practice and which is why I think whenever you are choosing a scope, binoculars or indeed just about any optical device it is important to understand how the magnification and lenses sizes work together to produce the exit pupil, especially if you need it to perform under less than ideal light conditions.
Color Fringing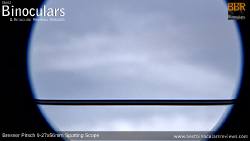 Largely the result of chromatic aberrations, color fringing generally becomes more obvious when looking at the edges of objects with a high contrast to the background and so I conducted my usual test of looking very closely at the edges of the black telephone wires outside the back of my house, lit up against a blue sky.
Color fringing is also often more obvious at higher magnifications and thus when making comparisons to other scopes, I was sure to try and view them all at the same power (around 20x)..
What I saw, was no more or less what I expected and thus would rate this scope as good but perhaps not excellent in this area, which at this price point and with this level of optics is completely within the bounds of what I would call normal.
Image Flatness
Whilst using this Bresser scope I never once noticed any sort of curvature or image distortions and when focused on an object at the center of the view, it remains sharp all the way to the edges on all magnification settings.
Softening
Whist it is evident when you look for it, the level of softening or vignetting right at the edges of the view when you are looking through Bresser Pirsch 9-27x56 Gen II Spotting Scope is minimal and once again I feel they compare very favorably against scopes at this and even higher price levels.
Image Quality Rating (for a 50-60mm Scope): 8/10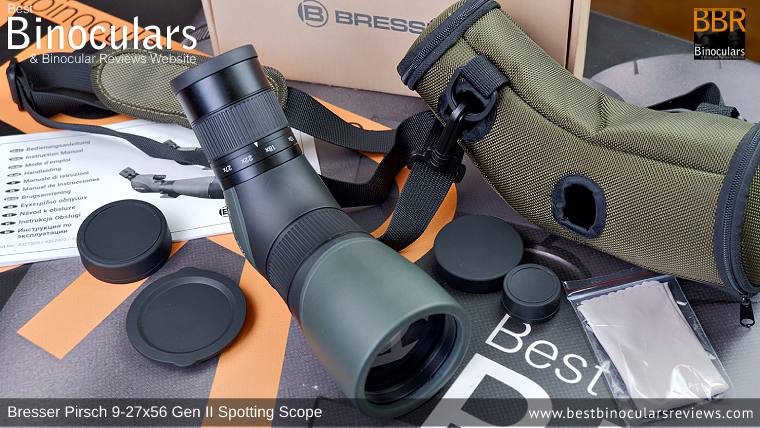 Included Accessories:
When it comes to the accessories, Bresser includes the usual selection:
Body Cover
The protective cover looks well made and whilst it is relatively lightly padded, I feel the amount is perfectly acceptable for such a small and lightweight scope.
Whilst it is very easy to take off and replace, I do like the way you can still use all the main functions of the scope with the cover still in place as there are cutouts for the foot so you can mount it as well as the focussing ring and the zoom function on the eyepiece. Zippers provide access to the eyepiece to look through and the objective lens.
A good attention to detail is shown by the clip on the end of the eyepiece cover, that enables you to fasten it out of the way when using the scope with the cover in place.
The cover also has a strap/sling with a small slideable shoulder pad. The strap attaches to the cover at two points via a couple of swiveled quick release clips and so can be completely removed should you wish.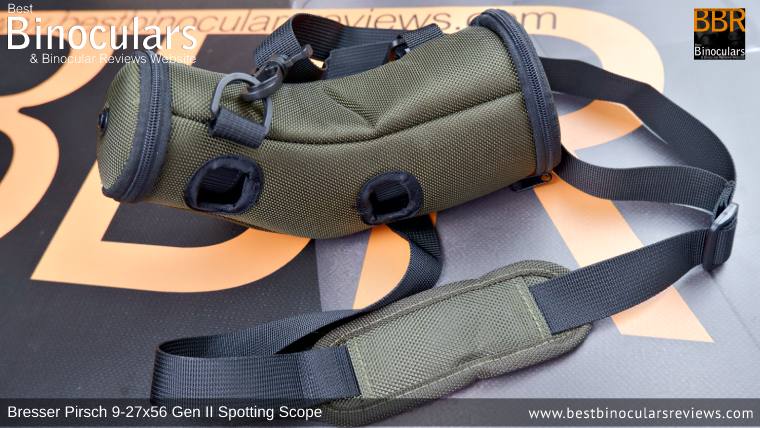 Lens Covers
Bresser includes a total of four soft rubber/plastic covers to protect the lenses when not in use. This includes covers for the eyepiece and body if you unscrew the eyepiece and remove it, which once again is another example of the good attention to small details.
All of these covers fit well and thus are easy to take off and replace, yet do not come away too easily by accident.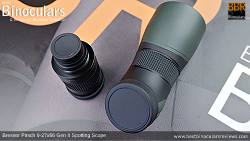 One small point I feel that has been missed is that unlike the larger scope, the objective lens cover is not tethered to the body, so you just have to be extra careful not to misplace it when out in the field.
Cleaning Cloth
The Bresser Pirsch 9-27x56 Gen II Spotting Scope is also supplied with a typical cleaning cloth that I would say is fine for cleaning the body and perhaps light use on the lenses when out in the field. But as always I would encourage you to obtain a Lens Cleaning Kit. for properly cleaning the lenses.
Instruction Manual
The instruction booklet looks chunky, but covers all of Bresser's Pirsch scopes and is written in 11 languages and thus you just get some very basic instructions.
Warranty/Guarantee
The 10 year Guarantee period and service instructions can be found at the back of the manual. Note that this period can be extended, with details and where to do it included.
Extras Rating: 7/10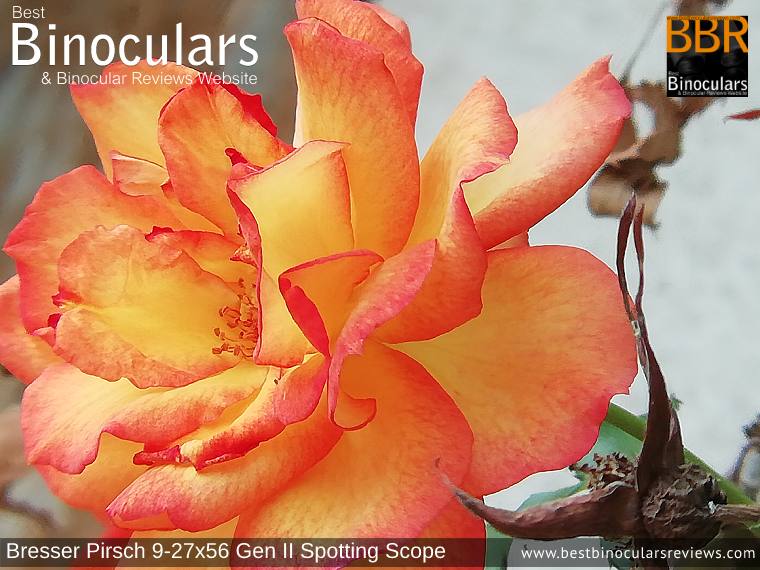 DigiScoping
Disclaimer!
Firstly I think it is important to begin this section with the disclaimer that I am very far from being an expert when it comes to digiscoping. As well as this, in order to get truly great photos and videos (especially of birds and other wildlife) takes a lot of time, patience and requires that you visit the right locations, which I don't always have when testing a scope and thus the results that I am able to achieve should be looked at as the baseline or the bare minimum and not what is possible!
Nonetheless, because I try to digiscope with just about every scope that I review, I do feel my thoughts and opinions as to how easy it is or how good the particular scope is for digiscoping is useful as there is no doubt that some scopes are simply better for it than others. Also, as I stressed in the Image Quality section above, you should not look at these digiscoped photos a being representative of the image quality that you actually see when looking through the scope, because what I see with my eyes is far better than what I am personally able to capture when using either my phone or camera through the eyepiece of the scope.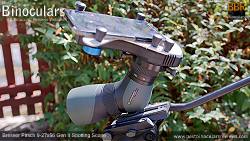 So having said that, the eyepiece on this Bresser Spotting Scope is pretty standard in its design and thus it was very simple for me to attach the Snypex X-Wing SPA1 Universal Smart Phone Adapter that I used for testing. It should also work well enough with most good universal digiscoping adapters.
As normal, when it comes to digiscoping you need to practice and play around quite a lot before you get it right and this certainly depends on the type of camera or phone that you are using.
At lower magnifications (under 20x) and thus with a large exit pupil, I was very easy for me to get a good clear image with this scope, but as normal, at higher powers and thus with a small exit pupil, it does become far more challenging.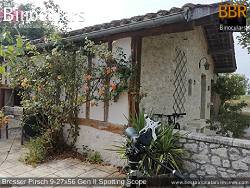 So for me I got my best results at closer ranges and at lower powers. This combined with the excellent minimum focus distance of only two meters makes it a excellent scope to use if you want to digiscope things like insects on flowers or perhaps even birds on a feeder who will tolerate you getting relatively near to them.
Below are just a few example I took during my first test. I will also plan to including some video footage in time, where I think my results were better. But as I say, these should be looked as as a base line and I am sure that with more practice, patience, a better phone on my camera and skill you will be able to do far better!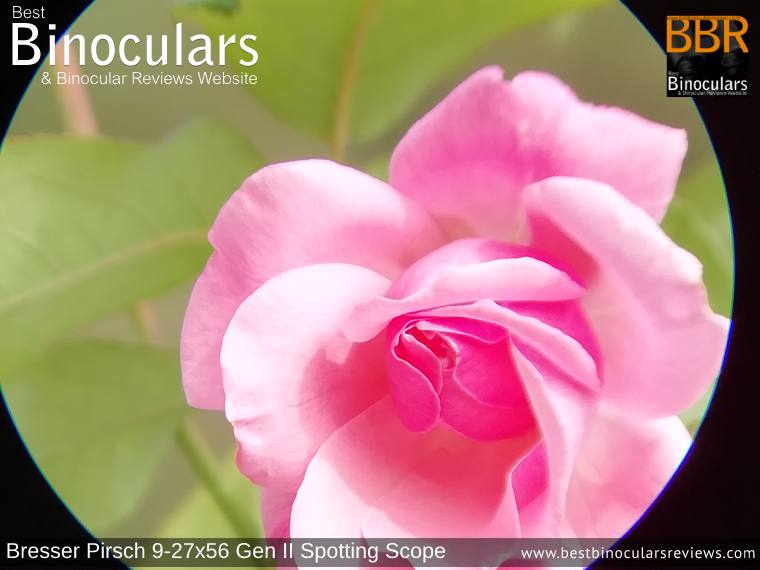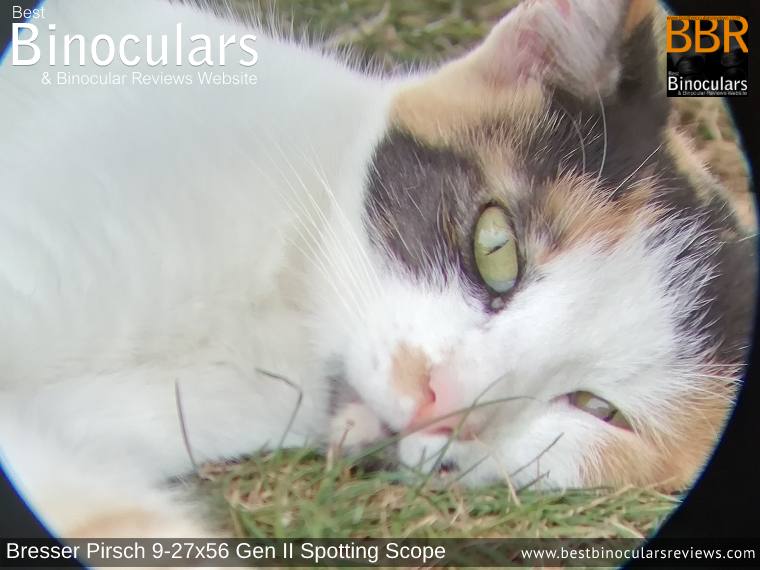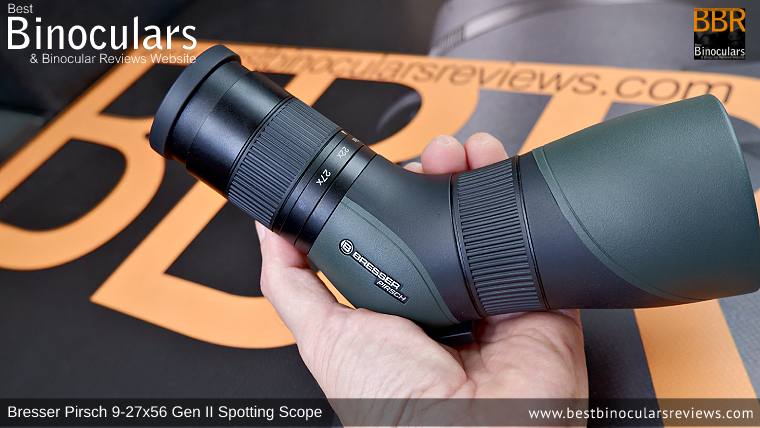 Review Conclusions:
Dynamite comes in Small Packages!
From the product images and without anything else in them for context, you really don't get a feeling of just how small the Bresser Pirsch 9-27x56 Gen II Spotting Scope is, so opening it up for the first time was even for me quite a surprise. So whilst not quite dynamite, I do feel that on the whole, the build quality and performance easily exceed both its small size and the relatively modest price tag.
Thus I have no hesitation in taking it with me on my camping, hiking and backpacking trips and would highly recommend it to anyone wanting a compact scope for these and many other uses where size and weight matter or indeed if you just want the convenience of a small form factor.
Strengths:
Extremely small and lightweight spotter, but yet with a relatively large 56mm lens helps it deliver a bright high quality view for this size class
The included 9-27x zoom eyepiece is excellent, giving you plenty of flexibility and a good level of performance for a wide range of uses in varying conditions. The fact it can be unscrewed and removed is also a definite sign of quality and only adds to the potential flexibility of this scope opening it up to even more specialist uses
For a compact scope, I was very impressed with the image brightness and thus recommend it a good option if you need a small scope that will perform in challenging light conditions. Be that after or before the sunrise, on dull rainy days or in deep, thickly wooded forests/jungles.
For a scope, the 2m / 6.6ft minimum focus distance is excellent making it a good choice for viewing or digiscoping things like insects and butterflies on nearby flowers etc.
The waterproof and nitrogen filled body feels and looks well built, which in turn makes it feels as well as looks like a high quality instrument.
The maximum field of view you get with the included zoom eyepiece at 9x power is extremely wide for a spotting scope and is ideal for those wanting to quickly lock onto an object, especially if it is moving (birds aeroplanes etc.)
Weaknesses / Room for Improvement:
The foot used for mounting onto a tripod is very small, which on such a small scope was for me not an issue at all but I do wish that it had a rubber sole on it as I do have a couple of tripod heads that do not have the spring loaded pin and thus on these heads I had to tighten the mount very tightly in order to ensure that the scope would not turn. So whilst it was not at all a major concern, it would have just been nice not to have had to tighten the screw so much.
The twist-up eyecup is excellent except for one small detail, on my sample it just turned a little to easily for my preference and thus if I wanted it to stay at a mid point setting, I needed to be careful not to press my face too firmly against it. Note that at the maximum or minimum settings this was not at all an problem.
The lack of a rotating collar and sun shield may be small issues for some, but to be fair, these are once again minor details and pretty typical for scope in this compact size category.
Ideal Uses Include:
General Close to Mid-Range Observation
Target Shooting & Archery
Birding - including birding holidays & backyard birding
Wildlife Observation / Hunting
Study of Flowers & Insects
Security Surveillance, Border Patrol, etc..
Boat, Yacht & Ship Watching
Portable DigiScoping in mid to good levels of light
Plane Spotting