I recently got the chance to test the large 100mm angled Celestron Regal 100 F-ED Spotting Scope, part of Celestron's flagship range of scopes that include quality features like air-spaced achromatic doublet lenses that also use extra low dispersion glass to help eliminate color fringing and provide an excellent quality razor sharp image. Below is my full review
The Body
Build Quality
First impressions are really important and I must say that I really like the look of this angled (45 degrees) 100mm Celestron spotting scope - It has a really nice two tone grey body with a distinctive orange band that circles the end of the body, near the sun shade.
I am not sure what the body is made from (probably aluminium), but it feels really solid and robust and is covered a hard rubber armour, that has a nice grip to it. This armour will also protect the scope from day to day knocks and bumps and will also help to dampen down any sounds made from objects striking against it that could frighten away easily spooked birds and other wildlife. This rubber armour also has the additional benefit of making the scope less reflective, bright light reflecting off a metallic object could also easily frighten away wildlife.
I like the fact that the mounting plate that fits onto the main body of the scope with a collar that goes right round the barrel. This can be loosened via the silver knob on top of the body an then the spotting scope can be rotated a full 360° to change the orientation of the eyepiece. This can come in handy if you have to place your tripod on uneven ground or if you use something like a Gimbal tripod head to mount your scope to your tripod. One small thing to note is that on other scopes that have this collar, there is often a "notch" that helps you to quickly locate the central point, this is absent on this scope.
The mounting plate itself is fairly long and has three different locations where you can attach your tripod head to, so that you can get the balance exactly right. This can really help if you are digiscoping for example where the extra weight of the camera and adapter can really upset the balance of your scope on the tripod. This plate is deeply grooved which really helped to keep it secure on my tripod head plate.
At the end of the barrel is a extendable sunshade that is used to either protect your lens from moisture or from the sun which can spoil your view. The shade also has a raised sighting line on it that can help you with lining up objects. The shade itself extends from the barrel with enough friction to keep it in place, yet it not too tight as to make adjusting it difficult or awkward.
Waterproof
I did not test this, but Celestron state that this scope is fully waterproof and so should handle most reasonable weather conditions that you will experience when out in the field.
Focusing
This Celestron spotting scope has a Dual speed focussing mechanism which I really like. You use the larger focussing wheel to quickly get close to the correct focus and then use the smaller wheel to fine tune the focus to get what ever you are looking at as sharp as possible.
On the scope that I was testing, they both turned really smoothly and located on the side of the scope they are easily reachable. The wheels themselves are also covered in rubber and are deeply grooved to help with grip.
Rating for Body Construction Quality: 7/10
Weight
At 89oz (2523.11 g) it must be said that this is a fairly heavy spotting scope, but then you must also remember that will be partly down to the excellent but large 100mm diameter objective lens. Celestron don't state what is used in the body construction, but my guess is that it will be aluminium, which is strong and fairly light. Scopes like the very top of the range Kowa TSN-880's for example they use very lightweight (and very expensive) magnesium bodies to keep the weight down. Celestron probably could have done the same, but then I suppose the price tag would have to been increased.
For comparison and to put it's weight into context I have included the weights of a few other scopes below:
I must add though that weight alone can sometimes be a little misleading as there are a few very light and cheap scopes on the market - this is only because they use sub-standard materials in their construction that may be lighter, but are definitely not as durable. For me I'd much rather have a slightly heavier scope like this Celestron that is robust and durable, than a very light "plastic" scope that does not feel like a quality optical instrument could easily break with the slightest knock.
Dimensions
Without the eyepiece attached the scope is 20 inches (50.8cm) long. For comparison, the 80mm Regal F-ED Spotting Scope is 17inches (43.2cm).

Rating for Body Stats: 7/10
The Optics
The aperture (objective lens diameter) of a scope is a very important factor and one you should take into a lot of consideration when choosing a spotting scope. The prime function of all scopes is to collect light and at any given magnification, the larger the aperture, the more light it collects and all other things being equal the better and brighter the image will be. The most obvious feature of this scope is it's very large 100mm Objective lens that will take in a lot more light than a scope with a smaller aperture and therefore has the potential to produce better and brighter images. I say potential because to ensure that you get all that light to your eyes and all at the correct focal length you also need to use high quality glass and coatings on the lenses and prisms:
Lenses
Celestron Regal spotting scopes use an air-spaced doublet achromatic lens that has been designed to limit the effects of chromatic as well as spherical aberrations. In general achromatic lenses are corrected to bring two wavelengths (most often red and blue) into focus in the same plane. The most common type of achromat is the doublet that has been used on this scope, here the lens is actually composed of two individual lenses, each made from glass with a different amount of dispersion and then joined together. Usually one element is a concave lens and has a relatively high dispersion, while the other, a convex element has lower dispersion, they are then shaped so that the chromatic aberration of one is counterbalanced by that of the other so that the two wavelengths are brought into the same focus.
The diagram below shows on the left, the chromatic aberration that is produced by a single lens because it causes different wavelengths of light to have differing focal lengths. On the right an achromatic doublet lens brings red and blue light to the same focus, thus reducing the amount of chromatic aberration (color fringing).
As their name suggests, this Regal ED scope also uses extra-low dispersion glass (ED) in the lenses. This helps by giving the designers of the multi-element objective lens a wider range of options to better direct and concentrate the wavelength of light. ED glass should therefore improve the quality of the image by helping to minimise chromatic aberration (color fringing) and generally speaking, the better the aberrations are controlled the cleaner and brighter the image will appear.
Fluorite
One element of the lens is made from the mineral fluorite which also called fluorspar and is a widely occurring mineral composed of calcium fluoride. Fluorite is sometimes used instead of glass in some high performance scopes, telescopes and camera lens elements. In nature it is found in large deposits in England, Germany, Austria, Switzerland, Norway, Mexico, Canada and Kenya, however the fluorite used in lenses is an artificially made monocrystal. This is to ensure that it does not contain any impurities, or emit fluorescence when heated or exposed to ultraviolet rays and is is chemically stable.
Fluorite can be easily scarred and because it takes the form of a monocrystal with the shape of a regular octahedron, it can easily be chipped. Therefore great care is required as well as highly advanced processing techniques when grinding and polishing such a crystal into a lens and that is why is fluorite is only used in the very best telescopes.
Fluorite however has an outstanding feature of very low dispersion that cannot be found in optical glass and is the key to eliminating color fringing. This characteristic enables Celestron to eliminate color blur almost completely, which dramatically improves resolution and contrast. As a result, subtle colors and shapes of wings of wild birds, slight changes in color of dark objects set against back lighting, bright star clusters, or details of the moon or planets can be observed as clear and sharp magnified images.
Fully Multi-Coated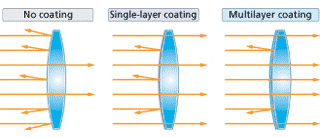 The lenses have also been fully multi-coated which means all air-to-glass surfaces have received multiple layers of anti-reflective coatings this has the effect of increasing light transmission to produce a brighter image with better contrast and therefore better low light performance.
Anti-reflective coatings can make a really difference on the brightness of the image produced. It is not uncommon for a scope with a smaller objective lens, but high quality anti-reflection coatings to outperform one with a much larger objective lenses, but with fewer or no coatings. Beware of these lower quality optics that will often only add multiple anti-reflection coatings to the outer surfaces of the lenses (Multi-Coated). Cheaper still are scopes that only have a single layer of anti-reflection coating added to the outer lenses (Coated). The very cheapest optics have no anti-reflective coatings at all and I highly recommend staying well clear of these.
The table below shows the usual amount of transmittance by type of coating:
| | | |
| --- | --- | --- |
| | Per Single Lens Surface | 10 Lens & Prism Surfaces |
| No Coating: | 96% | (0.96) x Power of 10 = 0.66 66% |
| Single-Layer: | 98.5% | (0.985) x Power of 10 = 0.86 86% |
| Multilayer Coating: | 99.5% | (0.995) x Power of 10 = 0.95 95% |
The Prisms and their coatings
Celestron have used high quality BaK-4 prisms on their Regal ED Spotting Scopes as opposed to the cheaper BK-7 ones sometimes found on cheap spotting scopes. This superior optical glass helps to produce clearer image and obviously this is what you want from your scope.
Rating for Optical Components Quality: 9/10
The 22x-67x (8-24mm) Zoom Eyepiece
This Celestron spotting scope comes with a 8-24mm Zoom Eyepiece included which equates to a 22x-67x magnification on the 100mm scope. On the Regal 80 F-ED, it would be 20x-60x and on the 65mm Regal 65 F-ED, it would be 16x-48x.
This really wide zoom range should be suitable for a large diversity of uses and because the eyepiece fits into the body of the scope using a standard 1.25" push-fit socket it is therefore easy enough to find many other more specific eyepieces to fit this scope depending on your exact requirements should you wish. This is an important consideration as this collet style eyepiece lock not only allows you to change eyepieces very quickly, but as it will accept any standard 1.25" eyepieces, you are not only limited to Celestron branded eyepieces. This offers you the biggest amount of freedom to choose the right eyepieces for your particular needs.
For eyeglass wearers one of the biggest issues with many scopes in this price range that include as zoom eyepiece is the small amount of eye relief. The other issue is that because it is included, it is a fairly cheap version and does not offer quite the same level of performance as buying a quality eyepiece separately.
I can gladly say that Celestron have not done this and you get a really good 20mm of eye relief and with its large 25mm diameter lens, it let through plenty of light and is probably the best included zoom eyepiece that I have tested on any scope at this price.
The Eye Cup
The fairly standard twist-up eyecup looks to be made from metal and has a fairly thick soft rubber coating on top of it that makes it feel pretty comfortable even when pushed quite firmly against your face. This cover can be removed to reveal the metal eyecup below, this can then be unscrewed to reveal a thread that you can attach the included T-Adapter to for digiscoping with your SLR camera.
The actual twist-up mechanism on the eyecup works well and is really smooth. You get a really good 20mm of eye-relief and whilst it does not have any fixed intermediate stops, there is enough friction to stop it at any distance in between fully retracted and fully extended to give eyeglass wearers as much flexibility as possible to get the full field of view without any vignetting.
Digiscoping
This scope and included eyepiece make it really easy for you to attach a camera to it:
SLR Cameras: All you have to do is remove the eyecup from the top of the zoom eyepiece by unscrewing it. This exposes some threads which you can use to attach a T-Adapter, which is included with the scope. The you can attach this to a T-Ring that you need to get for your particular make and model of SLR camera. You then just attach your SLR camera to the T-Ring and you are ready to go digiscoping.
A point to note is that this and all other Regal F-ED spotting scopes have fixed apertures and therefore have fixed f/ratios this 100F-ED has a focal length of 540mm ( f/5.4). So to ensure that you correctly expose your subjects, you need to set your shutter speed accordingly. To help, most SLR cameras have "through-the-lens metering" which lets you know if your picture is under or overexposed.
Compact Digital Cameras: To shoot with a standard compact digital camera (non-SLR) you will need to get a Universal Digital Camera Adapter, which Celestron offer but most generic ones will work as well. For example take a look at this article on the Swarovski UCA (Universal Camera Adapter).
Optical Stats
Field Of View
Using the included 22x-67x (8-24mm) Zoom Eyepiece the field of view at 22x magnification is 1.9° or 33m @ 1000m (100 feet@1000 yards) and 0.9° or 17m @ 1000m (50 feet@1000 yards) wen using the eyepiece at full 67x magnification. To try and put this into some sort of context, the FOV is as good as the equivalent Nikon FEP-20-60x eyepiece attached to the very top of the range Nikon EDG Fieldscope 85-A, which has a field of view ranging from 38-19 @ 1000m
Close Focusing Distance
With a focal length of 540mm ( f/5.4), it's close focussing distance is 7.9m (26ft) when using the eyepiece at 22x magnification, which is not bad at all - for comparison once again the flagship TSN-880 series of spotting scopes from Kowa has a minimum focusing distance of 5m (16.4ft), which as you can see is better, but just remember the Kowa will cost you a whole lot more money.
Eye-Relief:
The maximum eye-relief of 20mm is very good and should be more than enough for most people who wear glasses.
Rating for Optical Stats: 7/10
Image Quality
Image Brightness
Testing was carried out on a dull and overcast day as well as a bright sunny day and in terms of image brightness, these were definitely an improvement on my 80mm benchmark spotting scope. Due to their larger 100mm objective lens this was predictable, but even so I was very impressed with the brightness of the image that this Celestron scope produced.
Astronomy
I also used the scope one night and went outside to look at the moon and stars. The weather was not great, with plenty of clouds about and it was a fairly dark night with the moon still being in it's first quarter. The view of the moon was stunning and if you have never looked at the moon through a scope with this much power, you are in for a real treat. This is also where the large 100mm objective lens really helps to take in as much light as possible.
More about Image Brightness & Low Light Performance
Whilst it is true that the larger 100mm objective lens makes this scope bigger and heavier than those with smaller lenses, but it does have the potential of being able to gather more light and therefore also has the potential to produce a brighter image. Good light gathering ability is important in situations where the lighting is sub-optimal, this is especially true in thickly wooded or forested areas, or early in the morning just before or at sunrise, or late afternoon. This is also the exact time and types of places where you find most birds and other animals are at their most active.
But no matter how much light your spotting scope gathers, it is no good if that light is not passed onto your eyes (transmittance) and this depends to a large amount on the quality of the glass and optical coatings and not just the size of the objective lens. Good coatings on the lenses and the prisms can in some cases double the amount of light that gets through the scope, when compared to those that have none or poor quality coatings. This is why the quality coatings and glass that has been used on this Celestron spotting scope help to produce such a high quality and bright image.
Color Fringing
To check for any color fringing (chromatic aberration), I focus on light coloured and white objects sitting in front of a dark backgrounds as this is where it is easiest to notice if there is any on the objects edges. To my eyes, I could not make out any significant colour fringing which is really impressive. It does go to show that the achromatic lenses and the use of ED (extra low dispersion glass) really makes a difference. I therefore rate this scope as excellent in this area.
Softening
The amount of softening of the image on the periphery of the view was also almost none which again is excellent and compares really well with other high end spotting scopes that can cost 10x the price of these.
Contrast & Colour Reproduction
I thought that the amount of contrast was good and the colors that are produced look and feel pretty natural.
Overall I would rate the view through this Celestron Regal 100F-ED as being excellent and is better than most in this price range and easily as good as many far more expensive spotting scopes out there.
Rating for Image Quality: 8/10
Included Extras & Attention to Detail:
Carry Case
The included soft carry case looks to be well made. It has what looks like a fairly waterproof exterior and is softly padded on the inside, although not as well padded as the very best ones out there. The case fits the scope very tightly and is actually fairly difficult to put on. Because of the long zip down half of the length of it, as well as the zipped objective lens opening, you can keep it on with the scope attached to your tripod, but strangely there are not openings to allow you to change the focus of your scope.
Lens Covers
The eye-piece cover is a metal tube that covers the eyepiece and can be screwed onto the body of scope. It also has a screw on cap which means you can look through the scope with it still attached (You cannot however change the magnification with it on).
The hard plastic objective lens cap fits onto the objective lens very well and should not fall off accidentally.
T-Adapter for digiscoping
A T-Adapter is included with the scope which means that you can very easily attach your SLR camera to the scope once you get yourself a T-Ring for your particular make and model of camera. For more see the section above on Digiscoping.
User Manual
A fairly comprehensive manual is also included with the scope that includes details on the scopes specifications, basic information on connecting a camera to it (digiscoping), assembling the scope and basic operating instructions. For more you can view a digital version of it here:
Regal F-ED Spotter Manual (English, French, German, Spanish, Italian) (PDF - 2 MB)
The Celestron Regal 100 F-ED Spotting Scope also comes with a No Fault Limited Lifetime Warranty.
Rating for Extras & Attention to Detail: 6/10
Conclusion
Strong Points: A real highlight of this Celestron scope is the quality of the glass and coatings used on the prisms as well as on the large 100mm lens to produce a superior quality and bright image, which I was very impressed with. As well as this the quality of almost every other aspect of this scope is well above that of most other scopes in this price range and with features like the dual speed focuser and the tough yet great looking waterproof body you are getting a great spotting scope for your money.
Weak points? On the flip side to having a nice large objective lens is the weight and size aspect. It is a difficult balancing act, Celestron could have made the scope lighter by using a magnesium body, but of course this probably would have meant increasing the price.
Ideal Uses: With the included 22x-67x (8-24mm) Zoom Eyepiece, this scope is ideal for a wide variety of uses including birdwatching, general nature and wildlife observation and even target shooting. The large 100mm objective lens means that it is a great scope for digiscoping and you can even use it for casual astronomical observations.
I did try out the scope one night and went outside to look at the moon and stars. The weather was not great, with plenty of clouds about and it was a fairly dark night with the moon still being in it's first quarter. The view of the moon itself was simply stunning and if you have never looked at the moon through a scope with this much power, you are in for a real treat. This is also where the large 100mm objective lens really helps to take in as much light as possible.
So to sum up, I really liked the Celestron Regal 100 F-ED Spotting Scope and I feel you are getting a great scope for your money that most people would be more than happy with.
Acknowledgements
I would like to thank Hama (UK) Ltd. the UK distributor of Celestron binoculars for sending these to review. I would also like to point out that this and all the other reviews on this site are my opinion and are not influenced in any way by manufacturers, distributors or suppliers.