After first seeing the range of Kowa TSN scopes at the British Birdwatching Fair (Birdfair) a few years ago, I really wanted to get my hands on one to fully review.
Well now, thanks to Alpha Digital Services, the UK distributor of Kowa I finally have the chance. The Kowa TSN-883 Spotting Scope Angled Spotting Scope comes with the reputation of being one of the very best, aimed at serious birders, general wildlife observation, target spotting and anyone who wants the very best without compromises.
Below is my my full review:
The Body
Build Quality
The housing is made from very light (see the section on weight below) and tough magnesium alloy, the body feels really solid and robust. But unlike many scopes, this Kowa does not have a rubber covering (armour). This has the advantage of keeping the weight down, but it probably wont protect the scope as well and offers less grip than a rubber coated scope. The metal finish also won't dampening down any sounds from an object like your watch or wedding ring connecting with the body when grabbing hold of the scope, which could frighten away some birds and other wildlife.
The green mat finish does however blend in with most outdoor environments and ensures that sunlight does not easily reflect off the body that could also give away your position and frighten away birds.
The mounting plate is a lot smaller than many that I have come across, but considering the minimal weight of the scope, it offers plenty of support. It only has one screw location where you can attach your tripod head to it, but does have a brass insert which means you can secure the scope to both 1/4 and 3/8 inch tripod mounts - a small thing, but shows a good attention to detail from Kowa.
The mounting plate is attached to the scope via a collar that goes right round the barrel that allows you to move the mounting plate around the body, effectively changing the orientation of the eyepiece.
At the end of the barrel is a extendable sunshade that is used to either protect your lens from moisture or from the sun which can spoil your view. The shade also has a raised sighting line on it that can help you with lining up objects. The shade itself extends from the barrel with quite a bit of friction and is a little tight, but will definitely stay in place.
Waterproof
This Kowa scope housing is 100% waterproof, right up to JIS Class 7, which is very impressive and means that against it is protected against the effects of temporary immersion in water - although as Kowa kindly point out that the scope is not intended for use underwater! Being fully waterproof also means that dust cannot enter the system, which could easily lead to your view being spoilt.
The TSN-883 has also been nitrogen purged (has had all the internal air replaced with dry nitrogen gas) which means that the scope is also protected from internal fogging. Because there is no moisture inside the housing all internal workings will also be protected from the effects of corrosion.
Focusing
The Kowa TSN-883 comes with a Dual speed focussing mechanism, where you use the larger focussing wheel to quickly get close to the correct focus (It goes from infinity to five meters in only two revolutions) and then the smaller wheel to fine tune the focus to get what ever you are looking at as sharp as possible with pinpoint accuracy. This fine focus know is very useful at high magnifications and especially when using the Kowa scope for digiscoping.
Both knobs turned very smoothly, but unlike many scopes that have the focusing knobs slightly offset on the side of the body, the Kowa's are directly on top of it. This to me makes more sense as they are easily reached with both your left and right hands. The wheels themselves have a fairly soft rubber covering that is deeply grooved to help with grip.
Rating for Body Construction Quality: 9/10
Weight
One thing that really struck me as I took the scope out of the box, was just how light it was. Incredibly even though the TSN-883 has a very large 88mm objective lens, it still only weighs 53.6oz (1520g). To put this into context, take a look at the weights of a few other scopes that I have reviewed:
One of the biggest contributing factors to it's low weight is the body that is manufactured from magnesium alloy which reduces the weight without reducing it's strength. Another weight saving measure used is the inner focusing system which has made the prism box lighter and more compact than conventional prism focusing systems. It also has the added benefit of decreasing the amount of image movement.
If you only take a scopes weight into account, it can be a little misleading as some really light scopes are sometimes also the cheapest (and worst) - this is because they use sub-standard materials in their construction that may be lighter, but are definitely not as durable. This is definitely not the case with this Kowa TSN scope as it feels very robust and durable.
Length: 34.3cm (13.5in) - is good for a large lens (80mm or more) angled scope and is as short as many 60mm ones. Kowa have achieved this by using 5 lens elements in 4 groups allowing them to shorten the overall length without sacrificing optical performance. The inner focusing system is also very compact and the fact that the 883 also uses a highly achromatized objective lens also helps makes the scope as compact as possible.
Rating for Body Stats: 9/10
Kowa Prominar Optics
Kowa use 5 lens elements in 4 groups in the design of this scope and all lenses made of environment friendly Eco-glass that have been fully multi-coated using their C3 fully multi-coated lens coating system:
Objective Lenses
The TSN 883 and 884 scopes use Kowa's very special Prominar pure fluorite crystal lenses, which use an achromatic lens design to limit the effects of chromatic and spherical aberrations and is actually composed of two individual lenses, one concave lens that has a relatively higher dispersion, while the other, a convex element which has a lower dispersion and then joined together.
The convex lens elements is made from Fluorite which concentrates and directs the wavelength of light very effectively and thus is known to have extremely low dispersion that cannot be found in standard optical or even ED glass and is the key to eliminating color fringing (chromatic aberrations).
Incredibly, these fluorite lens elements are an improvement on the already excellent XD (made from ED glass that also has extra low dispersion properties) lenses used on the TSN-773/774 models.
Kowa then go another step further on this model as in place of ordinary glass on the concave lens element of the achromatic lens, they use glass that also has special dispersion properties to reduce the chromatic aberrations even more.
The combination of the two enables Kowa to eliminate color blur almost completely even at higher magnifications, which dramatically improves resolution and contrast. This effect cannot be duplicated by a normal achromatic lens used on other scopes.
Fully Multi-Coated
As mentioned earlier, Kowa have also fully multi-coated their lenses, which means all air-to-glass surfaces have received multiple layers of anti-reflective coatings which increases light transmission to produce a brighter image and therefore better low light performance.
Anti-reflective coatings can make large difference on the brightness of the image produced. It is not uncommon for a scope with a smaller objective lens, but high quality anti-reflection coatings to outperform one with a much larger objective lenses, but with fewer or no coatings. Beware of these lower quality optics that will often only add multiple anti-reflection coatings to the outer surfaces of the lenses (Multi-Coated) and cheaper still are scopes that only have a single layers of anti-reflection coating added to the outer lenses (Coated). The very cheapest optics have no anti-reflective coatings at all and I highly recommend staying well clear of these.
The table below shows the amount of transmittance you can expect by the amount of anti-reflection coatings:
| | | |
| --- | --- | --- |
| | Per Single Lens Surface | 10 Lens & Prism Surfaces |
| No Coating: | 96% | (0.96) x Power of 10 = 0.66 66% |
| Single-Layer: | 98.5% | (0.985) x Power of 10 = 0.86 86% |
| Multilayer Coating: | 99.5% | (0.995) x Power of 10 = 0.95 95% |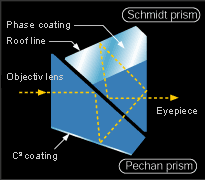 Prisms
Kowa use the Schmidt-Pechan prism design that is made up of both BaK-4 and SK15 prisms, which uses excellent quality glass for a superior optical performance, but like most roof prism designs has one drawback in that one surface of the Pechan prism does not provide total reflection.
To get around this Kowa have added their own highly reflective multi-coating that they call C3 coating, that they say give a reflectance of 99% or more across the entire visible spectrum (400 to 700 nm). Kowa don't go into detail, but I suspect that their C3 coating is probably a dielectric coating:
Typically an aluminum mirror coating is used that has a reflectivity of 87% to 93% or a silver mirror coating (reflectivity of 95% to 98%) is used. This light transmission of the prism can be improved by using a dielectric coating rather than a metallic mirror coating. This causes the prism surfaces to act as a dielectric mirror. The dielectric multilayer coating increases reflectivity from the prism surfaces by acting as a distributed Bragg reflector. A well-designed dielectric coating can provide a reflectivity of more than 99% across the visible light spectrum. This reflectivity is much improved compared to either an aluminum or silver mirror coating and this technique provides almost the same brightness as that perceived by the naked eye, and clear, high-contrast images that display accurate color reproduction.
Phase Correction
The prism glass has also has phase-correction coatings applied to it. This is done because when light waves are reflected at the opposite faces of a roof prism, phase shift occurs resulting in marginal deterioration in sharpness. So what these phase correction coatings do is keep the light in the correct color phases and therefore produce images that have a higher resolution, better contrast as well as having a better color reproduction than roof prisms that don't have these coatings. These coatings are usually only found on higher end optics.
Rating for Optical Components Quality: 9/10

Kowa TSN Eyepieces
Kowa have three different eyepieces that will work with the TSN-880 and 770 Series of scopes. As with most top end scopes, the eyepieces are not included with the scope and must be purchased separately. The advantage of this is that you can get the right eyepiece(s) to suite your particular needs.
All Kowa eyepieces are multi-coated to help increase the light transmission through the lenses and are completely waterproof and filled with dry nitrogen gas to prevent them from fogging up.
Eyepiece locking mechanism
Kowa's use a bayonet mount with a locking mechanism to prevent the eyepiece from falling out accidentally. This works really well and it is very simple to attach the eyepiece by lining up a red dot on the scope and the eyepiece, inserting the eyepiece and then twisting it clockwise. To remove it, you just press a small button on the scope and twist the eyepiece anti-clockwise.
Model
TE-10Z
TE-17W
TE-20H
Magnification
20 - 60X, ZOOM
30X, WIDE
25X, LER
Real Field of View

2.2°- 1.1°

2.4°
2.1°
Exit Pupil
TSN-880
4.4 - 1.5mm
2.9mm
3.5mm
TSN-770

3.9 - 1.3mm

2.6mm
3.1mm
Relative Brightness
TSN-880
19.4 - 2.3
8.4
12.3
TSN-770
15.2 - 1.7
6.8
9.6
Eye Relief
17 - 16.5mm
20mm
32mm
Field of View at 1000m
38.4 - 19.3m
41.9m
36.7m
TE-10z 20x-60x Zoom Eyepiece
This is the eyepiece that I used for the review and I was highly impressed with. It has 10 lens elements in 6 groups and uses an aspherical lens to increase the field of view, which has traditionally been a drawback of zoom eyepieces. This design ensures a wide field of view through the entire zoom range and a flat field all the way to the edge of the lens. The newly developed optical design reduces the deterioration of the image at high magnifications.
Field Of View
Using the 20x-60x Zoom Eyepiece the field of view at 20x magnification is 38.4m @ 1000m (115 feet@1000 yards) and 19.3m @ 1000m (58 feet@1000 yards) when using the eyepiece at full 60x magnification. To try and put this into some sort of context, the FOV of the Acuter DS20-60X80A Spotting Scope is 37m @ 1000m (111 feet@1000 yards) at 20x and 19m @ 1000m (57 feet@1000 yards) at 60x magnification. The equivalent Nikon FEP-20-60x eyepiece attached to the very top of the range Nikon EDG Fieldscope 85-A, has a field of view ranging from 38-19m @ 1000m.
Close Focusing Distance
This Kowa TSN-880 series scope has a minimum close focussing distance of 5m (16.4ft) which is very good - for comparison the Acuter DS20-60X80A Spotting Scope has a minimum focusing distance of 6.5m (21.3ft).
Eye-Relief:
This eyepiece has a twist up eyecup that looks to be made of metal and has a soft rubber coating that that is really comfortable even when pressed quite firmly against your face. Depending on the magnification you are using, there is about 17mm of eye-relief that should be more than enough for most eyeglass wearers to be able use the scope without having to remove their glasses and still get the full field of view without any vignetting.
The twist-up mechanism on the eyecup is really smooth and works well. They also have two fixed intermediate stops which helps those who do wear glasses to get exactly the right amount of eye relief for them. Non-eyeglass wearers will just use the eyecup in the fully extended position.
Rating for Optical Stats: 8/10
TE-17W 30x WIDE Eyepiece
This eyepiece design has 7 lens elements in 5 groups provides easy viewing with an eye relief of 20mm and field of view approximately 10% wider than conventional eyepieces. This wide field of view is extremely useful when searching for subjects that you want to bring into view. The 20mm eye relief allows you to see the entire field of view, even when wearing eyeglasses.
TE-20H25x LER
This eyepiece design has 7 lens elements in 4 groups has an extremely long eye relief of 32mm. This extra eye relief is extremely useful when wearing eyeglasses or for a digiscoping system. *Suitable for 4X zoom cameras and cameras with large-diameter objective lenses. Vignetting may not be eliminated in some cameras.
Kowa Digiscoping
Kowa offer a number of accessories for their scopes including a range of specially designed camera adapters that make connecting a digital camera SLR and compact camera to their scopes relatively simple.
Kowa TSN-DA10 Digital Camera Adapter - For TSN-880/770 Series
It threads on the eyepiece and is used to connect the digital camera to the spotting scope. Note you will also need the TSN-DA4 or Adapter Ring.

Kowa TSN-DA4 universal camera adapter used for compact digital cameras
Kowa TSN-VA1 is a specially designed adapter for use with high power optical zoom digital cameras.
Kowa TSN-VA2 is a specially designed adapter for use with high power optical zoom digital cameras with a large objective lens.
Image Quality
Testing was carried out just after sunrise on a dull and overcast day. To make my opinions as objective as possible, I compared the view through this Kowa spotting scope with that of my 80mm benchmark scope, that I use for all my reviews. Both had 20-60x zoom eyepieces attached.
Image Brightness
In terms of image brightness, this Kowa is extremely impressive. To my eyes they were quite a bit brighter than my 80mm benchmark spotting scope at 20x and at 60x, which in a way was expected as the Kowa TSN-883 has a larger 88mm objective lens and far higher quality lenses and coatings.
More about Image Brightness & Low Light Performance
Good light gathering ability is important because quite often you will find yourself in situations where the lighting is sub-optimal, especially in thickly wooded or forested areas, early in the morning just before or at sunrise or late afternoon when most birds and other animals are at their most active. Scopes with larger objective lenses have the potential to take in more light and therefore have the potential to produce a brighter image.
You also need to take into account that the exit pupil will change depending on which magnification you are using - with the 80mm objective lens and a magnification set at 20x the exit pupil is 4mm, whilst at 60x it reduces right down to 1.3mm. With the Kowa and it's 88mm objective lens and the magnification set at 20x the exit pupil is an improved 4.4mm, whilst at 60x is 1.5mm.
But no matter how much light your spottingscope gathers, it is no good if that light is not passed onto your eyes (transmittance) and this depends hugely on the quality of the glass and optical coatings and not just the size of the objective lens. Good coatings on the lenses and the prisms can in some cases double the amount of light that gets through the scope, when compared to those that have none or poor quality coatings and as we have already discovered this Kowa used the best quality glass and coatings, so it is no wonder that it produces such a bright image.
Color Fringing
Kowa make a lot about the fact that they use fluorite crystal lenses in a achromatic lens design to limit the effects of chromatic aberrations (color fringing) and so I was expecting them to be excellent in this area. I was not disappointed, to check for any color fringing, I focus on light coloured and white objects sitting in front of a dark backgrounds and I could not see any color fringing at all at any magnification. Very impressive.
Softening
Using the 20-60x zoom eyepiece, there is a small amount of softening of the image at the edge of the view, but it is really not bad at all.
Contrast & Colour Reproduction
I thought that the amount of contrast was excellent, which really helps to make objects jump out at you and feel more three dimensional. The colors that are produced also look and feel natural and are as vivid as on any scope that I have ever used.
Overall the quality of the image produced was far superior to that of my entry-mid range benchmark and definitely has one of, if not the best views of any scope that I have had the pleasure to look through.
Rating for Image Quality: 9/10
Conclusion
Strong Points: Where to start! The body of the scope is excellent, made to a very high standard and is compact as well as very light for a scope with such a large objective lens. The glass used in the optics is as good as it gets, as are their coatings, which in turn produce one of the best quality images you can get.
Weak points? To be honest, there really are not any bad points, I just wish you could get all these excellent features at a cheaper price! But as they say - you get what you pay for and in the case of this spotting scope you are getting the very best.
Ideal Uses: With the 20x-60x Zoom Eyepiece, this scope is ideal for a variety of uses including birdwatching, general nature and wildlife observation, target shooting and the large 88mm objective lens means that you can even use it for casual astronomy. The scope also is ideal for digiscoping as it's transmittance and image quality is excellent. The duel speed focussing mechanism also makes it easier to get correctly focused when using a camera.
So to sum up, the Kowa TSN-883 is a fantastic scope and for my money one of the very best on the market.
More Information:
Kowa TSN 880 Series Spotting Scope Catalog (PDF - 1.03 MB)
Acknowledgements
I would like to thank Alpha Digital Services Ltd. the UK distributor of Kowa Spotting scopes and binoculars for sending the TSN-883 over to me to review. At this time, I would also like to make it clear that this and all the other reviews on this site are my opinion and are not influenced in any way by manufacturers, distributors or suppliers.