Tasco Binoculars Review
Tasco Introduction
Established in 1954 by George Rosenfeld, Tasco was originally known as the Tanross Supply Company and rather than an optics company, they initially supplied hardware and fishing tackle to the American market.
It was only later once they moved into the binocular and eyepiece markets that the Tasco brand was was introduced.
Tasco now have offices in the US, Canada as well as suppliers in Europe and as well as binoculars, they now also produce spotting scopes, monoculars, telescopes, rifle scopes, sights as well as related accessories.
Tasco Binocular & Monocular Ranges
Tasco mainly focus on the budget end of the market, supplying affordable mid and entry level binoculars and monoculars suitable for general use, birding, wildlife observation as well as marine uses:
Tasco Essentials Binoculars (Roof)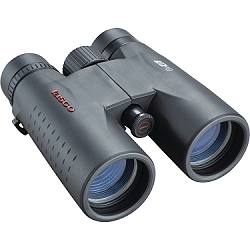 As the name suggests, the Essentials range from Tasco is a very low cost, entry level series that contains a very wide selection of models.
The roof prism sub-set contains about 15 individual models, with very small 21mm, compact 25mm, mid-sized 32mm and standard 42mm options in a variety of magnifications ranging from 4x, right up to a very powerful 16x.
Main Features
Fully Coated Optical Systems
Weather Resistant
Roof Prisms
Central Focus Wheel
Double Hinge Design On Compacts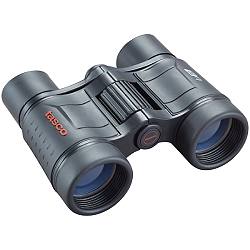 Tasco Essentials 4x30 Binoculars
For me one of the most interesting models in the series is the 4x30 Tasco Essentials binocular that has an incredibly wide 600ft field of view at 1000 yards!
Costing around $10, this lightweight, 30mm binocular with its wide view, very low 4x power, interpupillary adjustment of between 55 to 73mm and extremely low price level will make an ideal first time binocular for children as well as for adults with particularly unsteady hands.
Models & Specifications
From small hiker friendly Tasco mini binoculars, to compacts to high power, long range models, the roof Prism section of the Tasco Essentials series contains a very wide selection of configurations to suit most outdoor uses:
| | | | | | |
| --- | --- | --- | --- | --- | --- |
| Model | FOV | Eye Relief | Min Focus | Weight | Dim(in) |
| 8x21 | 383.ft | | 30ft | 5.8oz | |
| 10x25 | 288ft | | 30ft | 8.4oz | 3.6 x 4.4 x 1.8" |
| 12x25 | 241ft | | | 8.4oz | |
| 4x30 | 600ft | 14mm | 9ft | 6oz | 4.2 x 3.5 x 1.5" |
| 10x32 | 260ft | 10mm | 29.5ft | 11oz | 5.5 x 5" |
| 12x32 | 240ft | 10mm | 30ft | 11oz | 7 x 3.9 x 2.6" |
| 16x32 | 183ft | 9mm | 30ft | 12.4ox | 7 x 3.9 x 2.6" |
| 8x42 | 309ft | 16mm | 30ft | 25.7oz | 8 x 6 x 2.9" |
| 10x42 | 185ft | 16mm | 30ft | 25.7oz | 8 x 6 x 2.9" |

Price & Where to Buy
Prices of these cheap Tasco binoculars range from under $10 for the 4x30 model, to about $18 /£/€ for the 21mm compacts up to around $60 /£/€ for the full sized Tasco 10x42 binoculars:
Buy & Compare Prices for Tasco Essentials Binoculars
Tasco Essentials Binoculars (Porro)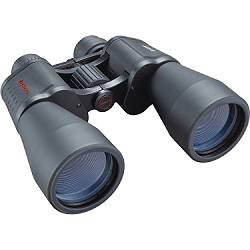 As well as their roof prism models, Tasco also produce a number of Porro prism models within their Essentials range. I have decided to separate them as apart from their price point, they are quite different.
For the most part, I think that these models offer wiser and better choice at this budget level as the simpler Porro prism design will almost certainly offer a better optical performance.
For more on why I say this, take a look at this article: Cheap Binoculars, Is a Roof or Porro Prism Best?
Main Features
Fully Coated Optics
BK-7 Porro Prisms
Polycarbonate Chassis
Central Focus Wheel
Right-eye diopters
Fold-down Rubber Eyecups
Some models are Tripod mountable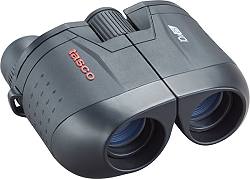 Tasco Essentials 10x25 Binoculars (Porro)
Whilst these may not be quite as small as the roof prism version, I think the simpler porro prism version of these 10x25 Tasco compact binoculars is for most users a wiser option, the main reasons for which I explain in the link above, but they also have a wider field of view and a closer minium focus distance.
For more on this and in particular how well a budget compact porro prism binocular can actually perform, take a moment to read my review of the similar configured Vortex Vanquish 10x26 Binoculars. Costing under $100, I think these offer the best performance to price ratio of just about any budget level compact that I have ever used.
Models & Specifications
From the compact 25mm compact to large 63mm models, the Porro prism selection of the Tasco Essentials series is almost as diverse as the roof prism ones. As a point of interest, the also make a couple of zoom binoculars, a compact 25mm option with a variable magnification of between 8x and 24x and the large Tasco Essentials 10-30x50 zoom binocular:
| | | | | | |
| --- | --- | --- | --- | --- | --- |
| Model | FOV | Eye Relief | Min Focus | Weight | Dim(in) |
| 8-24x25 zoom | 130-190ft | | 20-23ft | 10.22oz | |
| 10x25 | 320ft | | 18ft | 8.4oz | 3.6 x 4.4 x 1.8" |
| 7x35 | 470 | | 17ft | 21.5oz | |
| 7x50 | 360ft | | 15ft | 27oz | |
| 10-30x50 zoom | 64-192ft | | 25-45ft | 26.4oz | |
| 10x50 | 367ft | | 18ft | 27oz | |
| 12x50 | 262ft | | 18ft | 27oz | |
| 8x56 | 315ft | | 40ft | 33.8oz | |
| 9x63 | 280ft | | 40ft | 36oz | |

Price & Where to Buy
Prices of the Porro prism Tasco binoculars range from around $30 /£/€ to $60 depending on the model you select:
Buy & Compare Prices for Tasco Essentials Binoculars
Tasco Off Shore Binoculars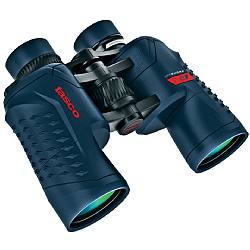 As these are currently the only binoculars that Tasco make that are o-ring sealed and thus waterproof, they decided to call them their "Off Shore" series, but to be honest unless you are going to be on very smooth waters, none of the four models within this series make ideal binoculars for marine use.
The closest is the Off Shore Tasco 10x42 binoculars pictured on the right, but marine specific binocular tend to have lower 7x magnifications to help keep the view steady and open up the field of view which makes scanning wide open areas of water easier.
With their nitrogen gas filled interiors, these Tasco Off Shore binoculars are also fog proof which is good.
Another difference between these and the other binoculars in the Tasco stable is that rather than having single anti reflection coatings on all glass surfaces, these are described as being Multi-Coated. This implies that they have multiple layer coatings, but on only some of the glass surfaces and not all. Ideally you want your binoculars to be fully multi-coated and one of the most important features to look for when buying binoculars.
Main Features
Multi Coated Optics
O-ring sealed: Waterproof
Fogproof - Nitrogen filled
Roof & Porro Prism Models available
Twist-Up Eyecups on Roof Prism Models
Fold-Down Rubber Eyecups on Porro Prism Model
Right Eye Diopter Adjuster
Models & Specifications
There are four Tasco Focus Free binoculars available, three compact 25mm roof prism models and a standard sized Tasco 10x42 waterproof binoculars that use Porro Prisms:
| | | | | | |
| --- | --- | --- | --- | --- | --- |
| Model | Prism | FOV | Eye Relief | Weight | Dim(in) |
| 8x25 | Roof | 362ft | 13.5mm | 10oz | 4.3 x 4.1" |
| 10x25 | Roof | 325ft | 9.3mm | 10oz | 4.3 x 4.1" |
| 12x25 | Roof | 273ft | 6.8mm | 10oz | 4.3 x 4.1" |
| 10x42 | Porro | 341ft | 16mm | 32oz | 7.6 x 6.1" |

Price & Where to Buy
Tasco Off Shore binoculars range in price from $35 /£/€ to $60 depending on the model:
Buy & Compare Prices for Tasco Off Shore Binoculars
Tasco Focus Free Binoculars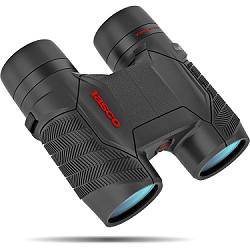 As the name implies, this small series from Tasco consists of three mid-sized models that are "always in focus" or focus free.
Sometimes rather confusingly and somewhat incorrectly referred to self focusing binoculars these instruments don't have a focus wheel and instead have a fixed focus with a really long depth of view that usually starts from about 40ft, right up to infinity.
This means that you don't have to make any focal adjustments at all, making them, more lightweight, easier to use and quicker to lock onto your subject. The downside is that these instruments usually have a really long minimum focus distance.
More expensive focus free binoculars will have a diopter adjuster on both eyepieces and so some adjustments to the focal distance can be made as well as ensuring that they will cater for users that have disparities in the vision between their left and right eyes. However these cheap Tasco binoculars do not have this feature.
Main Features
Fully Coated Optics
Focus Free
BK-7 Roof & Porro Prism Models available
Polycarbonate Chassis
Fold-Down Rubber Eyecups
Textured High-Grip Rubber Armoring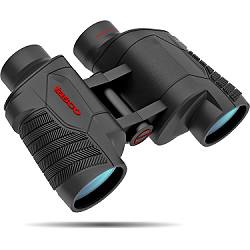 Tasco Focus Free 7x35 Binoculars
Of the three models available, the 7x35 Tasco Focus Free binocular stands out for me. The moderate 7x power means that you are presented with a very wide field of view and makes it easier to keep the image steady.
For these main reasons, and because you don't need to focus on nearby objects, focus free7x35 binoculars are often a common choice as marine binoculars. However as these are not waterproof, this may not be the ideal use for this pair!
Instead this pair, with it's wide view will probably better suit birders or wildlife observers who are on a very tight budget and wan an instrument that is really easy to just pick up and use and are not interested in nearby objects.
As a binocular for older kids, this may also make a good option for their lack of needing to make focus adjustments, wide view and low power will make it much easier for them to use.
Models & Specifications
There are currently three Tasco Focus Free binoculars, 8x25mm Tasco compact binoculars that uses a reverse reverse porro prism design and a couple of mid-sized binoculars: an 8x32 roof prism model and a 7x35mm porro prism instrument:
| | | | | | |
| --- | --- | --- | --- | --- | --- |
| Model | Prism | FOV | Eye Relief | Weight | Dim(in) |
| 8x25 | Reverse Porro | 330ft | 12mm | 9.3oz | 4.8 x 3.8" |
| 8x32 | Roof | 383ft | 12mm | 14oz | 4.9 x 4.6" |
| 7x35 | Porro | 488ft | 12mm | 20oz | 7 x 5.3" |

Price & Where to Buy
These budget instruments retail for around $40 /£/€:
Buy & Compare Prices for Tasco Focus Free Binoculars
Where to Buy Tasco Binoculars Monoculars & Scopes:
To check out the current prices of Tasco Monoculars, Spotting Scopes & binoculars in your country, check out the links below:
Tasco Binoculars on Amazon:
Tasco Contact Details:
Tasco USA
Address:
9200 Cody
Overland Park,
KS 66214-1734
Tel: 800 423 3537
Tasco Canada
140 Great Gulf Drive
Unit B Vaughan,
Ontario,
Canada
L4K 5W1
Tel: 800 361 5702
Tasco Europe
23, bis rue Edouard Nieuport
92150 Suresnes
France
Tel: +33 (0)1 41449480