Best Thermal Binoculars 2023
Binocular Reviews Home > Thermal > Best Thermal Imaging Binoculars
It was not that long ago that you had to join the military or an elite police force in order to use any sort of thermal imaging device.
Thankfully for us, this relatively new night vision technology is now readily available to the general public and whilst for most people the prices cannot be regarded as cheap, but they continue to come down as the level of competition between the increasing number of brands who enter the NV market increases.
So only a few years ago your choice of thermal imaging binoculars and bi-oculars was extremely limited, but now there is a good selection to choose from and so I decided that it was high time to take a look at what is out there and compare some of the best.
Please note that in this guide I will be recommending both binoculars and bi-oculars and whilst technically different, I have grouped them together for convenience and to make it easier to compare:
Bi-ocular vs Binocular - What's the difference?
One of the fist things you will notice when you start researching thermal optics where you can look through them with both eyes is that you are presented with both thermal bi-oculars and binoculars.
So what is the difference? Well a true thermal binocular has two objective lenses, that collect information from each of them, whilst a bi-ocular only has one objective lens, but has an eye-piece arrangement that allows you to look at the image it generates with both eyes.
These obviously both differ from thermal monoculars which only have one lens and you can only view the image with one eye.
The advantage of a true binocular is that with the same size lenses, it collects double the amount of information as a single lens this can lead to a higher quality image and better night vision. On top of this you get a better stereo effect for improve distance perception.
On the down side it costs more to make two lenses, which can in turn, but not always lead to a more expensive product. Binoculars are also often a little heavier as well.
The advantage of a bi-ocular over a monocular is that like a true binocular, it is much easier to see and use with both eyes and you get a much better, more immersive experience.
Ok, so now that we have that out of the way, lets get down to the selections:
BinoWizard's Best Thermal Binoculars 2023
The Best?
My choices as to what I believe are the top thermal vision binoculars for 2023 are based not only on the specifications and features, but I also took into consideration how much the unit costs.
It would be easy to say that a product with all the top features and latest components is the best and you maybe right. But they won't necessarily be affordable or good value.
So I guess strictly speaking these are actually my pics of the best thermal binoculars for the money:
First up is the very impressive and only true thermal vision binoculars on the list, the ATN BinoX-THD series:
With two large 50mm objective lenses, the BinoX THD series from night vision giants ATN are true thermal binoculars and thus are able to take in much more information than most bi-oculars.
This as well as the vast array of features (see below), makes the fact that they compete in price with almost all of them super impressive.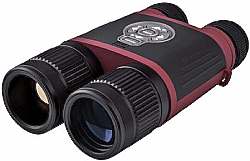 Main Highlights
Full HD Image & Video Recording
WiFi & Smartphone Control with App
Gyroscope Image Stabilization
MicroSD, Micro USB and Micro HDMI ports
Weather resistant not waterproof
Smooth Zoom
E-Compass & GPS Geotag
Battery: 3x CR123
Weight: 0.84kg / 1.85lbs
Dimensions: 8.2 x 5 x 2.3" (208 x 127 x 58mm)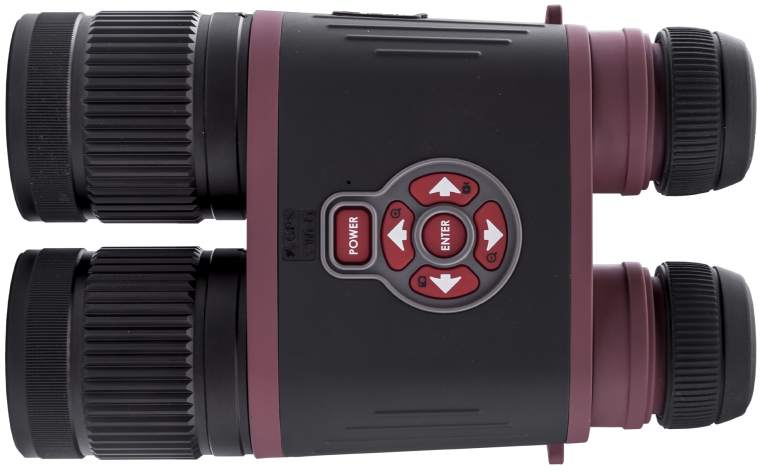 The ATN Thermal BinoX are available in two configurations, the 384x288 that has a zoom range of between 4.5x to 18x and the more powerful 640x480 with a 2.5x to 25x zoom range.
Power & Speed
Both models have ATN's own onboard Obsidian "T" computer system, which means that these heat sensor night vision binoculars not only enable you to see in complete darkness, but they also start up really quick, offer a lag free performance and can take in and record a bunch of other information as well:
Firstly they have image stabilization technology that ensures the best possible results when you record both images and video in HD (1280x960 at 30 fps).
This gyroscope image stabilization helps you to more easily spot game with a much more steady shake free view. There is also a GPS and Altimeter along with the built-in compass can tell you what direction to head in and you can geo-tag your location.
WiFi
The onboard WiFi along with the ATN app installed on your Android or IOS smartphone, tablet or other device means that you can control your thermal binoculars and view live streaming or look at the footage that you have recorded remotely!
Price:
As we have discussed the usual downside to a true binocular is the increased cost. But incredibly ATN have managed to keep the price down and these compete very well against most bi-oculars in this class. Depending on which model you choose, they range from about $3500 to $4800:
Check Current Price & Where to Buy
Next is the BHS-X Command Thermal Bi-ocular from FLIR.
Initially I was going to select their more popular model within this price range, the FLIR Scout BTS-X Pro, however I noticed that the BHS-X has number of better features, including a higher frame rate (30 Hz / 8 Hz vs 7Hz):
There are two models within this series of FLIR thermal binoculars, the BHS-X and the BHS-XR and both offer an improved frame rate when compared to their other similar option, the FLIR Scout BTS-X Pro.
This improvement is largely the reason why the BHS series is the choice of law enforcement agencies, whilst the Scout BTS series is aimed more for personal use. Which made sense when the prices were different, but I recently noticed that the price on these had dropped and which is why they are on this list.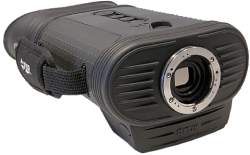 Main Features & Specs
Photo & Video Capture
Inter-ocular Adjustment
Record to SD or SDHC Card
Battery: 4 AA Batteries; NiMH, Li-Ion, or Alkaline
Waterproof: IP-67, Submersible
Weight 998g (without lens)
Dimensions: 280 x 165 x 67 mm (11.02 x 6.49 x 2.63")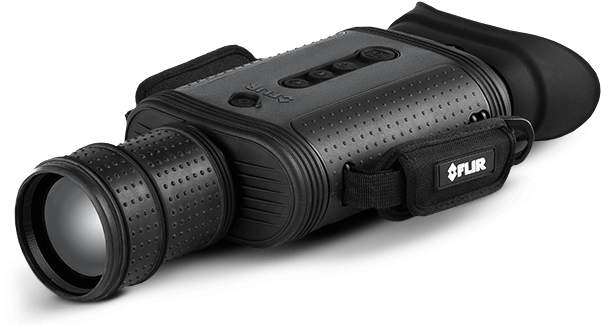 The BHS-X has a 320 x 240 VOx Microbolometer and a 2x digital e-zoom that FLIR states can detect a human about 2km from you, whilst the higher specification BHS-XR command has a 640 x 480 resolution and comes with 4x digital e-zoom and which extends the range to about 2.5 kms.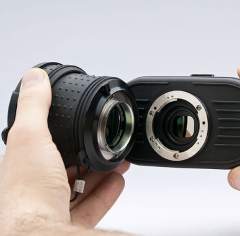 Interchangeable lenses
FLIR also offers 6 different lenses that can be purchased separately and which will either extend the view, or make it wider depending on your specific requirements.
Recording
Both models can record both still images and video, which are saved onto either a SD or SDHC Card.
Images are record in JPEG format, whilst video is in AVI, with the BHS-X command recording in 320x240 resolution, and the BHS-XR in 640 x 480.
Power
These units are powered via 4 Rechargeable AA NiMH Batteries that come included.
Price:
Depending on which model of thermal imaging binocular you choose, at the time of writing, these range in price from about $5999 to $6999:
Check Current Price & Where to Buy
Third on my list of contenders to the best value thermal binoculars is another bi-ocular, the Armasight Helios 336 3-12x42:
There is a huge selection within the Armasight Helios range, but I have decided to select the cheaper 336 models, to see how they compare against the others on this list.
There are two models within the Helios 336 sub-series, the cheapest has a frame refresh rate of 30 Hz, which matches the best FLIR models above and the second which is a little more expensive, but has a 60 Hz refresh rate which is really impressive, especially if you consider the price.
However what is really interesting though is the Armasight Helios 336 thermal binoculars both use the latest Tau 2 Thermal Imaging Camera Cores made by FLIR and are said to offer increased sensitivity (<30mK), and better 640/60Hz frame rates.
Main Features
Magnification: 2.8x / 3.4x
Waterproof
Battery: 2x CR123A (3V)
Lightweight: 0.81kg (1.80lbs)
Dimensions: 257 x 110 x 75mm (10.11 x 4.33 x 2.95")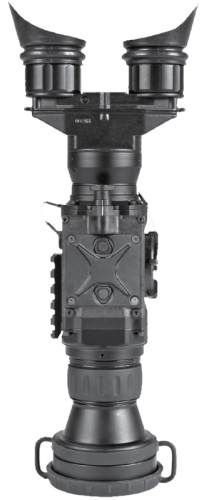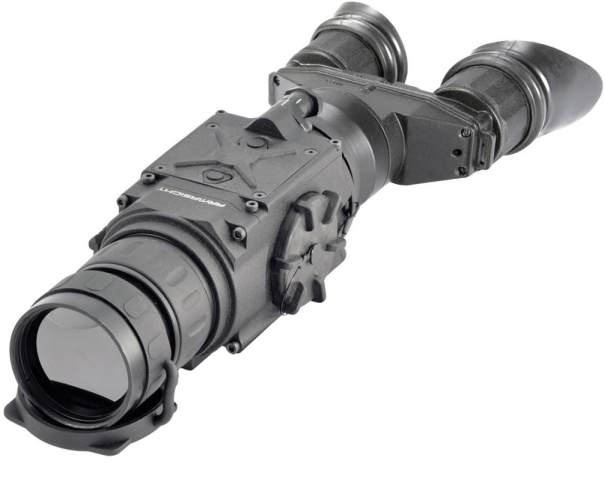 I like that it has a large 42mm objective lens, although it has to be said that this is still smaller than each of those on the ATN BinoX THD.
Magnification
Depending on the model you select you get an magnification of 2.8x / 3.4x and then on top of that a digital zoom of 1x, 2x and 4x.
Recording
Should you want to record video, you will have to invest in the optional digital video recorder with SD card slot which will set you back a further $295.
Water & Fogproof
Not only is this device waterproof, it is hermetically sealed and filled with nitrogen gas to inhibit internal fogging of the lenses.
Tough & Lightweight
It has a NC machined aircraft-aluminum alloy construction, yet is the lightest on this list and one of the lightest currently on the market.
So If you are looking for a tough take anywhere thermal binocular that does not cost the earth, then the Armasight Helios 336 could be a good option.
Price:
Ranging between $3995 and $4195, these Armasight Helios Thermal Imaging Bi-Oculars do look to offer great value, but should you want to record video, you need to factor in the extra cost.
Check Current Price & Where to Buy
Conclusion
At the moment and at the current price levels, I find it hard to look at anything past the ATN BinoX-THD.
A true binocular with more and better features and at a price that matches or beats all of the competition and which is why it is my choice as the best thermal binoculars for the money no question.
I would love to know your thoughts and which other devices I should take a look at and consider adding to this list. You can contact me via the link at the foot of this page.
Alternative Options
If your available budget does not quite extend out to affording a thermal binocular, you do still have a number of excellent options to explore:

Thermal Vision on your Smartphone
Whilst a thermal device designed for or into your smartphone may not be able to match high end binoculars, they are far less expensive and because you will always have it with you, can be a great way to get into themal imaging or use it as a backup or secondary device to use at home or around the camp: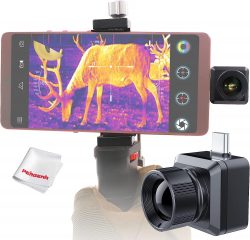 The least expensive option is by using something like the InfiRay Xinfrared T2 Pro Thermal Eye which consists of a separate thermal camera, an adapter and the necessary cable to connect it with your phone. You then use their App on your phone to display and record the thermal images it collects.
Another option is to get a dedicated smartphone that has an integrated thermal camera. The AGM G2 Guardian (pictured right) or the Cat S60 are good examples.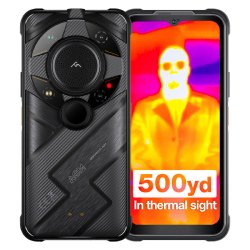 A dedicated smartphone integrated with thermal imaging capabilities offers several advantages over a thermal camera attachment for your phone:
Convenience: A dedicated smartphone with integrated thermal imaging is certainly more convenient to use as it eliminates the need for a separate thermal camera attachment that you need to carry with you all the time.

Always with you. You don't need to remember to bring the adapter and separate camera along with you and as most people will usually carry their phone wherever they go, an integrated option is always there ready to use and record

A More Seamless Integration: An integrated thermal camera is designed to work with the smartphone's hardware and software, which often results in a better overall user experience.

More Portable. A dedicated smartphone with an integrated thermal camera is usually less bulky, smaller and lighter than a separate thermal camera attachment on your phone, making it more portable and easier to handle.