Yukon Binoculars Review
Introduction to Yukon Optics
Established in 1998 Yukon Advanced Optics Worldwide is the result of two separate companies coming together. An optical trading company in Texas that included spotting scopes and binoculars and an optical manufacturing company based in the Republic of Belarus, which at that time was making mostly spotting scopes.
Since those early days and due to some early successes, the company has rapidly expanded and now have more than 800 employees. With a head office in Lithuania, Yukon Advanced Optics Worldwide also have branches in Belarus, Russia, the UK and China and have distributors in more than 70 countries worldwide.
As well as binoculars, Yukon Optics also produce monoculars, spotting scopes, rifle scopes and are a leader in the development of digital night vision devices and as well as Night Vision binoculars produce NV goggles, monoculars as well as Night Vision Riflescopes.
Yukon Binocular Range
In terms of their binoculars, Yukon Optics main focus is on the budget to mid level end of the market, producing binoculars and spotting scopes suitable for general use, birding, wildlife observation as well as marine uses.
A distinctive feature on all the current Yukon binoculars are their side shield style eyecups. Similar to those used on Steiner binoculars, I have found that they do an excellent job of blocking out light from the sides that can not only distract you, but spoil the view by reflecting off of the ocular lenses.:
Yukon Point Binoculars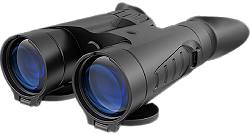 Yukon Optics most expensive range, the Point series consists of a small selection of roof prism models designed for a variety of outdoor sporting and security uses. This includes hunting and wildlife observation, birding as well as security and search and rescue optical and observation requirements.
Main Features
True Color™ multilayer lens anti-reflection coatings
Waterproof (IPX7) & Fogproof (Nitrogen)
Roof Prisms
Central Focus Wheel
Tripod Adaptable: ¼ Inch Mount
Supplied with Neck Strap, Carry Case, Lens Covers, Cloth & Manual.
Magnetic Flip-up Lens Covers
Side shield Eyecup design
Apart from the aggressive styling, two very distinctive as well as useful elements on these binoculars are the side shield eyecups and the flip-up lens covers. These are tethered to the undersides of the barrels using a hinge and so are easy to flip up where they are then held closed magnetically.
The IPX7 waterproof rating means they are guaranteed to remain watertight to a depth of 1 meter. The internal cavity inside the body is also filled with nitrogen which prevents the internal optics from fogging up.
Yukon Advanced Optics offers a three years warranty on their Point binoculars which begins from the moment of the first purchase or if you cannot find a receipt, from the date of manufacture.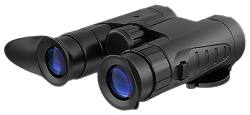 Models & Specifications
Initially Yukon Point binoculars were available in both 56mm and 42mm sizes, but it seems that whilst you can still find them listed on some online stores, the three 56mm models (8x56, 10x56, 15x56) may have been discontinued.
| | | | | | | | |
| --- | --- | --- | --- | --- | --- | --- | --- |
| Model | AOV | FOV | FOV | Eye Relief | Min Focus | Weight | Dim(cm) |
| 8x42 | 7.4° | 130m | 390ft | 21mm | 1.3m | 640g | 18х12.8х5.8 |
| 10x42 | 6.55° | 114m | 342ft | 16mm | 1.3m | 640g | 18х12.8х5.8 |

Price & Where to Buy
Depending on the exact model, these Yukon Point binoculars cost in the region of $200:
Buy & Compare Prices for Yukon Point Binoculars
Yukon Sideview Binoculars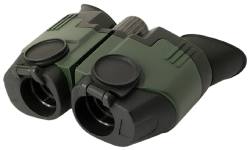 Currently only consisting of two different models the series of Yukon Sideview binoculars is small in more than one way in that it is also contains their only offering of compact sized instruments.
Available in either 8x or 10x magnifications, they use Porro prisms, which I think is for the most part is a good thing as you generally get a better performance than equally priced roof prisms at this lower price point (More here: Cheap Binoculars, Is a Roof or Porro Prism Best?).
However despite their use of really small 21mm lenses the body shape that results from these prisms is not quite as compact as that can be achieved with a roof prism (there is always a trade-off in optics!).
So whilst these are compact yes and will definitely fit into a large jacket pocket, there are smaller options out there. For more on this be sure to take a look at my guide on the Best Pocket Binoculars.
Main Features
Central Focus Wheel
Right-eye diopter
Fold-down Rubber Eyecups with EyeShields
Flip-up lens Covers
Rubber Armor Exterior
With these Yukon binoculars, it is what the manufacture does not highlight or mention in their list of features that is more important than what they do. Firstly there is no mentioning of any sort of o-ring seals, weatherproofing or filling with nitrogen or argon gas, so I will assume that these binoculars are neither water or fog proof.
In the manual, Yukon Optics do mention that these use "anti-reflective coatings", but do not elaborate as to how many of the elements contain them, so I will assume that they are not fully multi-coated as they do not highlight this point as most would.
Models & Specifications
| | | | | | | |
| --- | --- | --- | --- | --- | --- | --- |
| Model | AOV | FOV | Eye Relief | Min Focus | Weight | Dim(in) |
| 10x21 | 6.5° | 288ft | 7.5mm | 23ft | 6.7oz | 4.8 x 3.9 x 17" |
| 8x21 | 7° | 393ft | 10mm | 16.4ft | 6.7oz | 4.8 x 3.9 x 17" |
Yukon Sideview 8x21 Binoculars
Of all their specifications, the wide viewing angle of 7° stands out for me. This translates to a field of view that is about 130m wide at a distance of 1000m or 393ft @1000 yds, which for an 8x compact is very good.
Making it easier to quickly locate and then follow any action, this wide view is ideal for uses like birding and most outdoor sporting events.
In sharp contrast to this, the minimum focus distance is very long and thus i would not recommend these as a good Butterfly Binoculars or indeed as an instrument to take along to the museum.
The amount of eye-relief that you are usually supplied with on a compact is usually far less than what you get on a full sized instrument and these are certainly no exception. At 10mm this is fine for most people, but will not be enough if you wear glasses.
As with most compact binoculars, the small 21mm lenses on these Yukon 8x21 Sideview binoculars means that they will definitely not perform at their best in low light conditions.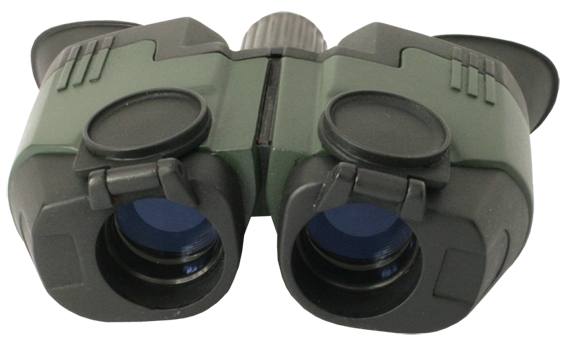 Yukon Sideview 10x21 Binoculars
The main point of these reasonably powerful Yukon Sideview 10x21 binoculars is to provide you with greater image detail at longer distances.
However, just keep in mind that there are a number of trade-offs to this. Firstly the field of view on these 10x compacts is far narrower than that which you get on the 8x version. It also results in a small 2.1mm exit pupil, and so whilst no compact works well in low light, these are most certainly not going to be a good choice of binocular in low light conditions.
Lastly, the 7.5mm of eye-relief is very much on the short side. Thus should be ok if you don't wear glasses, but is certainly not enough if you do need your glasses on whilst using your instrument.

Price & Where to Buy
These Yukon Sideview binoculars cost around $50 /£/€ to $80, which is cheap, but I do feel that for the same amount of money or you can do better. Be sure to check out my Compact Binoculars section that has a number of guides to the Best Budget Compact Binoculars.
Buy & Compare Prices for Yukon Sideview Binoculars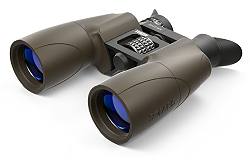 Of all the binoculars produced by Yukon Sport Optics, the Solaris range contains the most models and is certainly the most interesting to me and depending on which configuration you choose, I can see them being a useful budget level binocular in a wide range of uses that as well as general uses will include binoculars for marine use and astronomy binoculars.
For more be sure to read my in-depth Yukon Solaris Binoculars Review, that goes into detail on all the models and their ideal uses.
Main Features
Multi Coated Optics
Alloy Chassis with Rubber Armor Exterior
Waterproof (IPX6 rating)
Fogproof - Nitrogen filled
Porro Prisms
Fold-down Rubber Eyecups with EyeShields
Right Eye Diopter Adjuster
Tripod Adaptable
Quick Detach Lens Covers
Models & Specifications
There are currently five different Yukon Solaris binoculars, all of which have reasonably large 50mm lenses and range in magnification from 7x right up to 20x:
| | | | | | | | | |
| --- | --- | --- | --- | --- | --- | --- | --- | --- |
| Model | SKU | Prism | AOV | FOV | Min Focus | Eye Relief | Weight | Dim(in) |
| Solaris 7x50 WP | 22201 | Porro | 6.5° | 114m | 4m | 30mm | 35.3oz | 8.6x7.6x x 2.6" |
| Solaris 10x50 WP | 22202 | Porro | 6° | 105m | 5m | 17mm | 35.3oz | 8.6x7.6x x 2.6" |
| Solaris 12x50 WP | 22203 | Porro | 5.3° | 92m | 6m | 12mm | 35.3oz | 8.6x7.6x x 2.6" |
| Solaris 16x50 WP | 22204 | Porro | 5.1° | 70m | 6m | 10mm | 35.3oz | 8.6x7.6x x 2.6" |
| Solaris 20x50 WP | 22205 | Porro | 4° | 55m | 6m | 10mm | 35.3oz | 8.6x7.6x x 2.6" |

Price & Where to Buy
Yukon Solaris binoculars range in price from $99 /£/€ to about $200 depending on the model:
Buy & Compare Prices for Yukon Solaris Binoculars
Yukon NRB 30x50 Binoculars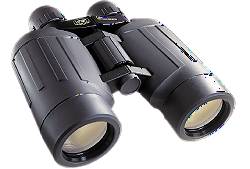 Sporting a massive 30x magnification, the Yukon 30x50 NRB binoculars are obviously designed for very long distance observation and for those interested in astronomy in particular.
Yukon Advanced Optics describe their NTB binoculars as having a "Newtonian reflector optical system" which is curious as this method is in my experience only found in telescopes, where mirrors are used instead of prisms.
They go on to say that the use of the Newtonian reflector enables the NRB 30x50 binocular to "estimate unequal distances between the target objects". Which I am not entirely sure what that means?
I would love to know more and get my hands on a pair, but unfortunately, Yukon doesn't expand upon this statement and as of yet I have not had any contact with them.
Obviously with such a high power a tripod is essential and as you would expect, the Yukon NRB 30x50 binocular is easily attached to a tripod using a standard tripod adapter and indeed as far as I can ascertain they come with one included.
Main Features
Fully Multi-Coated Lenses
Water Resistant (Not Waterproof)
"Newtonian Optical System"
Central Focus Wheel
Right Eye Diopter
Tripod Adaptable
Models & Specifications
| | | | | | | | |
| --- | --- | --- | --- | --- | --- | --- | --- |
| Model | Prism | AOV | FOV | Min Focus | Eye Relief | Weight | Dim(cm) |
| NRB 30x50 WP | Newtonian | 1.8° | 32m | 25m | 12mm | 39oz | 20.4х21х8.5 |

Price & Where to Buy
Yukon NRB 30x40 binoculars cost about $180 /£/€:
Buy & Compare Prices for Yukon 30x50 Binoculars
Where to Buy Yukon Binoculars, Monoculars & Scopes:
To check out the current prices of Yukon Monoculars, Spotting Scopes & Binoculars in your country, check out the links below:
Yukon Binoculars on Amazon:
Yukon Contact Details:
Yukon Advanced Optics Worldwide
Address:
LT-06326, Vilnius, LITHUANIA Ateities str. 21C
E-mail: yukon [at] yukonopticsglobal.com