Zhumell Astronomical Binoculars
Zhumell are pobably best known for their binoculars for astronomy, these binoculars have been specifically designed for looking at the stars and other celestial objects in the night sky. Zhumell offer three differnt models of these giant binoculars:
Zhumell Astronomy binoculars:
Tachyon 25x100 binoculars
20x80 SuperGiant binoculars
Parallax 25/40x120 binoculars
Zhumell Tachyon 25x100 Binoculars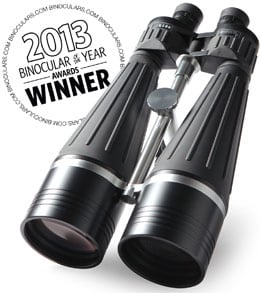 Winner Binoculars.com's Best Astronomy Binocular 2010, 2011 and 2013!
The Tachyon 25x100 Astronomical binocular has a rugged metal construction and comes with a powerful 25X magnification and large 100mm objective lenses and a built-in tripod adapter. This amount of power is more than enough to pick out craters on the moon, features on the planets and even good views of interstellar objects.
What is also interesting is they accept the standard, 1.25-inch astronomical filters to enhance your views of the Moon, planets nebulae and other celestial bodies. Other features include fully multi-coated lenses, quality BAK-4 prisms, individual focus for precise adjustment. They are fully waterproof and nitrogen-purged to prevent any fogging up. They're also backed by Zhumell's 25-year warranty.
Price Range
The Tachyon 25x100 Astronomical binoculars have a list price of $595, but you can get them now on most binocular websites including Binoculars.com for under $220:
---
Zhumell 20x80 SuperGiant Binoculars
Winner of Binoculars.com's Best Astronomy Binocular 2012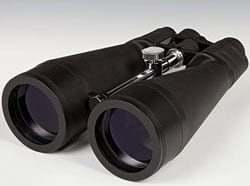 Whilst these SuperGiant astronomy binoculars have smaller objective lenses (80mm) than the Tachyon binoculars from Zhumell, this does mean that they weigh in at just 4.4 pounds, meaning they are small and light enough to use in the field, but of course are best mounted to a tripod and they come with a built in tripod mount that takes any standard photographic tripod for longer periods of observation.
High-performance features include: fully multi-coated optics and BAK-4 prisms, and custom adjustment with center and right diopter focus knobs. They have an extra-large field of view with crystal clarity from edge to edge; Ultra-smooth center focus that's easy to operate, allowing you to pinpoint your subject, Right diopter adjustment so you can fine-tune your viewing.
They are perfect for lunar viewing, locating deep space objects, or super-long range terrestrial viewing.
Price Range
The 20x80 SuperGiant Astronomical binoculars have a list price of $199, but are available on may binocular websites including Binoculars.com for under $100, which i think is fantastic value for money: