Athlon Optics
About Athlon Sports Optics
Proudly American, Athlon optics main stated aim is to deliver higher-grade sports optics and accessories for the outdoor market.
These products include Binoculars, as well as Spotting Scopes, Riflescopes, Red Dot Sights, Rangefinders and related accessories like tripods, binocular tripod adapters and a binocular harness.
Athlon Optics say that they are able to offer their products at very competitive prices because of their close connections with "quality manufacturers" and a "streamlined fully integrated supply chain". It is in this way that they are not only able to keep manufacturing costs to a minimum, but also remove some layers associated with a more traditional supply chain.
Athlon also state that one of their main strengths is in engineering design and that they work very closely with their manufacturing partners using only the highest level of precision CNC machines, superior lens polishing and advanced equipment for optical coating.
Athlon Binoculars
At this time, Athlon Optics have six ranges of binoculars on the market, each of which are available in a range of different size and magnification options. All aimed at the outdoor enthusiast and which range in price from the entry level NEOS starting with a MSRP of $89, right up to the high end CRONUS that have a MSRP of between $586 and $599 depending on which model you select:
Athlon's Range of Binoculars:
Athlon Midas Binoculars
Athlon Talos Binoculars
Athlon Neos Binoculars
Athlon Cronus Binoculars
The great looking Cronus series is Athlon's very high end offering and indeed is at the moment, the flagship series within their range.
Only produced with 42mm objectives, they currently offer either a 8.5x or 10x option.
As you would expect these very high end optics come with a range of super quality components and features, the ones that stand out for me include:
Optical Highlights
Field flattener lenses which Athlon call their E2ES lens system. These are designed to correct field curvature and thus ensure that the view remains sharp from the center right to the edges and is a definite step-up from many optics out there.
ED (extra-low dispersion glass) elements in their lenses that are designed to reduce chromatic fringing.
Dielectric Prism Coatings - increased brightness and image quality as these very special coatings are able to reflect more than 99% of the light that hits them. Note Athlon call this their ESP Dielectric Coating, but you can find them on other very high end optics.
The Prisms are also made from Bak-4 glass and are phase corrected.
As you would expect the optics are full multi-coated with anti-reflection coatings and Athlon have also added a very hard exterior coating to their optics to protect against marking and scratching which they call their XPL Coating (Xtra Protective Layer coating)
These fantastic quality optics are protected in a Magnesium chassis, that is both water and fogproof and with small upgrades like a lockable diopter ring, shows a great attention to detail.
Models & Specifications
10x42 Cronus
8.5x42 Cronus
| | | | | | |
| --- | --- | --- | --- | --- | --- |
| Model | FOV | Eye Relief | Min Focus | Weight | Dim |
| 10x42 | 338ft | 19.3mm | 6.6ft | 33oz | 6.3 x 5.1" |
| 8.5x42 | 399ft | 19.3mm | 6.6ft | 33oz | 6.3 x 5.1" |

Prices & Where to Buy
These very high spec'd bins have a MSRP of $599-$586, but I found that they are now available for considerably less - at the time of writing, $489 for the 8.5x42 Cronus and $499 for the 10x version on Amazon:
Athlon Ares Binoculars
Sitting just under the headlining Cronus series, is the Athlon Ares series of binoculars that still offer an incredible performance with almost all the same features (apart from the field flattener lenses), but at a lower price point.
However the Aries also offers a wider field of view which will be of great interest to many users including hunters and birders, but with the trade-off being a slight loss in the amount of eye-relief and close focus distance.
Also like the Cronus, these Ares binoculars also have a magnesium chassis, but this time they have opted for an open bridge design, which offers a number of advantages, including weight saving and freeing up more of the barrels to hold onto for a more secure grip.
Main Highlights
Fully Multi-Coated Optics
ED Glass
Dielectric Coated Bak-4 Roof Prisms
Phase Correction Coatings
Athlon's XPL Coating (Xtra Protective Layer coating)
Water & Fogproof Magnesium Open Bridge Chassis
Available Models:
Athlon also offer the Ares in a wider range of size and magnification options as they now include mid-sized 36mm versions, which will appeal to those wanting a more compact and lightweight instrument:
8x42 Ares
10x36 Ares
8x36 Ares
| | | | | | |
| --- | --- | --- | --- | --- | --- |
| Model | FOV | Eye Relief | Min Focus | Weight | Dim |
| 10x42 | 341ft | 14.7mm | 8.2ft | 29.8oz | 6.7" x 5.2" |
| 8x42 | 426ft | 16.5mm | 6.5ft | 29.8oz | 6.7" x 5.2" |
| 10x36 | 351ft | 13.9mm | 8.2ft | 24.9oz | 6.1" x 4.9" |
| 8x36 | 405ft | 14.9mm | 6.5ft | 24.9oz | 6.1" x 4.9" |

Prices & Where to Buy
Depending on the model, the mid-to-high range Ares series have a recommended price of between $479-$429, however as with the others, their current retail price is much lower. For example I spotted the Athlon Ares 8x36 ED Binoculars on Amazon for only $360, which to me looks to be excellent value. For current prices in your country, check the link below:
Athlon Argos Binoculars
One of Athlon's mid range options is the Argos series, that still offer a very high level of components and thus a great performance, but at a price point that will appeal to those on a tighter budget.
Where these differ from the higher specification models above and where Athlon have been able to make savings in the production costs include the use of what I think is a polycarbonate chassis instead of a magnesium one. Whilst this is cheaper to produce and arguably not quite as robust as magnesium ones, the advantage is that it is more lightweight, so it is not all bad.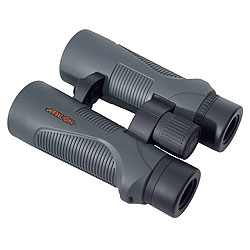 Athlon Argus binoculars are fully multi-coated, but they do lack the ED glass elements that you find on the Ares and the Cronus. However and rather incredibly, you still get the same phase corrected Bak-4 prisms with their dielectric coatings, which at this price point is rare.
Models & Specifications
Also well worth noting is that the Argos series contains standard 42mm models, semi-compact sized 34mm models and large 50mm versions for those looking for either an improved brightness and low light performance or a higher powered device for long distance observation:
12x50 Argos
10x50 Argos
10x42 Argos
8x42 Argos
10x34 Argos
8x34 Argos
| | | | | | |
| --- | --- | --- | --- | --- | --- |
| Model | FOV | Eye Relief | Min Focus | Weight | Dim |
| 12x50 | 257ft | 16mm | 13ft | 29.5oz | 6.8"x 5.6" |
| 10x50 | 304ft | 17mm | 13ft | 29.5oz | 6.8"x 5.6" |
| 10x42 | 319ft | 16.1mm | 13ft | 24.6oz | 5.7"x5.3" |
| 8x42 | 371ft | 17.3mm | 13ft | 24.6oz | 5.7"x5.3" |
| 10x34 | 314ft | 16mm | 13ft | 16.3 oz | 5.1"x4.9" |
| 8x34 | 371ft | 17.4mm | 13ft | 16.3 oz | 5.1"x4.9" |

Prices & Where to Buy
The Argos series have a MSRP of between $279 and $209 depending on the model At the time of writing, I found them ranging in price from between $169 and $230 in the US and £520 and £600 in the UK. Check the link below for current prices in your country:
Where to Buy Athlon Binoculars:
Athlon Binocular Reviews
Below are some featured and fully reviewed Athlon Binoculars: View >> All the Athlon Binoculars that I have reviewed.
These mid range, open bridge 8x42 Argos binoculars from Athlon Optics boast features like FMC optics and BaK4 roof prisms that have both Dielectric and Phase correction coatings.

Indeed they Use exactly the same very high level optical coatings as more expensive binoculars from Athlon, which at this price is super impressive.

Price: (3/6) Mid Priced Binoculars
BBR Ratings:
Body Quality:
7/10

75%




Excellent

Body Stats:
7/10
Optical Quality:
8/10
Optical Stats:
8/10
Image Quality
8/10
Extras & Details:
7/10
Mid to high end binoculars from Athlon that include many of the components and coatings found on the very best high end optics:

A fully water and fog proof chassis that is made from magnesium protects a Fully Multi-Coated Optical system with ED glass elements, BaK-4 phase corrected and dielectrically coated roof prisms...

Price: (4/6) Mid-High Value Binoculars
BBR Ratings:
Body Quality:
8/10

80%




Outstanding

Body Stats:
7/10
Optical Quality:
9/10
Optical Stats:
8/10
Image Quality
9/10
Extras & Details:
7/10
View >> All the Athlon Binoculars reviewed on BBR.
Athlon Binoculars on Amazon:
Contact Athlon Optics:
USA
Tel (Toll free) 1-855-913-5678
14308 W 96th Terrace
Lenexa, KS 66215