> Binocular Bags & Cases
There are often times when you want or need to take more than just your binoculars with you out in the field.
In this section, I take a look at some of the best purpose made binocular and bird watching bags as well as camera backpacks and bags that work very well with your binoculars and other equipment that are most commonly used.
Carson BinoArmor Binocular Case - This simple but very clever binocular case is designed to protect your binoculars indoors and out in the field, because unlike traditional Binocular Cases, the Carson BinoArmor Binocular Case wraps around your optics and allows for extremely quick and easy binocular access, is virtually impervious to the elements, eliminates the need for lens caps and rain guards and works with standard neck straps or a binocular harness.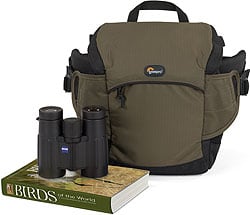 Lowepro Field Station Belt Pack - Designed for birders in particular but ideal for any wildlife enthusiast or researcher. This compact bag will not only enable you to carry your binoculars, but it comes with a "shelf" than makes reading from and writing in your bird book, field guide, sketchbook or notebook really simple when out in the field. It can also be used to carry and use your iPad or other tablet type computer.