Binocular Reviews Home > binocular accessories
As well as many universal options, most of the big brands like Vanguard, Vortex, Swarovski, Nikon, Zeiss and Steiner have a selection of accessories for your binoculars designed to improve performance or enhance the enjoyment of your optics.
In this section I will go through some of the different binocular accessories available, explaining what they do and if they are worth getting as well as more specifically reviewing and testing individual products that will hopefully make your decisions easier.
Tripods for Binoculars & Spotting Scopes
Once you have attached some sort of tripod adapter to your optics, they can then be mounted to most standard tripods. Some binoculars, especially those to be used for astronomy have specific requirements when it comes to the tripod and its head. So in this section I take a look at some of the best tripods and tripod heads as well as the most suitable tripods for binoculars and spotting scopes. >>
My Best Tripod for Binoculars: Astronomy & Terrestrial Surveillance
In this guide, I go over my favorite tripod setups that I use with my binoculars. It includes advice for both land based observation as well as for looking up into the sky for uses like stargazing at night and plane spotting during the day. In it I explain what tripods I use and why as well as tripod adapters and tripod heads.
Bresser BX-5 PRO Tripod Review - My full review of this excellent tripod with a ball/pan-handle head combination from the German brand Bresser: For sure the best tripod I have used when it comes to mounting a spotting scope and using with a camera to make videos. Also excellent for use with large astronomy or high powered long distance binoculars for terrestrial use.
MOVO GH1000 Gimbal Tripod Head Review - Especially when it comes equipment like heavy, large spotting scopes, it is hard to beat the freedom you get from the weightless setup of a good Gimbal head. However as you can read in this review of the high end Movo Gimbal head, for use in a static location, I also really enjoy using it with high powered binoculars.
Vanguard ABEO Pro 283CGH Tripod Kit - This kit includes the Vanguard Abeo Pro 283CT tripod and the excellent Vanguard GH-300T Pistol Grip ball head and is not only ideal for traditional photography, but digiscoping, quickly and accurately aiming your spotting scope and for comfortably positioning and directing your astronomy binoculars towards the heavens.
Vanguard Alta Pro 263AT Tripod - Brilliant general use and ideal tripod to use with binoculars for astronomy or plane spotting binoculars.
Similar in concept to a tripod, except this time instead of three legs, your binoculars are attached to a steady base using a clamp. As their name suggests, Vehicle window mounts easily turn your car into a mobile hide. But they are also versatile enough to attach your binoculars, spotting scope or camera to far more objects including railings, branches or even the deck rails at a hide. >> Car Window Clamps
By using a binocular tripod mount or adapter you can very easily attach you binoculars to a tripod, monopod, window or hide clamp. This can be very useful if you use high power binoculars, have unsteady hands, want to take photos through your binoculars (digibinning) or if you just want to set up your binoculars in a location and keep them there for quick access.
Most binoculars that can accept an adapter uses a standard screw thread, but there are a few exceptions. There are also adapters and clamps that you can use for binoculars that don't accept a screw thread. >> Binocular Tripod Adapter & Clamp Guide.
The humble neck or shoulder strap is one of those binocular accessories that often goes unnoticed, that is unless you either have an excellent one, or like many that come with mid and lower end optics, a poor one.
Luckily for us this is one accessory that can be upgraded relatively cheaply.
In this guide I go through what exactly makes a great neck strap, some of the best ones that I have encountered through the years and where you can get one to #PimpYourBinoculars for improved comfort and usability: >> Binocular Neck & Shoulder Strap Guide.
Sometimes called binocular suspenders, a bino harness can be a very comfortable and convenient way to carry your binoculars for hours. A good harness strap spreads the weight of your binoculars across your shoulders for more relaxed viewing and can keep your binoculars from jostling around as you walk freeing up the use of your hands.
Many brands now offer their own version of a binocular harness, some are great, some not so great. I this guide, I will take a look at some of the most popular and review to fin out which are the best: >> Binoculars Harness Guide.
No matter how careful you are or how good the coatings are on your lenses, they will eventually get dirty and or have smears and smudges that will impair your view. Most quality brands supply you a special micro-fibre cloth with your binoculars, but for the best results and to protect your investment, you should use a special lens cleaning kit. The best have pre-moistened, non-abrasive microfiber optical cleaning cloths, specially formulated lens-cleaning fluid to get lenses sparkling clean without harming delicate surfaces and coatings, flexible lens brush with bellows and absorbent cleaning tissues.
>> How to Clean your Binoculars & its Lenses
>> Optic Lens Cleaning Cloths & Kits
Digibinning & Camera Adapters
If like me, when you see something fantastic through your binoculars, you immediately want to be able to capture it to look at again later or share with friends.
Digital Camera Binoculars have been around for a while, but because of the technical difficulties have never produced what I would call acceptable results.
The alternative is called Digibinning, where you use an adapter to connect your camera to your binoculars take photos through an eye-piece. There are a number ways this can be done:
Highly Recommended:
SnapZoom Universal Digiscoping Adapter - Unlike many universal adapters that are primarily designed for the use with a spotting scope, the SnapZoom and it's twin jaws is developed to work perfectly with your binoculars for digibinning, but then with it's ingenious counter balance arm, also switches seamlessly to a digiscoping adapter that works with spottingscopes, telescopes and even microscopes.

Snypex X-Wing Universal Smartphone Adapter - For use with both spotting scopes and binoculars, this tough and very robust adapter from Snypex Optics will securely accommodate almost any smartphone on the market. One of the very best that I have used.

Carson Universal Optics Adapter - Read my full review of this highly versatile adapter that allows you to use almost any smartphone on the market to take photos through almost any optical instrument including binoculars, telescopes, spotting scopes, night vision devices and even microscopes!

Alternatives:
Kowa TSN-IP4S iPhone Adapter - Take photos and videos with an iPhone though your binoculars or spotting scope
Meopta MeoPix iScoping Adapter - Meopter adapter for taking photos with your iPhone through your binoculars
Digibinning with Swarovski EL's & Snapshot Adapter - Swarovski have what they call their Snapshot Adapter which allows you to attach most compact cameras to their EL Binoculars
The best specialised marine binoculars come with a floating strap that will prevent your binoculars from sinking, should you drop them overboard. But what if you have lost yours or if you already have a pair of binoculars suitable for marine use, but don't have a strap. the good news is that you can buy these as an accessory. Take a look at my guide to the >> Best Binocular Floating Straps.
Binocular Bags & Cases
There are often times when you want or need to take more than just your binoculars with you out in the field.
In this section, I take a look at some of the best purpose made binocular and bird watching bags as well as camera backpacks and bags that work very well with your binoculars and other equipment that are most commonly used.
Carson BinoArmor Binocular Case - This simple but very clever binocular case is designed to protect your binoculars indoors and out in the field, because unlike traditional Binocular Cases, the Carson BinoArmor Binocular Case wraps around your optics and allows for extremely quick and easy binocular access, is virtually impervious to the elements, eliminates the need for lens caps and rain guards and works with standard neck straps or a binocular harness.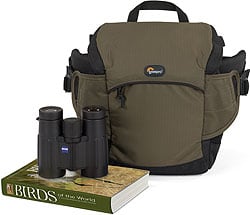 Lowepro Field Station Belt Pack - Designed for birders in particular but ideal for any wildlife enthusiast or researcher. This compact bag will not only enable you to carry your binoculars, but it comes with a "shelf" than makes reading from and writing in your bird book, field guide, sketchbook or notebook really simple when out in the field. It can also be used to carry and use your iPad or other tablet type computer.
EyeShields
These EyeShields from Field Optics Research are a cheap and simple accessory that attaches to the eyecups of your existing binoculars (or scope) and blocks out all ambient light to improve their performance.
Read my full review of the Field Optics Research EyeShields >>
Hide Clamp/Mount
A hide clamp is very similar to a window clamp, except as the name suggests they they have been specifically designed for the use in hides. The main differences are that their height is usually adjustable and the clamping mechanism is designed to be attached to horizontal surfaces like table tops. As their name suggests, a hide mount is an ideal accessory when using binoculars, spotting or fieldscopes in hides, or at bird or wildlife parks and sanctuaries for example. It is also just as useful for mounting digital SLR cameras (particularly with telephoto lenses) or high magnification binoculars whist in a hide. >> Hide Mounts (coming soon).
Books
Incredibly there are some people who don't want to read everything on their computer screen and prefer a book instead!
I'm kidding of course and there are some really great printed as well as digital publications out there on sport optics and binoculars in particular in a whole range of categories from astronomy and stargazing to birdwatching and hunting to what are the best binoculars to observe butterflies with.
Other Gear I Use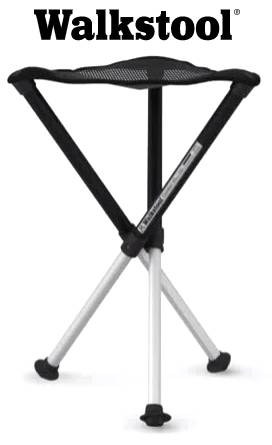 The Best Lightweight, Portable, Folding Stool?
Continuing on with my series of articles and reviews on the gear that I actually use, be that directly related to binoculars, the equipment I use to take photographs for BBR, recording gear I use for the my YouTube channel or indeed the interests and activities that I enjoy relation to binoculars like birding, hiking, and camping, in this article, I test and review the Walkstool Comfort, a portable Stool that has become an invaluable tool in my arsenal.
Made from aluminum the legs are both lightweight and strong. The triangle shape formed by the mesh seat adds to the integrity. Indeed Walkstool claims that their Comfort stools can take a maximum load of up to 250 kg / 550 lbs depending on which model you choose...


Partly as a gift for my daughter and partly because I wanted to spend more time with her working on a project together and partly because I am always on the lookout for better views and indeed better images of birds, we decided to get ourselves an IP Bird feeder camera.
In this article/review I go over the reasons why we chose to get a wired IP camera that can be used on a feeder as well as in a nesting box, how we set up the system, video footage of what we have so far achieved and why I believe it makes an excellent gift for just about anyone interested in birds.