When the guys at Athlon Optics reached out to me and asked if I would be interested in reviewing another one of their binoculars, I had no hesitation in firstly responding in the affirmative and then secondly I knew exactly which model I wanted to get my hands on:
Athlon Midas Binoculars
To start with I knew it had to be a model from the Midas series because it is a range that really intrigues me:
In terms of their RRP price, Midas binoculars sit third in line behind Athlon's Cronus and Ares binoculars. The intriguing part for me is that despite being quite a bit cheaper, they still share many of the components and features used on the "higher specification" ranges and which is why I put the Midas as being the Best Athlon Binoculars for the Money and so by actually testing a pair, I can put this theory of mine to the test.
Next, I knew I wanted to review the 12x50 Athlon Midas binocular in particular as it has been a while since I have had the opportunity to review a high 12x power binocular designed primarily with terrestrial (not astronomy) uses in mind. I knew from looking at the specifications and at Athlon's marketing that these are primarily aimed at being High Powered Binoculars for Hunting or indeed for long distance wildlife or nature observation. I can also imagine them as being an ideal pair for looking out to sea from your balcony as well as many other long-range uses.
So without further ado lets begin and to see if the Athlon 12x50 Midas Binoculars do indeed live up to my hopes and expectations for them:
Athlon Midas 12x50 Binocular Review
Main Points:
The Body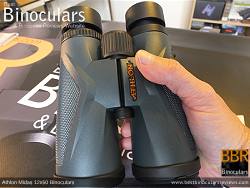 Design
Despite their larger 50mm lenses, these Athlon Midas 12x50 binoculars don't look or feel that dissimilar to your standard 42mm roof prism binocular that most people will be used to.
The barrels are obviously a little larger in diameter near the ends to accept these larger lenses, but they then taper down towards the eyepieces which are the same as that which you get on the 42mm models.
The single bridge is relatively narrow and positioned slightly closer to the ocular lenses than the objectives. This helps with balance and as a result, these binoculars feel great in the hands even during long periods of observation.
One aspect that I really like is that the objective lenses on these 15x56 Steiner binoculars are situated a full 12mm in from the ends of the barrels.
This large overhang is sure to offer the glass with a good deal of protection from scratching, but also from preventing light rain or even dust from coming into contact with them too easily.
Another potential benefit of this is that in a small way it acts very much like a lens hood does on a professional photographers camera, which in turn prevents undesired effects like lens flare when you have the optics positioned in certain directions in sunlight.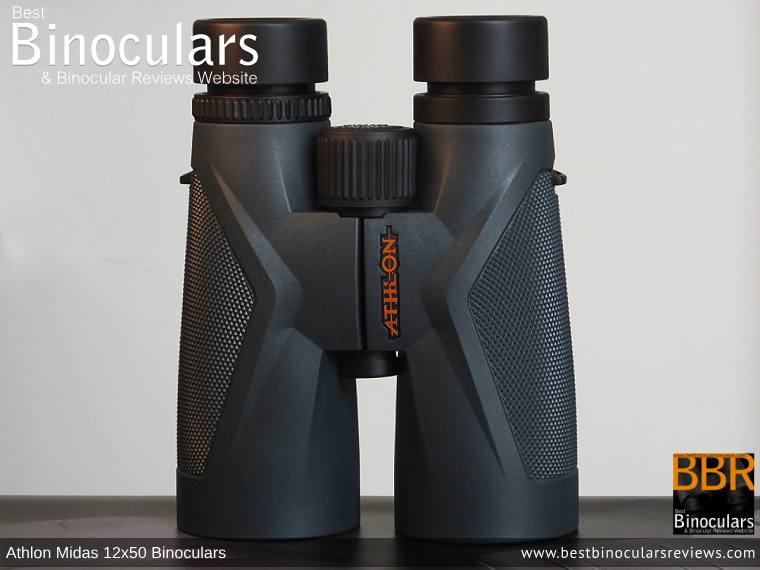 The lenses are set back about 6mm in from the ends of the barrels which is relatively shallow on this size of instrument. So whilst this does offer the glass some level of protection, it is less than what you get with most others.
As normal, on the side of each barrel, there is an eyelet to which you attach your neck strap or harness.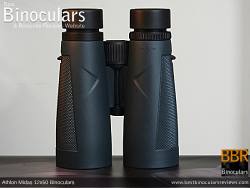 Rubber Armor
Covers almost the entire exterior surface - good for protection, grip & camouflage
Very tight and secure fit to the chassis underneath - no slipping about
Hard rubber, less impact protection, and grip on smooth sections, but is more durable and probably longer lasting than soft rubber armor
Very high grip diamond pattern imprinted on the sides which works well
The underside also has subtle, but unique triangular shaped thumb indents. These work well with the overall design and style as well as doing just enough to subconsciously make you place your hands in the right position when holding the binoculars up to your eyes to achieve a good balance.
Housing
These main chassis on these and all Athlon Midas binoculars is made from Magnesium.
This great as Magnesium is generally only used on higher specification instruments as it is stronger but costs more to produce than most polycarbonate housings.
Whilst not as lightweight as polycarbonate alternatives, Magnesium is said by Athlon Optics to be up to 35% lighter than aluminum and other metal alternatives.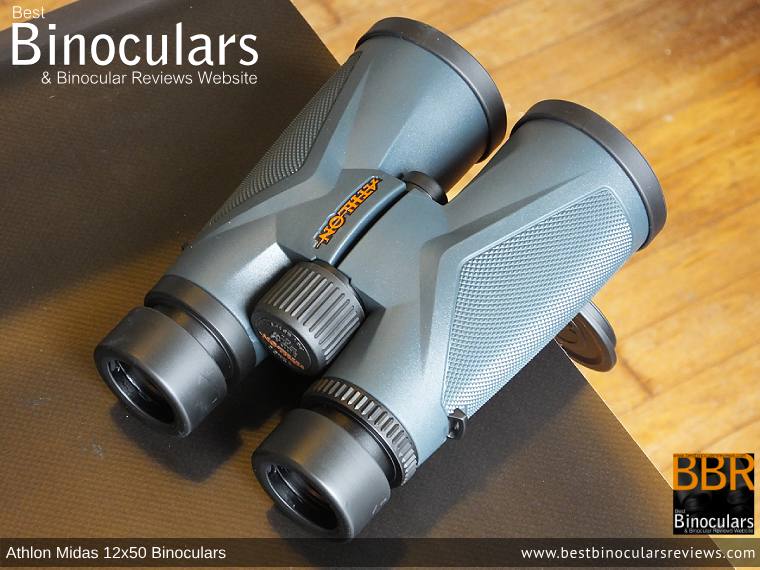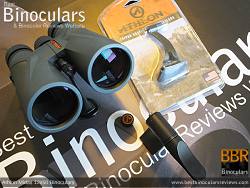 Tripod Adaptable
For some users like hunters, target shooters, wildlife observers and birders operating from a static point like a hide, being able to easily fix their binocular onto a tripod is extremely important. This is especially the case when it comes to larger, heavier instruments with higher magnifications like these.
Thus I am glad to be able to confirm with you that these Athlon Midas 12x50 binoculars are indeed "tripod adaptable".
By this I mean you are able to unscrew the dust cap in between the two barrels on the central hinge and then in its place you can screw in a tripod adapter.
An important point to note here is like most binoculars with larger objectives, the space between the barrels is smaller than your average 42mm binocular.
In some cases that I have come across in the past, it is so small that you cannot fit any sort of tripod adapter. Thankfully this is not the case on these 50mm Athlon binoculars, however, you do need to ensure that the adapter you use is quite thin.
Athlon does make their own tripod adapter which works perfectly, but as you can see from the photo, if the adapter is slightly thicker, it will not fit.
Multi-position Twist-up Eyecups
43mm in diameter, which is typical
Very thin, but soft rubber coating - about the average comfort level
3 click-stops (1 intermediate) a good level of customization, but better ore optics with 4 stops (2 intermediate)
Action is smooth, perhaps a fraction too easy to move but nothing to be concerned about
15mm of eye-relief is perfectly adequate for most but could be a fraction too short for some eyeglass wearers
Central hinge & Inter-Pupillary Distance (IPD) Adjustment
The central hinge on these Athlon Midas binoculars feels extremely strong and I would imagine that it would take a large force or impact to knock the barrels out of alignment.
The hinge on my sample was a little too stiff and thus made it a fraction too difficult to open and close. The positive to this is that once you have set your desired IPD setting to match the distance in between your eyes, it will almost certainly not move unintentionally.
Closing the hinge, the eyecups are 5.9cm apart (center to center), whilst fully opening it takes them to 7.4cm apart.
The minimum IPD is a little wider than that you get on most 42mm binoculars which is not surprising but should still be narrow enough to cater for all but those who have very close-set eyes.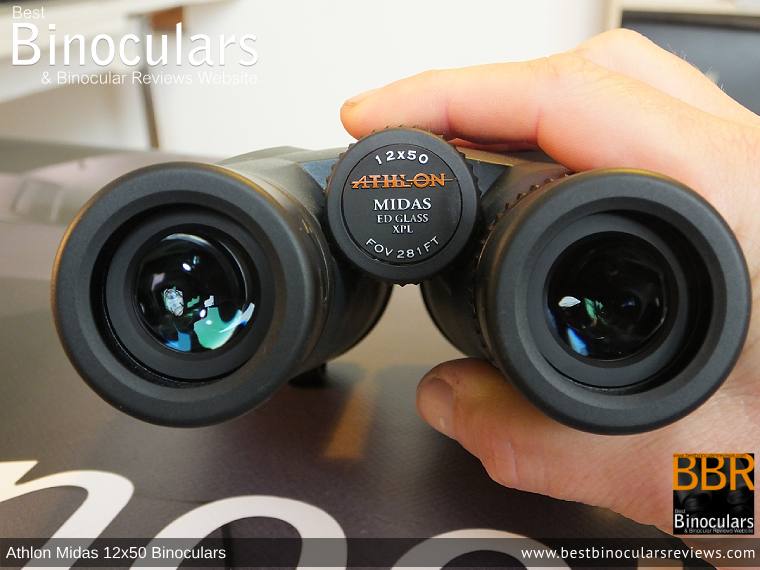 30mm in diameter & 24mm long - Standard size for this class of binocular
Easy to reach
Rubber track with prominent ridges - good level of grip
Smooth mechanism - makes it easy to accurately adjust, but with just enough resistance to prevent unwanted turning
The gearing on the focus mechanism is such that it takes just about 1¾ turns (630°) to alter the focus from the extremes of near to far. This is quite a low gear and takes more turning than the average.
The advantage of this is that it makes fine tuning a little easier, but on the flip side, it takes just that bit longer to make large alterations to the focus.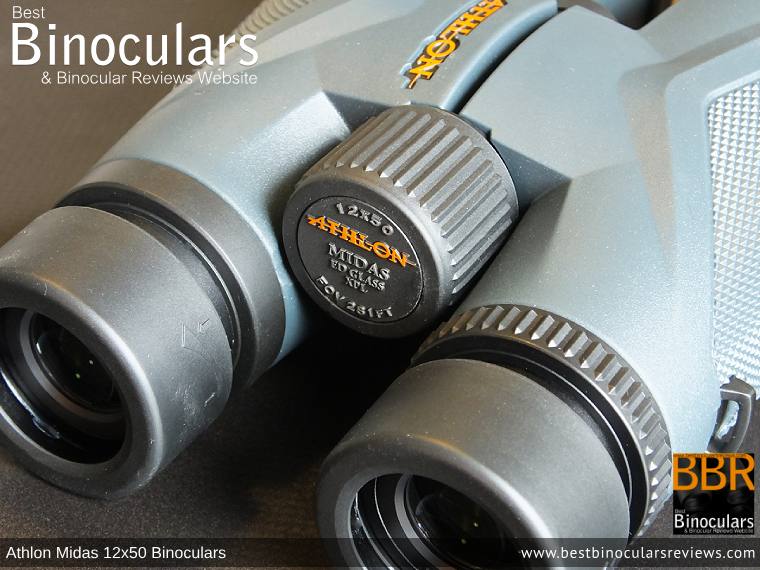 Diopter Adjustment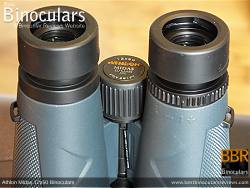 These Athlon's have a diopter adjuster ring located on the right eyepiece.
A lot of people do not know what the diopter is or what it is used for. For those who don't take a look at my article on How to calibrate your binoculars for your eyesight.
The diopter on the Athlon Midas is not lockable, has reasonably prominent ridges around the ring and on my sample turns fairly easily.
For making adjustments this is obviously great, but you only need to make changes to your setting very rarely and so whilst it is a very minor issue, I personally would have liked the ring to be a little stiffer and thus require a little more effort to turn in order to help reduce the chances of your setting being altered by mistake.
Rating for Body Construction Quality: 8/10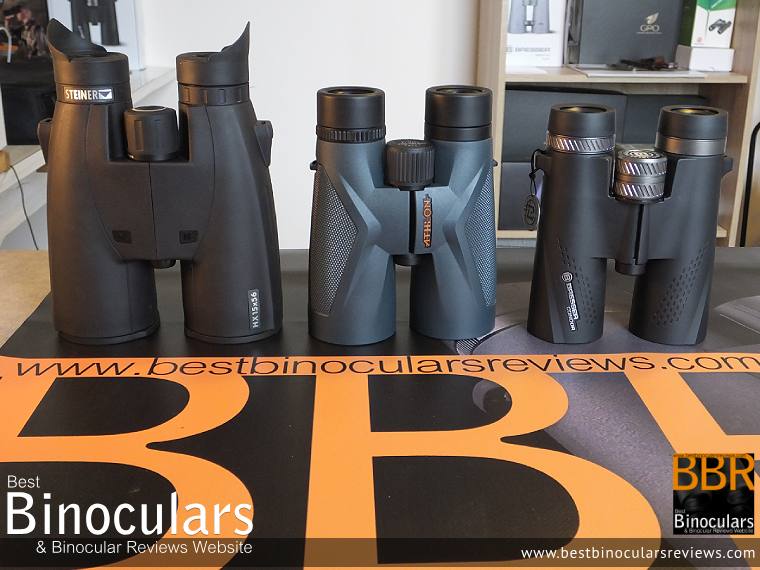 Size & Weight
When choosing a binocular with larger than standard objective lenses like this 50mm Athlon, you are sacrificing some extra weight and bulk for the advantage of being able to capture more light which should increase image quality, brightness, and low light capabilities.
So let us take a look at just how much you have to sacrifice in these areas and then later on in this review in the optics section, we'll take a look at the potential and actual benefits that the larger lenses bring:
Dimensions
Comparing these to other 50mm binoculars, these are quite typical in terms of their outer dimensions when the hinge is fully open.
What I also think is interesting is if you look at the photo above that compares these against the Steiner HX 15x56 and the Bresser Condor 10x42, you will notice that these make an almost perfect bridge in-between the two: So a little smaller than a 56mm binocular, but also not that much larger than a typical 42mm binocular.
Weight
As you can also see looking at the table above, these 12x50 Athlon Midas binoculars fare well against other high-end 50mm binoculars that use a magnesium chassis and whilst it is true they do weigh more than most 42mm binoculars, the difference is really not that great, especially if you compare them to high-end models that also use magnesium shells.
BBR Body Stats Score (compared to 50mm Bins): 8/10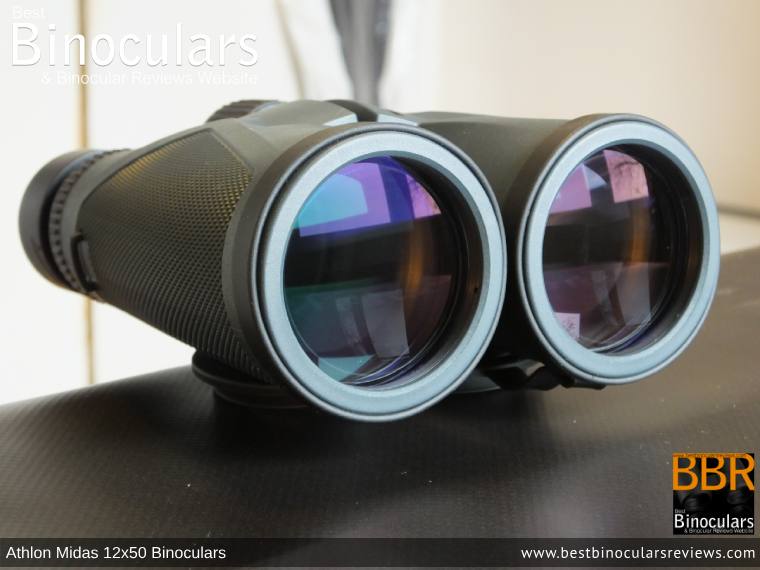 The Optics
12x50 Configuration
Having a higher power and a larger than normal objective lenses brings with it a number of advantages but at the same time also some disadvantages:
Advantages of Higher Magnification
Greater Reach
More Image detail
Disadvantages of Higher Magnification
Reduced Field of View
Reduced Low Light Performance (Smaller Exit Pupil)
Less Bright Image (Thicker Lenses Required)
More Image Shake
Advantages of Larger Objective Lenses
More Light Gathering Ability
Brighter, Higher Quality Views
Disadvantages of Larger Objective Lenses
Larger & Heavier Instrument
More Expensive to Make
Combining a 12x magnification with 50mm lenses results in a binocular that can initially gather a high level of light, but at the same time the higher power reduces the exit pupil (size of the shaft of light exiting the ocular lenses) and in order to achieve higher magnifications, thicker lenses are needed, which reduces the amount of light passing through them and so combined leads to a less bright image with a reduced low light capability.
In this specific case, the 12x50 combination produces a 4.16mm exit pupil (50 ÷12). This is very similar to the more standard 10x42 with it's 4.2mm exit pupil (42 ÷10). This means that like a 10x42, these will offer a perfectly bright view in good, normal and reasonably poor light conditions, but in very low light they do not make the ideal choice and will look to be less bright than an equal quality 8x42 with a larger 5.25mm exit pupil for example.
For more on this be sure to check out my article explaining low light performance and the exit pupil size.
Image Shake
You do get more image shake than what you would with a 10x instrument, but as you can read about in the Image Quality section below, the amount for me was minimal and in in the right situations where a higher power is needed, this amount is acceptable.
For long observation periods and in the right situations, like when operating from a hide or your balcony, I would certainly consider using a tripod as this will not only allow you to achieve a completely shake free view and thus be able to study fine details, but will also make it less tiresome on your eyes and hands.
For uses like airplane spotting where you need to be able to identify small details like aircraft numbers from a distance, but the object is moving, using a tripod may not always be practical. Here it will all depend on how steady you can keep your hands, or you should really consider getting a viewing stick. Basically a one legged tripod, it enables you to anchor the instrument in one direction, but still allows you the freedom of movement that you need.
Being far more lightweight and smaller than a full tripod, a viewing stick could also be of interest to hinters, wildlife observers and even hikers who want a high powered binocular but also a more steady view.
Objective Lenses
As we know from the name, the Athlon Midas 12x50 Binoculars have 50mm diameter objective lenses. These are made up using a number of elements, although Athlon Optics do not go into detail, but we do know that at least one element in each lens is made from ED glass:
ED Glass
The series of Athlon Midas binoculars use ED (extra low dispersion) glass lenses which basically means that at least one of the elements in the lenses has EXTRA low dispersion properties, instead of the "normal" low dispersion optical glass normally used.
Used correctly in a well designed optical pathway, ED glass can reduce a distortion known as chromatic aberration which results in color fringing that we see in in the final image.
Higher magnifications amplify this distortion and thus it is important that on this 12x binocular this is kept in check, which as you can read about in the Image Quality section below, Athlon have done a great job with these.
Ocular Lenses
Not much information is supplied, but I can say that I measured the diameter of the most exterior element on the ocular lenses as being 21mm, which is about average, but less than those that have particularly large lenses. For example the Minox BL HD 8x44 has very large 25mm ones.
This article on ocular lens size in binoculars explains the potential benefits, but chiefly amongst them is that it makes it easier to line your eyes up to them and thus there is less chance of dark rings forming on the edges of the view. I did not experience and issues with this whilst testing these Athlon 12x50 Midas binoculars.
Prisms
All Athlon Midas binoculars use Roof prisms, made from BaK-4 glass. This is good and certainly what we what to hear as it is preferable to the BK7 glass often use in lesser quality instruments.
However, just be aware that not all BaK-4 glass is created equal. For example, BaK-4 glass made by Schott glass of Germany has different refractive and dispersion properties as well as a lower permitted bubble count than BaK-4 glass made in China.
As these Athlon binoculars are made in China, I will also assume that their prisms are made there as well. Whilst it would be preferable for them to be made by a company like Schott, I would not be too concerned with this as the observable difference is minor and most binoculars in this range will also use the same glass. But it is always good to know this is one of the areas where 'alpha' level binoculars differ from the rest.
Optical Coatings
The coatings used are as important as the actual glass quality. This is especially true on a roof prism binocular as these make a huge and observable difference to the final image quality and brightness: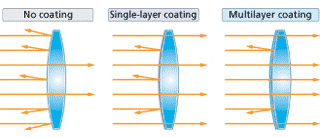 Anti-Reflection Coatings
The Athlon Midas is advertised as having Advanced Fully Multi-Coated Optics. The exact wording is relevant and it is important to note that they are not just "fully coated", "multi-coated" or "coated, but Fully Multi-Coated.
This is certainly something to look for when buying binoculars as the level of these coatings has a huge say in determining the final image quality and brightness. More on Anti-Reflection Lens Coatings.
Dielectric Prism Coatings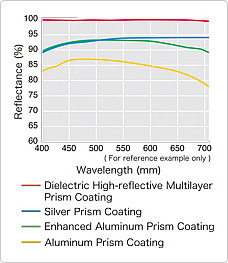 I was also very pleasantly surprised to discover that the prisms on the Athlon Midas binoculars are dielectrically coated.
Advertised as using their proprietary ESP Dielectric Coating, they should be able to reflect more than 99% of the incident light across the full spectrum.
This is great news as many instruments at this price level will use silver that only reflects 95% to 98% and worse still is aluminium mirror coatings.
The result is a brighter image and improved color reproduction.
Phase Correction Coatings
Another very important feature to take note of is that the prisms have been phase corrected. These coatings eliminate something known as phase shift and results in a higher image resolution than those that forego this process.
Note: At this price range would expect to have this, but it is not a given.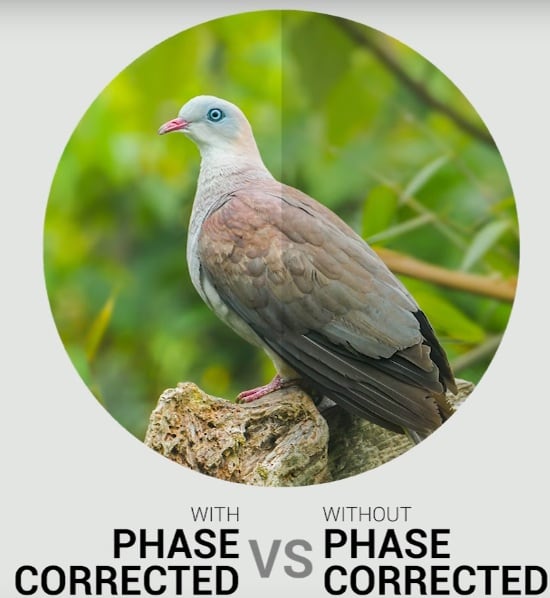 External Lens Coatings
Another excellent feature on these are Athlon's XPL Coatings on the outer lens surfaces, which is exactly the same as which they use on their flagship models.
These extra protective coatings add an additional level of scratch resistance to the lenses and makes them easier to clean and maintain.
Optical Components Quality Rating: 9/10
Optical Stats
Field Of View (FOV)
One area where this 12x50 Athlon Midas binocular really excels in comparison to it's direct competitors is that it has a nice wide view for such a high powered instrument.
Of course and as you can see below, if you compare any 15x binocular against a 10x power one, the view is far narrower. A reduced field of view is the price you pay for the greater reach and higher image resolution.
But if you take a look at the table below and compare them to their main competitors, the Athlon Midas 12x50 Binocular actually comes out on top:
Close Focus
For a bin with a powerful 12x magnification, the close focus distance is not too relevant as I doubt many users will be purchasing these to study things like insects from very close range, so at 11.5ft the minimum focus on these is perfectly acceptable.
Eye-Relief:
At 15mm, the eye-relief falls short of what you would deem as being a large amount, but for most users this is perfectly adequate and no issue at all.
For eye-glass wearers, it is a little on the short side and some may have trouble in achieving the full image without dark rings on the edges.
I tested them by wearing my sunglasses and fully twisting down the eyecups and have to say that there was some level of "tunnelling" in the view. What this means is that it looks like you are looking down a long tube. Depending on your shape of face or how thick your glasses are this may or may not be an issue for you, but ideally if you wear eyeglasses I would recommend a longer eye relief to be certain.
Optical Stats Rating: 8/10
The Image Quality
As with all my binocular reviews, I compare the view I see through the instrument under review against at least one benchmark binocular. In most cases it is one with the same configuration.. This consistent point of reference makes it easier for me to more accurately judge, rate and then rank the image quality versus others that I have looked through in the past.
However as the 12x50 setup is not common, in this particular case I do not have a matching benchmark. So for this review I compared the Athlon Midas 12x50 Binocular against my benchmark 10x42 binoculars (mid range) as I though this is the kind of binocular most users interested in the Midas 12x50 would also be also be considering and thus the comparison would be of interest.
Image Shake
One of the biggest concerns many people will have when opting for a instrument with a higher magnification that is primarily going to be used out of the hands is being able to keep the image still and shake free enough to be able to not only view the object, but be able to study fine details on it.
Comparing them to my 10x42 and trying to keep my hands as still as possible, it was noticeable that the image was a little more shaky on these 12x50 binoculars. However, the amount for me was minimal and for me would be an acceptable amount in order to achieve the greater reach I the circumstances where it was needed.
In the paragraph above I have emphasized references to myself and where it was needed. This is because everyone is different and some users will have more stable hands than myself and some will be particularly unsteady hands and so their experience will be far different to mine.
Here it is important to assess yourself, but putting myself as a benchmark for you, I would describe my had stability as pretty average!
Next I would also like to emphasize the point that not everyone will need to have such a high magnification. In most cases, 10x or even 8x is not only sufficient, but actually preferable. As I have already gone over this in detail in the Optics section above, I will not do so again, but you get the point.
Image Brightness
As I discussed in the Optics section above, the 12x50 setup gives you an exit pupil of around 4.16mm (50÷12), which is only fractionally smaller than the 4.2mm you get with a 10x42.
Thus it was not surprising at all for me to observe that the Athlon 12x50 Midas binocular delivered an image that looked equal in terms of image brightness as my 10x42 benchmark that in normal daytime conditions as well as very low light conditions when comparing them at just after sunset.
Here it is important to stress that my benchmark 10x42 uses a very similar level of optics and coatings. Lesser quality instruments will most certainly fair a lot worse than these.
Another aspect to consider is the slightly higher Twilight Factor that you get with these. So whilst the 12x50 Midas may not have the brightest image in low light, so long as you are able to keep the image steady, you can still observe a pretty high level of image detail.
For uses like hunting and surveillance, this can be important and well worth keeping in mind.
Contrast & Color Reproduction
I was very impressed with both the color reproduction and level of contrast in the view I was presented with whilst looking through these Athlon binoculars.
The thicker glass needed for higher magnifications can lead to a more noticeable dulling of the view and sometimes even results in an unwanted tinting of the image. This is especially true on cheaper binoculars that use low quality glass in both the lenses and prisms.
There were no such issues for me when using this Midas.
Color Fringing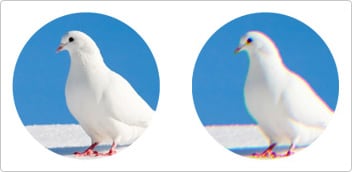 Considering the high magnification, I was also very impressed with low level of color fringing that I could observe, even when testing it to the extreme by doing things like looking along the edges of black telephone wires against a bight lit sky background.
Higher powers accentuate color fringing and yes for me the level was the same as which I observed on my 10x42 benchmark.
So whilst there are some very high end instruments that show less fringing, I would consider what I saw as being a normal and perfectly acceptable level of color fringing.
Image Flatness & Softening
As with the color fringing, the level of softening of the image right at the edges of the view on these Athlon binoculars was minimal and perfectly in-line with what I would expect to find.
In terms of any other image distortions like unwanted curving or waviness of the image, there was none displayed by my sample.
Image Quality Rating: 8/10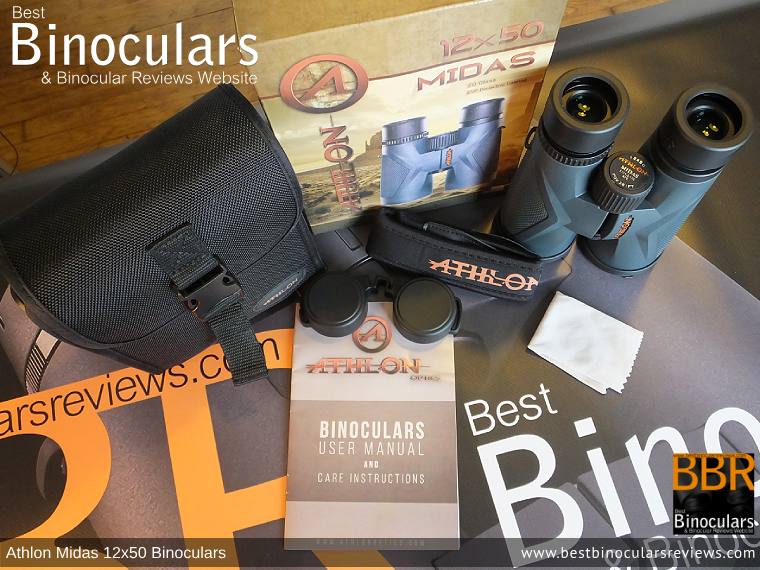 Included Accessories: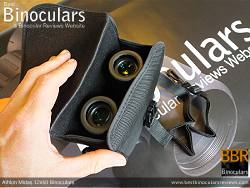 The Athlon Midas 12x50 Binocular comes bundled with the standard arrangement of accessories, that includes a carry case, neck strap, lens covers, cleaning cloth and instruction manual:
Whilst all are well made and perfectly functional, they do not match the very high standards achieved by the instrument itself.
To be fair to Athlon, these Midas binoculars are priced very competitively, which is made even more impressive by the very high level of the body and the optics used.
So in order to achieve this, they have obviously had to keep cost down somewhere.
Some brands will achieve this by reducing the quality of the chassis and use polycarbonate. Not so with these, you get a magnesium chassis
Others will use lower quality optical glass and apply less coatings to them, hiding the fact by using confusing terms or drawing your attention away and onto irrelevant features. Not the case with these, as we have already gone over, the optics on these are excellent and as good as you would hope to find at this price range.
So with these Midas binoculars, Athlon have decided to keep the instrument at the highest level possible and just slightly lower the dial on the accessories. I am sure that you will agree with me, so long as the main function of the case, strap and lens covers is not compromised, this is by far the preferred option.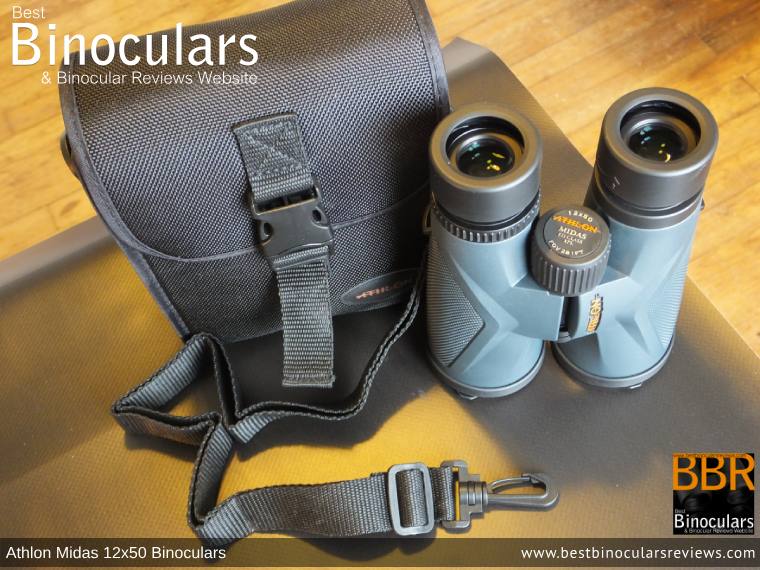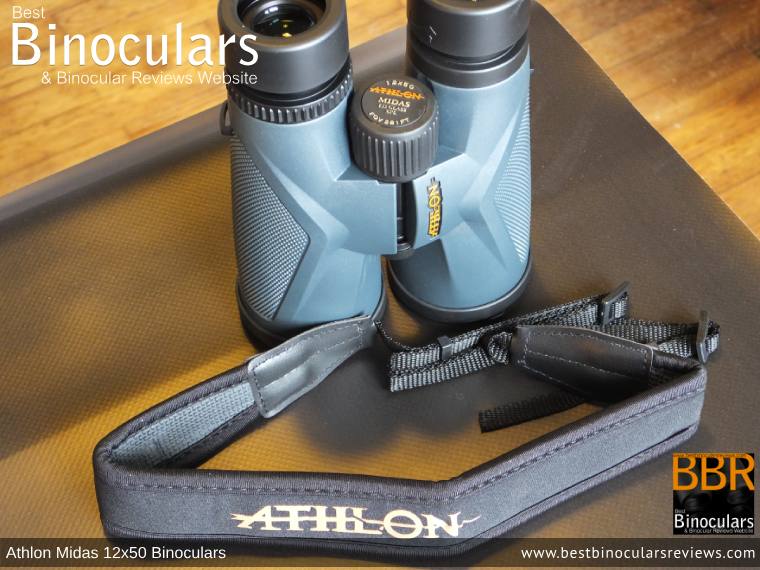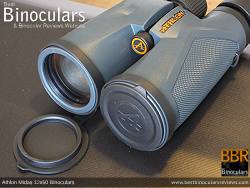 Summary
Soft carry case looks well made, but it's padding is a little on the light side and lacks a separate pocket.
For a binocular of this size and weight, I would have preferred it if there was more padding and even better a rigid or semi-rigid case would be ideal.
The buckle clip closure is great for ease of access, but is less secure than a Zip. However in terms of stealth, it is better than Velcro which can make a lot of noise when opening.
Neck strap is well padded and fairly comfortable, could be improved by making it wider to distribute the weight better.
A quick release fastening system on the strap would also make it easier to swap over to a Binocular Harness when needed
Both the objective covers and the rain-guard fit and work very well.
Standard cleaning cloth - good for very light use. For deep cleaning of the lenses I suggest a lens cleaning kit.
Warranty Information
As with all other Athlon binoculars, the Midas series come with an excellent lifetime warranty and really shows the confidence that the company has in their products.
Extras Rating: 7/10
Athlon Midas 12x50 Binocular Comparisons
The following table lists the main details of these Athlon binoculars as well as a small selection of other similar binoculars in the BBR database. To view the full results, open table in full-screen mode.
Review Conclusions:
As a high powered binocular that can still perform well in low light and which you are quite comfortably able to carry and use without having to use a tripod these Athlon Midas 12x50 binoculars really are a great option and I feel offer a truly excellent price to performance & build quality ratio:
Strengths:
Built tough, they may not quite have the fitness of some very high-end instruments out there, but with their sealed magnesium chassis and argon filled interior these will not let you down even in really harsh environments.
From the ED glass lenses to the dielectrically coated, phase corrected prisms and not forgetting the extra protective exterior lens coatings, the level of optical components and coatings used is out of the top-drawer. Indeed it matches and even beats many far more expensive instruments on the market, including that Athlon's more expensive Ares series, where the level of optics looks to be identical.
Compared to just about any of their direct 12x competitors that I have come across, the field of view on the Athlon Midas 12x50 binocular is superior. It even matches some 10x instruments which is excellent and certainly helps you scan wide open areas looking for a point of interest and then at close range makes it easier to pick up and then follow fast moving objects.
Weaknesses:
Whilst perfectly functional and not out of place at this price range, the level of the accessories does not match that of the rest of the instrument. However, to be fair to Athlon, the level of the optics is so high, I am sure that they had to make some sacrifices in other areas to keep costs down and I am glad they chose the accessories and not something that affects the performance of the instrument.
The minimum focus distance is not very short, however, for a long distance binocular, this should not be a factor to worry about for most users.
The eye-relief at 15mm is a little on the short side. For non-eyeglass wearers this is not a problem. However should you wear glasses and need to use them whilst looking through your instrument, I would suggest a longer eye-relief than this to ensure you obtain the full image.
Ideal Uses:
As well as hunting, I can see these Athlon Midas 12x50 binocular as being an excellent pair of binoculars for anyone who likes to view wildlife at mid to long range distances.
Another ideal use would be to view ships, yachts or in some cases, whales and seals from the shoreline or a balcony. In these situations, you will really appreciate the extra reach and detail you get with these. To make the most of this, mounting them onto a tripod would be ideal.
The powerful 12x magnification is also a good option for viewing things like birds including puffins & penguins at greater distances. In these cases, you would be at the coast or near lakes where distances are usually greater and the birds are often larger and more predictable in flight making them more easy to follow with a higher power.
Speaking of which, I would certainly recommend these to anyone looking for a plane spotting binocular or even binoculars for space shuttle launch. They are reasonably transportable, can be used from the hands, but also enough power to get you that identification you are after.
Whilst I would not suggest that these would be an ideal choice if your interest was primarily in astronomy, but I was presented with some stunning views of the Moon as well as getting a better view of the nearest planets like Venus, Mars.