Carson Binoculars
Best Binocular Reviews Home > Brand Details > Carson Optics
About Carson Optical
Established in 1990, Carson Optical began life in the basement of the founders mother's house in Long Island, where Richard Cameron imported and exported a wide array of products between the US and Japan.
As business flourished, it grew out of its basement home and moved into a warehouse in Huntington, New York, where Carson expanded its range of Binoculars and also branched out into related optical devices like Magnifiers and Microscopes.
Suceess was mainly down to their focus on innovation, which helped Carson compete effectively with much larger industry competitors and this overall philosophy is still what drives Carson today.
Today Carson Optical is a leading supplier of consumer optics and their portfolio includes microscopes, monoscopes, rifle scopes, telescopes, night vision devices, magnifieers, lens cleaning kits, tripods as well as a large range of binoculars.
The Carson Binocular Range
Carson Optical currently offer a wide range of binoculars suitable for most uses including travel, bird watching, wildlife observation, hiking and camping as well as hunting, sporting events. The binoculars are grouped into a "Series" covering a wide range of price points and vary in the quality of their optics, coatings and build quality. Currently their top of the range binoculars are the Carson 3D Series Binoculars.
Popular Carson Binoculars:
Carson YK Series Binoculars
Carson Raven Binoculars
Carson Trek Binoculars
Carson MiniZoom Binoculars
Carson 3D Series Binoculars
The 3D Series of binoculars contains Carson's flagship range of binoculars with 5 different models,. All 3D Series binoculars are of a roof prism design featuring high quality components and optics including fully multi-coated optical elements and Phase corrected BaK-4 prisms that give a sharp and high-contrast image over the full field of view.
In addition the 10x42mm TD-042ED model uses ED (extra low-dispersion) glass that further increases optical performance and enhances their light transmission.
All the 3D Series binoculars are 100% waterproof and nitrogen purged meaning that the internal air has been replaced with dry nitrogen to ensure there is no internal fogging in areas of high humidity or rapid temperature changes.
The binoculars also have a rubberized armor coating over their lightweight body as well as twist-up eye pieces and a adjustable diopter.
Sizes & Models Available:
Carson 3D Series 10x50 Binoculars (TD-050)
Carson 3D Series 10x42 Binoculars (TD-042)
Carson 3D Series 10x42 Binoculars (TD-042)
Carson 3D Series 8x42 Binoculars (TD-842)
Carson 3D Series 8x32 Binoculars (TD-832)
Video: Carson Optical- 3D Binoculars
The video below shows some of the highlights of the 3D Series binoculars and was produced by Carson Optical:
Price Range
Carson XM Series Binoculars
Carson's XM and XM-HD Series Binoculars also include many high end features and components. these include phase corrected roof prisms. All but one model also have their own "HD optical coating technology" that Carson says significantly enhances the light gathering capabilities of the XM-HD™ Binoculars for an even brighter, sharper images in low-light conditions.
The Carson XM Series Binoculars also feature a rubberized armor coating and the body is nitrogen purged and O-ring sealed making them waterproof and fogproof. Most models have plenty of eye relief with twist down eyecups making them ideal for eyeglass wearers.
Sizes Available:
Carson XM Series 8x32 Binoculars (XM-832HD)
Carson XM Series 8x42 Binoculars (XM-842HD)
Carson XM Series 10x42 Binoculars (XM-042HD)
Carson XM Series 10x50 Binoculars (XM-050HD)
Carson XM Series 10x25 Binoculars (XM-8025)
Video: Carson XMHD Binoculars
The video below shows some of the highlights and the technology that goes into there XMHD Binoculars:
Price Range
Carson VP Series Binoculars
These roof prism binoculars come in 5 different configurations ranging from the large 12x50 VP Series binoculars to a compact 10x25 model.
The VP Series binoculars feature BaK-4 prisms and fully multi-coated optics. In addition, the VP-832 8x32mm Binoculars have phase correcion coatings on the prism glass and are waterproof and fog proof.
The VP Series binoculars make a great choice for a good value hunting, birding, hiking or fishin binocular.
Sizes Available:
Carson VP Series 8x32 Binoculars (VP-832)
Carson VP Series 8x42 Binoculars (VP-842)
Carson VP Series 10x42 Binoculars (VP-042)
Carson VP Series 12x50 Binoculars (VP-250)
Carson VP Series 10x25 Binoculars (VP-025)
Price Range
Carson JK Series Binoculars
There are only two models in the JK Series, a 10x42 (JK-042) and an 8x42 model (JK-842)
They both feature a roof prism design using quality BaK-4 glass and come with optics that have been fully multi-coated. Their coatings, quality glass help to take and transmit as much of the gathered light as possible to your eyes, which can rally help and is indeed most noticable when lighting conditions are not great or even poor.
Other features and highlights of the JK-042 and the JK-842 8x42mm binoculars are that they have been fully sealed to make them waterproof. On top of this, the inside air has been replaced with nitrogen, which will help stop any internal fogging of the lenses.
These Carson binoculars use the helecoid twist up eyecups, that includes 3 fixed stopes to give you plenty of options to get the right amount of eye-relef for your needs. As you would expect they also have use a diopter adjuster that which can be used to allow for any differences in your left or right eyes to get the perfect focus for your vision.
Carson market the JK Series as ideal everyday, birdwatching, hiking, huning or general widlife observation binoculars.
Sizes Available:
Carson JK Series 10x42 Binoculars (JK-042)
Carson JK Series 8x42 Binoculars (JK-842)
Price Range
Carson BinoArmor Binocular Case
Carson make a few simple but very cleverly designed binocular cases known as BinoArmor cases that wrap around your optics unlike traditional Binocular Cases.
This ingenious design allows for extremely quick and easy binocular access in the field as you can use your binoculars without having to completely remove them.
BinoArmor is also virtually impervious to the elements, they eliminate the need for lens caps and rain guards, they are also almost silent to open and close and they work with standard neck straps or a binocular harness as well.
Models Available:
Price Range
---
>Where to Buy

Carson Binoculars:
---
>>Featured

Carson Binoculars

Below are a few featured Carson Binoculars: View >> All Carson Binoculars reviewed

A tough but very lightweight and waterproof body protects some really high quality optical components including the use of ED glass and phase-coated BaK-4 roof prisms that produce a bright and high quality image. Extras like an included binocular harness and the fantastic wrap around BinoArmor carry case add extra value to this already excellent pair of optics.

Price: (3/6) Mid Priced Binoculars

BBR Ratings:
Body Quality:
7/10

78%




Excellent

Body Stats:
8/10
Optical Quality:
8/10
Optical Stats:
8/10
Image Quality
8/10
Extras & Details:
8/10
Price wise these Carson binoculars hover right on the boundary between mid range and low cost instruments. However in terms of the components and features these sit comfortable amongst many mid level binoculars and thus look to offer some more than decent value for money.

Highlights include BAK-4 roof prisms, fully multi-coated optics, plenty of eye-relief and a more than decent field of view.

Price: (2/6) Low Cost Binoculars
BBR Ratings:
Body Quality:
7/10

72%




Excellent

Body Stats:
8/10
Optical Quality:
7/10
Optical Stats:
7/10
Image Quality
7/10
Extras & Details:
7/10
View >> All Carson Binoculars reviewed on The Best Binoculars & Reviews website.
---
Carson Binoculars on Amazon:
---
Carson Optical Contact Details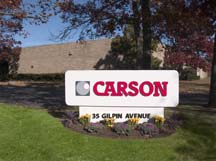 Head Office in the US:
Customer support is available Monday thru Friday, 9:00am - 5:00pm (East coast time).
Address:
Carson Optical, Inc.
2070 5th Avenue Ronkonkoma,
NY 11779

Toll-Free: 1-800-9-OPTICS
Phone: 631-963-5000
Fax: 631-427-6749
Email:
sales [at] carsonoptical.com
info [at] carsonoptical.com

---