About Best Binocular Reviews
About Me
Whilst it may seem a little egocentric to begin this section about BBR with a section on myself, I feel that it is somewhat necessary as the story of how this site came to be is completely intertwined with own needs and interests and the experiences I had when it came to finding my own pair of binoculars and then, later on, observing and talking to other people who had gone through a similar process:
Early Days
Growing up in Southern Africa, I consider myself fortunate in that I have always had access to the great outdoors and it's spectacular wildlife. This along with my parents who from an early age would take my brothers and me on holidays to places like the mighty Zambezi River, Lake Kariba, Victoria Falls or Hwange National Park, where not only is the scenery out of this world, but pretty much all of Africa's famous wildlife was plentiful, which in turn meant that I grew a deep appreciation for it and thus rather watching cartoons on TV, my childhood consisted of observing herds of elephants coming down to the waters edge to drink at the end of the day.
First Binoculars
Thus for about as long as I can remember, I have used binoculars. To start with I would just borrow my dad's pair and so did not pay much attention to them and to be honest I cannot remember what they were. However, once I got to the point where I had to spend my own hard-earned cash on a pair, I took far more interest as I wanted to make sure I got the best binoculars for what little money I had at the time!
For those who are wondering, the Steiner 10x26 Wildlife binoculars were the very first pair that I purchased, which I actually still have and use to this day. As is my way, I did a ton of research beforehand and so along with a tight budget, I needed a pair that was good for general wildlife observation, but which I could also easily travel with, go hiking and take on walking safaris and use along with my camera as I was also very much into wildlife and birding photography at the time.
The Idea for BBR
It was at this time that I first noticed that whilst there was a lot of information on instruments like cameras, it was really difficult to find and good advice about binoculars. This frustrating experience would stick somewhere in the back of my mind for quite some time as this is where the idea for the Best Binocular Reviews website came about.
Using Binoculars Daily
Later on, working as a safari guide (field guide) in South Africa, I would use binoculars just about every single day as they were a vital tool for my job. I also noticed that I had many guests who would come on safari without any binoculars, poor quality binoculars or in some cases some of the very best binoculars available, but not necessarily the ideal instrument for safaris/wildlife observation.
Over time, I became more and more interested in binocular optics, how they worked, and how different qualities and configurations greatly affected their effectiveness in different situations. Working as a guide was for me also a great opportunity to try out many other instruments and I would often ask my guests if I could use theirs and compare them against my own (at the time I still had my trusty pair of Steiner 10x26 Wildlife binoculars as well as an old second-hand set of Swarovski EL's).
In this way, by using and comparing a lot of different binoculars and indeed some night vision binoculars, it gave me an understanding of how the quality of the lenses, the weight, balance, toughness, objective lens diameter as well as many other factors affect their quality and performance.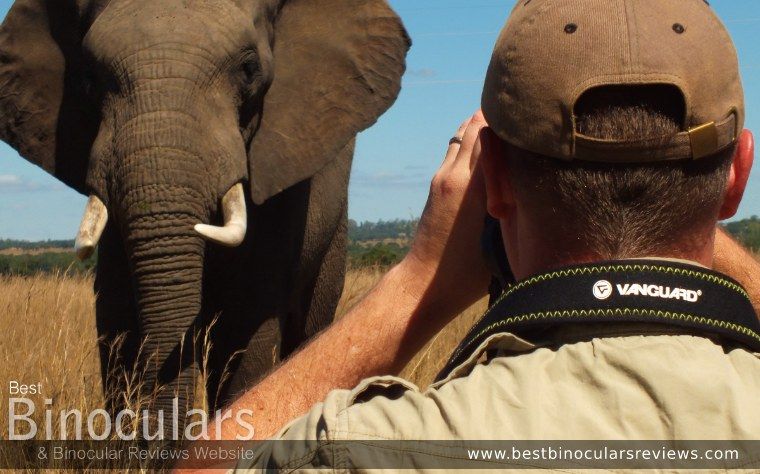 Best Binocular Reviews Website
It seemed to me that whilst there are many places that you can buy binoculars, they just present you with a confusing array of binoculars all described as the best thing since sliced bread, this makes deciding which is the best binocular for your particular needs at the price suited to you very hard to do.
When many people purchase their first set of binoculars they are pretty ignorant as to how the quality of different binoculars varies because they have not had the luxury of trying out different sets. There is the general misconception that all you need is the largest magnification as possible and the larger the magnification the better the binoculars. So many people end up buying binoculars with the biggest magnification at the cheapest price (a dangerous combination). Others overcompensate and get the most expensive binoculars, which are most often fantastic optics but may not be best suited for the desired use or indeed good value for money.
In the old days and before the internet you would probably go down to your photographic shop and try out a few pairs before buying one. In this modern age of the web that is not always possible. So with the aim of helping to solve some of these issues the Best Binoculars and Binocular Review website was born.
Quality, Not Quantity
Not only is it impossible for me to review every set of binoculars on the market, but I find that when I visit websites selling binoculars, I am usually baffled by the sheer amount of binoculars all being described as the greatest on earth, or I am disappointed by the quality of binoculars being described as the ultimate binocular. Best Binocular Reviews aims to provide you with the best reviews of the best binoculars, not the most.
When choosing which binoculars to review I usually try and select a quality pair of optics (Best Binoculars), so most of the binoculars on this site are some of the best in their field. If I do review a binocular and I think it is rubbish, I will say so, or more likely if certain features fall short of the mark they will be highlighted, hopefully helping you make an informed choice.
100% Real & Honest Reviews
I would like to make it completely clear that all the reviews and advice that I give on the BBR website and the video channel are my own honest and completely genuine opinions and I am in no way compensated to describe a binocular in a particular way or with a bias.
In other words, if I think a binocular or a feature on it is great, I will say so. If I think it is rubbish or it is weak in certain areas, I will also point them out.
Before writing and publishing any binocular review, I thoroughly research, test and use the instrument in my office as well as out in the field. I also conduct comprehensive comparisons between the binocular under review with a number of benchmark binoculars in both good and bad light conditions.
Whilst I make every effort not to, I do make the occasional error or am sometimes supplied with the wrong details. If you spot any mistakes, please feel free to contact me so that I can rectify it/them.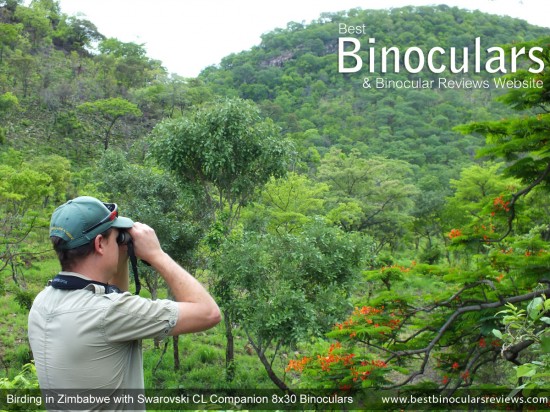 The Gear I Use
I get a lot of questions from readers wondering as to what instruments I actually use.
As well as questions on my binoculars, monoculars, scopes and NV devices, I also get questions as to the many accessories like tripods, adapters, harnesses and the cameras that I use to take the product photos used in my reviews as well as all the other equipment like microphones and lighting I use to make the videos on the BBR YouTube channel. So here goes:
Please note that because I now almost always have a bunch of instruments currently under review, I do tend to use whatever needs to be tested above my own personal devices, this includes taking test binoculars with me on holidays and safaris. This gear is obviously ever-changing, some of it is good and some not so good and almost all of it goes back to the manufacturers after I have completed the review and thus it would not make any sense if I were to include them here.
Not Always the Best of the Best
The gear that I have listed below is the actual equipment that I currently own and use and in many cases, I have purchased them with my own money.
However, please note that whilst I always try and get the best I can within my own budge and feel that they are all excellent, this list of my gear is not 100% current (some is quite old) and certainly not what I consider to be the very best product in each category at this moment in time. This is because I often come across binoculars and other equipment that I test that I know to better than my own, but as much as I want to, I can't just keep buying them all and sadly they have to be returned!
So if you want to see what I actually feel are the best binoculars, scopes, night vision and other gear, take a look at the BBR Annual Awards Section. Otherwise for interest below is a list of the current gear that I own and use for observation, testing binoculars and for filming/taking product photos as well as other gear related to binoculars and the hobbies that I enjoy because of them:
Binoculars
Binocular Accessories
Spotting Scopes
Telescope
Night Vision & Thermal
Cameras
Fujifilm X-T200 - Used for taking all the photographs on this site, all my videos on the BBR YouTube channel and just for my own general interest, I have recently updated my camera the Fujifilm X-T200, after having used the Finepix HS50 for many, many years, also from Fujifilm. I was able to do this thanks to the income I received by selling off a few of my sample binoculars (see my current list of Ex-Sample Binoculars for Sale) - As the HS50 served me so well and lasted for so long without any major hitches, I have decided to stick with Fujifilm.
Wildlife Cameras: Gardenature Bird Feeder Camera for birds and then the Minox DTC 600 Trail Camera & Minox DTC 1000 Trail Camera for general wildlife.
Tripods
I love these two "vari-angle" type tripods from Vanguard and have had them for many years now. (The first one I got was the aluminium version, then later upgraded to the carbon one as I wanted a more lightweight model to carry about and travel with). They are both very sturdy and can be raised up very high to use with straight through spotting scopes and can even get you in a good position to sit under them which I use for astronomy.
Tripod Heads
Microphones
Lighting
Out in the Field Testing
Walkstool Comfort - The Best Lightweight, Portable, Folding Stool! - I use it for sitting as well as a something to keep my gear off the ground in wet conditions.

Backpack
A good backpack is for me an important piece of equipment when I am out in the field testing, photographing or filming binoculars as amongst other things, it have to be able to carry my camera, tripod and my benchmark binoculars (which I use to compare the view against the model under test), but at the same time it still has to be comfortable, and I must be able to gain access to whatever I need as easily and quickly as possible.

Here I was lucky, as some years ago I was asked to test and review the Vanguard Skyborne 51 backpack (see image below) that easily fulfilled these requirements. I decided to get one for myself and is a bag that I definitely recommend.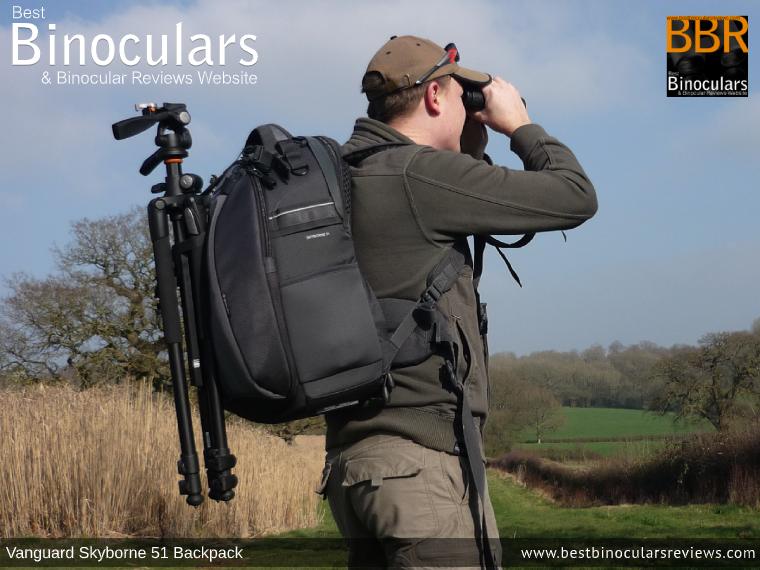 ---
Some Recent Feedback:
Just want to than you so much! Have learned so much thanx to you! Upgraded from a 20 dollar pair of best buy binoculars (ended up giving them away) to a pair of Athlon Talos 10X32 that was on sale on Amazon for 39.99. No, not the best, but I think I got a much improved binocular to start me on this journey you've embarked me on. I'm very happy with it, especially since I think I got a superb value for the investment involved. I love the way you explain things, even somewhat difficult concepts in a easy to read and understandable form. Anyway, looking forward to my next upgrade! Stay healthy, and thank you again! Chris (1/14/2021)
---
I've just received my Hawke Frontier EDX 8x42 after much research and mostly on your excellent site. To say I'm delighted is an understatement, I'm absolutely thrilled. I have Nikon and several other economy brands but you're right, these Hawke are on a different level so wanted to let you know your site is wonderfully informative and I appreciate the amount of time you obviously put into what you clearly love doing. I'll still be checking your site as my next treat is a long range instrument for astronomy etc. Regards Ed O'Brien (3/31/2021)
---
Excellent review of the Carson cell phone optics adapter - much more informative and detailed than others I have read. Your site is a very good one, I consult it regularly. Thanks for the articles etc. Merv (12/30/2020)
---
Hello, just want to say thank you for your site - very helpful and informative. I purchased a set based on your input and clicked through from your site so that you get whatever credit Amazon provides these days. Best regards, Jeff (7/28/2020)
---
Hi Jason, firstly, thanks so much for all your great content that helped me choose my binoculars! I'd been using a couple of different pairs of low priced Minox bins (10x42 and 10x25) that were OK but I wanted a step up in quality and decided to go for compact. So I found some Hawke Frontier EDX 8x32 for £275 here in the UK and am blown away by the quality and VFM. I'm losing little if any brightness from my older 10x42 which weighed far more. I'm a bit of an occasional user, I enjoy watching birds when out on walks or on holiday and much as I love having the best stuff, I couldn't really justify spending £1k plus on Zeiss etc and yet I really cannot fault the build quality and handling of these great Hawke binoculars. Funnily enough (I saw your video about buying old models) I was tempted by a great deal on some top of the range Minox ones but they were a 10 year old model and even then twice the price of the Hawke so I took the plunge as the Hawke seemed to trump everything else for the money, in fact for quite a lot more money. Apart from saying thanks, may I suggest you set up a way for people to make a one off donation to you to say thanks, a kind of 'buy me a beer' type of thing, maybe on Paypal? I'd be delighted to support you in a practical way but this is just a one-off, I don't need a regular Patreon type thing - although I suppose I could do that, pay once and immediately cancel it. Just an idea. Anyway, thanks once again, I have many interests in different hobbies and sports and I think you're right up there with the best of the Internet reviewers but in your particular niche. Knowledgeable, clear and concise, like a trusted friend. Can't say fairer than that, can you? Take care, Steve (24/6/2020)
---
Just thank you so much for your explanations and articles: I just developed a new passion for Birdwatching and I needed your advice to buy new binoculars (after the first ones which were just some cheap ones to begin with). Regards. Guilhem (6/6/2020)
---
I found your site while researching my first binoculars purchase. I knew *nothing* and your site was a fantastic reference tool. I was buying the binoculars for general use/sporting events. My budget was limited but I always try and buy the best product available within my budget, with the premise that you never regret buying quality. I ended up buying the Vortex Vanquish 10x26 after learning about the importance of fully coated optics, and the fact that they are waterproof and fog proof, including such details as proper o-ring seals and nitrogen fill (not to mention the lifetime warranty). All features that I would never have been aware of prior to my research on your site. Thank you, Graham (6/1/2020)
---
Hi Jason thank you for your reply much appreciated by the way. Concerning the Bresser Condor 10x42 and the Vanguard Endeavour 10x42 binoculars, I finally ordered a pair of the Bresser Condor 10 x42 I like the look of them and also got a good deal on them I also have ordered a pair of Celestron Trailseeker 8x42 after reading your review many thanks for your advice look forward to more of your videos and advice many thanks Chris. (4/24/2020)
---
This is just to thanksgiving you by the useful and thorough information that you deliver in BBR, a web page that I read and enjoy every year. According to your reviews I purchased a Opticron MM4 telescope, and two months ago a pair of Lynx HD 8 x 30 binoculars (as you see, lightweight optics because I am a professional biologist and my job involves long surveys in rugged terrain). I am absolutely satisfied with the two products so thank you again by your advice. All the best, Enrique (11/21/2019)
---
let me say that your videos and articles are fantastic! You put so much effort into what seems like a simple subject, but for those who understand, optics ARE ANYTHING BUT SIMPLE. Thank you for your work. It is excellent. - C Ellis (10/15/2019)
---
I just want you to know that, based on your reviews, I have recently purchased both the Carson RD 10X42 and Vortex Vanquish 10X26 binoculars. I am very pleased with both and I thank you for your honest and thorough assessments. - K Phipps (10/1/2019)
---
I did something unusual for me - I trusted your review of the better mid-range birding binocular and bought the 2016 cup winner Hawke Endurance ED 8 x 32. It is a joy to have such a high standard binocular perfectly suited to my use at this price range. For someone who takes the binoculars up mountains and down the beach, although I could afford the market best, it would be crazy because of potential damage to such a fine instrument. So a really big thank you for being reliable, independent and trustworthy - you really know your binoculars and the review is a complete match to the product. - P Ward (8/17/2019)
---
Just a word of THANKS, as I came across your site while doing beginner research. Your info and reviews were super helpful. Just ordered the Carson RD 10 x 42. We head to Alaska soon for 2 weeks (Denali, and small ship cruise) and I really wanted a good starter pair of binocs. No need to reply. - Barbara Platt (8/18/2019)
---
Hello BBR, I'm so excited about my new binoculars and used the information from your website to make my choice. I chose the Nikon Monarch HG 10x42. Just wanted to say thanks! Cheers, Camden (5/23/2019)
---
I have enjoyed your website. Very informative. I bought a pair of the above bins 6 weeks ago to take with me on a holiday to Thailand and Singapore. Sightseeing and photography, and a bit of casual birding. Carrying a full frame camera and 24 - 105 lens, I wanted a pair of small light bins to carry with me in a pocket in my camera bag, so I could enjoy birds, as and when I saw them. I tried Swarovski 8 x 30 and 8 X 25 and Zeiss 8 x 25 but I kept coming back to these. Wide field of view and long eye relief. I wear specs. They performed brilliantly. So light and easy to carry. Took them everywhere with me. Superb image quality. I paid £300 for them, there price now is £320. You get a rain guard and bungee strap with them. Lovely tactile rubber coating and the focus ring is a dream to use. I have used them since I got back the the U.K when I have been out walking and would not normally take my full size 8 x 42 Swarovski bins. How do Opticron manage to put this package together for £300? I think there is a place in most birdwatchers kit for a pair of small light binoculars. I will certainly be using these a lot in future. Good for art galleries and concerts too. Keep up the good work. Ian. (3/17/2019)
---
Thanks to your website and insightful comments, I just ordered a Hawke Endurance 8x42 Green from Adorama for 180 $. I also have my eyes set on Vortex Razor HD and also would love to have the Maven B2 (not decided on magnification). Your website is very well done and is a true joy to browse and pore over. Thank you very much. I am forever a fan. M Santosh (5/21/2018)
---
Want your binoculars reviewed?
If you would like me to review your binoculars on this website, I would love to hear from you >> Contact Me
---
Social stuff: