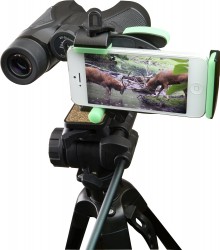 Below are some related articles and blog posts on binoculars and astronomy:
My Best Tripod for Binoculars: Astronomy & Terrestrial Surveillance
In this guide, I go over my favorite tripod setups that I use with my binoculars. It includes advice for both land based observation as well as for looking up into the sky for uses like stargazing at night and plane spotting during the day. In it I explain what tripods I use and why as well as tripod adapters and tripod heads.
Astrophotography with Binoculars & a Phone
In this article, I demonstrate that not only is it possible to take photos of the moon, planets and distant galaxies using binoculars and a phone, but with a little bit of know-how, a free mobile app, some free software, and the right equipment is relatively easy to do, cheap to get started and the results will amaze you!
Best Opticron 10x50 Binoculars for Astronomy & General Use - This article is based around my reply and to a readers request for me to help them find the best 10x50 Opticron binoculars for their needs.
10x50 Binoculars & Optical Components Quality - more on this popular configuration for stargazing.
Using Binoculars for Astronomy
Guest post by Philip Pugh. He goes through what he likes to use and what you can expect to see
Viewing the Moon with Binoculars
Second in a series of guest posts by Philip Pugh. Here we explore the ideal binoculars for viewing the moon with and what you can expect to see in the different lunar phases.
Viewing Planets Through Binoculars
Third guide in the binoculars for astronomy series by Philip Pugh. This time he takes a look at what you can expect to see when using different size and powered binoculars to look at the planets in our solar system
Binocular Astronomy – Understanding Brightness & Magnitude
Fourth article in the binocular astronomy series by Philip Pugh. In this guide he helps us to understand the brightness or magnitude of objects like galaxies, stars, planets and their moons in our night sky and why this is important to astronomy in general and binocular astronomy in particular.
Cosmic Distances & Binocular Astronomy
Guide to Cosmic Distances, how it relates to binocular astronomy and which objects you can see in the night sky at different distances when looking through binoculars.
Guide to Viewing the Pleiades with Binoculars
Fifth guide in the astro binoculars series by Philip Pugh. This time he guides us through the star cluster often referred to as the Seven Sisters. Where to find it, why binoculars are a great choice of instrument and which configuration works best.
The Beehive Cluster With Binoculars
Another in-depth guide part of the binocular astronomy series written for BBR. Here we take a look at how to view the Beehive and what are the best binoculars to use with image comparisons to give you an idea of what you should expect to see.
Camping & Astronomy Binoculars
Best Comet Binoculars and what to look out for
Be inspired by the Constellations & Milky Way with Binoculars
Astronomy & Binoculars: Neptune