Best Monoculars 2023
Binocular Reviews Home > Monoculars > Best Monocular Awards
A good monocular has a number of advantages over binoculars and thus in certain situations and uses they can be the better option:
Their single barrel shape makes them great to carry about one handed and are easy to pop away into a pocket for easy storage.
Whilst it is true that the same could be said for a good compact binocular, the advantage with a monocular is that for roughly the same size and weight, you almost always get a much larger objective lens and thus generally better image quality and brightness, especially in low light.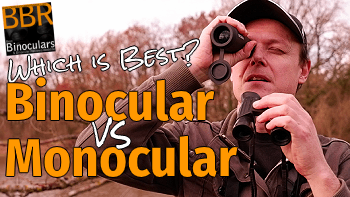 Then there is price: A monocular is basically half a binocular and because the manufacturer does not need to worry about maintaining perfect collimation between the two sides, a monocular is far easier and thus cheaper to produce. Therefore like for like, a monocular often costs a lot less than the equivalent binocular.
So yes, whilst you don't get the same impressive effect as you do with binocular vision, for ease of use and the advantages that we have gone over above there are times when a monocular is exactly what is needed.
For more details and if you are undecided on which is best for your needs, be sure to check out my in-depth article and included video on Monocular vs Binoculars for Birding, Hunting, Hiking, Sports & Travel.
Best Monocular Awards
This year I have decided to put together a list of the very best monoculars in a range of categories to help those looking to find a specific instrument for their needs and budget quickly and easily:
Categories
Best Overall | Best Value | Most Interesting | Best Birding | Best Hunting | Best Powerful | Best Zoom | Best Budget & Cheap
Winners: Best Monoculars 2023
---
---
---
---
---
---
---
---
---
---
Overall: Top Rated Monocular
Initially I thought it would be relatively easy to find the best all-round monocular currently on the market, but I have to say there were a number of contenders that could easily have taken this spot.
After very carefully going through all of the specifications and features on all the instruments on my shortlist, I finally settled on the model below which I do feel is a great choice if you wish to use your monocular for a wide range of uses and situations:
Part of the same series of the best selling, very high quality Legend Ultra HD binoculars from Bushnell, the monocular version is a real winner in every sense of the word and as you would expect has all the features and components you would expect from a high end binocular, but at half the size and way cheaper to:
Main Specs & Highlights
42mm Objective with ED Fluorite Glass
Fully Multi-Coated Optics
Phase Corrected BaK-4 prisms
Water Repellent Coatings on exterior lenses
Waterproof & fogproof
Picatinny Rail
Twist-up Eyecup
Field Of View: 340ft@1000 yds
Minimum Focus Distance: 6.5ft
Eye Relief: 15.2mm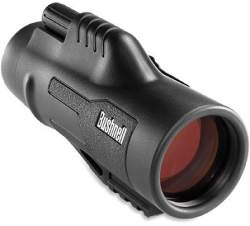 Available in either black or tan coloring, the Bushnell Legend Ultra HD Monocular is only available in the 10x42 configuration, but even so has a more than generous field of view.
Therefore in many ways you get the best of both worlds: greater image detail, but without sacrificing to much of the view.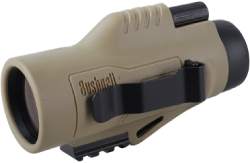 The quality of the optics and the coatings is about as good as it gets in the world of monoculars and I like the small features like twist-up eye-cups (many have inferior folding rubber ones) and the Picatinny Rail on the side that makes it a cinch to clip to your belt or rucksack.
Price:
At the time of writing this Bushnell Monocular was retailing for around $172 / £175 which if you consider all the high end top end components and features makes them great value as well. Very Highly Recommended.
Check Current Price & Where to Buy
Best Monocular for the Money
In this category my main aim is to find the highest performing, but budget friendly monocular as possible.
Before making my selection, I had a number of brands in mind that are known for producing really good value instruments. However after a lot of research, one monocular in particular stood out from the crowd and I have to say it was not even on my radar before I started:
The Zen-Ray below listed below used to be my top choice in this "Best Value" category, but it is now very difficult to find and I think has been discontinued. Well, the good news is I have managed to unearth another excellent performer. Made in Japan, the Opticron WP Monocular incorporates a good level of optical components and features into a very small body, but at the same time, always half an eye on the price. The result is a monocular that easily performs above what I would expect to find at this level:
Main Specs & Highlights
30mm Objective Lens
Fully multi-coated optical system
BaK-4 Roof prism
Waterproof & Nitrogen filled for fogproofing
Twist-up Eyecup with Eyepiece focusing mechanism
Field Of View: 383ft@1000 yds
Close focus to 5m/16.4ft
Eye Relief: 11mm
Made in Japan - Lifetime Warranty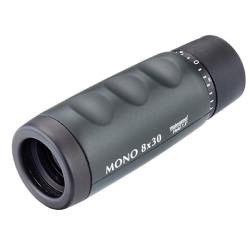 So far I have use the WP Mono for hiking and with great success on a kayaking trip that I recently went on with my family an would highly recommend it to anyone looking for a small, tough, lightweight optical instrument that you can take along just about anywhere without having to be overly precious with it, having it weigh you down, or filling up too much of your bag space.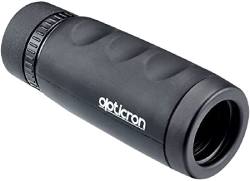 Whilst it is true that the WP Mono does not incorporate the highest level of optics of all the monoculars on this page, I do think Opticron has been smart and done a good job in balancing performance versus price. For more on this, be sure to check out my article and video on Monocular vs Binoculars for Birding, Hunting, Hiking, Sports & Travel, where I use it as the example monocular and it will give you a far better insight into its main strengths and weaknesses, especially when compared to binoculars of a similar configuration.
Price:
Costing under $140 / £110, this nifty little monocular makes excellent value for money and is a great choice for those wanting a very small optical device that will perform well without having to break your bank balance. Very Highly Recommended.
Check Current Price & Where to Buy
Update: Please note this monocular can be difficult to locate and I think it may have been discontinued, which is a real shame. If anyone has any info, please let me know. For the time being I will keep it listed as I do feel it offers excellent value if you can track a pair down.
Whilst they may not be very good at taking product photos (see below) Zen-Ray Optics, they do make a lot of monocular for money.
If you consider their low price point, I have to say that the level of optics used on the Zen-Ray ZRS HD Monocular is impressive, which combined with some really good stats made making my choice of best value monocular fairly simple:
Main Specs & Highlights
42mm Objective Lens
Fully Multi-Coated Optics
Phase-corrected, BAK-4 roof prism
Dielectric prism coatings
Waterproof & Fogproof Metal Chassis
Twist-up Eyecup
Field Of View: 393ft@1000 yds
Minimum Focus Distance: 6ft
Eye Relief: 17.3mm
Weight: 10oz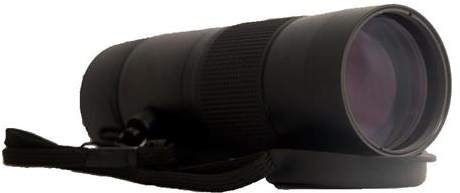 A real standout feature at this price is the use of Dielectric prism coatings. These very highly reflective coatings are the best, but they are also expensive and thus you rarely find them on devices at this level.
As well as this the BaK-4 prism is phase corrected and the optics are full multi-coated.
The width of view is very good, as is the close focus and eye-relief is also more than enough for most users.
Indeed about the only really negative thing that I can come up with is the shockingly poor product photos that Zen-Ray supply! But perhaps by saving money on expensive studios and photographers, they are able to pass this on to us. If so, then long live poor quality product photos!
Price:
At only $135 the Zen-Ray ZRS HD looks to me to be a real bargain:
Check Current Price & Where to Buy
Most Interesting Monocular / Binocular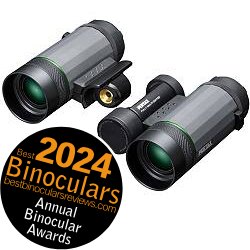 Two For the Price of One!
Two monoculars that join together to form a compact binocular, or if you want, you can join them together end-on-end to make a 16x scope! The Pentax VD 4x20 WP is a set of optics that the Transformers would be proud of!
Very small, lightweight, shareable, tough, waterproof, with an excellent quality, bright view, and a good low light performance for a compact. The Pentax VD 4x20 WP Monocular / Binocular also has an extremely wide field of view and extremely close minimum focus distance, that is easy to use (large exit pupil) with minimal image shake (low power).
Forest Birding / Wildlife Observation
Hiking
Backpacking / Bike Packing
Watching Sporting Events - tennis, cricket, horse racing, motorsports, golf...
Concerts / Opera - Both outdoors & indoors
Art Gallery or Museum - small, close focus, sharable, good low light with an excellent quality view.
Kayaking & Canoeing - waterproof and low power for image stability on the water
A Binocular for older Children / Teenagers
People with unsteady/shaky hands
Butterfly, Dragonflies and other Insects flowers from very close range
Preppers - Survival binoculars that are easy to store in your Bug Out or Get Home Bag and you can use the spotting scope at longer distances if needed
Main Specs & Features:
Mid-High End: Approx: $249 / £244 / €245
Perfect for Couples or Sharing a View
True Pocket Sized Design

Detachable Single Hinge Body with Metal Bridge
Converts from two Monoculars into a Binocular or a Spotting Scope
Fully Waterproof (JIS Class 7)

Fully Multi-Coated Optics

Phase-Coated
Super-high-reflection Dielectric multi-layer coatings

Ultra Wide FOV: 1525ft @ 1,000 yards / 175m @ 1,000 meters
Ultra Close Minimum Focus: 0.5m /1.6ft
Eye Relief: 19mm
Buy & Compare Prices: Pentax VD Binocular
Best Birding Monocular
For the best monocular for birdwatching, I was especially looking for a high quality view and wide field of view that would make it easy to spot and locate your birds and then get the best possible view of them once you are locked on.
A great image quality is important not only for the enjoyment of observing beautiful birds, but also can make identifying them easier because as we know, the differences can sometimes be very small.
For more options and price ranges in this category, check out my guide to the Best Monoculars for Bird Watching.
Whilst not Opticron's top of the range offering (that is the DBA Oasis S-Coat ), the BGA monocular offers what I feel is a pretty good performance to price ratio.
Main Specs & Highlights
42mm Objective Lens
Fully Multi-Coated Optics
Waterproof & fogproof
Twist-up Eyecup
Field Of View: 330ft@1000 yds
Minimum Focus Distance: 6.6ft
Eye Relief: 19mm
Length: 5.4in, Width: 1.7in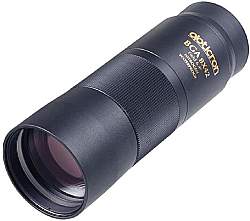 Made in Japan this monocular is small, lightweight and uncomplicated device.
With a twist-up eye-cup and plenty of eye-relief it is a good option for those who wear glasses.
The standard of the optics and their coatings is good and will equal anything within their price range.

Price:
The Opticron BGA 8x42 Monocular is at the time of writing on offer for around $200 / £139 depending on where you shop:
Check Current Price & Where to Buy
Best Hunting Monocular
For a the best monocular for hunting I was looking for a number of critical features that are required for this use on top of the usual ones.
This included ruggedness, ease of carrying and storage is paramount as hunters will also have other gear, a wide field of view and if possible range finding was a bonus.
As you will see below, the winner not only fulfills these minimum requirements but surpasses them with a bunch of other features:
If you are looking for a high performance, really small, easy to carry, lightweight, but tough monocular designed specifically with hunters in mind, then look no further than the Vortex Recce Pro HD 8x32 monocular.
The list of high quality features and best in class specifications is really impressive on these: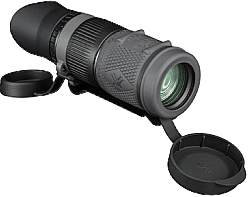 Main Specs & Highlights
Fully Multi-Coated Optics
ED Glass Lens Elements
Extra Protective Exterior Lens Coatings
Ranging Reticle
Onboard Utility Clip
Flared Eyecup
Fog & Waterproof
Vortex Lifetime Warranty
Field of View: 400ft
Angle of View: 7.6°
Close Focus: 5ft
Eye-Relief: 14.5mm
Weight: 11oz
Length: 6.18"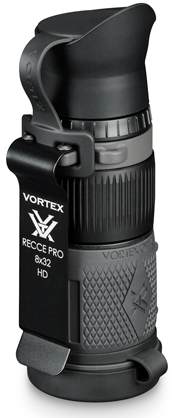 This Vortex monocular could easily have won the overall award, but the hash marked ranging reticle in the view marks it out as being perfect for hunting and the fact that it is fully sealed also possible for marine use.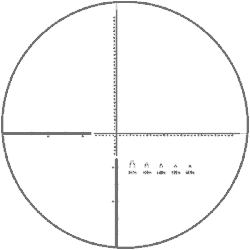 It uses a Mill based reticle that also includes a number of silhouettes that means you can quickly asses the range without having to calculate it. For more details, take a look at them on my page about Vortex Rangefinders.
The field of view on these is extremely wide, which when combined with the HD optics makes them perfect for quickly scanning wide areas of terrain looking for game.
Features like the utility clip that makes it super easy to attach to your belt or webbing as well as the flared eye-cup, tethered lens caps and full lifetime warranty are all great indicators as to the superior quality and attention to detail on this unit.
Indeed, I really can't find a major weakness on these to talk about. There may be some that would possibly wish for a higher power than 8x, but then you would be sacrificing the width of view and low light performance. So for a compact 32mm monocular for hunting, I really do think the Vortex Recce Pro HD is about as good as it gets.
Review:
Price:
Currently selling for around $299 / £290 the Vortex Recce Pro HD is not ultra cheap, but then the quality of components is high and is still a really good and cheaper alternative than a full rangefinder binocular. Highly Recommended.
Check Current Price & Where to Buy
Best Powerful Monocular
This is the category who want extra reach and as much image detail as possible. Here I was looking for a powerful magnification, but at the same the device needed to have a reasonably large objective lens and high level of optics to allow it to still deliver a bright image.
With a 15x magnification, the Nature-Trek from Hawke Sport Optics is certainly a powerful monocular. Indeed I would say that it is at the limit. Any higher and you should probably just opt for a small/travel spotting scope.
They use the same optics as the impressive Nature-Trek binoculars, the 8x42 version actually won my award as best low cost binocular a few years back.
Main Specs & Highlights
Powerful 15x Magnification
Large 50mm Objective Lens
Fully Multi-Coated Optics
Phase corrected BAK-4 roof prism
Waterproof & fogproof
Twist-up Eyecup
Field Of View: 199ft@1000 yds
Minimum Focus Distance: 6.6ft
Eye Relief: 10mm
Weight: 34.9oz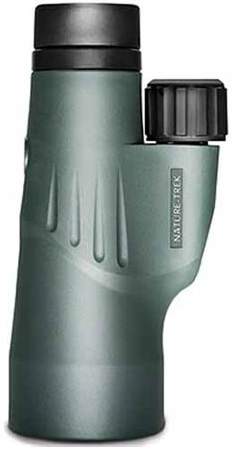 I really like it that Hawke have decided to use a larger 50mm objective lens. Sure it increases the size of the monos a little, but it means that it maintains the exit pupil to a good size and this ensure a bright image even in low light.
For such a powerful instrument, the field of view is not bad, but with just 10mm of eye-relief, I would not recommend these to those who need or want to wear glasses whilst using their monocular.
Price:
At under $100 / £85 they also look to offer great value for money:
Check Current Price & Where to Buy
Best Zoom Monocular
With binoculars I vary really recommend one that has a variable magnification (zoom), this is because the issues involved with maintaining perfect collimation between the two sides whilst altering the is really problematic and as a result, very few are any good.
However with a monocular or spotting scope, you no longer have this problem. So below is my pick of the best monocular with a zoom, where I also took into consideration price and level of components:
With a massive zoom range that takes you from 10x right up to 25x, it is good to see that Barska have used a standard sized 42mm objective on the Battalion so as to maintain a reasonably sized exit pupil.
Although I have to say, if given the choice, I would probably go for a 50mm one, even though you are then sacrificing size, but in return you would get a better low light performance and make it easier to line up your eyes at the highest zoom level.
Main Specs & Highlights
42mm Objective Lens
Magnification from 10x to 25x
Fog & Waterproof
Fully Multi-Coated Optics
BAK-4 roof prism
Field Of View: 200ft at10x & 150ft at25x
Close Focus Distance: 3.2ft
Eye Relief: 14 - 9.5mm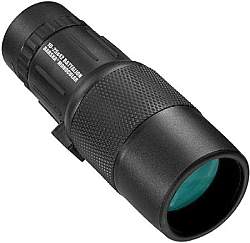 The level of optics and coatings on the Battalion is good and pretty much would you would expect to see at this price level
Apart from the Zoom, a real standout sat for me is the incredibly close minimum focus distance of only 3.2ft. So not only are these with their high 25x power good for long distance, but also close as well.
The one down side is that I would have liked a wider field of view, because even at the lowest power of setting of 10x it is 200ft wide, which is a little less than the average for a 10x monocular and far from the best.
Price:
At around $99 this looks to be a great option if you want a monocular with a zoom:
Check Current Price & Where to Buy
Best Budget (Under $60 / £60) & Cheap Monocular (Under $40 / £40)
In many ways these are the hardest categories to get right. This is because there are so many really bad cheap monoculars, it is really easy to get it wrong! Here I looked for a monocular that had a good level of optics and some decent specs to go with it.
You can't expect miracles and you have to understand that it is impossible for an instrument at this low price level to compete with those above.
So if I had less than $60 or even $40 to spend, then these are the monoculars that I would get:
If it is a workman like monocular that does not cost the earth, but will perform it's function well, then I suggest taking a closer look at the Wingspan Optics ProSpotter 10x42 as to me it looks to offer a really good level of price to performance.
Good quality optics and relatively large 42mm lens ensures that this model will present you with bright, crisp views, yet for a 42mm device it is very lightweight and easy to hold.
As definite strength for me was the wide view that it produces compared to many other 10x alternatives at this price level. The advantage her is that it helps you to locate and then follow objects easier and more quickly
As with any half decent instrument, this Wingspan monocular is both waterproof and fogproof, which also means that they are protected from dust entering the system in dry environments.
Twist-up eyecups and a good level of eye-relief ensure comfortable viewing even with glasses.
Main Specs & Highlights
Full sized 42mm Objective Lens
Multi-Coated Optics
BAK-4 roof prism
Waterproof & fogproof (Nitrogen filled)
Twist-up Eyecup
Field Of View: 304 ft/1000 yds
Close Focus Distance: 2m
Weight: 11.6oz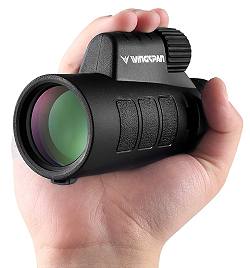 Price:
At the time of writing they were available for about $50 / £50 on most popular web shops:
Check Current Price & Where to Buy
The strong points are that these have a really nice wide field of view, a decent amount of eye-relief and with the small 32mm objective are both compact and lightweight.
I was also happy to see that Bushnell have used BaK-4 prisms on these. Whilst doing my research, many at this low price level had inferior BK-7 optical glass prisms.
The one issue I have is that the optics are only Multi-Coated and not Fully Multi-Coated. Still at this level that is somewhat to be expected and every time I found a fully multi-coated one, they would compensate for it in other areas (like having lower quality prisms etc.).
Main Specs & Highlights
Compact with 32mm Objective Lens
Multi-Coated Optics
BAK-4 roof prism
Waterproof & fogproof
Twist-up Eyecup
Field Of View: 390ft@1000 yds
Close Focus Distance: 9ft
Eye Relief: 16mm
Weight: 15.5oz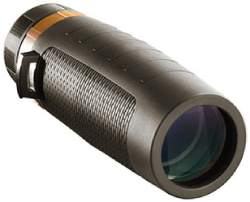 So all-in-all, a nice little inexpensive take anywhere monocular, perfect for occasional use, taking to a sporting event, backyard birding and more.
Price:
I found them on offer for just under $40 at a number of on-line retailers
Check Current Price & Where to Buy
Conclusion
There are some really great monoculars out there at the moment, with a lot of choices. This is good in that the competition in the market makes for better quality products at lower prices, but it can make knowing what to choose more difficult.
Thus I hope this very short list of my choices as the best monoculars of 2023 has in some small way helped to make that decision easier for you.
As I say even if you already have a pair of binoculars, there will still be occasions where the sheer convenience and ease of use just makes a monocular a better choice and is why I think if you can afford it, it is well worth investing in one.
Likewise if you don't have binoculars and you don't want to splash out for both barrels, choose a good monocular like from the list above and you will have a high performance optical device at a far cheaper price :-)