Binoculars By Price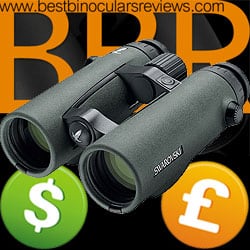 Binocular Reviews Home > By Price
Welcome to the Binoculars By Price section on BBR where I have arranged my reviews, articles and binocular advice by price. By doing this, I hope this this page is of assistance to those who want to more easily find the best binoculars for their money but who have a specific budget in mind:
Contents:
1. Advice
General recommendations & advice on what to look for when buying binoculars by price.
In this section you will find general information as well as tips and advice when choosing binoculars based on price. So for instance it is interesting to know what changes and improvements you can expect when you spend more money on an instrument, or what you need to look out for if you have a small budget:
2. Best Binoculars Under $100 (£/€)
Looking for the best cheap & low cost binoculars? In this section I offer my advice as well as tips on what to look for and give some and recommendations on the best that I have tested in this price category to help make sure that you get the right binocular for your needs:
3. Under $200 (£/€)
If your budget is about $200 or less, you are now looking in the super competitive category of low end to mid level instruments.
At this price range there is less chance of you getting a really bad pair of bins than if you were to spend less than $100, but even so there is a big difference between the best and the worst within this category. However if you are know what to look when buying binoculars at this level then there are also some real bargains and hidden gems to be discovered:
4. Under $350 (£/€)
At around $350 and under, you are now deep and safely into mid-level territory.
This is good in that almost all binoculars under $350 to about $200 will operate to a reasonably high level, but like the mid to low end section above, there is a huge amount of options to choose from as almost every brand will have more than one model at this level. So in order to get the best value for money, it is important to take some time to make sure that all the instruments on your shortlist have the maximum level of features and components possible.
5. Under $500 (£/€)
For $500 or a little under, you can and indeed should be getting a really top notch pair of binoculars.
But you need to be careful because even at this mid to high level there are most certainly quite big differences in both the quality of components and coatings used by varying brands and even different ranges from the same brand.
These inequalities then directly translate to differing levels of optical performance and the structural quality from one instrument to another and so are well worth paying attention to:
6. Under $1000 (£/€)
For me this is probably the most exciting price range when it comes to binoculars and here is why:
At this level, unless you are getting the very best quality optics, coatings and structural body components, you are getting ripped off. So at under $1000 you can expect to get a binocular that has the potential to perform every bit as well as any of the very high end, Alpha type binoculars in the above $1000 category.
However once again we need to be careful, because quite often it is the small things that can and do make the difference between a binocular being good and great. So here it is super important to consider aspects like the expertise in manufacture, attention to detail and added services like customer care and warranties.
Best Binoculars Under $1000 - Reviewed
Below is a selection of the best binoculars that I have fully tested and reviewed at this price range. All of which I would happily endorse. The choice you ultimately make will largely depend on your exact needs and personal preferences:
7. Over $1000 (£/€)
There is no doubt that if you spend more than $1000 on a pair of optics, you should be getting a truly superior instrument.
However binoculars definitely follow the rule of diminishing returns and so at this level, the differences between models and brands is very minimal so a lot will come down to personal preferences and often your own affinity with a particular style or brand.
The Very Best Binoculars Over $1000 Reviewed
Below are a selection of the very high end (Alpha) binoculars that I have reviewed and in my opinion are ideal if you want, need or won't settle for anything but the best: