In recent years we have seen a huge increase in the number of binoculars that use ED Glass (Extra Low Dispersion Glass) in their lenses. What used to be found only on a few of the very top-end "super" binoculars, is now quite common and is used on a whole range of binoculars, even fairly low-cost ones.
So with so many manufacturers using ED Glass, do you know what it really means, why it is used and how does it help improve the view through your optics? Well if not, I will try and answer those questions in this article, but it can get a little technical, so hold onto your hats, but stick with me as it is kind of cool and I will try to explain it to the best of my knowledge and as simply as I can:
Dispersion in Optics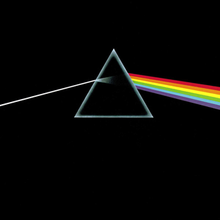 To get started and before we can talk about how one type of glass is better than another, lets first figure out what dispersion is and what it means in the world of optics:
As most people, especially the Pink Floyd fans among us will know, if you pass light through a prism, it will break white light up into its component colors. The blue end of the spectrum is bent the most, and the red end is bent the least.
So the prism spreads or disperses out the colors that make up white light and dispersion is a simply a measure of how much the colors are spread out.
Dispersion in Lenses
The lenses on your binoculars are used to focus the light they capture onto a single point. However, like the prism, a small amount of dispersion occurs as the light passes through the lens and the different wavelengths of light are focused to slightly different positions. This distortion is known as chromatic aberration and is seen as fringes of color around the image produced and is known as color fringing.

The image above demonstrates the color fringing around the edges of the flower, seen when looking at it through a lens with chromatic aberration.
Reducing the Dispersion
There are certain situations when it is preferable to split the wavelengths of light, but obviously, this color fringing is not ideal on a pair of binoculars and so being able to gather up all these different wavelengths of light and focus them on a single point is what you want your objective lenses to achieve.
So it stands to reason that by Reducing the Dispersion – it will reduce the amount of chromatic aberration – which in turn will reduce the amount of color fringing around the image.

There are a number of ways that this can be done and sometimes as you will see below, a combination of some of them produces the best results:
Compound Lenses
A single or simple lens that consists of a single optical element cannot compensate for chromatic aberration, so compound lenses are used which are made up of a number of lens elements that have different optical characteristics and therefore disperse the wavelengths of light differently. These are then bonded together to form a single lens and which, if designed very cleverly can help to correct this aberration.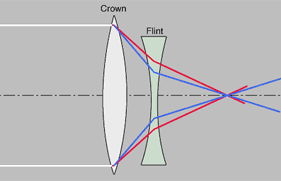 Achromatic Doublet
The most common type of compound lens used to reduce chromatic aberration in the objective lenses of binoculars has two lens elements with differing dispersion properties and is known as an achromatic doublet (or achromat). A typical "standard glass" achromat is made of a low dispersion crown glass and a high dispersion flint glass.
However, whilst an achromatic doublet is a big step forward when compared to a simple lens as it reduces the amount of chromatic aberration over a certain range of wavelengths, they do not produce perfect correction.
The advantages of this design over an Apochromatic lens (see below) is that due to having less elements, it is easier to make, cheaper, weighs less, and is more compact. Also worth noting is that with the advent of ED (extra-low dispersion) glass elements, a well-designed Achromat with ED glass can near the performance of an APO lens in terms of reducing chromatic aberrations.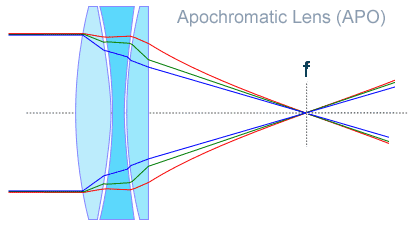 Apochromatic Lens (APO)
An apochromat, or apochromatic lens or lens system usually consists of three elements and brings the light of three different frequencies to a common focus. These can produce even better correction of chromatic aberration, combined with improved correction of spherical aberration than the achromatic doublet can.
For more take a look at my complete guide to Apochromatic (APO) Lenses in Binoculars.
An example of a binocular that uses an Apochromatic Lens with ED Glass elements is the excellent Vortex 8x42 Razor HD Binoculars that produce one of the best images I have ever seen.
Extra Low Dispersion Glass (ED Glass)
Lens Materials
However, this is not where the story ends as different lens materials such as specialized coatings or lenses made from different types of glass may also be used to minimize chromatic aberrations.
As we have seen, an achromatic lens made with conventional glass materials can match focal lengths of two different wavelengths, so red and blue colors at both ends of the wavelengths of visible light for example. The chromatic aberration can be reduced to a certain extent by conforming their focal lengths. However, because light with other wavelengths such as green has different focal lengths, you still get some residual chromatic aberration which is known as secondary spectrum.
The problem of this secondary spectrum cannot be solved with any combination using only conventional glass, but particular optical materials which have a unique characteristic of dispersion can. I think this characteristic is known as anomalous partial dispersion (I may be wrong here – if someone knows for sure please let me know). ED (Extra-low Dispersion) glass has this unique characteristic and when combined with other glasses it minimizes the effects of the secondary spectrum and when you compare this with an achromatic lens made with standard glass, ED glass reduces chromatic aberration and therefore the color fringing to a remarkable degree.
Such glass types are often more expensive and are thus used sparingly unless needed. Moreover, the use of such special glass types often requires careful choreographing with other elements of a special type, to balance the overall behavior.
So to summarize:
Extra low dispersion glass prevents or lessens chromatic aberration because it gives the designer of a multi-element objective lens more options to concentrate and direct the wavelengths of light more effectively, thus they can control and minimize aberrations and in particular, chromatic aberration. Generally speaking, the better the aberrations are controlled, the cleaner and brighter the image will appear.
Consequently, most higher-end optics now come equipped with extra-low dispersion glass lenses. Cameras with the glass tend to take pictures that are clearer and sharper with little or no color fringing and binoculars and telescopes transmit clearer and sharper images to your eyes.
Some other features of ED Glass:
ED glass is less stable with temperature than conventional glass, and so the focal lengths of these lenses change slightly with temperature
ED glass also has a low index of refraction so it requires more deeply curved elements for the same focal length


The illustration above is one that Vanguard Sport Optics use to demonstrate the difference between using standard and extra-low dispersion glass (ED glass)
Highly Rated ED Binoculars
Below is a selection of binoculars grouped into different price categories that use Extra Low Dispersion Glass (ED Glass) in their lenses and which I rated very highly when I reviewed them and thus have no hesitation at all in highly recommending:
Extremely High Specification ED Binoculars (Over $1000 /£/Euros)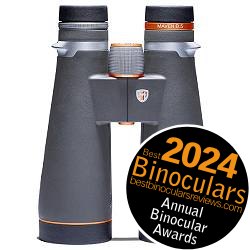 Super high powered binoculars with an equally high level of renowned Japanese optics, coatings, components and a build quality to match.
The 18x56 Maven B5 binocular is designed to deliver high quality, highly detailed views a long distances and all at a price well under that of most other "alpha" level instruments.
Japanese Made Components, US Assembled
Abbe-Koenig Roof Prisms
Fully Multi-Coated Optics
Fluorite Glass ED Lenses
Scratch & Oil Resistant Exterior Lens Coatings
BBR Ratings:
Body Quality:
9/10

88%




Outstanding

Body Stats:
8/10
Optical Quality:
10/10
Optical Stats:
9/10
Image Quality
9/10
Extras & Details:
8/10
Buy & Compare Prices: Maven B5 Binoculars
High Specification ED Binoculars (Under $1000 /£/Euros)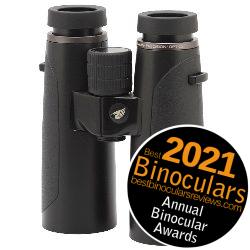 The use of extremely high-quality components that included not one, but two ED Glass Elements in each lens, combined with an obviously high level of expertise in both Germany and Japan has all come together to produce what I believe is just about an alpha level binocular, but at a sub alpha price level, which is seriously impressive.
These GPO Passion HD 10x42 binoculars are truly excellent and certainly up there with the very best in this and even the higher price ranges.
Japanese Made Components, German Designed
Fully Multi-Coated Optics with Double ED Glass Elements
Hydrophobic Lens Coatings
Schmidt Pechan roof prism system
Dielectric and Phase Correction Coatings
BBR Ratings:
Body Quality:
9/10

90%




The VERY Best

Body Stats:
8/10
Optical Quality:
9/10
Optical Stats:
9/10
Image Quality
10/10
Extras & Details:
9/10
Buy & Compare Prices: GPO Passion HD Binoculars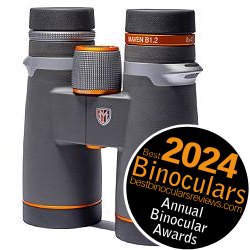 Updated from the B.1 series, the 10x42 B1.2 binoculars are smaller, more lightweight, come with improved optics, a much wider field of view, longer eye-relief, a closer minimum focus distance as well as other improvements.
The fact that Maven Optics has managed to do all this and keep the cost at the same level results in a high-performance binocular with an incredible performance to price ratio.
Fully Multi-Coated Optical System
ED Glass Lens Elements
Scratch and Oil Resistant Lens Coatings
Schmidt-Pechan Prisms with Dielectric Mirror Coatings
Price: (5/6) High Value Binoculars

BBR Ratings:
Body Quality:
9/10

88%




Outstanding

Body Stats:
8/10
Optical Quality:
9/10
Optical Stats:
10/10
Image Quality
9/10
Extras & Details:
8/10
Buy & Compare Prices: Maven B1.2 Binoculars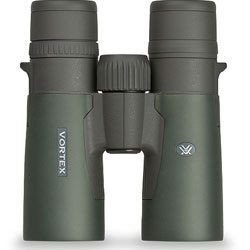 These Vortex binoculars use an apochromatic lens design that includes high density ED glass elements and the use of the very best quality coatings like dielectric and phase correction coatings on the roof prisms that all join together and produce an extremely high quality and bright image and one of the best I have seen.
These Vortex binoculars ooze quality and the water and fogproof body is nice and light as well as strong thanks to a magnesium chassis. I also really like the exterior design that is both comfortable and secure to hold.
Price: (5/6) High Value Binoculars

Best Binocular Reviews Ratings:
Body Quality:
9/10

90%




The VERY Best

Body Stats:
9/10
Optical Quality:
10/10
Optical Stats:
8/10
Image Quality
9/10
Extras & Details:
9/10
Buy & Compare Prices: Vortex Razor HD Binoculars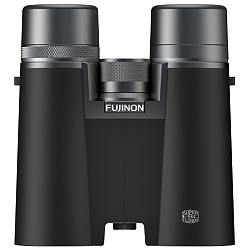 Fujinon HC 8x42 binocular is outstanding and dare I say it, beautiful pair of optics that certainly stands out from the crowd.
I especially like the very wide field of view, which when combined with the excellent quality optics that includes ED glass and which results in a superb image quality meaning that you are presented with a view that is just about as good as it gets for a 42mm binocular in both good and low light conditions.
Optics:
ED (Extra Low Dispersion) Glass Elements
Phase Corrected Schmidt-Pechan Roof Prisms
Dielectric Reflection Coatings
Fujinon Super ECB Multi-Coatings
Water Repellent Exterior Coatings
BBR Ratings:
Body Quality:
8/10

83%




Outstanding

Body Stats:
8/10
Optical Quality:
9/10
Optical Stats:
9/10
Image Quality
9/10
Extras & Details:
7/10
Buy & Compare Prices: Fujinon HC Binoculars
Mid-to-High End ED Binoculars ($300 – $500 / £ / Euros)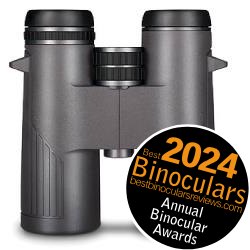 When you factor in their price, the list of highlights on these mid-to-high end Hawke binoculars is truly impressive.
Highlights on the exterior include a magnesium housing, metal eyepieces and focus wheel. Optically they are fully multi-coated, have ED glass lenses with water repellent coatings as well as phase corrected, dielectrically coated prisms
The field of view is phenomenal as is the image quality and brightness. Truly some of the best binoculars I have ever tested and reviewed at this price level.
Price: (4/6) Mid-High Value Binoculars

BBR Ratings:
Body Quality:
8/10

87%




Outstanding

Body Stats:
9/10
Optical Quality:
9/10
Optical Stats:
9/10
Image Quality
9/10
Extras & Details:
8/10
Buy & Compare Prices: Hawke Frontier ED X Binoculars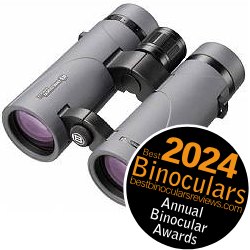 With ergonomic features like an open bridge body design and optical features like high-performance ED glass lens elements and dielectric coatings on the Barium-Kron glass roof prisms, this 8x42mm version of the Pirsch ED binocular from the German Optics company Bresser combine a high level of components with an excellent build quality to deliver a binocular with an excellent overall performance at what I believe is a very reasonable price.
Mid-High End Binoculars – approx $320 / £290 / €300
ED (Extra Low Dispersion) Glass
BAK-4 Roof Prisms
Dielectric & Phase Corrected
Fully Multi-Coated
BBR Ratings:
Body Quality:
8/10

83%




Outstanding

Body Stats:
9/10
Optical Quality:
8/10
Optical Stats:
8/10
Image Quality
9/10
Extras & Details:
8/10
Buy & Compare Prices: Bresser Pirsch ED Binoculars
Mid Price ED Binoculars ($130 – $300 / £ / Euros)
Mid-sized, mid-priced Hawke binoculars that impress in almost single every area and one of the best mid level ED binoculars that I have ever used.
A fully fog and waterproof magnesium housing protects high quality and fully multi-coated optics with highlights that include ED glass lenses, BaK-4 roof prisms that have been phase corrected.
The result is a high quality and bright image that has a wide field of view, good close focus and delivers plenty of eye-relief.

Price: (3/6) Mid Priced Binoculars
A tough but very lightweight and waterproof body protects some really high quality optical components including the use of ED glass and phase-coated BaK-4 roof prisms that produce a bright and high quality image.
Extras like an included binocular harness and the fantastic wrap around BinoArmor carry case add extra value to this already excellent pair of optics.
Price: (3/6) Mid Priced Binoculars
Best Binocular Reviews Ratings: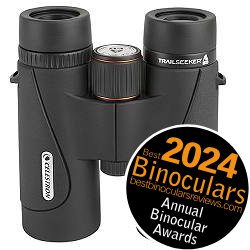 At the mid-level price range, these Celestron TrailSeeker ED binoculars are just about as good as it gets and in my opinion one of the Best Value For Money Binoculars in their class.
Highlights include high quality optics like dielectric coated, phase corrected prisms that bring about a high-quality, bright view. ED glass in the lenses helps produce the extremely low levels of color fringing. They also have a fully waterproof and nitrogen purged, lightweight and compact magnesium chassis.
Mid Level Binoculars – approx $285 / £285 / €300
Fully Multi-Coated Optics
ED Glass Lens Elements
Schmidt Pechan Roof Prisms
Dielectric Coatings & Phase Corrected
BBR Ratings:
Body Quality:
8/10

83%




Outstanding

Body Stats:
9/10
Optical Quality:
8/10
Optical Stats:
8/10
Image Quality
9/10
Extras & Details:
8/10
Buy & Compare Prices: Celestron TrailSeeker ED Binoculars
More Info & Further Reading
You can also take a look at: