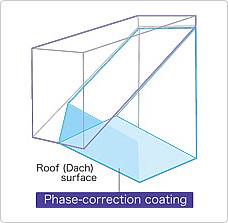 Phase Correction on Binoculars
After the light travels through the objective lenses on a roof prism binocular, it then reflects off the surfaces of the prism. These multiple internal reflections on the prism and because of a phenomenon known as Brewster's or the polarization angle, cause the light to become partly polarized and the light splits into two slightly out-of-phase beams.
Left uncorrected, this "phase shift" will produce an image with less contrast and a lower resolution. So to prevent this and thus increase the image quality and contrast, better quality binoculars have special multilayer phase-correction coatings applied to one of the roof surfaces which forces the split light back into phase so that they now both have essentially the same phase shift and thus there is no longer any interference to degrade the view.
To produce these very thin coatings on the prism surface, they are usually deposited using a process known as chemical vapor deposition. If you are interested in seeing this process, take a look at this article and video on how binoculars are made.
Note: Phase correction coatings are only needed on roof prism binoculars as this phase shift does not occur on a porro prism.
Best Lower Cost Phase Corrected Binoculars
Whilst you can safely assume that all these high end and the very top tier expensive roof prism binoculars are phase corrected, not all of the lower tier and slightly cheaper models are. The price of bins with high end features continues to drop, but as of yet, I have not reviewed any really cheap binoculars that are phase corrected.
So if you are on a budget and to help with your search below is a selection of some of the best cheaper (Mid priced) roof prism binoculars with phase-correction coatings that I have reviewed and which I have rated very highly:
Low Cost Binoculars
Mid Price Binoculars
Mid-High Value Binoculars
More
For some more great binoculars take a look at the following links: