7 Best Monoculars for Bird Watching 2021
Binocular Reviews Home > Monoculars > Best Birding Monoculars
In this article I will be reviewing a selection of the best monoculars for bird watching. I believe that the range of price levels and the features on offer will help you to pick an ideal one for your particular birding monocular needs.
Article by Derek Sergeant
A monocular has only a single objective lens and a single eye-piece, so is generally smaller and lighter than a pair of binoculars with the same magnification and field of view. Due to their less complicated design, a monocular can be significantly cheaper too.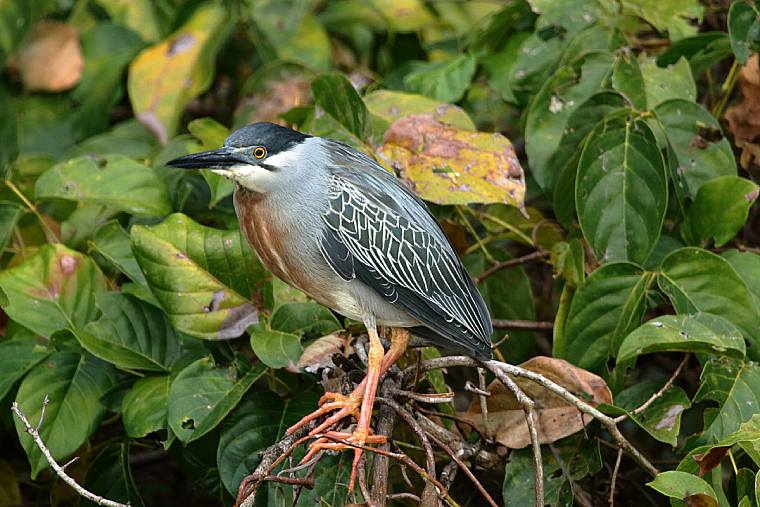 Different Types of Birding
There are many different settings for birdwatching. The picture featured is of a striated heron, taken while I was sitting in a canoe on an oxbow lake in the Amazon. Close to home, in the UK, I can regularly see small songbirds and large red kites.
You may have a local nature reserve, with fixed permanent hides. Will you be watching large, predictable, birds? Or maybe you will be waiting to glimpse a kingfisher as it dives? I enjoy sitting by my kitchen window overlooking a well stocked feeding station.
Sometimes you will just see birds while you are out and about, on your everyday business. Recently I spotted a flock of tiny goldcrests flying past a hedge, far too fast for me to even react!
If you find yourself birding in a variety of situations, then a general monocular for birding will serve you well. However the best monocular for birding in a forest may not be perfect for you if you want to get a better view at longer distances over a wide stretch of coastline.
Or perhaps you are choosing a bird watching monocular for a once in a lifetime safari holiday!
Monocular versus Binocular
You may wonder why I am considering monocular bird watching instead of recommending a pair of binoculars. If you would like to find out about these, read our guide to binoculars for birdwatching.
The primary difference between a monocular and binoculars is that a monocular has only one barrel where binoculars have two barrels. The single barrel shape of monoculars means that they can be easily carried and operated with only one hand.
The advantage with a monocular is that compared to an equivalent size and weight pair of binoculars, you almost certainly get a larger objective lens. This larger objective lens ensures a generally better image quality and brightness, which is really useful in low light.
The single barrel of a bird watching monocular means that they can be popped away in a pocket for easy storage. A less obvious difference is that the chassis does not need precision alignment of two barrels (collimation). So a monocular is less complex and hence cheaper to manufacture. A monocular costs less than the equivalent binocular.
A pair of binoculars does provide binocular vision, and an immersive effect which allows you to perceive distance. So there are advantages for both options, but for the convenience and price it is well worth using monoculars for birding.
What magnification is best for bird watching?
I used to think that the best monocular for bird watching must be the one with the most zoom power. In theory this gives you a closer view of the bird, so looking through a Swarovski spotting scope (a larger form of monocular) provides a whopping 70x optical magnification.
The drawbacks to a higher powered monocular is that it is really hard to aim at the bird you want to see, and higher magnification makes it hard to obtain a steady, shake free image. The slightest movement of your hand is magnified too (by 70x).
The narrower field of view you get, together with the need to focus much more accurately (due to the narrower depth of focus) makes it very hard to watch a fast and erratic small bird.
I would prefer to use an 8x monocular for birding, as this provides a detailed view of my subjects without me having to worry about keeping rock steady or having to spend a long time hunting to find the bird.
Field of view
A wide field of view is a major factor with a birding monocular. This helps with aiming the monocular, and with scanning and following a bird in motion.
Optics & Image Quality
Every time I ask a fellow photographer what I could do to take a better photograph of a bird, I hear the same two answers. Practise more. Invest in the best glass you can afford. The same is true for monocular optics.
Expensive fully multilayer coated lenses and treated prisms provide startling clarity and detail that you will not even notice when using a cheap monocular. With a large diameter objective lens, the bright consistent image you see is worth every dollar you invest. Generally a wide field of view combined with high quality optics provides a good image even in low lighting conditions.
Eye relief, wearing glasses
If you wear eyeglasses then it helps to know if you can use a particular monocular while still wearing your glasses. The eye relief is the measure of how far away your eye can be from the eyepiece lens where you can still see the full field of view. Most of the monoculars I have featured are suitable for use while wearing glasses.
Categories
Best Overall for Birding | Best Value | Best High End | Best Powerful | Best Compact | Best Cheap
7 Best Birding Monoculars 2021
---
---
---
---
---
---
---
Overall: Top Rated Birding Monocular
Selecting the best all-round birding monocular currently on the market is tough!
Sure, it would be easy (even lazy of me) to just select a very high end Leica or Zeiss, just because of the quality of optics used and their reputation. However for me there is far more to it than that:
As well as optics and image quality, I look very closely at the specifications, both in terms of their lens sizes and for things like field of view to ensure that they are suitable for a wide range of birdwatchers needs. Then lastly I also take price and more importantly value for money into account.
I was especially looking for a high quality view and wide field of view that would make it easy to spot and locate your birds and then get the best possible view of them once you are locked on.
A great image quality is also super important: Not only for the enjoyment of viewing beautiful birds, but it can also make identifying them easier... especially when it comes to LBJ's (little brown jobs).
So after very carefully going through all of the specifications and features on all the instruments on my shortlist, I finally settled on the model below which I do feel is a great choice if you wish to use your monocular for a wide range of birding situations:
The Japanese made 8x42 Opticron BGA monocular is ideally suited to observing birds and other wildlife, and its low weight (just 10.1oz) is easy to carry along with other gear. The performance is excellent at this price.
Opticron do offer a more expensive DBA Oasis monocular, but I do feel that for the price, these are tough to beat for birding.
Main Specs & Highlights
42mm Objective Lens
Fully Multi-Coated Optics
Waterproof & fogproof
Twist-up Eyecup
Field Of View: 330ft@1000 yds
Minimum Focus Distance: 6.6ft
Eye Relief: 19mm
Length: 5.4in, Width: 1.7in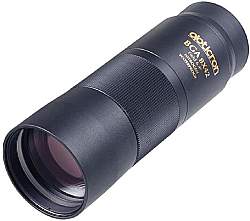 With a twist-up eye-cup and a generous eye relief, it is a good choice for those who wear glasses.
For twitching, I think it is best to avoid the cheaper range of Opticron Trailfinder monoculars.
For their price range, the multi-coated optics will equal or surpass other contenders.
Price:
The Opticron BGA 8x42 Monocular is at the time of writing on offer for around $200 / £139 depending on where you shop:

Check Current Price & Where to Buy
Best Birding Monocular for the Money
In the best value for money category I look to find what I feel is the highest performing monocular, but one that is also ideal for birding as well as being as easy on the wallet as possible.
Before making this selection, I did have a few brands in mind that are particularly known for delivering good value optics. However after a lot of research, and a couple of monoculars in particular really stood out from the crowd for me:
Yes, I know like the best overall option above, this is another Opticron monocular. However, the WP is less expensive, yet still manages to incorporate a fair amount of the high-end features to deliver what I feel is an excellent price to performance ratio:
Main Specs & Highlights
30mm Objective Lens
Fully multi-coated optical system
BaK-4 Roof prism
Waterproof & Nitrogen filled for fogproofing
Twist-up Eyecup with Eyepiece focusing mechanism
Field Of View: 383ft@1000 yds
Close focus to 5m/16.4ft
Eye Relief: 11mm
Made in Japan - Lifetime Warranty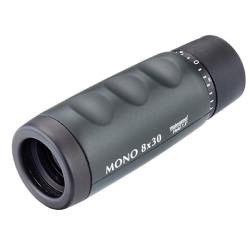 One of the main highlights on this small monocular is the very wide field of view (383ft@1000 yds) that you are presented with whilst looking through it. For birding this is often a big advantage as it helps you to more easily locate and then follow fast nd often erratic moving objects... like birds!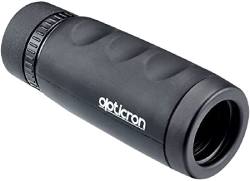 With it's smaller 30mm lens, the WP Mono is never going to have the same low light performance as the 42mm versions, but the advantage here is you get a much smaller, easier to carry instrument.
So far I have use the Opticron WP Mono 8x30 Monocular for hiking and with great success on a recent kayaking trip and have no hesitation in recommending it to anyone looking for a tough, small, lightweight optical instrument that you can take along just about anywhere without it weighing you down, or filling up too much of your bag space.
For more on the Opticron WP 8x30 monocular be sure to check out my article and video on Monocular vs Binoculars for Birding, Hunting, Hiking, Sports & Travel, where I actually use it as the example monocular. Here you will get a far better insight into it's main strengths as well as its weaknesses, especially when compared to binoculars of a similar configuration.
Price:
Costing less than $140 / £110, I do feel this small, lightweight monocular makes excellent value for money and is great choice for birders wanting a very small optical device that will perform well without having to break your bank balance.
Check Current Price & Where to Buy
Update: This Zen-Ray monocular can be difficult to locate in store and online and I think it may have been discontinued, which is a real shame. If anyone has any info, please let me know. For the time being I will keep it listed as I do feel it offers excellent value and is worth considering if you can track a pair down.
When you consider their price point, the quality of optics used in the Zen-Ray ZRS HD Monocular is impressive. Its specifications, especially for birding are good and is why I have chosen this one as my best value birding monocular.
Main Specs & Highlights
42mm Objective Lens
Fully Multi-Coated Optics
Phase-corrected, BAK-4 roof prisms
Dielectric prism coatings
Waterproof & Fogproof Metal Chassis
Twist-up Eyecup
Field Of View: 393ft@1000 yds
Minimum Focus Distance: 6ft
Eye Relief: 17.3mm
Weight: 10oz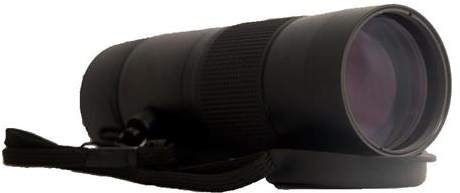 The eye relief will accommodate most users, and the twist-up eye-cup is a nice feature if you wear glasses.
Not only does this monocular have a wide field of view, but Zen-Ray have included dielectric prism coatings and fully multi-coated optics and large 42mm objectives. This means that the view you get is not only wide, but also, bright and of a very high quality.
Price:
At only $135 the Zen-Ray ZRS HD looks to me to be a real bargain:
Check Current Price & Where to Buy
Best High End Birding Monocular
Here I restricted my search to the 'alpha' level of optics and took the approach of money is no object. However having said that I do think that this choice is surprisingly good value, especially when you consider what it costs to buy the equivalent pair of binoculars:
Leica has made their name synonymous with super high-end optics and this 8x20 Monovid monocular is certainly no exception.
At less than 10cm (3.85in) in length and just over 3.5cm (1.4in) in circumference, this is one of the smallest options out there and thus ideal for users like travelers or hikers.
The instrument itself is of a very high caliber and includes Leica's proprietary P40 coated roof prism, fully multi-coated optics, and also exterior lens coatings that repels both water and dirt.
The field of view is very wide for a monocular with 8x power and a 20mm objective lens.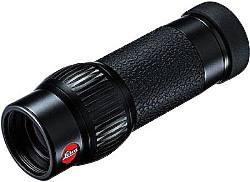 Main Specs & Highlights
8x Magnification
20mm Objective Lens
Aluminium Chassis
Fully Multi-Coated Optics
Protective AquaDura™ Exterior Lens Coatings
Phase corrected, P40 coated roof prism
Waterproof & fogproof (nitrogen filled)
Field of view: 330ft@1000yds
Minimum focus distance: 6ft
Minimum focus when using included close focus lens: 1ft
Eye relief: 15mm
Length: 97.9mm / 3.85in
Width: 35.5 mm / 1.4in
Weight: 4oz

Whilst extremely small as well as lightweight, this monocular still manages to maintain it's optical versatility and is ideal for a wide range of uses from general wildlife observation, bird watching to close up observation of leaves, flowers, and insects.
It incorporates most of the high end components and coatings used on their high end and much loved Monovid binoculars including their water and dirt repellent AquaDura™ coatings on exterior lenses and phase correction coatings on the prism.
Just keep in mind these extremely high-quality optical components and coatings help produce a bright and superior quality view in good light conditions, they are restricted by the size of the small 20mm objective lens and thus are probably not the best option in bad light conditions. So where you gain in terms of size and weight, you lose out a little in terms of low light capabilities.
Note: Leica also include a close-up accessory lens that allows a minimum focus of only 1ft. This enables really detailed observation of birds and which is perfect for viewing butterflies and insects. To use, you simply screw it onto the front lens.
Unlike cheaper monoculars, these have an Aluminium chassis that is both fog and waterproof to a depth of 5m.
This Leica monocular also comes with a leather case that has a silent magnetic fastener that ensures nearby birds are not alerted or scared away when accessing.
Price:
The price varies around $449 / £390:
Check Current Price & Where to Buy
Best Powerful Monocular for Birding
This is the category for birders who want extra reach and as much image detail as possible. Whilst most birders prefer a wide view over high power, in some situations, like at the coast or when viewing eagles soaring high above or nesting in very tall tress the extra reach can be preferable.
Here I was looking for a powerful magnification, but at the same the device needed to have a reasonably large objective lens and high level of optics to allow it to still deliver a bright image.
This is a powerful monocular, and probably is at the limit of what can be used handheld. Any more magnification and you are in the territory of scopes and you may wish to consider a small/travel spotting scope.
Whilst the higher power does reduce the field of view, it is still not bad and thus I would suggest that these are a good option for any birder wanting some extra reach. So ideal for those in wide open areas overlooking a lake or at the coast. It would also be ideal for those observing larger, more predictable birds like eagles or hawks from greater distances or high up in trees.
The Hawke monocular has a substantial objective lens and high quality optics indeed, they use the same optics as the impressive Nature-Trek binoculars, the 8x42 version actually won my award as best low cost binocular a few years back.
Main Specs & Highlights
Powerful 15x Magnification
Large 50mm Objective Lens
Fully Multi-Coated Optics
Phase corrected BAK-4 roof prism
Waterproof & fogproof
Twist-up Eyecup
Field Of View: 199ft@1000 yds
Minimum Focus Distance: 6.6ft
Eye Relief: 10mm
Weight: 34.9oz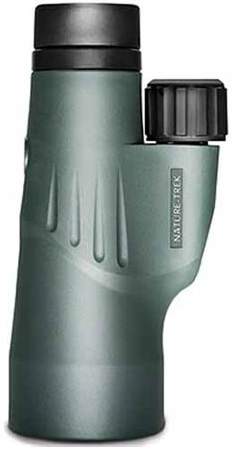 The larger 50mm objective lens means that the exit pupil is a good size, which helps provide a bright image in relatively low light. It also ensures that the field of view is still acceptable.
If you want to wear glasses while using your monocular, then 10mm of eye-relief would not really be sufficient.
Price:
At under $100 / £85 they also look to offer great value for money:
Check Current Price & Where to Buy
Best Compact Monocular
Whilst almost all monoculars are smaller than a binocular, this section is for those who want a really small monocular. One that you can just pop in your pocket and take out when needed.
Here this small size can be just be for convenience, or perhaps if you are a photographer who also carries about a lot of other gear.
At less than 10cm long and just over 18mm in diameter, there is no denying that this is a true pocket-sized monocular and thus along with the Leica 8x20 Monovid Monocular, a good choice should size and weight be a critical factor in your decision making.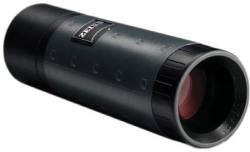 This 6x monocular incorporates the now famous Carl Zeiss T*-multi-coating: Invented more than 80 years ago, it has been constantly developed and improved since then and is in their words, their "guarantee of the brilliant, high-contrast images".
If the 6x magnification is a little to low for you, note that the Zeiss T is also available in several different configurations including an 8x20 that would also be very suitable for birding, but I chose not to include it in this case as I wanted to focus on the smaller sized 18mm version.
I also feel that the 6x magnification offers something slightly different in that you get a nice wide view and with a 3mm exit pupil and high-end optics, image brightness in low light is still very good.
Main Specs & Highlights
18mm Objective Lens
Magnification from 6x
Fog & Waterproof
Fully Multi-Coated Optics
Phase Corrected
BAK-4 roof prism
Field Of View: 359ft @ 1000 yards
Close Focus Distance: 1ft
Eye Relief: 15mm
Weight: 58g / 2oz
Length 94 mm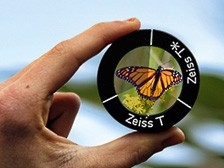 The optics, as expected from Zeiss, are fully multi-coated and the roof prism is made from BaK-4 glass and is phase corrected. Zeiss do not divulge as to the reflective material used, but I would be very surprised to find out that these were not dielectrically coated.
I want to also highlight the really close 1ft minimum focus, perfect for nearby birding in hedges or around bird feeders where you can often get very close. It is also ideal for use when viewing butterflies or flowers from really close range.
Price:
The price tag is around $370 / £220, which for a very high end optic is good when you consider what you would pay for the equivalent binocular:
Check Current Price & Where to Buy
Best Cheap Monocular (Under $40 / £40)
In many ways this is the hardest category to get right. This is because there are so many really bad cheap monoculars, it is really easy to get it wrong! Here I looked for a monocular that had a good level of optics and some decent specs to go with it.
You can't expect miracles and you have to understand that it is impossible for an instrument at this low price level to compete with those above.
So if I had less than $40 to spend, then this is the monocular that I would get:
The really wide field of view came as a pleasant surprise for a smaller 32mm objective lens, giving both a good twitching experience while being compact and lightweight.
Bushnell have used BaK-4 prisms on their Off Trail monocular, which is much better than BK-7 glass prisms.
The optics are not fully multi-coated, but just multi-coated which impacts on image quality particularly in low light. At the cheap price some compromises are expected.
Main Specs & Highlights
Compact with 32mm Objective Lens
Multi-Coated Optics
BAK-4 roof prism
Waterproof & fogproof
Twist-up Eyecup
Field Of View: 390ft@1000 yds
Close Focus Distance: 9ft
Eye Relief: 16mm
Weight: 15.5oz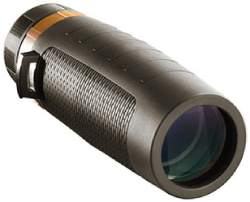 This is an inexpensive monocular that you can take anywhere. Ideal to pop in your pocket and take an urban bird walk in your lunch hour.
Price:
At the time of writing I found the Bushnell 8x32 offtrail on offer for around $40 / £35 depending on where you shop:
Check Current Price & Where to Buy
Conclusion
I hope to have shown you a range of good birding monocular. What you look for will depend on your preferred type of birding. Do you need a wide field of view, good low light performance, with superior image quality?
The six best birding monoculars selected for this review range from $40 to $450.
Best of the Best - Whilst the price may put of many, I love the Leica Monovid Monocular. It simply oozes quality and the fact that it comes with an extra lens for seriously close observation is a real bonus.
Best value birding monocular - The Zen-Ray offers really good value for the quality of optics that it provides. They also have the widest field of view of the monoculars reviewed. Zen-Ray manage to supply a lot of monocular for your money.
Best small monocular - The Zeiss offers the best optics with no compromise, while having almost no weight (2oz). They are not cheap, but they will appeal to someone that needs to travel light but does not want to miss out on birding detail.
High power monocular - The Hawke is uncompromising in terms of optics and offers a reasonable field of view. They are at an affordable price level, but may be too heavy (34.9oz) or difficult to stabilise for some users.
Best cheap monocular - The Bushnell only costs $40 but provides a better than budget optical quality, and achieves a wide field of view. There are necessary compromises, and I would not expect them to be as crisp in low lighting conditions. If you want to try out birding with a monocular this is a good route in.