Best Binoculars 2021 - Award Winners
Binocular Reviews Home > Binocular Guides > Annual Binoculars Awards > BBR's Best Binoculars 2021
11th Annual BBR Binocular Awards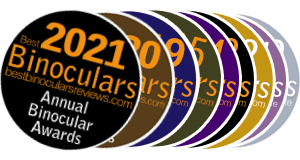 Ever since I started them (way back in 2010), the BBR awards have been an ideal way for me to highlight all the very best binoculars (and other optics) that I have had the pleasure to test for you over the past 365 days and year on year they have continued to grow and get better and better.
However, as we all know, the last 12 months or so have been pretty weird/strange/bad/terrible (take your pick!) for the planet as a whole and speaking for myself, I would class them as probably the worst of my 40 plus years of being on it: At the start of last year, I had to rush home back to Africa as my mum suddenly became ill with cancer, and not long after, she passed away which was, and still is pretty devastating for me and my family. Then "the virus" arrived shortly after I got back to Europe, which as we know has completely changed just about everything.
In terms of binoculars, scopes, night vision devices, and sporting optics in general, the market as a whole has actually been very buoyant which I think is largely due to the fact that during these strange lock-down times, a lot of people have reconnected with nature and the outdoors and as such there has been a surge in all sorts of gear that is associated with outdoor pursuits and that most certainly includes optics.
So what does this all mean for the Best Binoculars 2021 Awards?
The caliber of instrument that I have tested this year has generally been very high, but unfortunately, due to the circumstances mentioned above, I have not tested quite as many binoculars and other related optics in as many niches as I would have liked. Therefore, more than ever, you have to look at the BBR awards and the best binoculars of 2021, as a sort of continuous, rolling award, where every year I build upon the previous year's winners by adding any new instruments that I have fully tested and reviewed and which I feel are fully deserving of an award as well as removing any that have become out-of-date or obsolete.
Beware of Fake Reviews & Awards!
A particular gripe of mine and one of the main reasons I started this site more than a decade ago now is that the internet is full of product reviews and awards conducted by people who have never seen, used, or tested the actual products in question!
These so-called 'reviews' and 'awards' are not only meaningless but worse still often completely misleading as they convince consumers into making a purchase that is often completely wrong for their actual needs and circumstances.
100% Genuine Winners
So before we get onto the winners, I would just like to make it clear that every review I publish on BBR only happens after I have thoroughly used, tested, and researched the binocular, scope, monocular, or other devices in question.
What is more, all of the reviews on the BBR website are completely genuine and my honest, unbiased opinion and so as a result, so are these best binoculars 2021 awards. To be clear: I am not sponsored and do not take any sort of compensation to write about a binocular in a particular way. For more, take some time to go over the notes and rules at the foot of this page.
Best Binoculars 2021
The shortcut links below will take you to the top binoculars in 2021 in a range of popular categories. Note: As I have done in past years, I will be announcing each winner one-at-a-time over a period of about a week, so please do check back if you are reading this and there are still winners yet to be announced!
Best All-Rounder/General Use Binoculars
The binoculars in this main category all excel or at the very least perform well in a wide range of uses and conditions and thus make a great option if you have varied interests and just want a single instrument to cover all or many of them.
Past Winners & Still Very Highly Recommended
More Past Winners in this Low Cost Category Still Worth Considering:
Best Binoculars 2021: Notes, Rules & Regulations
Why the BBR Annual Binocular Awards are different:
In order for an instrument to be considered for a BBR Award and thus rank with the best binoculars for 2021, it must have first been tested and reviewed by me here on BBR.
Then I go over each review at the end of the year and see which if any deserve to be called the BEST in a particular category. If I cannot find any deserving winners, or if I have not reviewed a product in a certain category over the last 12 months, then I either forgo the award or if still relevant and available on the market, I will suggest the previous year's winner instead.
I would like to also like to reassure you that my choice for an award winner in every category is completely independent and unbiased.
As I can only review and test a limited amount of binoculars and other instruments every year, this does mean that the pool of potential winners is way smaller than every single pair of optics on the market. But I do hope that you will agree that this is a worthwhile trade-off and a better option than if I was to follow other people's leads and just offer awards to products that I have never used or tested.
Rules
To have had any chance of winning, I have had to reviewed the instrument on BBR. This obviously means that an award winner has NOT been compared to ALL the binoculars currently on the market, but only to those that I have fully tested. So whilst the pool of contenders is relatively small, you can be assured that the winners have been thoroughly tested and used and not just based on manufacturers specifications or a "thumb-suck" - they truly are in my opinion deserving of an award.
Award winners are chosen by myself. There is no panel of experts or users. Thus those that have won are in my opinion the best in that category for this year, not that of anyone else. I guess this is both good and bad, but for now it is just the way it is.
I also feel that it is very important to emphasise that I do not offer an award to any device purely because I have a specific category to fill. To win, I must feel that the binocular, scope or accessory really deserves to and in that particular category. So if there has been no standout for me in a particular category, there will be no winner for this year in that section and the award will go to the previous years winner if it is still in production and relevant. Note: This is the reason you will see that in some categories there are devices that have won the award for more than one year in a row.
I choose the winners by going back over all the reviews I wrote last year and then placed all the best ones into a pool. Then I organized each of them into the categories that they were most suited to and from there and after studying them again, made a choice of the best of the best.
As it is for most people, price is a factor, however what is more important to me is the value for money within a particular price bracket. So for example a high end binocular is almost always going to be a fairly expensive product, but within this high value price bracket, I look out for ones that offer more for your money than others with a similar price tag by their build quality, quality of their components and just how well they perform both optically and physically.
Once again remember these awards are the same as with all my reviews: They are in no way biased towards any product or manufacturer, I have given the award because I honestly feel that they deserve it.
Further Reading