Best Binoculars 2019 Awards
Binocular Reviews Home > Binocular Guides > Annual Binoculars Awards > BBR's Best Binoculars 2019
9th Annual BBR Awards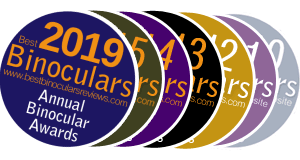 Now into its ninth year, the 2019 awards are a way for me to showcase the very best binoculars, night vision devices, scopes and accessories that I have fully tested and reviewed in the past 12 months in a range of categories.
100% Genuine Award Winners
It really annoys me that the internet is riddled with reviews and awards given by people who in most cases have never seen, used or tested the product in question.
This is because not only are these awards and reviews completely meaningless, but they are also misleading and will often trick consumers into a purchase that in many cases is completely wrong for their particular needs.
What makes the BBR Annual Binocular Awards different:
To be eligible for a BBR Award and be considered one of the best binoculars for 2019, it has to have been fully reviewed and tested here on BBR. Here I think it is important to note that all of the reviews on the BBR website are 100% genuine and only written after I have thoroughly researched, used and then tested and compared the binocular/instrument/accessory to others in its class.
Then at the end of the year, I go over each review and see which, if any really deserve to be called the BEST in a particular category. If I cannot find any deserving winners, or if it happens that I have not reviewed a product in a certain category over the last 12 months, then I either forgo the award or if good enough and still relevant and available on the market, I will suggest the previous year's winner.
I would like to also like to reassure you that my choice for an award winner in every category is completely independent and totally unbiased in any way and that I will never accept any sort of incentive to promote a particular product above another.
As I can only review and test a limited amount of products every year, this does mean that the pool of potential winners is far, far smaller than every single pair of optics on the market, but I hope that you will agree that these BBR awards really do mean something and that the winners really do deserve to be highlighted and recognized as some of the best binoculars in their particular niche. More details, check out the BBR Awards Rules at the foot of this page.
Best Binoculars 2019
Below is a list of shortcut links to all the top binoculars in 2019. As in the past few years, I will be announcing each winner one-at-a-time over a period of days, so please do check back if you are reading this and there are still winners yet to be announced:
Best Binoculars 2019: Notes, Rules & Regulations
To have had any chance of winning, I have had to reviewed the instrument on BBR. This obviously means that an award winner has NOT been compared to ALL the binoculars currently on the market, but only to those that I have fully tested. So whilst the pool of contenders is relatively small, you can be assured that the winners have been thoroughly tested and used and not just based on manufacturers specifications or a "thumb-suck" - they truly are in my opinion deserving of an award.
Award winners are chosen by myself. There is no panel of experts or users. Thus those that have won are in my opinion the best in that category for this year, not that of anyone else. I guess this is both good and bad, but for now it is just the way it is.
I also feel that it is very important to emphasise that I do not offer an award to any device purely because I have a specific category to fill. To win, I must feel that the binocular, scope or accessory really deserves to and in that particular category. So if there has been no standout for me in a particular category, there will be no winner for this year in that section and the award will go to the previous years winner if it is still in production and relevant. Note: This is the reason you will see that in some categories there are devices that have won the award for more than one year in a row.
I choose the winners by going back over all the reviews I wrote last year and then placed all the best ones into a pool. Then I organized each of them into the categories that they were most suited to and from there and after studying them again, made a choice of the best of the best.
As it is for most people, price is a factor, however what is more important to me is the value for money within a particular price bracket. So for example a high end binocular is almost always going to be a fairly expensive product, but within this high value price bracket, I look out for ones that offer more for your money than others with a similar price tag by their build quality, quality of their components and just how well they perform both optically and physically.
Once again remember these awards are the same as with all my reviews: They are in no way biased towards any product or manufacturer, I have given the award because I honestly feel that they deserve it.
Further Reading