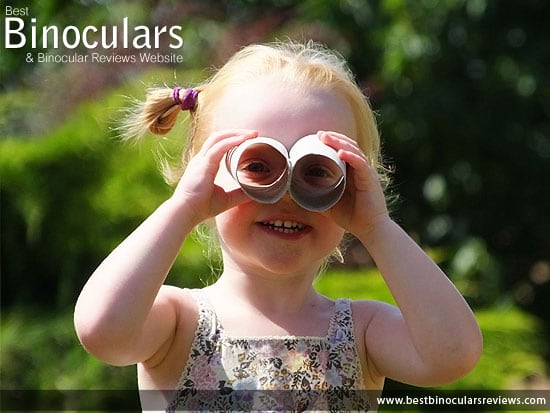 Kids Binoculars
Binocular Reviews Home > Binocular Guides > Best Binoculars for Children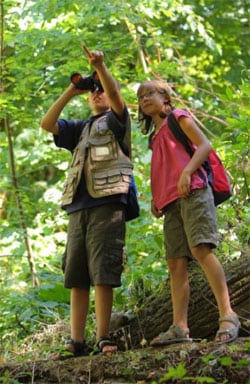 Children's Binoculars
Getting your kids interested in what you are interested in is always a rewarding experience, especially if it is educational as well. Think about it, what could be better than having your child outdoors, learning about and enjoying the wonders of nature.
If your kids are anything like my daughter (main image above), they will want to join in and do whatever it is you are doing, even if as it was in this case just copying dad by pretending to use binoculars using a couple of toilet rolls!
But there will be times when pretend toilet roll bins are not enough and the equipment that you are using may not be ideally suited to small, sticky hands!
The best alternative to having your kids use your expensive optics is to get them a pair that is not only less painful for you should they drop them, but ones that are actually designed to be better suited for a child so that they can get the full use and enjoyment out of them.
There are many "children's binoculars" on the market, many of which are very cheap toys that do little more than blur the image when you look through them! With a pair of these don't be surprised if their interest is very short lived. So in this article, I hope to point out some of the features to look out for in a binocular for a child, as well as take a look at some of the best ones available.
Important Features
Below are the most important features and aspects to keep in mind when looking for a good pair of binoculars for kids:
Magnification
Try to keep the magnification down and I would say that your maximum should be 8x.
Whilst a high powered binocular sound like a great idea at first, there are many downsides to this that have an even greater impact when younger eyes are using the device:
A highly magnified image is much harder to keep still and shake free and therefore it becomes harder to get a good view of what you are trying to look at. As you know kids find it hard to stay still at the best of times and they tend to have less stable hands than adults, so if they only see a blurry, shaky image when looking through their bins, it won't be long until they get bored of using them.
Another advantage of keeping the magnification down is that lower powered bins tend to have wider views (see field of view below)
A lower powered binocular will produce a larger exit pupil than one with the same size lenses, but a higher magnification. This means it will not only produce a brighter image in poor light, but makes it much easier to line up your eyes with the shaft of light exiting the eyepiece of the binocular. This in turn makes it easier for your child to actually use them and helps to make sure they see the full image without any dark rings forming on the edges of the view.
Field of View (FOV)
A wide field of view (the width of the image that you see through your optics) will make it much easier for your child to locate what it is they are looking for through their optics. It will also make it easier for them to follow fast moving or erratic objects like birds for example.
So if you have a choice between two binoculars that are very similar in all other aspects, take a look at their FOV's and go for the one that is wider.
Tip: Binoculars with higher magnifications tend to have a more zoomed in and much narrower field of view, so to make sure you get a wide view, keep the magnification to under 8x and possibly look for bins with a 7x or even 6x power.
Size & Weight
Binoculars with large objective lenses take in more light and therefore in general will produce a brighter image which is optimal. The down side to this is obviously that the binoculars become larger and heavier.
So even tough they may not perform as well in lower light, I would still opt for pocket or compact binoculars that will make it much easier not only for you child to carry, but also hold up to their face and keep steady.
The two images below are of my two and a half year old daughter showing off that she "can use my binoculars" and even one handed! However whilst these Hawke Nature-Trek 8x42 Open Hinge binoculars are particularly lightweight, I would not suggest getting them specifically for your child. What these pics do not show is how long she could hold them for or how steadily she was holding them!
Interpupillary Distance (IPD)
If you do decide to get a binocular that has not been specifically designed for a child, something to look out for as well as the binoculars physical size and weight is the minimum Interpupillary Distance (IPD).
Most manufacturers advertise the maximum and minimum IPD distances that you can adjust their binoculars to, so you just need to make sure that the binocular barrels can be adjusted to match the width between the centers of the pupils in each eye of your child.
To be 100% sure, just measure the distance between the centers of your child's eyes, but for older children a binocular with a minimum IPD of around 5.1cm - 5.3cm should easily accommodate their smaller faces.
Price
This is a personal and I suppose relative option as what may be expensive to you and me will be considered cheap to someone like Bill Gates! I would however like to recommend that you don't go for the very cheapest binoculars in any class as they will usually only end up frustrating your child and eventually put them off using them.
Recommended Binoculars for Children
So now we know the most important features to look for, we still have a couple options available depending on your budget, what the age and interests of your child are:
Binoculars specifically designed for children - usually more suited to younger kids
Standard binoculars suitable for children - often a better solution for older children or teenagers and should last for many years
Binoculars Specifically Designed for Kids
A pair of binocular that has been specifically designed with children in mind should have all of the features listed above. This however is sadly not always the case.
Children's binoculars come in a few guises: ones that are little more than toys and are really not suitable for anything other than pretending to look through them. Then there are a few ones that are actually pretty decent binoculars and with many of the features that we are looking for and then are just a couple that are truly great.
Sure you have to pay a little more, but you can be sure that not only are you getting an instrument that is designed with kids in mind, but also uses the same optics and features as that of the adult versions.
Top Choice for Older Children (10+ Years)
Below is my top recommended choice, it is a little more expensive than most others, but as you will see, the level of these is much higher than the others and is in my opinion well worth the investment for an older child who has a genuine interest in birding, wildlife, the outdoors or indeed for watching sporting events:
Other Similar Options:
If you can't find the Kowa, or just want to take a look at a few other similar instruments then these are also worth investigating:
Top Choice for Younger Kids (4 - 10 Years)
These lower cost instruments are more suited to younger children or for those looking for a less serious and cheaper pair of optics. I have chosen pairs that still perform remarkably well and are still MUCH better than many of the toys that you find on the web: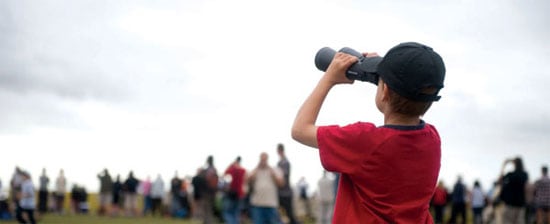 Standard Binoculars for Older Kids
As your child gets older, they will want to use an instrument more like their parents have and there is no reason why they cannot use a standard pair of binoculars.
Indeed in this article: 8x42 or 10x42 Binoculars: Which is Best for Novice / Older Kids, I offer some advice to a reader on just that and it is well worth reading if you are considering buying a standard sized binocular for your child.
In general, I would still advise that you keep the dimensions and weight of the binocular down and that you still maintain a lower magnification as this will make the binocular far easier to use. In this way, I often find that a child will use the instrument a lot more, rather than just becoming frustrated and eventually giving up.
7-15 Years Old
The binoculars below are my top recommendations for older children, teenagers and even adults with smaller hands and faces. Here I think the same principals that we have already discussed remain valid, but instead of opting for a "kids" specific device we can look for the ideal standard bino:
More Binoculars Suitable for Older Children