Whilst on a recent safari holiday in Zimbabwe some friends of mine were using a pair of compact porro prism Pentax 8x21 UCF Mini Binoculars and I thought that I would take some time out and give them a review. Please note that Pentax have updated these and they are now known as Pentax UCF R Binoculars, but as they are so similar and have almost identical specifications, I think that this review is still relevant and should give you a good idea of what to expect.
Because I was on holiday the only binoculars that I had with me that would make a fair comparison with them were my trusty Steiner 10x26 Wildlife binoculars and even though they are quite different binoculars, the Steiner's being more expensive, a roof prism design and with a stronger magnification. They are both compact binoculars, ideal to carry about with you wherever you go, hence why I have my Steiners with me on holiday.
As would be expected from the lower 8x magnification and because they are a porro prism, the Pentax has a wider field of view than the Steiner's, which is noticeable, but not a huge amount.
Main Features

8x Magnification
Rubber Armoured
BaK4 Prisms
13mm Eye Relief
Image Quality
I was really impressed with the clarity, crispness and brightness of the image produced by the Pentax compact binoculars, which I tested on a wonderfully bright and sunny African afternoon: they were easily a match for my Steiner's. Where the Steiner's were very slightly better and produced a slightly brighter image were when I took them into a darker forested area and focused on an object under a thick canopy of trees, with less sunlight. It must be said though that the difference was very minimal and only really noticeable when you passed both binoculars between your eyes a few times. The quality of the image is a direct result of the fact that these Pentax 8x21 UCF binoculars are equipped with multi-coated lenses and quality BaK4-glass prisms, allowing more light to be transmitted at the edges, enhancing illumination.
Compact Binoculars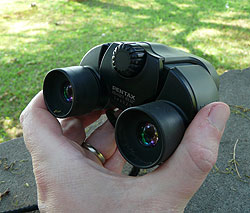 Personally I have always preferred the roof prism design and once folded, the Steiner's can easily fit into a shirt or jacket pocket. The Pentax 8x21 UCF R Binoculars, like many other compact porro prism binoculars means that they are considerably shorter, but wider even when folded, more of a square shape, which can make them slightly more awkward to fit into a pocket.
When walking in the bush, I always like to take my camera and binoculars with me and so for me the ability to be able to store my binoculars in my pocket is important. Other people may like to carry a bird book or just like to be able to use both hands.
However these are still very compact and have a extremely useful strap attached to them, making them simple to hang from your neck or even a wrist. These Pentax UCF's have an unique inverted porro-prism design that allows the binoculars to remain lightweight and compact.
The centre focusing wheel was smooth and simple enough to use, as you would expect. They have comfortable rubber eyecups, which are not adjustable and you cannot fold down with 13mm eye relief, which cannot be described as long eye relief, but should be fine for most users. The exterior is made from a soft rubber armour, which is really comfortable to hold and should protect the binoculars from any small bumps and accidental drops as well as dirt and dust. I really liked the way the binoculars were really comfortable to hold up to they eyes, especially with one hand.
Why Porro Prism
Many people ask, if you are after a compact binocular why, if the roof prism design makes for a smaller binocular, would you choose a porro prism? Well the main advantage is that it is cheaper and easier to make a decent quality porro, than a roof prism. Meaning that to get the same quality of binocular, you generally have to spend more on a roof prism binocular.
What is Included
The UCF's come equipped with a case, lens caps and strap.
Conclusion
Costing around $55 (£50) these obviously cannot compare to far more expensive and higher quality binoculars, but if you are looking for a cheap compact pair of take anywhere binoculars, these are pretty good and I had no problem taking them out the next morning when I went birding.
For those interested, some of the birds I spotted included: Gymnogene (African Harrier-hawk), Fork-Tailed Drongo, Hamerkop, Cattle Egret, African Jacana, Pied Kingfisher, Malachite Kingfisher, African Fish Eagle, Purple Crested Lourie, Red Collared Barbet and Africa Fish Eagle.