Best Binoculars for Hunting 2023
Binocular Reviews Home > Hunting > Hunting Binoculars
Why Use Binoculars for Hunting?
In most forms of hunting and in most terrains, be that walking in the mountains or from a static hide, deep in the forest, using firearms like a rifle, shotgun, or handgun, or more traditional archery weapons like a bow or crossbow, a good pair of binoculars is often a vital piece of equipment to ensure a successful hunt. Indeed there are many hunting experts that I have come across that go as far as to say that the right pair of binoculars for hunting is almost as important as your weapon!
Game Spotting, Identification & Evaluation
Their main uses include helping you to scout the surrounding terrain looking for game and then once spotted, they help you to get a better view of your potential targets to firstly identify the animal, then distinguish the sexes and sometimes ages and then finally evaluate trophies etc.
Terrain Evaluation
For many hunters, but especially those who need to walk and track animals over long distances, another very important use for their binoculars is to be able to take a look at the terrain in the distance and make decisions on the best way in which to pass a particular area.
For example, deciding which valley pathway to follow or at what point to cross a river before you get there can save a lot of time, prevent backtracking and therefore make sure the distances that you have to walk is kept to a minimum.
Buyers Guide
What To Look for in Good Hunting Binoculars
This specific niche within optics has a number of specific requirements that are a little different than say general use or binoculars for birding.
In this guide, I will go through all of the most important features to look for, paying particular attention to those that are most useful to the hunter:
Objective Lens Size
Many hunters will go out in the early morning or late afternoon/early evening and therefore the light gathering ability and the brightness of the image produced is critical. In general the larger the size of the objective lens, the better the binocular will perform in low light. Other factors including the quality of the lenses, lens coatings as well as prisms will also play a vital roll in transferring the maximum amount of light to your eyes. The down size to large objective lenses is that they not only make the binoculars bigger and heavier, but more expensive as well. So as with most things, you have to strike a compromise to get the best binoculars for your particular needs.
Most full size binoculars will have an objective lens diameter of 42mm, compact binoculars tend to have 26mm or even 22mm diameters.
A good compromise for many hunters wanting to travel light, but still want a good low light performance are mid-size binoculars that come with objective lenses of around 32mm. For me a good quality mid-sized bin often makes the ideal compromise between portability and light gathering qualities.
Magnification & Field of View
Most people imagine that the higher the magnification, the better the binocular. Not true. Large magnifications make it really difficult to keep the image that you are look at through the optics still (any slight movement is magnified more and more by larger magnifications).
Larger magnifications also generally reduce the field of view (width of the image that you see). A narrower field of view (FOV) will make it much more difficult to spot game, especially when scanning over large areas, it can also make it harder to track faster moving wildlife.
Having said this, the ideal magnification will also depend on your most commonly used terrain. Those who mostly hunt in the woods and forests will be best off choosing a binocular with low magnification (wide field of view) and plenty of light gathering ability, something like an 8x42 binocular or if you need a more compact binocular, an 8x30 or 8x32.
High Powered Binoculars for Hunting
Those hunting in wide open areas and in the mountains will obviously need to observe game at greater distances and therefore need a larger magnification: 10x, 12x or even greater magnifications may be required. But just keep in mind that the narrower FOV will hamper you a little when searching for game over large areas.
For more information on this, read an article I wrote on the Best High Powered Binoculars for Hunting, that includes advice on what to look out for, as well as a few suggestions on what binoculars to get.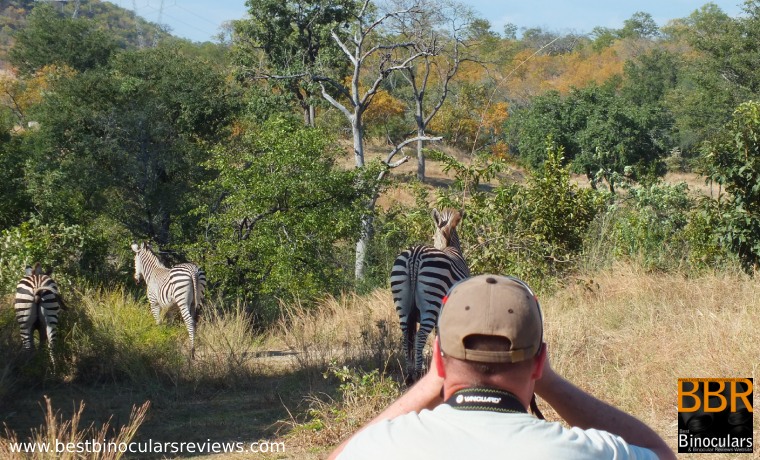 Binocular Durability and Design
Waterproof & Fogproof
Spending time in any wilderness will mean encountering all sorts of weather conditions, it therefore makes sense to choose a pair of binoculars that are fully waterproof. Sealed binoculars not only prevent moisture from getting inside the optics, but dust and other debris as well. Also look out for fogproof binoculars are filled with argon or nitrogen gas to inhibit internal fogging caused by temperature extremes.
To protect you binoculars from accidental drops and knocks, look out for models that have tough rubber armor.
Although not essential, a camouflage exterior can also be helpful for keeping you out of sight. Many manufacturers produce models in different color variations and include a camo version, that you should keep a look out for.
Special Lens Coatings
Steiner Binoculars have a range known as the Predator that has been designed specifically for hunting and that feature special high contrast optics that are able to block out haze and reduce the vibrancy of green foliage, whilst at the same time, they enhance the visibility of browns, reds and other wildlife colors
At first, I was a little sceptical an thought it may be a gimmick, but after testing the award-winning Steiner Predator AF 8x30 binoculars, I can honestly say that it works and was really impressed as in many situations it will certainly help you spot hidden game.
For more on this, you can also read my detailed article on Steiner Predator Binoculars, or also take a look at my overview of the Steiner 10x26 Predator Pro Compact Binoculars.
Rangefinder Binoculars
Binoculars like the Zeiss Victory Range Finder Binoculars that have LED displays within the view that, with a press of a button display the precise distance to the object you are viewing along with their integrated BIS™ ballistic information system.
Also worth taking a look at the Nikon LaserForce Rangefinder binoculars.
Stealth
For most general uses, being as stealthy as possible is not a major consideration. In fact even for some types of hunting this will also not be of major importance, but for those that need to remain completely out of view and earshot, stealthy hunting gear is essential and this includes your optics:
Camouflage - Many binoculars aimed more specifically at hunters will have a version with a camouflaged exterior. However depending on your preferences, a full camo binocular may not be necessary.
For most hunters, I think it is more important to just make sure the exterior has a dull, neutral color. Here a rubber armor is important, without it, the exterior will be very reflective. Even then look out for softer rubber armors and ones that have an engraved pattern etched into them, as this will reflect far less light than hard shiny surfaces.
Noise Cushioning - Once again here the exterior rubber coating can play a vital role in buffering sound. Hard metallic surfaces make a distinctive sound that carries far and wide when even lightly tapped. Think of your rifle or crossbow or other gear coming into contact with your optics.
So to minimize this risk ensure as much of the binocular has a rubber exterior as possible. Some binoculars will leave most of the metal central bridges exposed. If remaining super quite is important to you, this will certainly be something to look out for.
Eye Relief
This is very important if you use eye glasses. Take a look at Eye Relief in my glossary for a detailed explanation, but basically it is the distance behind the ocular lenses where the image is in focus. So if you wear glasses, you can't get your eyes as close to the lenses, you need a longer eye relief that basically projects the image beyond the ocular lens on the binoculars. So if you wear glasses, you should be looking for an eye relief of at least 15mm, to see the full image full image. The down side to long eye relief is that it usually reduces the field of view. Some people wonder if you need to wear glasses at all using binoculars, well If you are near-sighted or far-sighted, you can use your binoculars without wearing glasses and the binoculars focus will compensate, but if you have astigmatism, you will need to use your glasses.
Eye Cups
Eye-cups are related to the eye relief as they keep the distance from the oculars to our eyes, but also help keep stray light away from your eyes while using binoculars. Many eye-cups are made from rubber and can roll up or down another type are eye-cups that slide rather than roll, but these can be hard to keep in place.
The third type and now most commonly used are eye-cups that twist up and down and so they can be left at any position from all the way up to all the way down, some even have click stops at regular intervals with the eye relief distance for each stop marked on the cup so you can get the perfect eye relief for your vision.
Eye Shields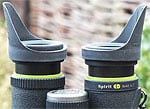 Especially for hunting, the best designs of eyecups, in my opinion, have flaps/shades on the sides, which not only prevent light entering from the side but also stop you being distracted by anything on the periphery of your view.
Indeed some of the very best hunting specific binoculars like the Steiner Nighthunter/Shadowquest 8x56 and the Steiner Predator AF 8x30 binoculars are supplied with the eyeshield design of eyecups and so they are good to go straight out of the box.
However all is not lost if your bins do not have this design as you can purchase a relatively low-cost shield that will fit over your existing eyecup, some of the best that I have used are EyeShields from Field Optics that I highly recommend.
Binocular Harness Attachment
Because of the need to carry around other gear (like your rifle or crossbow for example) as well as your optics, many hunters prefer to carry use a binocular harness.
So whilst you can attach almost any binocular to a harness, there are some models that make this task far easier to do and come "harness enabled" straight out of the box.
What I mean by this is look for binoculars that have quick release clips on the neck straps. These make it possible to quickly and very easily remove the strap and then fix your instrument to the harness.
For mor on this subject, take a look at my guide to the Best Binocular Harness for Hunting.
Best Hunting Binoculars 2022
BBR Award Winners
Every year since 2010, I have highlighted what I feel are the very best instruments that I have fully hands-on tested and then reviewed in a range of categories by giving them an award. This includes a category for hunting, which in the past, I would only award a single binocular the overall title.
However, there have been many occasions when I wanted to offer a number winners in sub-categories within the overall hunting niche (best overall, best budget hunting binocular, best for low light conditions, best at long range, etc) and so this year I am devoting a whole section to of the awards to hunting and below are the winners:
Overall Winner: Best Binoculars for Hunting 2022
The winner in this category must be a truly excellent general all-round instrument and which must be able to perform in a wide variety of conditions and environments:
Best Hunting Binoculars in Low-Light 2022
Best Long Range, High Power Hunting Binoculars 2022
Winner Best Lightweight/ Travel Binoculars for Hunting 2022
In this section I am looking for an easy to carry, lightweight binocular that you can easily take about wherever you go and on any hunt. This winner would thus be a good option for those who carry lots of other gear and who don't want to have to lug about a full-sized binocular ontop of everything else:
Hunting Binocular Reviews
For more options, take a look below at some of the binoculars that I have tested and fully reviewed and which recommend as ideal hunting binoculars. I have divided them into their size categories for you:
Full Size Hunting Binoculars
The binoculars below all have objective lenses of around 42mm and are classed as "full-size" - these larger lenses ensure they perform well even in very poor light. On the down side, they are a little bigger and heavier than some of the compact and mid sized bins (see below), not a problem if you hunt from a hide, but may not be ideal if you also carry a lot of hunting gear over large distances and difficult terrain.
View >> All Binoculars for Hunting that I have reviewed.
Large & High Power Hunting Binoculars
Below are the best large sized hunting binoculars (objective lenses above 50mm in diameter) that I have reviewed and tested on BBR.
Many of them also have high magnifications, but this is not always the case, it just depends on your requirements. For example the large 56mm Steiner Shadowquest 8x56 Binoculars has a moderate 8x magnification, because it is designed to work extremely well in low light conditions.
Whilst the Vortex Kaibab HD 18x56 for example is the same size (56mm), but has a massive 18x magnification. here the emphasis is not on low light performance, rather on being able to achieve a detailed image a very long distances. More Info: Best High Powered Binoculars for Hunting
View >> All Binoculars for Hunting that I have reviewed.
Mid-Size & Compact Hunting Binoculars
The compact & mid sized hunting bins below all have objective lenses of about 32mm and under. These may not perform quite as well as larger bins in low light conditions, but due to their smaller size and lower weight are more portable and ideal if you cover large distances on foot or traverse difficult terrain when hunting:
View >> All Binoculars for Hunting that I have reviewed.
More Hunting Binoculars
View >> All Binoculars for Hunting that I have reviewed.