Leica Binoculars
About Leica
Leica produce some of the finest quality optics in the world including microscopes, equipment for the mining industry, photography equipment and binoculars. Since 1097 the Leica line has evolved and now offer the perfect binocular for virtually every use!
Based in Germany, the binocular section of the company actually comes under Leica Camera AG who also have another base in Portugal. Leica Camera AG manufacture products for photography and binoculars that are mostly aimed at bird watchers, nature observation and hunting.
Those who own a Leica binocular can be certain in the knowledge that they have optical superiority and structural reliability against almost any other brand of binocular.

The Leica Binocular Range
Leica binoculars are divided into a number of main categories, each of which contain a few different sizes of binoculars. There is also a subcategory of Leica compact binoculars that feature Ultravid and Trinovid Binoculars.
What makes a Leica so special?
For most, the decision to buy a Leica binocular will not be one that is taken without much thought. There is no getting away from the fact that Leica binoculars are not cheap. But as they often say, you get what you pay for and with a pair of Leica's, you will be getting the very best in every aspect with optics that have unsurpassed sharpness, clarity, color rendition and image definition.
Most cheaper binoculars on the market are compromises between price, durability, balance, weight, size and performance. With these there is no compromise, I don't say this lightly, but Leica binoculars and spotting scopes are as close to perfection as you can get. These really are an investment and just may be the last pair of binoculars that you ever buy as Leica is is so certain of the merits and durability of their binoculars that they offer a "no fault" lifetime warranty.

Leica Noctivid Binoculars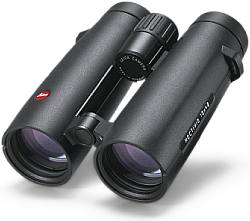 As with all their other top-end instruments, the Noctivid series is Made in Germany and which Leica themselves describe in their marketing as being the best binoculars that they have ever made.
Supplied in either 8x42 or 10x42 configurations and available in black or olive green rubber armor exterior, they incorporate a robust, yet reasonably lightweight open-bridge frame made from magnesium.
Completely sealed and then filled with nitrogen gas, Leica Noctivid binoculars are both fog and waterproof to a depth of 16.5ft (5 meters).
SCHOTT Glass
There is no question that the level of optical components and coatings used on these is out of the very top drawer.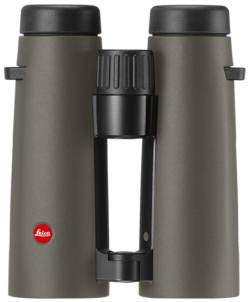 To begin with, Leica has opted to use optical glass made by the world famous SCHOTT company. This is good in itself, but then going even further, they have used the very best high transmission glass that SCHOTT make to ensure that as much light is transmitted in the perfect way possible for the brightest, highest quality image.
All Legend Series binoculars include a water and fogproof magnesium housing, phase corrected Bak-4 roof prisms, fully multi-coated optics using lead-free glass.
Prisms
The roof prisms are phase-corrected (P40), meaning that they have special coatings applied to them to prevent each of the wavelengths from stepping out of phase with each other as they pass through the prism and thus makes for a sharper, higher definition image.
Leica has also added their "HighLux System" mirror coating to the prisms. They say this improves light transmission, but don't go into detail. My guess is that it is their name for a dielectric coating, which would be excellent.
Fully multi-coated with an anti-reflection material, the outer lens surfaces are also coated in their now famous AquaDura™ Coating and additional scratch resistant coatings that they call their "High Durable Coating (HDC)"
Further Reading:
For more details on all their features, specifications and comparisons as well as their ideal uses: Leica Noctivid Binoculars Review
Main Specifications
Model
Leica Noctivid 8x42
Leica Noctivid 10x42
Model No.
40 384
40 385
Field of View (ft.@1000yds / m@1000m)
443/135
376/112
Angle of view
7.7°
6.4°
Close Focus (ft. / m)
6.2/1.8
6.2/1.8
Exit Pupil (mm)
5.2
4.2
Eye Relief (mm)
19
19
Weight (oz. / g)
30.3/860
Dimensions:
4.88 x 5.91 x 2.68 in / 12.4 x 15 x 6.8 cm
IPD
56 – 74 mm
Diopter compensation
± 4 diopters

Prices & Where to Buy
As you would expect for some of the very best optics made by one of the most respected optical brands in the world, these Noctivid binoculars are not what you would describe as being inexpensive. However if you are looking for the very best binocular that money can buy, then surely these would make the very short list of just about anyone:
For current prices in your country, please check the link below:
Buy & Compare Prices: Leica Noctivid Binoculars
Leica Ultravid HD Binoculars
The Ultravid series contains 4 ranges of binoculars, each containing different magnifications of binoculars. All Ultravid binoculars that have HD after their name (e.g.: Leica Ultravid 8x50 HD) have what Leica like to call their high-definition lenses. All HD models also come with AquaDuraTM-Coating on their lenses and Leica's new focusing mechanism.
Ultravid 50 HD Binoculars
With their large 50mm objective lenses these offer fantastic light transmission giving them a big advantage in low light conditions and all models come with black rubber armoring.
Sizes Available:
Ultravid 8x50 HD
Ultravid 10x50 HD
Ultravid 12x50 HD
Prices & Where to Buy
Ultravid 42 HD Binoculars
Regarded by many as the ultimate objective lens size, with a great balance between size and bright, detailed images. The binoculars in this series make excellent birding, game viewing (nature observation) and general use binoculars.
Sizes Available:
Ultravid BL 42 Binoculars
The classic birding and nature viewing binocular, with their stylish leather covering and design make these binoculars timeless. The leather covering also has a practical use as they help to keep these binoculars to under 700 grams (24.7 oz).
Sizes Available:
Leica Ultravid 8x42 BL - 8x magnification - Classic birding binoculars
Leica Ultravid 10x42 BL - 10x magnification - Classic wildlife observation.
Ultravid 32 HD Binoculars
Nicknamed the "handy" binocular, the compact and lightweight design and superior optics make these excellent for traveling, and would make great binoculars to take on safari.
Sizes Available:
Leica Ultravid 8x32 HD - 8x magnification, perfect compact birding binoculars
Leica Ultravid 10x32 HD - 10x magnification, great close focus of 6.6ft (2.1 m)
Leica Duovid Binoculars
The Duovid binoculars from Leica give you the choice of two magnifications on one set of binoculars. Meaning that they can adapt to your situation as you can change from one magnification to another.
Sizes Available:
Duovid 8+12x42
Duovid 10+15x50

The Leica 8+12x42 Duovid Binoculars have an objective lens of 42mm and magnifications of 8x and 12x
The Leica 10+15x50 Duovid Binocular has an objective lens of 50mm and magnifications of 10x and 15x and like they say these powerful binoculars almost bridge the gap between binoculars and spotting scopes. The 15x magnification is perfect for observing skittish birds and animals over long distances and also make good astronomy binoculars.
Both Duovid binoculars come in shock-absorbing, black rubber coating.
Prices & Where to Buy
Leica Trinovid HD Binoculars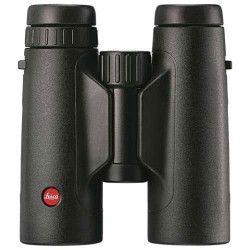 New: Leica have announce updated versions of the hugely popular Trinovid series. The Leica Trinovid HD 8x42 and 10x42 Binoculars now feature a number of optical, design and accessory improvements including the new Leica Adventure Strap.
For more details on these changes, please take a moment to read my article on this announcement: New Leica Trinovid HD Binoculars.
Prices & Where to Buy
Described by Leica as their "premium entry level binoculars", both models come in at under $1000 / £1000 and whilst you can't say they are cheap, for a very high end pair of optics from one of the big three, they do look to be pretty good value for money:
Compact Trinovid Binoculars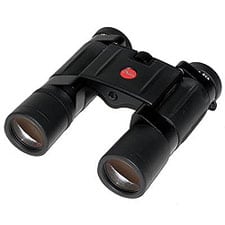 Trinovid BCA Compact binoculars are built to the highest standards and their compact size allows you to carry them with you everywhere. The double hinge design allows these binoculars to collapse into a package small enough for just about any coat pocket and the rubber armor provides durability and comfort.
Sizes Available:
Trinovid 8x20 BCA - 235 grams (8.3 oz)
Trinovid 10x25 BCA - 255 gram (9 oz)
Leica Geovid Binoculars
This series features Leica's laser rangefinder binoculars, a system pioneered by Leica allows you to accurately measure distances of up to 1400 yards (1300 meters).
They also feature their high-definition lens, that use of Fluoride glass, AquaDura lens coating that repels water and dirt.
The Geovid Lux binocular in this series is unique in that it combines precision optics with crystal clear electronic communication with other users.
Sizes Available:
Geovid 8x56 HD
Geovid 15x56 HD
Geovid 8x42 HD
Geovid 10x42 HD
Geovid LUX
Leica Compact Binoculars
The compact range of binoculars just consists of the compact binoculars from the other ranges above. I guess they decided to have a "compact" range to make it simpler for those looking for a small lightweight binoculars.
Compact Models:
Trinovid 8x20 BCA - 235 grams (8.3 oz)
Trinovid 10x25 BCA - 255 gram (9 oz)
Ultravid 10x25 BR
Ultravid 10x25 BL
Ultravid 8x20 BR
Ultravid 8x20 BL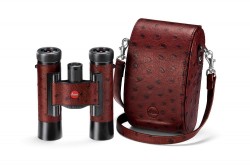 Related Articles & Further Reading
Leica Spotting Scopes
Leica spotting scopes are available in angled or straight-body designs and are perfect for nature- and bird-watchers who do not want to sacrifice performance for convenient size and weight. Leica offers other compact scopes, rubber-protected magnesium housings - waterproof up to 5 meters, and even a four-part fluoride objective lens system for superior color, definition, and accuracy.
Leica Rangefinder Binoculars
Leica offers a few models that come with built-in laser rangefinders, with ranges that are accurate from 10-1300 yards. The fully waterproof housings are made of rugged aircraft-grade aluminum.
Leica also sell stand alone rangefinders that are both lightweight and compact, with 24mm objective lenses that provide superior optical performance in ranges to 825 meters, 7x magnification, and LED readouts that adjust to outside conditions.
---
Where to Buy Leica Binoculars:
---
Featured Leica Binoculars
Below are a few featured Leica Binoculars: View >> All Leica Binoculars reviewed
With any pair of Leica Binoculars, you know that it is a quality set of optics and these Leica 10x42 Ultravid HD Binoculars are right up there with the very best. The come with with all benefits of their HD-models including the innovative Floride lens glass that improve image contrast and colour fidelity and a water and dirt repellent coating on the lenses.

Price: (6/6) Expensive Binoculars
The 10x25 Trinovid binoculars weigh less than 9 oz and have a double hinge design that allows you to collapse these Leica compact binoculars into a small enough package to fit into almost any pocket to carry with you anywhere. Quality optics also give outstanding optical performance and were highly rated in independent consumer tests.

Price: (5/6) High Value Binoculars
The Leica 8x42 Ultravid HD binoculars are your classic birding binoculars, but also include innovative features that include Floride lenses improving colour fidelity and contrast of the image, a new almost lubricant free mechanism for smoother focusing as well as a coating on the outer lenses that repels water and dirt. Make no mistake, these are binoculars of the highest quality.

Price: (6/6) Expensive Binoculars
View >> All Leica Binoculars reviewed on The Best Binoculars & Reviews website.
---
Leica HD Lenses
You may see the letters HD after the name on some Leica Binoculars (e.g.: Leica Ultravid 8x50 HD), so exactly does it mean? The HD stands for what Leica call their High-Definition lenses all of which have:
Improved Image Quality
Leica have developed a software simulation that shows up any stray light during the processing phase of the optics. In this way they are able to eliminate stray or false light in the design and construction of the HD models of binoculars, by changing the housing design (body), using better light absorbing paint and adjusting the apertures of the lenses.
Increased Light Transmission
Their already extremely high levels of light transmission on their standard lenses have according to them also been increased by a further 3% through further improvements of their anti-reflex coating and reflective layer on the prisms of the binoculars, giving you what Leica says is an optimum degree of image brightness with a consistent level of color fidelity.
Fluoride Lenses
All Leica HD Binoculars have a new fluoride (FL) lens glass, that are to a large extent made up of calcium fluoride that improves the image contrast and color fidelity to give you a more natural and impressive view by correcting aberration (imaging errors) allot more and creating a very low level of dispersion (light scattering).
Leica AquaDuraTM-Coating
Many of the Leica high end binoculars have a "hydrophobic coating" that have water and dirt repelling properties, that not only repel water, they are have more resistance to abrasions and make it much easier to remove your fingerprints and dirt particles from the lenses. Lenses treated with the hydrophobic coating allow water to just roll off them. Many Zeiss Binoculars have a similar coating on their lenses, known as LotuTec coating by Zeiss.
The image below demonstrates the difference between the AquaDura coated lens on the left hand side and the uncoated lens on the right.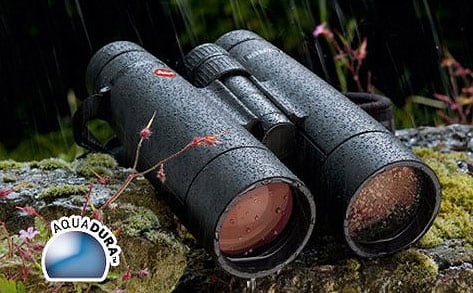 New Smoother Focusing System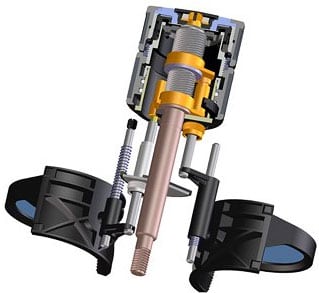 Many of Leica's binoculars including all those in the Ultravid HD series now have a new focusing mechanism that uses Teflon discs with almost no lubricant. This means that you get smooth focusing across the whole range and at all temperatures, including as they say as low as -25°C, where they say other binoculars would fail. I am not sure that I will get to test this out, so will just have to believe Leica here! I did not know this before, but apparently in cold conditions the conventional greased focusing mechanism found on most binoculars sometimes only work with difficulty and at higher temperatures they move too freely. I had noticed that in higher temperatures it is easier to move the focusing wheel, but it has never been a problem. According to Leica, normal focusing mechanisms can feel "sticky" at higher temperatures and there is even a risk that grease can escape and run on the lens, this "risk" has been eliminated with their new mechanism as they work practically without lubricants.
Related Articles & Further Reading
Limited Edition Leica Ultravid Binoculars - Leica have introduced two very limited edition (only 750 will be made) compact Ultravid binoculars that come with a very distinctive hand-crafted chestnut-brown trim in natural calfskin with an ostrich-style embossed pattern.
Leica Contact Details
North American Office
Leica Camera Inc.
Phone: 800-222-0118
Email: technicalinfo@leicacamerausa.com
UK Office
Leica Camera Limited
Davy Avenue
Knowlhill
MK5 8LB Milton Keynes
Tel: 01908 256400
Email: sales@leica-camera.co.uk