The decision to buy a pair of Leica 8x42 Ultravid HD binoculars will probably not be made lightly as make no mistake these are not cheap binoculars, but as with many things in life, you get what you pay for and here you get an incredible pair of binoculars.
8x42 binoculars are regarded by most birders as the ultimate balance between size and magnification for binoculars for bird watching and so these Leica Ultravid binoculars are probably aimed mostly that market. Having said that there is no reason why these cannot also be used for a variety of other uses and I think they make superb all round optics. If you are after a bigger magnification you could also look at the Leica 10x42 Ultravid HD Binoculars, that have 10x magnification, but a slightly narrower field of view: 336 ft at 1000 yards, compared to 389ft on the 8x42's.
So what makes these binoculars so great?
Leica have always used the finest grade optics, materials and uncompromising workmanship, but with the latest line of HD binoculars they have raised the bar even higher with what they say are over 200 innovative changes and improvements to the older versions. Some of the biggest changes that Leica have added to the 8x42 Ultravid HD Binocular include a new hydrophobic coating on the outer surfaces of the lenses, that repels both water and dirt. Their AquaDura coating is similar to the LotuTec coating used by Zeiss on some of their high end binoculars, that enables you to use your binoculars in wet and dusty environments. It has the added bonus of making it much easier to remove fingerprints and dirt particles from the lenses as well as having a higher resistance to all forms of abrasions that may otherwise leave a permanent etch on the lenses.
The image below demonstrates the difference between the AquaDura coated lens on the left hand side and the uncoated lens on the right.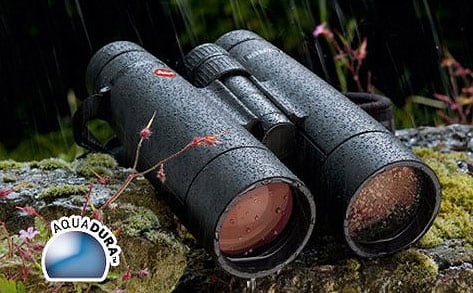 The Leica Ultravid 8x42 HD binoculars also now have new coatings as well as lenses made from fluoride (mostly formed from calcium fluoride, a mineral with a crystalline structure) that Leica say by correcting aberration (imaging errors) they have increased the light transmission, improved the image contrast and colour fidelity giving you a more natural and impressive view when compared to their previous Ultravid model by 3%. I can't verify that, but the view though them is as clear and crisp as you will find on any set of binoculars, even in low light conditions.
They also feature a new focusing mechanism that with the use of teflon discs uses almost no lubricant making focusing even smoother than before in almost every condition you are ever going to encounter. Including temperatures as low as -25°C where many other types of focusing mechanisms on other binoculars would fail according to Leica. It also eliminates the problem that lubricated mechanisms have of becoming too "free" in hot temperatures when the lubricant heats up and becomes more liquid, which I have experienced before. This is not normally a problem, but there have been some reports of the lubricant leaking out of the mechanism and spoiling the optics.
The Leica 8x42 Ultravid HD black armored binoculars are covered in a comfortable to hold black rubber armouring that also helps to protect the binocular from day to day knocks and bumps and whilst not fully waterproof, they are "watertight" to a depth of 5m (16.5 ft).
They also feature redesigned eyecups, that give you 15.5mm of eye relief that whilst I would not consider to be Long Eye Relief, it should be plenty enough for most who wear eyeglasses and allow you to use them without having to take your glasses off. The eyepieces are removable and are adjustable with two click stops.
What's Included
Neoprene Carrying Strap, Eyepiece Cover, Protective Front Lens Cover, Cordura Case.
Download >> Leica the Ultravid HD 42mm Specifications (pdf document)
Conclusion
If you are after a top of the range binocular and one of the best binoculars for bird watching then these will not disappoint. Are they worth the hefty price tag? Well that's a tough one to answer: Leica certainly have not skimped on the quality components, the build quality is excellent and they have used the finest grade optics, so they are bound to be expensive. My advice is if you can afford them and you plan on using them often enough, then they are definitely worth it. If however you you have to take out a second mortgage to get them, why not go for something like the Steiner 8x42 Merlin binoculars, Zeiss 8x42 Victory FL Binoculars or the Minox 8x42 BV binoculars, all excellent quality optics at a cheaper price. If you are looking for a good set 8x42 binoculars at a much cheaper price, I'd go for the Bushnell 8x42 NatureView Binoculars.