I have been wanting to get my hands on a thermal imaging device to test and review on BBR for a while now, but the cost of thermal imaging has always been a little too high for me, especially when I would factor into my equation that as good and useful as they are, they are not really a core product here on BBR.
Thus simply going out and buying a thermal device was kind of out of the question as up until recently I assumed that the cheapest "viable" option out there was the well known FLIR Scout TK Thermal Vision Monocular, which whilst far less expensive than most thermal imaging devices, they will still set you back a cool $600.
Affordable Thermal Imaging
However, I was recently contacted by the guys at AGM Global Vision who wanted to know if I would be interested in reviewing some of their products on BBR.
Of course, I was interested!
I knew of AGM, but not in any detail, and had always just assumed they only produced night vision devices. So initially, that is what I assumed I would be testing.
I then went and looked through their product list in more detail. It was then that I noticed that as well as NV devices, they also make a whole bunch of other gear including traditional binoculars (which I will test), laser systems, and thermal imaging binoculars, sights, and monoculars.
It was then that I came across the Asp-Micro TM160, which when I first saw it, it immediately reminded me of the Flir Scout. But the big difference was its sub $500 price tag. So not what I would consider being cheap, but at the same time if you save up for a bit most people should be able to afford it.
So naturally, I was drawn to it, but at the same time was skeptical as to how well it would perform and indeed how it compares to other low-cost thermal imagers like the Flir Scout, but after a quick check of their main specifications, I was reasonably impressed and thus, I decided that instead of asking AGM to send me one of their very high-end products, I would instead test and then review their entry-level thermal imager and below are my thoughts and findings:
Deal Alert - But Hurry, the Offer Ends Soon!
Save Big on AGM Global Vision Thermal Imaging Monoculars
Save Big on AGM Global Vision Thermal Imaging Monoculars at Optics Planet
AGM Asp-Micro TM160 Thermal Imaging Monoculars Review
Features & Specifications:
Entry-Level Thermal Monoculars: Approx: $495 / £500 / €500
Built-In Display: 720 x 540, 0.2inch LCOS
Detector: VOx un-cooled Focal Plane Arrays
Resolution: 160 x 120
Recognition range: (Vehicles: 1.4x4.0m) - 153yd / 140m (Humans: 1.8x0.5m) - 50yd / 46m
Detection range: (Vehicles: 1.4x4.0m) - 611yd / 559m (Humans: 1.8x0.5m) - 199yd / 182m
Identification range (Vehicles: 1.4x4.0m) - 76yd / 69m (Humans: 1.8x0.5m) - 25yd / 22m
Zoom: 1x (optical) 2x, 4x (digital)
Angle of View (HxV): 15.6°x11.7°
Waveband: 8 - 14 ?m
Video Refresh Rate: 50Hz
Recording: Image (720x576px) & Video (MP4 720x576, 25fps)
Storage: 8 GB (built-in)
Connection: USB & Wi-Fi Hotspot
Battery Type: Internal Li-Ion Cell
Waterproof: IP-67, Submersible (1m for 30min)
Start-up Time:: approx 5 seconds
Weight: 270 g (0.6 lb.)
Dimensions (LxWxH): 16.1x 6.1x5.7 cm (6.3 x 2.4 x 2.2 in)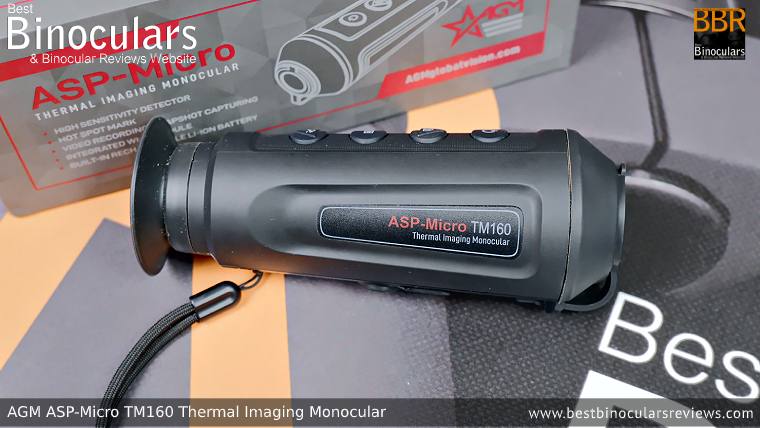 Thermal Vision
For the benefit of those who don't know, and in very basic terms, instead of seeing with light energy as we do, a thermal imaging device like this AGM monocular detects heat energy and converts it to a viewable image on a screen. For more details on how it works, as well as some of the advantages and shortcomings when compared to normal vision using light (including night vision) and what should you look out for when looking for a thermal imaging device, be sure to check out this article: How Thermal Imaging Works.
Not only for Night Vision
Also do keep in mind that whilst I and indeed most users will probably use thermal vision mostly at night, it also works just as well during the day and can in some cases be useful for revealing things like a warm body in thick grass for instance.
The Body
Shape & Design
As I mentioned in the introduction, the design of the AGM Asp-Micro TM160 is very similar to that of the tried and tested FLIR Scout TK, which is a good thing as I found it comfortable to hold and very easy to operate with just one hand.
The positioning and as importantly the spacing between the four main buttons on the top of the device is good and makes them all very easy to use and more importantly find without having to look. When using the thermal imager in the dark, this is obviously especially important.
One point I would like to note is that whilst perfectly fine in bare hands, I would have preferred the buttons to protrude just a little more, so as to make them easier to find whilst wearing gloves.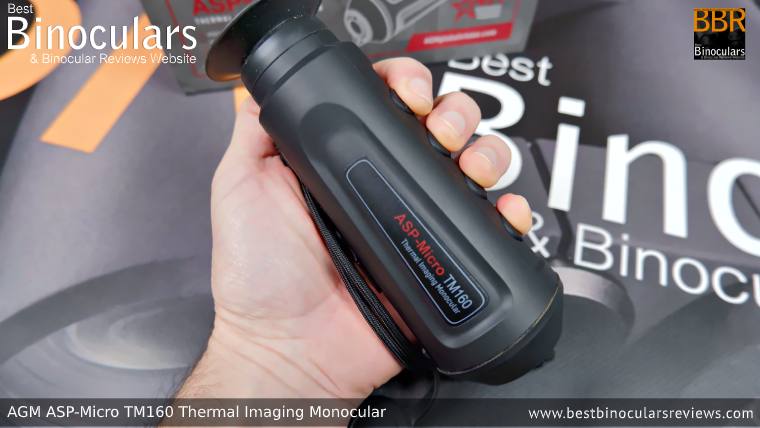 External Surface
The outer surface of the main body has a very hard rubberized coating. This coating is probably too thin and hard to provide much in the way of impact protection, but it does slightly increase grip levels, adds a little in terms of weatherproofing, and because it is less reflective than a hard metal or plastic surface will help with remaining hidden.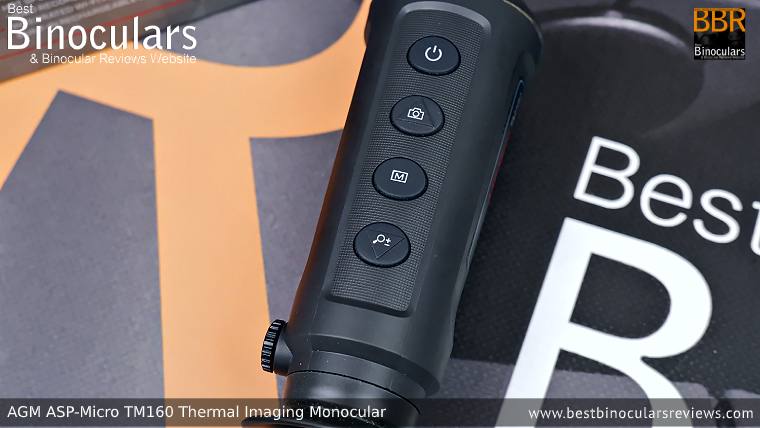 Binocular vs Monocular
The most obvious advantage a monocular like this has over a thermal imaging binocular is that it is smaller and thus easier to carry about. Indeed the ease of use was for me one of the main highlights of the TM160. I would just pop it into my jacket pocket and off I would go. I can't wait to take it on my next camping trip or safari, where not only will it be easy enough to pack away, but once at my destination, I will most certainly keep it with me any time I am out at night. I can already imagine myself using it at a hide that I know of that overlooks a waterhole where you can camp overnight.
A monocular is also easier and cheaper to make as there are fewer parts to worry about, and thus if you are looking for affordable thermal imaging options, night vision devices, or indeed standard daytime optics, a monocular is often the way to go.
On the downside, you do get a less immersive experience when only using one eye to view an image when compared to two when using two with a binocular.
Dust & Waterproof
AGM Asp-Micro monoculars have an IP67 rating, meaning that they have seals that are completely dust-tight and able to sit in water of a depth of up to 1 meter for 30 minutes without any getting inside.
For an electronic device, this is good, and whilst I don't suggest testing it by taking it swimming, it will surely be enough to handle some pretty bad conditions.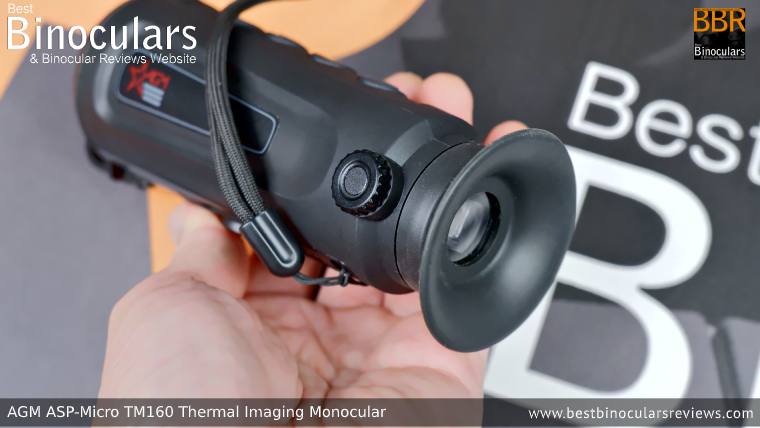 Rear
At the rear of the AGM Asp-Micro thermal monocular, you find the eyecup and the eyepiece.
The circular eyecup is made from very soft, pliable rubber and has an outer diameter of around 55mm.
I really like the design as it molds to the shape of your face around your eye and thus is not only comfortable to use but also does an excellent job of blocking out light or other distractions from the periphery of your view.
Next to the eye-cup on the left-hand side is the diopter adjustment knob that enables you to focus the image on the screen to your particular vision.
Underside
Wrist Strap Mount
On the underside, near the eyepiece, you find the small recess that you use to loop the wrist-strap through and connect it to the monocular. This is small, which makes it fairly tricky to do, but at the same time ensures that it is out of the way and does not interfere in any way when operating the device as would be the case with a raised loop, so I think as finicky as it is, this solution is preferable to me.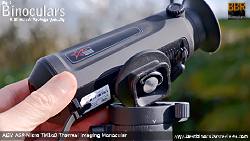 Tripod Mountable
Also on the underside, located roughly equidistant from the objective lens and the ocular lens is the threaded insert which can be used to mount the monocular onto a tripod.
Here it is important to mention that the insert is metal, which is obviously preferable over a plastic one that I have come across before on cheap NV monoculars.
Being able to easily mount the ASP Micro onto a tripod is good for two main reasons: Firstly it allows you to more easily train the view onto a single spot, and then secondly, you will get a completely steady image when mounted onto a tripod.
In the way that I was using the ASP Micro, I found that image steadiness was not at all an issue when holding in the hand and just looking at the screen, but when recording it will certainly help, especially if you increase the magnification.
A point to mention here is that because of their close proximity to each other, if you mount the thermal monocular onto a tripod using a mounting plate as I do (see image above, right), then you need to remove this if you want to then connect the device via the USB cable. This for me was only a very minor annoyance, but I thought was worth mentioning.
USB Port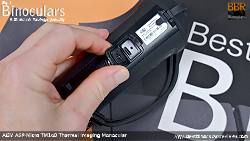 Accessed by pulling back the well-sealed rubber cover, you find the USB type C interface which is used to connect the AGM Asp-Micro TM160 Thermal Monocular to your computer for charging and for the transfer of your photos and videos.
TIP: In order to get your computer to recognize the AGM Asp-Micro as a drive and not just charge it, you need to have the Wi-Fi setting off. I spent ages trying to figure out why I could not get my, or my wife's computer to recognize this until I found a very brief reference to this in the user manual!
The soft rubber/plastic cover is very secure, designed to be waterproof, and looks like it should last. It is also fixed around the tripod mount and thus there are no worries about losing or misplacing it.
As well as the port of the provided USB cable, there is also an LED light which indicates when the battery is fully charged.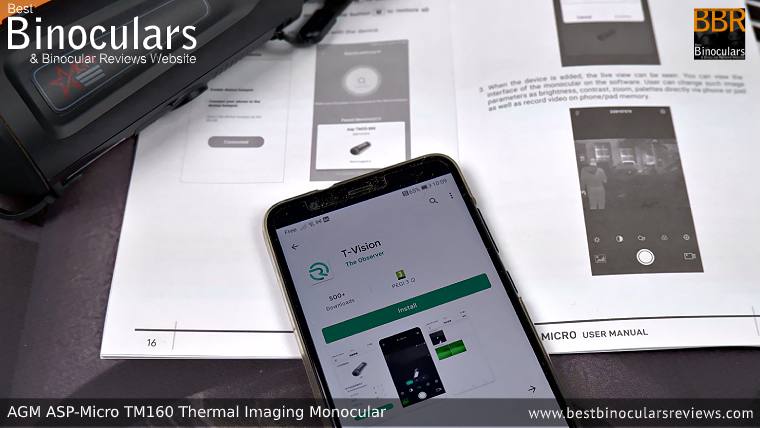 Wi-Fi Hotspot
As well as being able to connect the AGM Asp-Micro TM160 Thermal Monocular to a computer via the included USB cable, you can also connect to it via Wi-Fi using an app that you install on your phone, iPad, etc.
This can be extremely useful as you can set up the thermal imager onto a tripod and have it trained towards a point of interest and then keep an eye out for anything at another location as you can watch the live view from the app on your phone.
I found connecting to it fairly straightforward, although I had to reset the password on the device as I think someone else had used this sample before me. But after then it was plain sailing and I have to say, viewing the live image on screen like your phone is extremely convenient.
It is also great for sharing the view with others. So for example I could go out into the garden with the monocular, whilst my daughter could remain inside and see whatever it is that I was viewing.
As well as just viewing what is on screen, from the app you can also take photos and record directly to your device as well as adjust things like cycling through the different palettes, adjust image brightness, contrast, zoom, etc.
Battery
This AGM thermal monocular has a built-in rechargeable lithium battery, so no messing about with buying batteries which I like.
They say that it has a battery life of about 10 hours of continuous running, which was more than I needed as I was often taking it back and connecting it to my PC to download photos, and thus it would get charged quite frequently.
Note that enabling functions like using it as a wifi hotspot will reduce battery life. So if the battery life is correct, you can't leave it on all night to record which I guess maybe an issue for some?
Memory & Storage Capacity
Unlike many devices that will use a memory card, the AGM Asp-Micro TM160 Thermal Monocular only has a built-in memory of 8Gb.
In some ways, I like the simplicity of this, but at the same time, it would also have been nice to be able to increase the capacity or just take out a card to download images and video instead of using the USB cable.
One note to mention here is that if storage capacity is a problem for you, you could always connect it to your phone and then record directly onto your phone and thus use the memory card on your phone or other devices instead.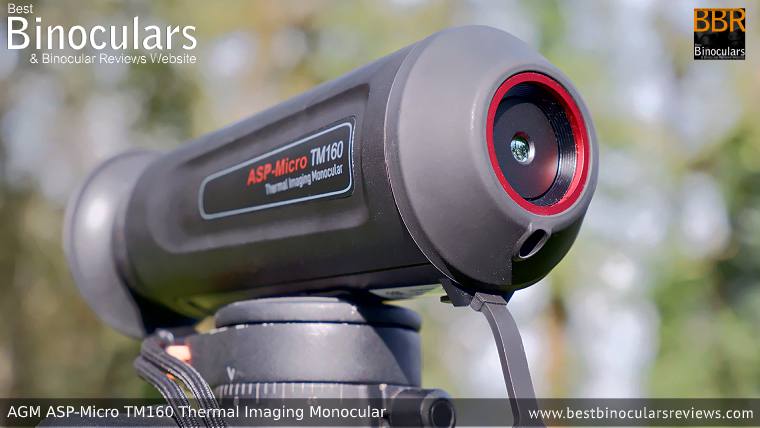 Size and Weight
Weighing just 270 g / 0.6 lb. / 9.5oz which unlike many electrical devices includes the battery and measuring just 161 x 61 x 57 mm (6.3 x 2.4 x 2.2 in) the small size and low weight are without doubt one of the real highlights for me on this device.
This is because, this along with the fact that it is just so easy to use means that I am far more likely to grab it, chuck it into my bag or even jacket pocket and take it along with me on just about any outdoor, wildlife, or nature adventure or indeed anytime you are in a location where there may just be something interesting to find that you most probably would not see or find with normal vision.
As light and as small as it is, weighing 6 oz / 170 g (with battery) and measuring, 6.0" x 2" x 2", the Flir TK Scout is just a little smaller and more lightweight.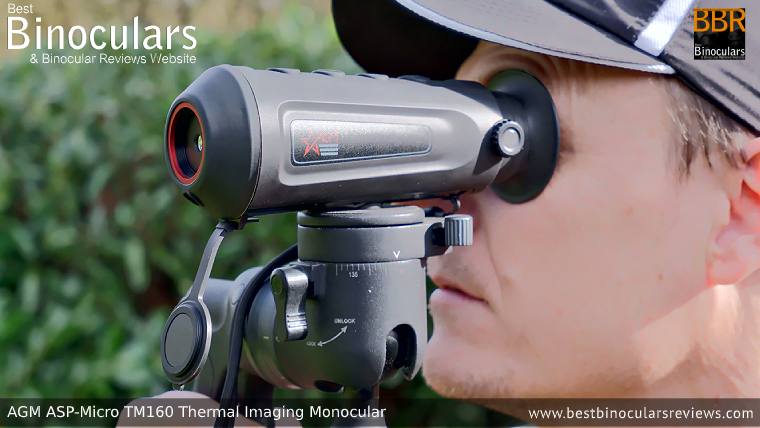 Image & Video Quality
LCOS Screen and the Viewable Image
The AGM Asp-Micro has a liquid crystal on silicon (LCOS) display that is described as being 0.2 inches (approx 5mm) in size, which I assume is the diameter and has a resolution of 720x540 pixels.
For comparison, the more expensive Flir Scout uses an LCD display with a 640 x 480 resolution.
Whilst in terms of the heat sensor array, both have the same 160x120 VOx Microbolometer resolution.
Whilst I must confess that other a few brief encounters at trade fairs, I have of yet not fully tested any other thermal devices, but I have to say that I thought that the image was easy to view and depending on the situation offered what I thought was a good amount of detail to be able to fairly easily make out what I was looking at.
I think rather than me trying to describe it and say if it is good or bad, it far better to take a look at the captured images and video samples below as they replicate the viewable pretty accurately:
Video Quality
Video is recorded in MP4 format at 25 frames per second and with the same resolution as the photos of 720x576 pixels.
Video Examples
Below is a compilation of videos that I captured whilst testing the device.
One of the highlights was capturing my cat go after a mouse. It was at night, under a full moon and we are in long grass at the time in some fields near our house. Here it is interesting to see just how well Minnie tracked it whilst it was moving, but as soon as the mouse stopped moving, you can see she could not find it.
Whilst not as obvious, in some other footage you can see how easily I managed to find a hedgehog in long grass.
It is things like this and that you would never be able to capture with a night vision device as both the mouse and the hedgehog would have been obscured by the grass and this is where thermal imaging really comes into its own:
Range:
Whilst stars were invisible, I was able to pick up the full moon in the night sky using the monocular which is impressive as I guess the heat you are seeing is being reflected off it from the sun on the other side of the earth, so technically you could say that the TM160 has a range of over 363000 kilometers!
But in all seriousness, this does show that the monocular's usable range depends on ambient conditions, how large the object is you are looking for, how much the objects temperature varies compared to it's environment and the level of detail you want or need to see.
The table supplied by AGM are the official measurements, which I found to be about right:
Recognition range: (Vehicles: 1.4x4.0m) - 153yd / 140m (Humans: 1.8x0.5m) - 50yd / 46m
Detection range: (Vehicles: 1.4x4.0m) - 611yd / 559m (Humans: 1.8x0.5m) - 199yd / 182m
Identification range (Vehicles: 1.4x4.0m) - 76yd / 69m (Humans: 1.8x0.5m) - 25yd / 22m
Still Image Quality
The AGM Asp-Micro TM160 Thermal Monocular captures still images in JPEG format with dimensions of 720x576 pixels.
Photo Examples
Below are some sample photos that I took with the device, both during the day and at night. Click on any image to get the full size 720x576 version:
The first few below are of my wife, daughter and our dog taken on a night walk that I instigated in order to test this monocular out. It was dark, but there was a full moon so that we could just about see enough so as not to have to use a torch.
The first one is at fairly close range (I would say about 4 meters) and I was using my favorite, Fusion palette where the hottest areas are colored white, then yellow, red, pink and finally purple at the coolest temperatures. Here you can clearly see that the most heat loss is coming from the face.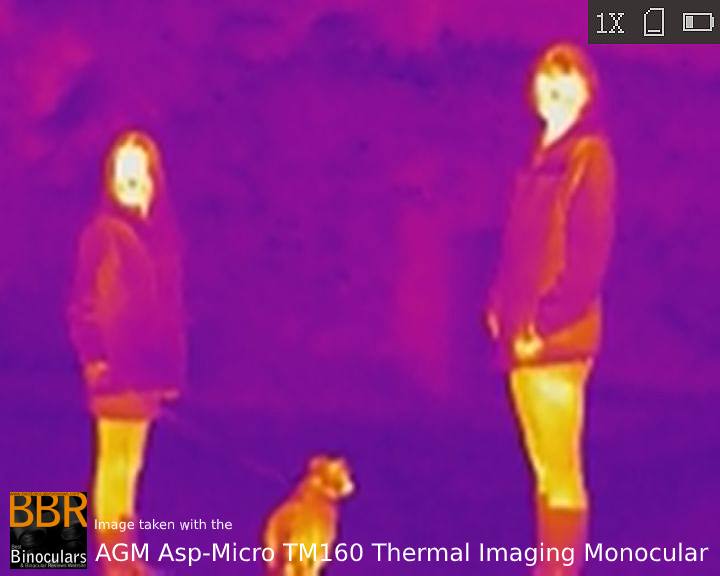 The two images above were also all taken on the same walk. Here I just wanted to demonstrate the effectiveness at different ranges and then also using the the "White Hot" palette, where the warmest parts of the view are highlighted in white. Even though my daughter is about 40 meters away, and walking about in a hazel-nut plantation, I could very easily pick her out.
The image below shows my daughter at about 5 or 6 meters and then also our cat which also decided to join us, she is at a range of about 10 meters. What is also interesting here is that the cat is actually hidden in long grass and so whilst I have told my daughter that I can see her through the monocular, she is looking but cannot see her:
The three images below once again show the effectiveness of the different palettes at a reasonably long range. The first uses the Fusion palette and clearly shows the two girls and our dog on the road walking towards me, as well as the cat "hiding" in the grass verge alongside them.
The second one is of them coming out from the woods and here I have sed the White Hot palette. The lastly the third one below shows my wife up fairly clearly using the "Black Hot" palette.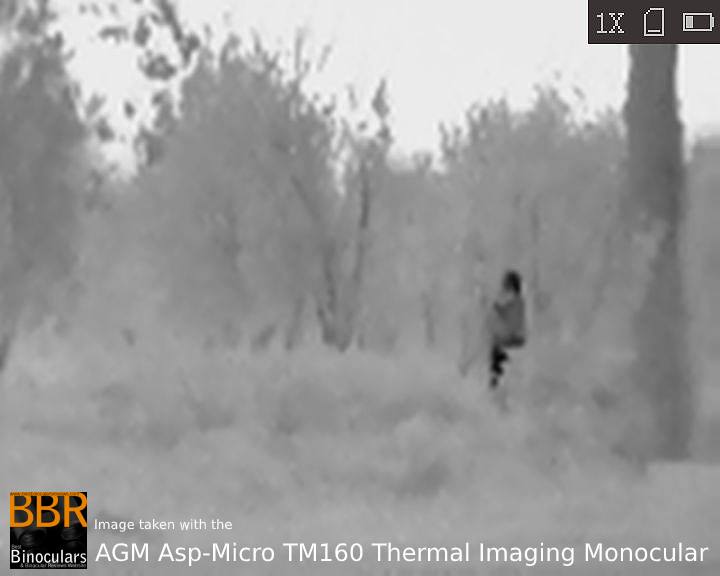 Digital Zoom
The first image below shows the device at its natural 1x zoom level. This was taken about two meters away from the "subject"! The next two show the effect of suing the digital zoom, first at 2x and then at 4x, whilst remaining at the same distance away from Lulu.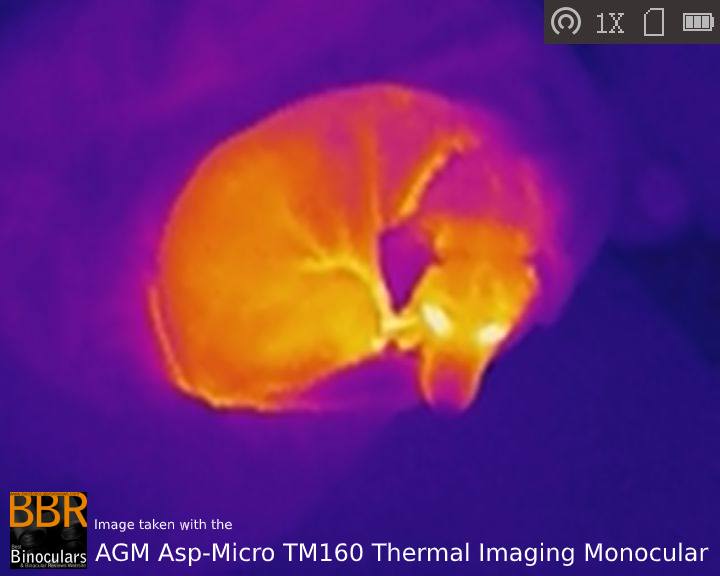 The Moon
Whilst the stars and planets were invisible to this device, it was interesting to note that there was enough heat being reflected off of the moon for it to be captured. The three images below show the same view in the Fusion, Black Hot and then finally the Red Hot palettes: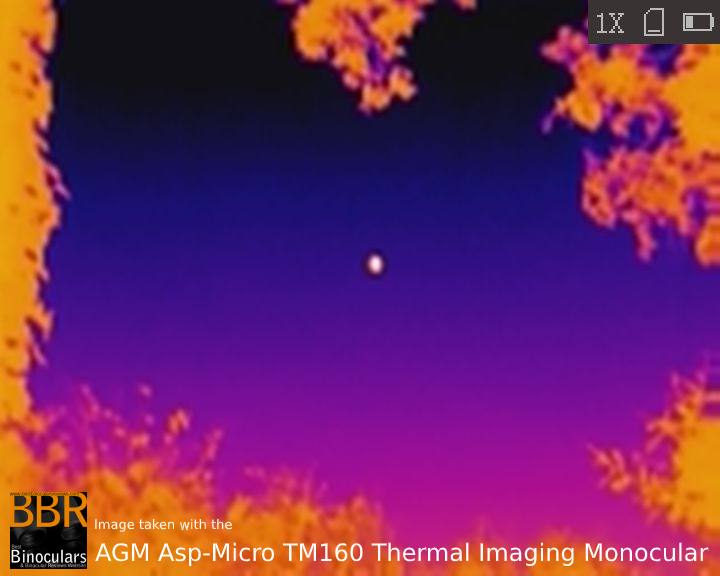 Palette Settings
The four images below were taken during the day of the umbrella light that I use in my studio. Here I just cycled through the four available color palettes: Fusion, Red Hot, White Hot and lastly Black Hot.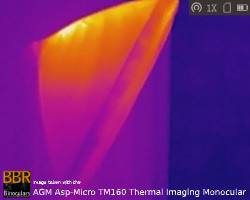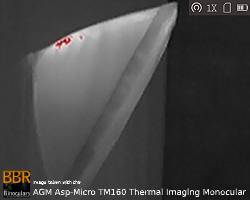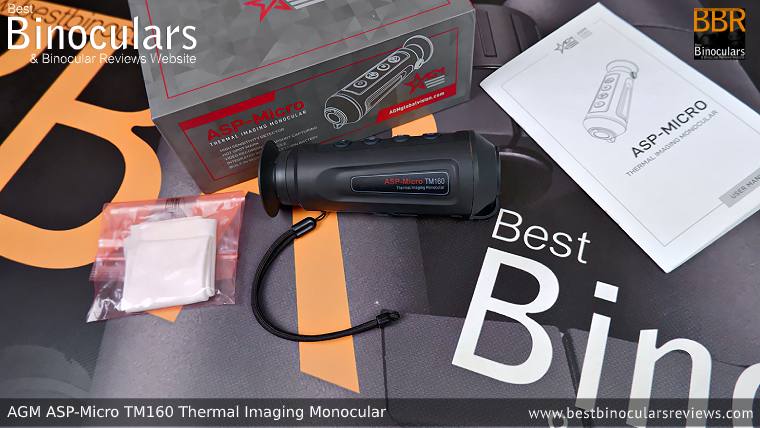 Included Accessories:
As well as the device itself, when you open up the well made, and extremely well-padded box, you will find an included wrist strap, a cleaning cloth, and the USB cable needed to connect the AGM Asp-Micro TM160 Thermal Monocular to your computer.
Whilst I do think it is a slight shame that a protective carry case is not included, to keep the cost down, I can fully understand why.
With its form-fitting sponge foam insert, the box is perfect for long term storage and I do feel that the monocular is tough enough just to be packed in with your clothing on trips away, and then when out in the fields, I just carry it with the wrist strap or put it in my jacket pocket.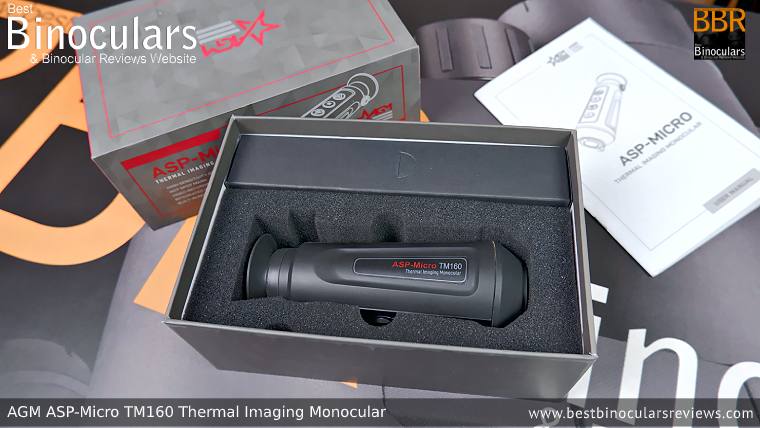 Wrist Strap
The supplied wrist strap is very basic but is just perfect for this monocular in that it does not take up any extra space, does not get in the way when not needed (like when you have it mounted on a tripod), yet works perfectly when you are carrying the Asp-Micro TM160 around, making sure that it is always handy, yet safe from being dropped on the ground.
Anything more substantial than this would in my opinion be overkill and only get in the way.
Lens Cover
I found that the lens cover worked well enough, but just came away from the device a little too easily and thus when taking it out of my pocket or bag, I would sometimes discover that it had fallen off which is not ideal. However, by being a little careful this was easy enough to prevent, but it was something that I had to keep in mind.
A good aspect of the cover is that it is tethered to the body of the monocular and thus just hangs under it when you remove it from the lens. This worked well and was easy to find and replace in the dark. It also ensured that it never ended up being lost or misplaced as a result of coming away by accident.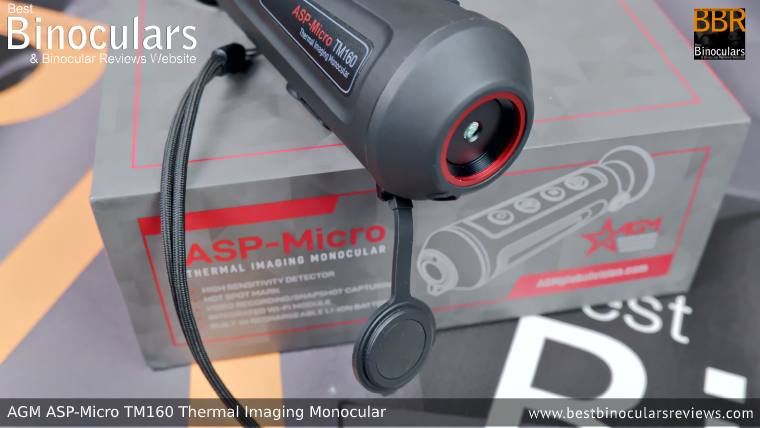 Cleaning Cloth
AGM includes a simple, but reasonably good quality cleaning cloth with the Asp-Micro TM160.
Instruction Booklet & Warranty
The included user manual covers all the most important aspects of setting up, using and maintaining the AGM Asp-Micro TM160 monocular.
Perhaps it is just me, but I did find the section on setting up the Wi-Fi hotspot to be just a little too brief and it took me a while to get my head around it to make it connect.
At the rear of the booklet, you will also find a table listing the specifications as well as warranty information and registration.
Speaking of which the standard warranty lasts for 3 years, which for an electronic device is not bad at all.
Review Conclusions:
Small, lightweight, easy to use, low-cost thermal imaging monocular that punches well above its price tag.
That is how I would describe the AGM Asp-Micro TM160 Thermal Imaging Monocular in a sentence, but in reality, it is more than that, indeed for me personally, I would describe it as a true game-changer and has now been added to my must-have pieces of gear for use both around the home viewing critters (and pets!) in the garden at night as well as helping with security. On top of this, from now on, it will most certainly be one of the first instruments I put into my bag on just about any outdoor/nature/wildlife adventure where I will be spending the night.
Before having this chance to test the Asp-Micro, I was never sure as to if I actually really needed a thermal imaging device and I was worried that it would be more of a novelty than a useful device and that I would take it out a few times and then never use it again. This I guess is one of the main reasons why up until now, I have always thought for me the price tag to get into thermal vision was just a bit too steep.
However, now that I have had time to use one, I have to say that whilst thermal imaging has its drawbacks, it has probably become my favorite form of night vision for how and what I want to see at night most of the time (mostly warm-blooded mammals).
The AGM Asp-Micro TM160 Thermal monocular is just so easy to use and makes finding things like warm-blooded animals, even small ones, very easy. It is a shame, but as of yet I have not had a chance to test it on creatures like snakes or even crocodiles and would welcome any thoughts from anyone who has. I will update this review as soon as I do!
So ideally, to see what is out there in the dark I would have both a standard night vision device that amplifies the available light as well as a thermal image like this. That way you can have the best of both worlds.
Ideal Uses:
Anytime you want or need to find wildlife - but especially at night. I can't wait to take this AGM Asp-Micro TM160 Thermal Monocular with me on my next wildlife trip back home in Southern Africa!
This very small and lightweight monocular is just so easy to pop into your jacket pocket and take out with you, I can't think of another night walk, night drive, camping trip, or safari that I will go on where I don't take this with me.
Security: I assume professional law enforcement agencies and security personal would probably opt for a more expensive, higher resolution option, but I feel the AGM Asp-Micro TM160 Thermal monocular is certainly a good option for personal home security needs at night where you will easily be able to pick up and record anyone coming onto your property.
Search and Rescue: Once again professional search and rescue teams will probably have the budget for higher specification devices, but as something to take with you on any sort of outing into the wild, be that camping, hiking, skiing where someone could potentially get lost, devices like this AGM Asp-Micro Thermal Monocular would certainly be of use.
Preppers: If you have the budget, being so small and lightweight and easy to pack into your Bug Out/Get Home Bag, a device like this Asp-Micro thermal monocular is a no brainer.
Game Counting: There are many warm-blooded animals that are extremely hard or even almost impossible to find during the day, but at night they come alive. Having staked out watering holes overnight for game counting in the past, I just wish now that I had one of these beauties with me back then!
Not Good For:
Unlike night vision that uses light and thus makes quite a good instrument for stargazing, stars do not give off enough heat to be detected, and thus apart from the moon, the night sky is blank when looking through this instrument.
The image resolution, be that for photos or videos is very low when compared to what we have become accustomed to when using a daytime camera or even a standard night vision device and thus I don't think many would consider it for anything other than identification purposes.