The Binocular Tripod Adapter
Binocular Reviews Home > binocular accessories > binoculars tripod adapter
One of the most commonly used binocular accessories are adapters that enable you to attach you pair of binoculars to a tripod that are usually referred to as a binocular tripod adapter or a binocular tripod mount. Before we take a look at some of the best tripod adapters and binoculars that can be used with them, I thought that it may be useful to take a look at why and in which circumstances you may want to attach your binoculars to a tripod.
Why Attach your Binocular to a Tripod?
Obviously mounting your binoculars to a tripod is usually done to steady they image, be this because the binoculars are of a very high magnification or in some cases for people who have unsteady or shaky hands. Other people use a tripod for convenience freeing up their hands to do something else or if you want your binoculars trained onto a specific subject for long periods of time, like a wildlife artist for example. Hunters and wildlife enthusiasts will also sometimes mount their binoculars onto a tripod if they are located at a fixed vantage point making it easier for them to scan wide areas looking for game.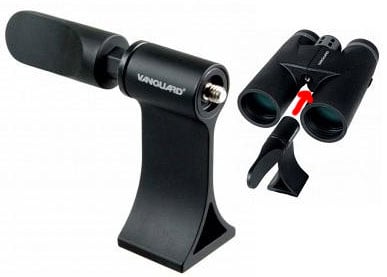 Which Binoculars are Tripod Adaptable?
Binoculars with very high magnifications are far harder to hold steady in the hands as the magnification amplifies any movement and as such they are the ones that are usually attached to a tripod. Because of this most binoculars designed for astronomy or specific long distance viewing binoculars are either tripod adaptable or come with an integrated built-in tripod adapter, but even many "normal" full size binoculars like 8x42's and some compacts can be used with this type of screw thread tripod adapter.
Screw Thread Binocular Tripod Adapters
This is the most commonly used type. The binocular tripod mount for these adapters is usually located behind a covering cap on the central pivoting point of your binoculars. Once you take the covering screws off it allows you to then screw in the adapter on and then attach it to your tripod.
Not all Screw Thread adapters are the same
If your binoculars are tripod adaptable and can take a screw thread adapter, it is important to make sure you get an adapter that fits them and I am not just talking about the actual screw thread. It has more to do with the size of the nut that you use to screw the adapter into the binoculars. With a porro prism binocular that has the barrels set far apart it is not a problem, but because the distance between the two barrels is a lot smaller on many roof prism binoculars, it is important not to get one that is either very difficult to screw in, or indeed too large to screw in at all.
This all probably sounds a little confusing, but it isn't, take a look at the image on the right that probably explains it better than I can in words or at the short video I made below.
Other types of Tripod Adapters
Not all binoculars have a screw thread and rather annoyingly the thread sizes are not all the same for all makes of binoculars. So it is often best to select the adapter made by the same manufacturer as the binoculars. Another type of adapter is one that I call the Central Shaft Adapter that fits to the central shaft that you often find on porro prism binoculars. If your binoculars do not have the thread or a central shaft, most binoculars can still be attached to a tripod using a Universal Binocular Tripod Adapter (see below) that straps your binocular onto the adapter that then fixes to the tripod.
Universal Binocular Tripod Adapters
Most universal adapters have a curved base and an adjustable strap that are easy to use and allows for binoculars of many sizes to be mounted to them and then attached to a tripod:
Central Shaft Tripod Adapters
Another type of binocular tripod adapter, is one that attaches to binoculars, usually porro prisms that have a central shaft.