Compact, lightweight, with a wide field of view and according to Nikon's own marketing, they created their EDG Binocular range as proof of their "commitment to provide a premium lineup of the finest instruments in the field of sport optics" these Nikon 8x32 EDG binoculars on the surface look like ideal top of the range birding binoculars and so with this in mind, I take a look under the bonnet and see if they are as good as Nikon say they are.
First lets consider who these binoculars are aimed at. The compact body with 32mm objective lenses mean that the 8x32 Nikon EDG is just that much more compact than full size bionculars. This means that they are easier to travel with and easier to carry in the field, especially important if like me, you often carry other equipment or books with you. Combine this with the 8x magnification and wide field of view, they immediatly jump out as great looking mid size bird watching binoculars, ideal for taking with you almost anywhere, be that on a birding holiday or just out on a walk in the countryside. Other uses like hunting in forested areas or any other situation where you either need a wide field of view are ideal, otherwise if you are planning on a safari holiday, where birding is not your main focus, you may also consider the Nikon 10x32 EDG binoculars that have a stronger magnification, but with narrower field of view.
The Optics
Initial impressions of the clarity and the brightness of the image produced was very impressive, especially you take into account the smaller 32mm diameter objective lenses which when compared to full size binoculars will in theory will take in less light. Of course many other factors combine to produce the final image brightness, these include the quality of glass, their coatings and the physical assembly and quality of the prisms. So what do these Nikon EDG 8x32 binoculars have that help to produce such an excellent quality image:
Nikon EDG?
The EDG range of binoculars and spotting scopes from Nikon get their name from the ED Glass which is used on them. This 'extra-low dispersion' glass is said to effectively compensate for chromatic aberrations to provide images of superior contrast and outstanding resolution! What this really means is that the glass is of a very high density and is often found on high end spotting scopes and camera lenses. This ED glass reduces the scatter and separation of the different wavelengths of light so that they all arrive at the same time on the same focal point. This helps to reduce the color fringes that are called chromatic aberration and results in a sharper clearer image.
Lens & Prism Coatings
Nikon use dielectric high-reflective multilayer coatings on the roof prism, rather than the aluminium coatings used on cheaper binoculars that have a reflectivity of 87% to 93%. The dielectric coating causes the prism surfaces to act as a dielectric mirror and boosts the light reflectivity to more than 99% for the full visible range, giving you clearer whites and a sharper, brighter, more natural vision across the entire field of view.
The prisms on these EDG binoculars also have a Phase-correction coating that basically helps to reduce the phase shift of light that is caused by phase differences arising from total light reflection on a roof surface. This Phase-correction coating thus reduces the loss of image resolution maintaining high-contrast images and is found on most high end roof prism binoculars.
Field flattener lenses are used in the Nikon EDG binoculars that minimizes curvature of the field—aberrations that occur when focusing on the centre of the field of view causing the edges to go out of focus or the centre to go out of focus when focusing on the edges. This produces sharper, clearer images all the way to the lens periphery and are used in most high end binoculars these days. On top of this multilayer coatings are applied to all lenses and prisms to increase light transmission and to reduce flare and ghosting for super-bright, razor-sharp images, even at dawn and dusk.
The Main Body
Mid Size Binoculars
I travel abroad a lot, almost always taking a pair of binoculars with me. In the field I also often carry a bird book, camera or something else along with my binoculars in, so I do like the current trend of producing binoculars that are more compact than full size versions, yet are not so compact as to loose all of the light gathering qualities of larger binoculars. The ideal formula for these Mid Size Binoculars seem to be a objective lens diameter between 30 and 32mm.
New 2010 Nikon EDG Binoculars
It was announced in March 2010 by Nikon that they were bringing out their new range of EDG binoculars. The biggest difference between the latest versions is in their appearance, with the new version only having one bridge between the two barrels, where previously there were two.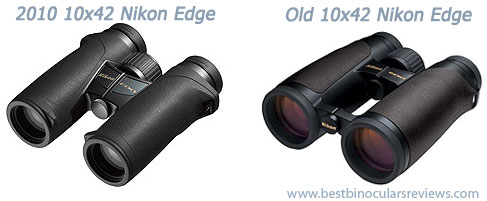 This new single short bridge design is comfortable to hold and the binoculars feel well balanced. They are fairly leightweight, but not so light as to make them feel like they are made of plastic, the body is actually made from die-cast magnesium and overall I think that they looks great. The nitrogen-filled body and O-ring seals mean that the 8x32 Nikon EDG is both Waterproof (up to 5 m/16.4 ft. for 10 minutes) and fogproof.
As with many binoculars these days the EDG range feature a central dual focus knob, that you pull out to adjust the diopter setting. This works well and quick accurate fine focusing was no problem.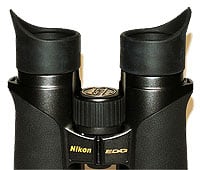 The Eye Cups
For me the eye cups can either make or break a pair of binoculars as this is the actual point of contact between you and your optics. Some people like solid ones, whilst others like me like soft rubber eyecups. The Ergonomically designed horn-shaped eyecups on all the Nikon EDG binoculars are fantastic as they are comfortable on your face and do an excellent job of blocking out peripheral light that can be so annoying and if you don't like them they are detachable, so everyone is happy. Under these you find the main more solid rubber eyecups that can Turn-and-slide making it simple to position your eyes at the correct eyepoint. For non-eyeglass wearers, you just use the eyecups in the extended position. For people who wear glasses you can just use them fully retracted or the eyecups can be adjusted to any of four click stops with a maximum of 18.5mm of eye relief, making these true long eye relief binoculars.
Nikon EDG 8x32 Vs Swarovski 8x32 EL Binoculars

What I thought may be interesting is to compare some of the numbers between, what I believe to be the market leader, the Swarovski 8x32 EL Binoculars and these Nikon EDG's. I have also included 10x version of the EDG for comparison.
| | | | |
| --- | --- | --- | --- |
| | Nikon EDG 10x32 | Nikon EDG 8x32 | Swarovski 8x32 EL |
| Price (approx): | $1400 | $1400 | $1800 |
| Weight: | 650g | 655g | 610g |
| Length: | 138mm | 138mm | 138mm |
| Width: | 139mm | 139mm | 114mm |
| Eye Relief: | 17.3mm | 18.5mm | 15mm |
| Close Focusing Distance: | 2.5m | 2.5m | 2.1m |
| Field of View at 1000m: | 114m | 136m | 140m |
| Actual Field of View (degrees): | 6.5 | 7.8 | 8 |
| Apparent Field of Vew (degrees): | 59.2 | 57.2 | 62 |
So as you can see, the biggest difference between the 10x and 8x EDG (apart from the magnification) is the much wider field of view. The comparison between the Swarovski 8x32 EL and the 8x32 Nikon EDG show that both binoculars are very evenly matched. The EDG has more eye relief and they are cheaper (about $400 cheeper than the EL's) where as the Swarovski's have a wider field of view and are lighter.
Conclusion
Compared to other top of the range binoculars, I would say that the 8x32 Nikon EDG binoculars are priced fairly reasonably. If you take this into account with their excellent, class equalling but not class beating optical performance and their quality construction with all the features you would expect to find in high end optics, I would say that they make very good value for money. Overall they are ideal travel, general purpose and birding binoculars and are highly recommended.