Marine Binoculars
Binocular Reviews Home > Binoculars by Use > Marine Binoculars
Skip the blurb, show me the best marine binoculars >>
The Marine Binocular
Using any equipment on or in a watery environment throws up it's own specific challenges and as such any equipment designed for these conditions has to have a number of specific features in order for them to not only survive, but excel.
Binoculars designed specifically for boating understandably have some pretty specific features. In this guide, I will go through exactly what you need to look out for to help you find the best marine binocular to be used on the water for your specific needs. If you are looking for the ideal binocular to watch water sports like sailing, canoeing and power boating from the shore (as opposed to being onboard), take a look at my article on the Best Binoculars for Watching Sailing.
Fog and Waterproofing
Obviously being waterproof is the single most important feature of any marine binocular. What you need to be aware of is that there are different levels of waterproofing, with some manufacturers describing their binoculars as waterproof, when in fact they are in fact on protected against water. So try and look for binoculars that are completely O-ring sealed as well as nitrogen-purged.
This means that the air inside the body has been replaced with dry nitrogen gas that prevents the internal optics from fogging up which can happen when you get rapid temperature changes. This will ensure that your boating binoculars will remain waterproof and fog proof in any season or weather conditions. This moisture free environment inside your optics also has the secondary benefit in that it also helps to protect the inner workings from any corrosion, which is especially important to those using binoculars on the sea.
If you have any worries that your binoculars may actually go overboard and fall into the water, also look out for binoculars that advertise that they can be fully submerged to a reasonable depth for longer periods of time. This combined with a floating strap means that you will have time to not only rescue your binoculars, but be able to use them again.
(importance 10/10)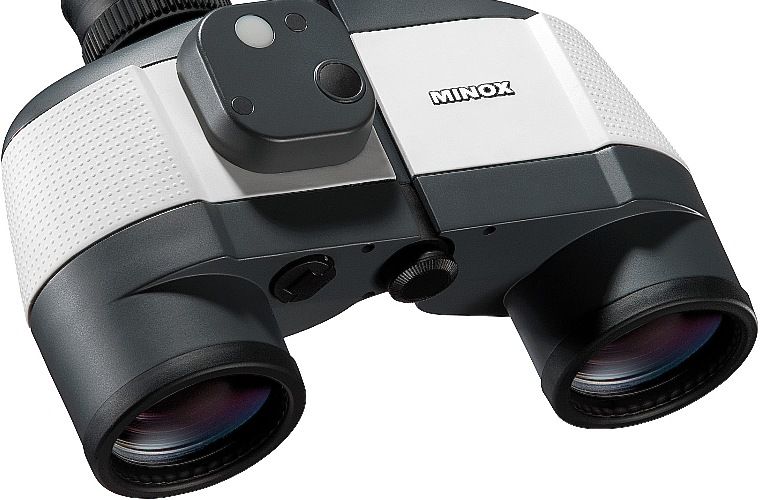 Marine Binoculars Magnification
Tip: The first number on the name of a set of binoculars is it's magnification. e.g.: Steiner 7x30 Marine Binoculars have a magnification of 7x
Out on the open water you are mostly going to be looking at objects that are further away than you would on land and as such, you would think that the bigger magnification, the better.
The problem with this is the larger the magnification, the less stable the image you are looking at through them becomes as any movement is magnified. So if you take tis into consideration and the fact that the platform of you boat will not be stable means that very high power binoculars can become very difficult to use on the water as you just can't keep the image still enough.
This is the main reason why most of the best marine binoculars tend to have magnifications of around 7x, this still gives you plenty of power and will mean that your image is not too unstable to view.
Image Stabilization Binoculars (IS)
If you really want more magnification than 7x the best advice would be to go for a set of binoculars that have built in Image Stabilization. (For more take a look at my guide to the excellent Canon Stabilized Binoculars)
For an excellent example on how Image Stabilization can help steady the image on a boat take a look of the video below created by Yachting Monthly, using the Fujinon Techno Stabi 14x40 stabilized binoculars.
However one of the downsides to using electronically stabilized binoculars is that as you know electricity and water are not the best of friends and most image stabilized binoculars are not fully waterproof.
So to sum up magnification for marine binoculars, I would stick to 7x or if you wish to go higher, use image stabilized binoculars.
(importance 7/10)
Rangefinders
Most marine and boating binoculars use a recticle rangefinder (sometimes called a grid rangefinder) as opposed to the laser rangefinders found on many binoculars designed for hunting. This is because the distances involved on the water are usually too far for the laser rangefinders to work.
Rangefinder reticles basically work by comparing a scale or measuring marks on the reticle in the binoculars field-of-view against the know size of an object that you are looking at and then applying these figures to a very simple formula, sometimes called the Mil-dot formula. For more information take look at my in-depth guide to Rangefinder Reticles on Marine Binoculars.
Compass
Many binoculars built for marine use come with an integrated compass, some of which are digital. They all enable you to pinpoint the bearing of a object. Depending on your personal preferences and circumstances, this may either be essential or just a nice feature to have. If it is essential to your needs and if you need them at night, look out for models, that have a compass that is illuminated at night, but these will obviously require batteries.
Objective Lens Size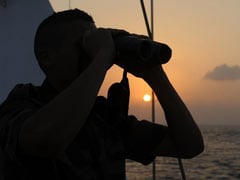 This is the size of the large lens at the end of your binoculars, it is indicated in the name of the binoculars and is measured in millimeters. so for example the Steiner 7x30 Marine Binoculars have an objective lens diameter of 30mm.
The larger the objective lens, the more light your binoculars let in, which is especially important for low light conditions. Obviously the larger the lenses, the larger the binoculars, so most compact binoculars that you are going to carry about in the field tend to have smaller objective lenses. Generally marine binoculars are stored on a boat and as such, size is not as critical, the most popular marine binoculars tend to have 30mm or 50mm objective lenses.
(importance 5/10)
Type of Focus
You can find good marine binoculars in either individual eyepiece focus (fixed focus) or center focus designs. Below I go over the advantages and disadvantages of each in the context to marine use:
Fixed Focus Binoculars
Once you have set the binoculars to your eyesight they do not need to be focused again, these are sometimes confusingly known as self focusing or auto focus binoculars. This system works well when looking at objects from medium to far distances away and the advantage of not having to focus using your binoculars on a moving boat is obvious. They also often used on marine binoculars because they have far less moving parts than center focus binoculars making them much easier to seal and make completely waterproof.
Center focus Binoculars
These need to be focused on objects at different distance away using a central barrel. This makes them more versatile than fixed focus binoculars, which is important if you plan to use a binoculars for viewing objects at closer ranges and possibly in other situations other than on the water.
Field of view
Field of view is basically the width of the scene that is in view when you look through your binoculars, for a full explanation see field of view in my optics glossary. Whilst the field of view on marine binoculars may not be as important as it is for people using their binoculars to view unpredictable, fast moving objects, like birds it should still be something that you take into consideration when choosing what to get and here is why:
A wide field of view makes it easier to find objects when looking through the binoculars, so when bird watching, it makes it that much easier to locate the often small and fast moving ones at closer ranges. One the water and other wide open areas, a wide field of view will make it easier for you to locate an object when searching for it as you get more of the scenery into your view at any one time and so can be very important - consider a man overboard etc.
The down side to a wide FOV is the loss of pinpoint detail that you find in high magnification binoculars. In simple terms lower magnification often means wider field of view. A field of view that is too wide will often result in distortion at the edges of the image. So what you are looking for is the wider field of view as possible in your chosen magnification.
(importance 4/10)
Size & Weight
Apart from personal preference, the size and weight of marine binoculars is not as important as it would be for binoculars used for wildlife viewing or birdwatching that are designed to be carried around in the field. Marine binoculars are generally stored onboard and only used when needed. If you plan to use your binoculars for more than just boating binoculars, this may become an important factor.
(importance 2/10)
Balance
Related to the size and weight of binoculars, the balance of a set of binoculars is quite important especially if you plan to use them for extended periods. Unfortunately it is not something you can compare without trying out the binoculars yourself, having said that if you are going for a quality pair of binoculars, they will all be pretty well balanced and you will probably not go wrong here. Well balanced binoculars should put very little stress on your arms, wrists, and hands when you hold them up to your face. A badly balanced pair, will strain your muscles making viewing for long periods a task as well as making harder to keep steady.
(importance 5/10)
Eye Relief
Eye relief on a set of binoculars is very important if you use glasses. Take a look at Eye Relief in my glossary for a detailed explanation, but basically it is the distance behind the ocular lenses where the image is in focus. Glasses mean that you can't get your eyes as close to the lenses as they get in the way and so you need a longer eye relief that basically projects the image beyond the ocular lens on the binoculars. So if you wear glasses, you should be looking for an eye relief of at least 15mm (some recommend at least 16mm), to see the full image full image.
The down side to long eye relief is that it can reduce the field of view. Some people wonder if you need to wear glasses at all using binoculars, well If you are near-sighted or far-sighted, you can use your binoculars without wearing glasses and the binoculars focus will compensate, but if you have astigmatism, you will need to use your glasses.
Eye-cups are related to the eye relief as they keep the distance from the oculars to our eyes, but also help keep stray light away from your eyes while using binoculars. Many eye-cups are made from rubber and can roll up or down depending on whether you use lasses or not. The problem with these is that the constant rolling causes the eye-cups to perish and break. Another type are eye-cups that slide rather than roll, but these can be hard to keep in place. The third type are eye-cups that twist up and down and so they can be left at any position from all the way up to all the way down, some even have click stops at regular intervals with the eye relief distance for each stop marked on the cup so you can get the perfect eye relief for your vision.
(importance 8/10 if you uses glasses not hugely important if you don't)
Floating Straps
Something that is often overlooked is what happens if your binoculars were to fall overboard - a few marine binoculars actually float, but most don't so the most common and cheapest solution is a floating strap that attaches to your binoculars to ensure that they remain on the surface long enough for you to rescue them. A few models, like the Vanguard Mariner Binoculars, come with a floating neck strap included, but most don't which means you will have to get them yourself - for some more advice, take a look at my article on the Best Floating Binocular Straps.
Featured Marine Binoculars
Below are some binoculars that I recommend as great boating binoculars as well as the full review on some that I have written:
Steiner 7x50 Marine / Navigator Binoculars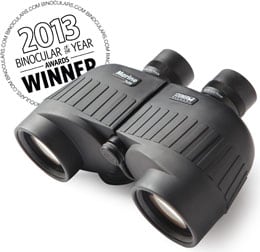 Winner Binoculars.com's Best Marine Binoculars 2013
What Binoculars.com say: "Ahoy! We were impressed with the Steiner 7x50 Marine Binoculars the moment we got them aboard the boat. These darn-near-indestructible waterproof binoculars bring German engineering and optics onto the water without a yacht-class price tag. Against the wetness, they wield black rubber armor throughout, eyepieces with rain and spray guards, lens caps, and a web strap. On the eyes, they impress fully multi-coated lenses, BaK4 prisms, and Steiner's signature Sports-AutoFocus system. With it, just set your binoculars for your eyes once and view everything in focus from 20 yards to infinity."
What I say: Known as the Steiner Navigator in Europe, these binoculars with their large 50mm objectives fully multi-coated optics and 7x magnification will help to ensure that the image you get onboard is both bright and steady.
Like many Marine binoculars, these have a Fixed focus , or a "Sports-AutoFocus system" as Steiner like to call them, which means you don't have to bother with focussing on rough water. This simpler design also makes them much easier to fully seal ensuring that they are completely watertight.
More Information:
The Steiner Marine 7x50 Binoculars cost about $300 in the US or £320 in the UK.
The 7x50 configuration, tough body designed to withstand the elements as well as it's bright image, wide field of view and of course the rangefinding reticle, digital GPS and compass mark these Celestron binoculars out as the ideal companion for boaters, security and military personnel as well as hunters and especially those involved in search and rescue operations.

Price: (3/6) Mid Priced Binoculars
BBR Ratings:
Body Quality:
8/10

78%




Excellent

Body Stats:
9/10
Optical Quality:
7/10
Optical Stats:
8/10
Image Quality
8/10
Extras & Details:
7/10
The New Bushnell 7x50 Marine Binoculars (13-7507) are designed for boating, but can be used in any demanding environment or where rock-solid durability is required. Not only are they completely waterproof, but they actually float and come with a host of features that includes a digital compass for true heading and range finding scale that allows you to estimate the range to objects of a known size.

Price: (3/6) Mid Priced Binoculars
The Steiner 7x30 Navigator Pro C Marine Binoculars are waterproof, have anti glare and haze optics, come with an integrated range finder and stabilized compass, are lightweight and compact, making them ideal for any small marine vessel. These focus free binoculars have Steiner's Sports Auto Focus system that keep all objects in focus from about 20 yards to infinity that allow faster location of navigational marks.

Price: (4/6) Mid-High Value Binoculars
Vanguard Mariner Binoculars
The most important features of any Marine Binocular is to be waterproof and as stable as possible for looking through in an unstable boat. The Vanguard Mariner ensures that you are well looked after in both these departments. They are 100% waterproof up to 16 feet/5 meters as well as fogproof and come with a floating neck strap that keeps the binocular on the surface of the water should you accidentally drop them overboard. The bright yellow non-slip rubber armor not only protects them, but helps with the handling and grip in cold or wet weather. The 7x magnification is strong enough to view distant objects but not too powerful, which would make keeping a stable view through them impossible on rough or choppy waters.
A porro prism design, the Mariner's have fully multi-coated lenses with BaK4 prisms that are made with a higher quality glass (barium crown) that helps produce brighter images and high edge-to-edge sharpness with excellent light transmission. The large objective lenses also make this binocular a great choice for low light situations.
Other features include an internal reticle illuminator and compass, and an Individual Focusing System allows for simultaneous adjustment and focusing when using the diopter scale.

Sizes Available:
Available Downloads:
Price Range
Related Articles & Further Reading
Minox Nautic Binoculars
The Minox Nautic Marine Binoculars are innovative and professional binoculars designed to meet the extreme requirements encountered at sea and have been engineered to the highest standards with sailing, boating and other water sports in mind.
More Information