My most used pair of binoculars are my compacts, this is because of the fact that they are so easy to carry with me... and so I do. I take them with me just about everywhere I go and not just to places where I know I will be needing binoculars. For instance compact binoculars are easy to put in my golf bag, or in my carry bag when I go out mountain biking. In both of these examples, I am not specifically going out to look for wildlife, but you just never know when, especially with birds, that you will needing a pair.
So because my compact binoculars get used so much and I pretty much throw them in with all my other kit, I don't want to be too worried about them. That is why as well as compact they need to be fairly tough, their case must also protect them and if the worst happens and I get my bag stolen or they get crushed, I don't want them to be too expensive to be irreplaceable. But at the same time, I do need the view though them to be as good as possible otherwise to be honest you are sometimes better off just using your eyes! So am I asking for to much, is there a compact, tough, cheap binocular that well outperforms their price tag out there?
Well I was recently sent a pair of these Opticron Taiga 8x25 Binoculars to review that definitely look like a potential candidate and below are my thoughts:
The Body
As with all compacts, you are looking for a pair that is as small and lightweight as possible:
Weight
At 302g (10.7oz) they feel very light compared to a standard binocular, but are about average for a compact binocular.
Dimensions
The dimensions of these 8x25 Taiga binoculars are 11.2x10cm (4.4x3.9in), which once again makes them about average for this type of binocular.
An important thing to consider when looking at the size of a compact binocular is how small they are when they are folded. When you are are looking through them, just how small they are is not that important, but size is far important when you carrying them around with you. Different designs of compacts fold up in different ways and this can make a big difference is their size.

As you can see from the image above and because of the differences in the design of the prisms, compact roof prism binoculars are often far more streamlined than porro prisms like this one. This is can even be a bigger difference when a compact roof prism binocular uses a "duel hinge" design. The disadvantage of a roof prism is that it is far harder (and more costly) to make a quality binocular with this type of prism and therefore if you are looking at buying a budget compact, you usually get much better performance (optically) with a porro prism. For more on this take a look at this article on the Best Compact Pocket Binoculars.
BBR Rating for Body Stats: 6/10
Build Quality
Just considering the weight and size of a pair of binoculars can sometimes be misleading. This is because you can get some very lightweight binoculars that are so light just because cheap (often plastic) components have been used in their construction. Thankfully this does not feel the case with these Opticron binoculars. Whilst I would not expect a budget binocular like these to have the same build quality as one that costs ten times as much, but you still want them to feel as like you have a good quality optical instrument in your hands and not just a toy.
I could not find any details on exactly what the body is made of, but they look well made and they do feel very solid and robust. Opticron state that they have been "finished in twin textured soft black rubber covering" and whilst I am not totally sure what the "twin" texture is all about, this tough rubber covering not only feel great in the hands, but it improves your grip on them and will protect them from scratches and small knocks and bumps.
This black rubber armouring also ensures that your binoculars are less reflective than if the bare metal was exposed that could frighten away wildlife. Any sound made from an object striking against them (like your watch or a ring) is also dampened down by the rubber armour which also helps to ensure that you don't frighten away birds and other timid animals.
Waterproof & Fogproof
There is no mention in any of their marketing of them being water of fog proof and so I must assume that they are neither. Once again, this is fairly understandable in this price range as not many in this class are.
The Eye Cups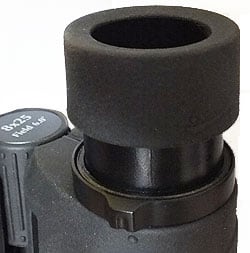 The twist-up eyecups look to be made from a very hard plastic that have a thin soft rubber coating on them and they feel fairly comfortable even when pushed firmly against your face.
The 16mm of eye-relief is one of the real highlights on these Opticron Taiga binoculars, making them one of the longest of any compact binocular that I have ever reviewed. This should also be enough for most people who wear glasses to use them without having to remove them and whilst there are no fixed intermediate stops, the twist-up mechanism of the eyecups works very well . Non-eyeglass wearers will just use the eyecups in the fully extended position.
Diopter Adjustment
The diopter adjustment is used to correctly set up and focus the binoculars to your particular eyesight and only really needs to be done once when use them for the first time. On these optics, the adjustment ring is located on the right barrel, just under the eyecup.
There is a marking on the body of the binoculars to let you know where the neutral point is, but if your eyesight requires that you need to move it, I would suggest making your own mark on the binocular in your specific location so that if it is moved accidentally, or if you share them with someone, you can very easily return it to your correct setting. On the pair that I tested, it was tight enough to prevent it from easily being moved accidentally, yet not so tight as to make adjusting it difficult.
Focusing
Like the eye-cups, the focussing wheel on the 8x25 Taiga has a hard rubber coating on it, is nicely grooved and on the pair that I tested turned fairly smoothly.
The focusing mechanism is geared quite aggressively as it takes just less than 1 full turn to go from infinity to it's minimum focusing distance of 3 meters (9.8ft).What this means is that focusing from near to far (or vise versa) is very quick, but this does have the slight disadvantage of making fine tuning your focus a little more tricky than a less aggressive mechanism.
Best Binoculars Rating for Body Construction Quality: 5/10
The Optics
Lens & Prism Coatings
As you would expect on a low cost compact, these don't come with a vast array of expensive coatings and things like super high quality extra-low dispersion glass, but because they are a porro prism binocular their prisms have total internal reflection and as such do not need some of the coatings that similar quality roof prism's do.
What is good is all air to glass surfaces have been fully coated, which means that they have received at least one layer of anti-reflective coatings which increases light transmission, for a brighter image and therefore better low light performance. Better that fully coated would have been if they were fully-multi coated, which would mean that they had multiple layers of multi-reflective coatings.
These with anti-reflection coatings are very important as part of the light that passes through any lens is reflected by the front (incident light) and rear (exiting light) surfaces. This reduces the amount of light passing through the lens, if it is very bad the image you see will be darker than on binoculars that transmit more light. Also, the reflected light may cause ghosting and flaring, affecting image contrast. To minimize reflection on the lens surfaces and ensure clear, sharp images, anti-reflective coatings are applied.
Best Binoculars Rating for Optical Components Quality: 5/10
Optical Stats
Field Of View (FOV)
The field of view for these 8x25 binoculars is 105m at 100m / 315ft at 1000 yards (6.0°) - which, for a compact is not too bad, but does fall a little short of the best. For example the Steiner 8.5x26 Wildlife Pro has a FOV of 333ft at 1000 yards and the Kowa 8x25 BD has a FOV of 331ft at 1000 yards.
Close Focusing Distance
With these Opticron binoculars, the minimum distance that you can focus on an object is a 3 meters (9.8ft) away, which is above average, but not the best. I consider anything under 6ft to be very good. So if you are looking for a compact binocular specifically for things like observing butterflies then I do not recommend getting these. Rather take a look at these close focusing binoculars.
The 8x25 Configuration
All binoculars with an 8x magnification and 25mm objective lenses have an Exit Pupil of 3.13 and a Twilight Factor of 14.1, which if you compare them to an full size 8x42 binocular, which has an exit pupil of 5.25 and a twilight factor of 18.3, it shows that the increased objective lens diameter of the 8x42 binoculars will gather more light and make it possible for the binoculars to transmit more light to your eyes. This is the main compromise to using a compact over a larger pair of optics, but having said that in reasonably good lighting conditions like during the day, where your eye pupil size will be only about 2 to 3mm, this will not be much of a factor, it is just at twilight and under poor light where you can really notice the difference. You must also remember that having a good pair of compacts even in poor light is still much better than having no binoculars at all!
The performance of a pair of optics in poor light also depends a lot on the quality of the glass and optical coatings and not just the exit pupil and twilight factor formula. Good coatings on the lenses and the prisms can double the amount of light that gets through the binocular, when compared to those that have none or poor quality coatings.
Best Binoculars Rating for Optical Stats: 7/10
Image Quality
As I do for all my reviews, I compared the view through these compact Opticron Taiga 8x25 binoculars with that of my control binoculars:
Brightness
Comparing the view through these and that of my control compact, I would say that in terms of brightness, they were about equal, which means that for a compact I rate them pretty highly and they are as good as many much more expensive binoculars in this class. Just as a matter of interest and as expected, I could quite easily see a difference between these and that of my benchmark 8x42's, which were brighter.
Focusing on the white handle of my barbecue, with the black lid directly behind it, I looked for any signs of color fringing (chromatic aberration) on the edges of the handle. On very high quality optics it can be very hard to tell if there is any, and these were not much different, whist there is there, it is barely visible and you would never really notice unless you were really looking for it, so once again this is very good.
I would also say that the contrast and the colour reproduction of the image was also good and once you are correctly focussed on an objet the image is very sharp.
The amount of softening of the image on the periphery of the view, was almost none and was better than that of my control pair and once again I rate them very highly in this area.
Best Binoculars Rating for Image Quality: 7/10
8x25 Opticron Taiga Comparisons
Below is a table comparing this Opticron Taiga with a selection of other compact binoculars. The very top of the range Swarovski 8x20B Compact Binoculars as well as the Minox 10x25 BV BRW's, Kowa 8x25 BD and the Steiner 8.5x26 Wildlife Pro.
Comparing a low cost binocular like the Opticron Taiga with other binoculars that are far more expensive may seem a little unfair at first, but as long as you keep in mind the price difference, it does throw up a few interesting points and can highlight a few of their relative strengths and weaknesses and show where some of your money goes if you choose a more expensive pair of binoculars.
| | | | | | |
| --- | --- | --- | --- | --- | --- |
| | Opticron 8x25 Taiga | Steiner 8.5x26 Wildlife Pro | Swarovski 8x20 | Minox 10x25 BV | Kowa 8x25 BD |
| Price (approx): | £90 | $320 (£300) | $630 (£440) | $160 (£110) | $300 (£300) |
| Weight: | 10.7ozs (303g) | 9.7ozs (275g) | 7.6oz (215g) | 9.14ozs (259g) | 11.3ozs (320g) |
| Length: | 4.4in (11.2cm) | 5.2in (13.2cm) | 3.98in (10.1cm) | 4.29in (10.9cm) | 4.4in (11.2cm) |
| Width: | 3.9in (9.9cm) | 4.4in (11.2cm) | 2.3in (5.9cm) | 3.85in (9.8cm) | 4.2in (10.7cm) |
| Eye Relief: | 16mm | 13mm | 13mm | 15.5mm | 15.8mm |
| Close Focusing Distance: | 9.8ft | 6.5ft | 13ft | 4.9ft | 6.0ft |
| Field of View at 1000yds: | 315ft | 333ft | 345ft | 290ft | 331ft |
| ED Glass | No | No | No | No | No |
| Phase Correction | No | No | Yes | No | Yes |
| Lens Coatings | Fully Coated | Multi-Coated | Fully Multi-Coated | Multi-Coated | Fully Multi-Coated |
| Waterproof | No | Yes | Yes | Yes | Yes |
| Fogproof | No | Yes | Yes | Yes | Yes |
Included Extras & Attention to Detail: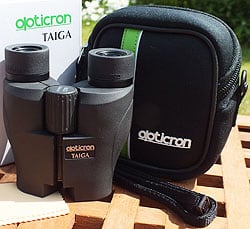 Neck Strap
Not much padding is needed on such small and lightweight optics, so with a pair like these, I never expect too much. Having said that these Opticron's come with a very basic nylon neck strap without any padding at all. On more expensive compact binoculars, you do find more luxurious neck straps and even though they are probably overkill, it is still nice to have.
Carry Case
Considering how basic the neck strap is, I was really very pleasantly surprised with the quality of the soft carry case. It looks to be made of something like Neoprene, is lined with a soft material and is padded adequately enough for a compact. It has a zipped opening and has two loops on the rear of it, which you could thread your belt through. Overall the quality is high and it looks to be very well made.
Lens Covers
As with most low cost compact porro prism binoculars, these do not come with any lens covers. I guess the thought is that because they are so small, it is easy to also keep the carry case with you in the field (you could easily attach it to your belt or just keep it in a large jacket pocket) and use that to protect and keep your lenses clean.
A branded lens cloth is also included in the box.
10 Year Guarantee
These Opticron binoculars come with their 10 year guarantee on some parts of the optics under the following conditions: In the case of defects attributable to faulty processing or materials, they will assume responsibility for the labour and material costs during the first 5 years after purchase. Opticron reserve the right to decide whether defective parts should be repaired or replaced. During the next 5 years they will assume responsibility for material costs only, charging corresponding labour costs. Opticron will accept no liability for damage caused by incorrect use, water penetration (as they are not waterproof), or for any repairs or actions which have been carried out outside their company. Parts such as carrying straps, rubber eyecups, rubberized coatings etc. are also excluded from the guarantee. This guarantee is in addition and does not affect your statutory rights.
Best Binoculars Rating for Extras & Attention to Detail: 5/10
Conclusion
Whist these may not be as good as the very best compacts, they are far, far cheaper than the very best and to be fair they are not at all bad. If you can live with their few weak points (see below), then considering their price, I think that the quality and brightness of the image they produce is very good and will make an ideal binocular for many people especially those who don't want to part with larger sums of money.
Strong Points: The strongest feature of these compared to other compacts is their really long eye-relief. I also think that considering their very low price point, their optical performance is excellent and easily as good as many compact binoculars that are far more expensive than these. Their overall build quality is also good and at no point did I feel that I had a pair of cheap binoculars in my hands.
Weak points? A slightly wider field of view would really improve these binoculars as would a closer minimum focusing distance. The fact that they are neither water fogproof is also a shame, especially for those that like to use their optics in all weather conditions.
Ideal Uses: Like most compact binoculars, these are ideal if you are looking for a take anywhere pair of binoculars, perfect for camping...although not if you are going to get them wet. I would take them hiking with me, if spotting birds and wildlife was not my main focus. I also see them sitting in the cubbyhole of my car, or in my golf or kit bag to be used at any time. The fact that they are so small makes them easy to take with you to any sporting event, although a wider field of view would have really been appreciated here.
Overall, I think for the amount that you pay for these Opticron Taiga binoculars, you get a pretty good binocular for your money and their optical performance to price ratio is very good.
Acknowledgements

I would like to thank Warehouse Express for organising the binocular to be sent to me to review. I would also like to point out that all the reviews on this site, including this one are my opinion of the binocular and are not influenced in any way by manufacturers, distributors or suppliers. I do however think that it is worth noting that at the time of writing Warehouse Express have the Opticron Taiga 8x25 listed on their site at £86.99, which is a real bargain. Check current price on Warehouseexpress.com.