Bigger is not always better, this is especially true if high on your list of priorities is a lightweight binocular that is more compact than the "standard" 42mm diameter binocular, but not so compact that you have to sacrifice image brightness and quality.
Step up the Swarovski EL 10x32 WB binoculars, The whole Swarovski EL range is regarded by many as the ultimate in binocular optics and at first glance these look as if they could just possibly be the ultimate travelling binoculars ideal for taking on safari in Africa, a city tour in Europe or exploring the depths of the Amazon.
So lets take a closer look at and see if the premium price you pay for a pair of Swarovski El binoculars is worth it:
Main Features & Highlights
Non-slip rubber armoring with the wraparound grip makes the binocular easy to use with 1 hand
Lightweight and perfectly balanced
Waterproof to a depth of 4m (13ft)
Durable magnesium alloy housing
Fully Multi-coated Lenses with BaK-4 Prisms
Includes the Swarovski Snap Shot Camera Adapter
Swarobright coating for better light transmission.
Swaroclean Lens Coating that repels water and residue on outer glass surfaces.
The Swarovski EL Binocular Range of binoculars are considered by some as the "best of the best", but what does the El stand for in their name?
EL = Ergonomic, Light:
Ergonomic because all the optics in this range feature comfortable thumb depressions and the very comfortable wrap around grip that has a gap between the barrels (or the Torsion-free twin-bridge construction as they like to call it) that enables you to comfortably use them even with one hand. This design not only makes them comfortable to hold, but I found them to be perfectly balanced: ideal for extended viewing times.
Light could be a reference to the low weight of these binoculars and at 610 g/21.5 oz they are far lighter than the EL 10x42 WB bins that weigh 780 g/27.5 oz and lighter than all other quality 10x42 binoculars that I have reviewed, which is something you would expect for more compact design. But Light could also stand for incredible light transmission:
I wondered if by reducing the size of the objective lens to 32mm from the more common 42mm, if it would have a noticeable difference in the brightness of the image. Looking through them on slightly overcast day they were impressive, but I was lucky enough to also have the Swarovski 10x42 EL binoculars with me to compare them with. I was impressed, the 10x32's looked as bright as their larger cousin and in fact I could not tell the difference between the two. Unfortunately I was not able to try them both at dusk and very low light conditions, where the 42mm's should have the advantage where a 10x32mm binocular has a twilight factor of 18 and a 10x42 is almost 21. It is important to point out that the twilight factor does not take into account many parameters including lens quality. I have also read that even at low light extremes the Swarovski 10x32 EL binoculars perform very well. It should also be mentioned that not all eyes are created equal and a younger person may notice a difference in low light conditions, this is because as you get older the ability of your eyes to dilate gradually reduces.
Waterproof & Fogproof Binoculars
These 10x32's are fully waterproof: The optics are sealed with O-rings to prevent moisture as well as dust, and debris from getting inside the binocular. The Barrels are also filled with nitrogen gas that should prevent the internal fogging that you sometimes get on cheaper binoculars.
The Eye Cups
The separately adjustable twist-in eyecups give you 13mm of eye relief, so you can't classify them as "long eye relief", but should be enough for most people. The eye cups are also easy to remove making them simple to clean. To fit the supplied Camera Snap Shot Adapter, you just twist out one eyecup, put on the adapter, and screw it tightly to the binocular.
Focusing Wheel
The stable, smooth and completely tolerance-free focusing wheel and focusing mechanism of the EL 32 is designed so that two turns take you from the "infinite" setting to a close focus setting of just 6.6 feet (2 m) - making your binoculars almost like a pair of "magnifying glasses" with which you can observe even the smallest details, like a dragonfly's wing.
The Optics
Swarovski Optiks quality is legendary and the new version of the EL Binoculars continues to build on an already very impressive base.
Lenses
The Swarovski 10x32 EL binoculars come with fully multi-coated lenses, meaning that they increase light transmission with multiple anti-reflective coatings on all air-to-glass surfaces, for a brighter image. They also have a coating that they call Swaroclean: that according to Swarovski reduces the "energy on the surface" and makes cleaning them much simpler. The basic idea is that cleaning the objective and eyepiece lenses is now much easier meaning that the lenses require less vigorous cleaning which will significantly increase the life of your optics.
Prisms
A roof prism design featuring the highest quality BAK-4 prisms. Theses also have something called Swarobright, Swarovski's own prism coating, designed for optimum color fidelity across the whole light spectrum. You can read more about the Swarobright coating here.
Optical Performance
My test was conducted on a slightly overcast, and dull day and overall the view through very impressive, a bright crisp image as good as any binocular that I have ever tested.
Field of View
These 10x32 binoculars have a field of view that is 120m wide at 1000m or 360ft at 1000 yds. Which is better than the Swarovski 10x42 EL binoculars (110 m/330 ft) and only slightly less than the Swarovski 8.5x42 EL Binoculars (130 m/390 ft) making these great birding binoculars as you shouldn't miss fast moving objects (like birds), but still have the advantage of a 10x magnification. Lager magnifications tend to reduce your field of view, so these stats are impressive.
The close focus distance is 2 m/6.6 ft, which is pretty good for this class of binocular.
Swarovski Quality
Swarovski are so sure of their product that they offer a lifetime warranty against manufacturing defects and workmanship in the optical system. Other parts are warranted against manufacturing defects and workmanship for ten years. It is also worthwhile noting that Swarovski has a reputation for being very fair and even generous on their warranty service.
Included Accessories
When purchasing, make sure you get the binocular accessories that come with this model: Rainguard, Tethered objective lens covers, Neck strap, Case and the Swarovski Snap Shot adapter: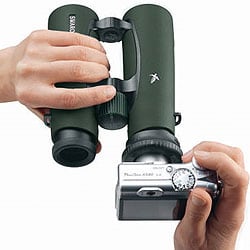 Snap Shot Adapter
Swarovski's Snap Shot Adapter enables you to connect your digital camera to the binoculars and take surprisingly good quality photos even at long distances. The supplied ring connects your Swarovski Optik EL (and SLC series) binoculars directly to your digital camera thus creating a camera lens. Most digital cameras that have a max. 4x optical zoom and extendable objective lens are suitable.

Price
There is no getting around it, the Swarovski 10x32 EL Binoculars are not cheap, they are however cheaper than the 42mm versions and you can feel confident that you are getting the very best that money can buy and with the lifetime warranty, these may be the last binoculars that you ever need to purchase.

Safari Binoculars
In my opinion these are the best binoculars to take on safari if price is no object. A 10x magnification, combined with a good field of view, making them useful birding binoculars as well as excellent for viewing larger wildlife. They are lightweight and compact making them easy to tuck away in your hand luggage as well as carry with you on safari. Read more on the best binoculars for safaris.