The 10x magnification and 42mm objective lens make for a very versatile binocular and these are most definitely one of the best wildlife observation binoculars available, with some people even going as far to say that the Swarovski EL 10x42 binoculars are the perfect wildlife and hunting binoculars. Whilst the 8.5x42 EL version may be the most common choice for birdwatching, I feel that these are still excellent birding binoculars, especially if you are going to be observing them at larger distances and wide open habitats (water birds for example). Swarovski Optiks have an impressive heritage and are famous for their quality, but lets take a closer look and see if these Swarovski 10x42 EL binoculars live up to the hype:
Main Features

The main body has the legendary wraparound grip makes the binocular easy to use with 1 hand
Premium diamond-bright optic for viewing items in low-light conditions
Fully Multi-coated Lenses; BaK-4 Prisms
Swaroclean coating on outer lens surfaces
330ft field of view at 1,000 yards
Water-submersible up to 13 feet

Lifetime warranty
The Main Body
This 10x42 binocular is one of four models in the range of Swarovski EL Binoculars, where EL stands for Ergonomic, Light.
Ergonomic: They feature thumb depressions and the very comfortable wrap around grip that has a gap between the barrels (or the Torsion-free twin-bridge construction as they like to call it) that enables you to comfortably use them even with one hand. This design not only makes them comfortable to hold, but I found them to be perfectly balanced: ideal for extended viewing times.
Light: Swarovski describes these as "Low weight" binoculars and some retailers describe them as being extremely lightweight, but at 780 g / 27.5 oz they are heavier than other similar quality binoculars, the Zeiss 10x42 Victory FL weighs 26.8ozs (760g). The Kowa 10.5x44 Genesis XD weighs 34ozs (964g), which are considered heavy, but do have larger objective lenses and magnification.
The Eye Cups
The separately adjustable twist-in eyecups mean that you an get 15mm of eye relief, which is good and even if you wear eye glasses you should easily be able to view the full field of view, but they cant be considered long eye relief binoculars. The eye cups are also easy to remove making them simple to clean. To fit the supplied Camera Snap Shot Adapter, you just twist out one eyecup, put on the adapter, and screw it tightly to the binocular.
Waterproof & Fogproof Binoculars
These are fully waterproof: The optics are sealed with O-rings to prevent moisture as well as dust, and debris from getting inside the binocular and are said to be submersible up to a depth of 13 feet of water (Something I was a little too nervous to test on these rather expensive optics). The Barrels are also filled with nitrogen gas that should prevent the internal fogging that you sometimes get on cheaper binoculars.

The Optics
The quality of Swarovski Optiks is legendary and the new version of the EL Binoculars continues to build on an already very impressive base.
Lenses
The Swarovski 8.5 x42 EL binoculars come with fully multi-coated lenses, meaning that they increase light transmission with multiple anti-reflective coatings on all air-to-glass surfaces, for a brighter image. They also have a coating that they call Swaroclean: that according to Swarovski reduces the "energy on the surface" and makes cleaning them much simpler. The basic idea is that cleaning the objective and eyepiece lenses is now much easier meaning that the lenses require less vigorous cleaning which will significantly increase the life of your optics.
Prisms
A roof prism design featuring the highest quality BAK-4 prisms. The newest versions of the EL binoculars also boast that they have something called Swarobright, Swarovski's own prism coating, designed for optimum color fidelity across the whole light spectrum. You can read more about the Swarobright coating here.


Optical Performance
I tested these binoculars on a typical day in the UK, overcast, dull and grey! Overall the view through them was nothing short of spectacular, a bright crisp image as good as any binocular that I have ever tested.
Field of View
These 10x42 binoculars have a field of view that is 110m wide at 1000m or 330ft at 1000 yds, which is identical to the Zeiss 10x42 Victory FL (330ft at 1000 yards) and only slightly more than the excellent Kowa 10.5x44 Genesis XD binoculars (324 at 1000 yards), but remember that the Kowa's have a magnification of 10.5x (Lager magnifications tend to reduce your field of view)


Included Accessories
When purchasing, make sure you get the binocular accessories that come with this model: Rainguard, Objective Lens Covers, Lift Neck Strap, Case, Snap Shot camera adapter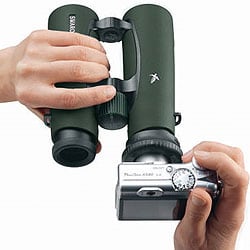 Snap Shot Adapter
Swarovski's Snap Shot Adapter enables you to connect your digital camera to the binoculars and take surprisingly good quality photos even at long distances. The supplied ring connects your Swarovski Optik EL (and SLC series) binoculars directly to your digital camera thus creating a camera lens. Most digital cameras that have a max. 4x optical zoom and extendable objective lens are suitable.

Price
There is no getting around it, Swarovski EL binoculars are not cheap and these 10x42 EL binoculars are no exception. One thing you can be sure of is that you are getting the very best sport optics that money can buy and with the lifetime warranty, these may be the last binoculars that you ever need to purchase. At the time of writing they are offered at a cheaper price on Amazon & Eagle Optics (Click to check prices), than the Zeiss 10x42 Victory FL binoculars. The Kowa 10.5x44 Genesis XD binoculars are generally slightly cheaper.
Available Downloads: