Best Binocular Harness Strap Guide
Binocular Reviews Home > Binocular Accessories > Best Bino Harness
The binocular harness (or binocular suspenders as they are occasionally called) can be extremely useful, often preferable to just using the shoulder strap and in some situations are almost a definite necessity.
In this guide to I will firstly go over some of the key benefits of using a bino harness and in which circumstances and uses where they are most useful.
Then in the second part we will take a look and compare some of the different types there are decide which are the best for you, your needs and your budget.
Then finally we will take look at some of the best along with my in-depth hands-on binocular harness reviews, which will hopefully make choosing and buying what is a relatively inexpensive accessory for your binoculars as easy as possible.
Why use a Binocular Harness?
There are actually a quite a few important reasons why you should use a bino harness: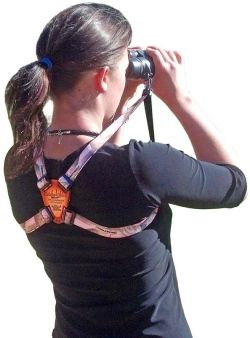 Security
Firstly they make for a very secure way of carrying your binoculars, with no chance of you accidently dropping them.
Also unlike a neck strap that leaves your binoculars to swing about, a harness keeps your expensive instrument close to your chest and out of harms way.
Comfort
A good harness for binoculars is also the most comfortable way to carry your instrument which just simply adds to the enjoyment of whatever it is that you are doing.
Stability
The triangular shape that the harness makes between your optics, your face and where it attaches to your body, along with the elastic attachments that pull the binoculars slightly in towards your eyes makes for a very stable shake free view and certainly more so than without.
When & Who should use a Harness:
General
If you are going to or often traverse difficult terrain. So I am thinking of hilly or mountainous areas with steep inclines or over large rocks and boulders for example. Here a harness is almost essential as not only does it free up both of your hands so that you can concentrate on not falling, but it also protects your binoculars from swinging about and potentially getting damaged on a rock or other hard surface as you climb over it.
If you have a shake or use higher power binoculars, the anchor that they help form will help.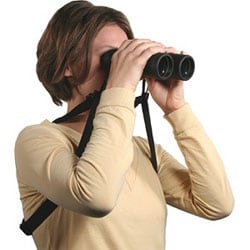 Birders
Not only are they comfortable, but if you also carry other gear like a spotting scope or your bird identification book, then a harness will certainly make your life a whole lot simpler.
Hunters
It is for good reason that hunters are primarily responsible for the increased usage and rapid development of innovations to harnesses for binoculars. This is because as a hunter you will most certainly be carrying about other gear that is often both large and heavy.
So to have your optics kept safely out of the way, but easy and quick to get to is essential.
The Best Binocular Harness for Hunting will also cover and protect your instrument. This also can add to the camouflage, but the cover will dampen down any sound should your rifle strike against it for example, which can be super important. Indeed there are even those that will not only carry your binos, but your rangefinder as well. For more on this, take a look at my guide to the Best Binocular and Rangefinder Harness.
Photographers
For the same reasons as hunters (see above) a harness can be an essential piece of kit for wildlife and nature photographers in particular.
Types of Bino Harness
Initially harnesses were very simple, in that you basically had some elasticated suspender straps that you wore over your shoulders and around your waist and that attached to your binocular.
This basic design still forms the core of a good harness today, but as with everything in life, nothing stays still and you now get a variety of styles, add-ons and designs that in some circumstances can work better for you depending on your objectives and needs.
So lets take a look at these different types more closely and discuss their specific strengths and weaknesses, so we can make a better more informed decision as which design is right for your purpose:
Best Binocular Harness Reviews
Below are short details along with where to by and links to some of the reviews that I have written on what I believe are some of the best bino harnesses currently on the market:
Highly Recommended:
Also Recommended:
Dual Harness
If like me you often carry your camera as well as a pair of binoculars with you, or indeed if you need to carry two different cameras, camera lenses or other equipment, you should consider a dual harness system that allows you to comfortably carry more than once piece of equipment with you:
How to Attach Your Binoculars to a Harness
Whilst some have their own specific clips or quick release mechanisms, most standard suspender or traditional type harnesses attach to your binoculars in the same basic way and for the most part is very similar to how you would normally attach a standard neck strap.
This involves threading a thin cord or connectors through the eyelets on each side of the binocular and then back on themselves through a slider. These connectors then clip onto the harness.
Some brands like Vortex and Steiner have their own type of connector, but essentially these still work in the same basic way.
For a good demonstration, take a look at the video from Opticron below: