Best Binocular Harness Strap Guide
Binocular Reviews Home > Binocular Accessories > Best Bino Harness
The binocular harness (or binocular suspenders as they are occasionally called) can be extremely useful, often preferable to just using the shoulder strap and in some situations are almost a definite necessity.
In this guide to I will firstly go over some of the key benefits of using a bino harness and in which circumstances and uses where they are most useful.
Then in the second part we will take a look and compare some of the different types there are decide which are the best for you, your needs and your budget.
Then finally we will take look at some of the best along with my in-depth hands-on binocular harness reviews, which will hopefully make choosing and buying what is a relatively inexpensive accessory for your binoculars as easy as possible.
Why use a Binocular Harness?
There are actually a quite a few important reasons why you should use a bino harness: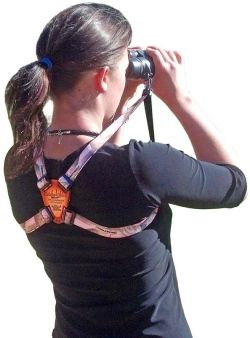 Security
Firstly they make for a very secure way of carrying your binoculars, with no chance of you accidently dropping them.
Also unlike a neck strap that leaves your binoculars to swing about, a harness keeps your expensive instrument close to your chest and out of harms way.
Comfort
A good harness for binoculars is also the most comfortable way to carry your instrument which just simply adds to the enjoyment of whatever it is that you are doing.
Stability
The triangular shape that the harness makes between your optics, your face and where it attaches to your body, along with the elastic attachments that pull the binoculars slightly in towards your eyes makes for a very stable shake free view and certainly more so than without.
When & Who should use a Harness:
General
If you are going to or often traverse difficult terrain. So I am thinking of hilly or mountainous areas with steep inclines or over large rocks and boulders for example. Here a harness is almost essential as not only does it free up both of your hands so that you can concentrate on not falling, but it also protects your binoculars from swinging about and potentially getting damaged on a rock or other hard surface as you climb over it.
If you have a shake or use higher power binoculars, the anchor that they help form will help.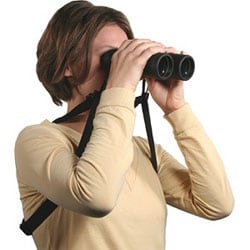 Birders
Not only are they comfortable, but if you also carry other gear like a spotting scope or your bird identification book, then a harness will certainly make your life a whole lot simpler.
Hunters
It is for good reason that hunters are primarily responsible for the increased usage and rapid development of innovations to harnesses for binoculars. This is because as a hunter you will most certainly be carrying about other gear that is often both large and heavy.
So to have your optics kept safely out of the way, but easy and quick to get to is essential.
The Best Binocular Harness for Hunting will also cover and protect your instrument. This also can add to the camouflage, but the cover will dampen down any sound should your rifle strike against it for example, which can be super important. Indeed there are even those that will not only carry your binos, but your rangefinder as well. For more on this, take a look at my guide to the Best Binocular and Rangefinder Harness.
Photographers
For the same reasons as hunters (see above) a harness can be an essential piece of kit for wildlife and nature photographers in particular.
Types of Bino Harness
Initially harnesses were very simple, in that you basically had some elasticated suspender straps that you wore over your shoulders and around your waist and that attached to your binocular.
This basic design still forms the core of a good harness today, but as with everything in life, nothing stays still and you now get a variety of styles, add-ons and designs that in some circumstances can work better for you depending on your objectives and needs.
So lets take a look at these different types more closely and discuss their specific strengths and weaknesses, so we can make a better more informed decision as which design is right for your purpose:
Standard Harness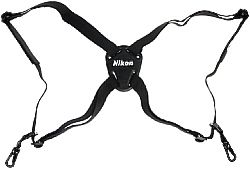 The classic, basic or standard harness, whilst not as spectacular as some of the more modern designs still has it's place as it offers a number of key benefits:
Strengths
Lightweight, small and easy to pack away
Simple: easy to put on and use
Inexpensive: most cost much less than more elaborate designs
Weaknesses
No added protection for your binoculars
No storage space for other equipment
Popular Brands & Models
Vanguard Optic Guard Binocular Harness
Bag Harness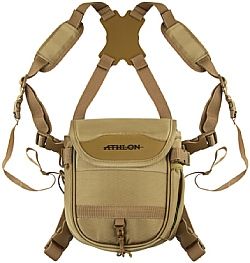 The full fat, full flavour, deluxe bino harness. The best "bag harnesses" contain may features and accessories to enhance your experience and can be super useful if you require maximum protection and carrying capacity:
Strengths
Maximum protection for your binoculars
Buckles and pockets for carrying extra gear
Replaces your carry case, keeps your binoculars free of dust and dirt whilst not in use
Weaknesses
Bulky & can be relatively heavy
Costly: can be expensive compare to the simple strap. The very best bino harness in this category can cost well over $100.
Popular Brands & Models
Athlon Harness
Badlands Bino Harness
FHF Bino Harness
Horn Hunter Bino Harness System
KUIU Bino Harness
Cover Harness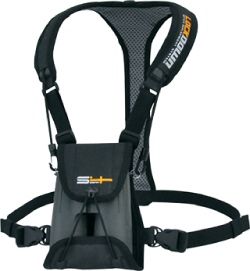 This is the multi-tool of harnesses. The cover binocular harness offers more protection than standard ones, but whilst it is not as much as the full case ones, they are more lightweight and less bulky and quite often cheaper too.
Strengths
Good level protection for your binoculars
Lightweight, small and easy to pack away
Mid level price range
Weaknesses
No extra pockets & extra storage space
Popular Brands & Models
Dual Harness Straps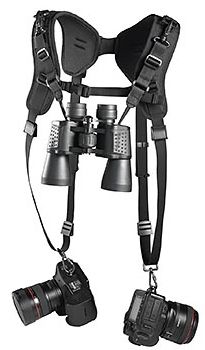 If like me you often carry your camera, camera lenses, rangefinder, scope or other gear as well as a pair of binoculars with you, or indeed if you need to carry a combination of all of these, then you should consider a duel harness system that allows you to comfortably carry more than once piece of equipment with you. More details: Dual Harness Straps.
Strengths
Carry multiple pieces of equipment with ease
Lightweight, small and easy to pack away
Weaknesses
No added protection for your gear
No pockets
Popular Brands & Models
Best Binocular Harness Reviews
Below are short details along with where to by and links to some of the reviews that I have written on what I believe are some of the best bino harnesses currently on the market: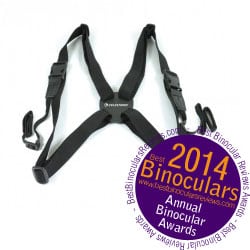 My more in-depth guide to the Celestron version is actually in response to a question that I received from a reader who was looking for good but cheap bino suspenders.
Simple and uncomplicated, it does what it is designed to do and does it very well.
This binocular harness from Celestron is an inexpensive option for those looking to take the weight off their shoulders and free up both their hands when not glassing.
For more, please read my in-depth and hands-on review of the Celestron Binocular Harness Strap which includes photos, fitting instructions, my experience after using them and where to buy.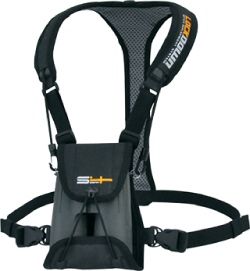 This has to be one of, if not the best binocular harness that I have ever used:
Why? Well first and most importantly it secures your binoculars against your chest in such a way as they will definitely not swing around.
As well as this, it fits very comfortably to your body and makes carrying even heavy binoculars for a long time no problem at all. They also make accessing your optics as well as returning them to your chest very quick.
Another advantage of the LockDown system compared to most other binocular straps is that it has a pliable cover for a low profile fit that also protect your lenses, meaning you don't have also replace your lens caps every time you use them in the field as you do with a conventional harness. I was also very impressed with the overall quality of the product.
For more, please read my full review of the LockDown Optics Deployment System that includes fitting instructions as well as all the advantages as well as disadvantages to using them.
There are currently 2 color combinations available: Black & Gray (pictured) or Black & Camo
The also come in two sizes:
LockDown for binoculars from 6" to 7.5" in length.
LockDown Micro for binoculars from 4.5" to 6" in length.
Where to Buy & Prices
So far I have only been able to find them available in the US, where they are available for around $40:

LockDown Optics Deployment System on Adorama

Swarovski Bino Suspender Pro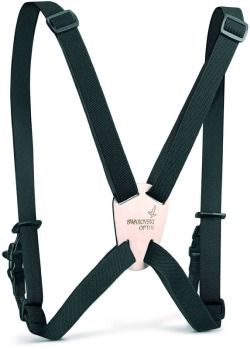 If you are looking for a high quality harness that has the traditional, but highly functional suspender design, then the Bino Suspender from Swarovski Optik is a good option for both Swarovski and most other pairs of bins..
If you own or are considering buying a pair of Swarovski binoculars, then fitting these using the same system on your neck strap is easy as the come with an extra set of these fixings that are designed to be used specifically on their binoculars.
Note you can also use this strap on any binocular as the Swarovski fixings can easily be swapped out and you then simply thread the nylon cord with the quick release clip through the eyelets on your binocular, just like most others on this page.
What I like
Simple, uncluttered, lightweight harness
High quality materials with engraved real leather back plate
Quick release clips for easy and fast attachment and removal of your instrument
A classy but at the same time inexpensive solution. Makes a great gift.
Where to Buy & Prices
The Swarovski Bino Suspender Pro can be readily found in both the US, UK and currently cost around $40 / £40:
Vortex Harness for Binoculars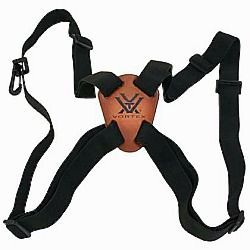 Very similar in design to the Swarovski above, the Vortex bino Harness offers the same one-size-fits-all functionality and benefits which this simple design of strap offers.
However one difference is that these come with a slightly different style of quick release clip and whilst not expensive (under $3), you may also need to get the special strap connector set. Personally I think it is a shame that Vortex do not include this with the harness, but there you go!
What I like
Simple, uncluttered, lightweight harness
Engraved real leather back plate
Good value for money harness
What I don't Like
You either have to make a plan of buy the Strap Connector Set separately.
Where to Buy & Prices
With a price tag of only $22 / £40: These are good inexpensive upgrade to your optics, but you may also need to factor in the extra $3 for the connector set.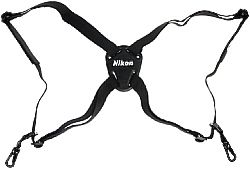 Nikon make a good inexpensive version of the traditional harness, which is available in standard black as well as a RealTree Camo color which is not only useful for hunters, but anyone who needs to keep as low a profile as possible whilst out in the wild.
What I like
Thick, well made elasticated straps distribute the weight over a wider area for less pinch points
Available in black and Camo variants
Low cost, yet good quality
Includes quick release connectors unlike the Vortex where these need to be purchased separately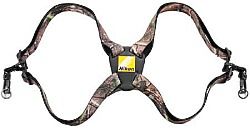 What I don't Like
Plastic back plate looks good, but not as classy as the real leather ones. Personal preference.
Where to Buy & Prices
Depending on the model, the Nikon's cost between $17 and $25, which makes them one of the cheapest on the market:
Bushnell Deluxe Binocular Harness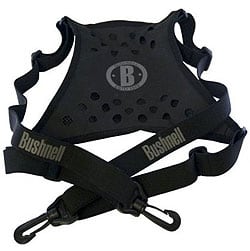 This deluxe harness from Bushnell comes highly rated and as they say is "a carry solution of unparalleled comfort and performance."
Like all the others on here, it keeps the weight off your neck and positions your optics front and center, no matter where the you go you.
What I like
The large back plate does add to the support and spreads the weight over a larger area than on other similar designs.
In cold conditions this can have an added bonus
What I don't like
However even though Bushnell have made it from breathable mesh with added air vents, you will still sweat under there in very hot weather
Note: Bushnell do also produce a "standard" binocular harness that does not include the large back plate and has slightly thinner straps.
Good For
Heavy gear where the extra support and weight distribution will certainly help
Where to Buy & Prices
A good option if you are looking for a cheap bino harness as the Bushnell Deluxe Harness only costs around $15 in the US or about £20 in the UK: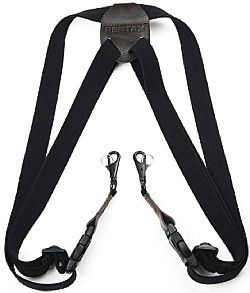 The Pentax version of the simple harness looks very similar to the Swarovski and Vortex ones, but without the real leather back plate they are a cheaper option for those looking to spend as little as possible
What I like
Wide elasticated straps, distribute the weight over a larger area for maximum comfort
Simple easy to use design
Excellent quick release clips come included
Good value for money
What I don't like
The back plate looks a little cheap compared to the real leather ones
Not readily available in the UK
Where to Buy & Prices
At their current retail price of around $20, these straps look to offer a good performance to price ratio
Steiner ClicLoc Harness System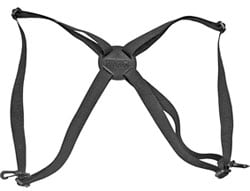 Another good and popular traditional designed harness.
The Steiner ClicLoc Harness is what the company describes as a suspension system for sport optics that uses criss-cross straps across a user's back to evenly distribute the weight of a binocular, thus shifting the burden off shoulders and neck.
Also, the harness keeps an attached sport optic close to the chest and prevents bouncing and jangling when the user is in motion.
So nothing really new here, what about the ClicLoc portion of this harness?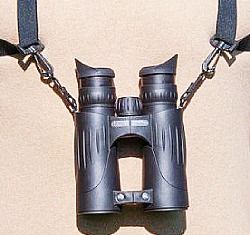 These are basically Steiner designed quick-release clips that connect the harness to your optics. They have a push-button release mechanism that works well and at least they are included, unlike the Vortex ones where their strap connecter has to be purchased separately.
What I like
Simple to use, well designed, lightweight suspenders
ClicLoc release makes for a quick and easy way to detach and re-attach your optics
What I don't Like
Whilst not excessive, I do feel that the asking price is a little high on these when you compare them to their direct competition
Where to Buy & Prices
This Clic-Loc system from Steiner costs around $38 in the US or about £35 -£40 in the UK:
Ultra-Light Binocular Harness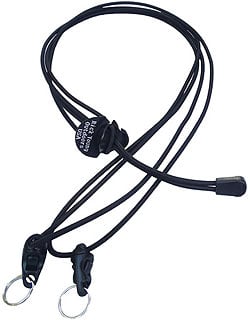 Weighing in at a staggeringly low 1 ounce, the Ultra-Light Binocular Harness design is surprisingly simple, yet looks to be incredibly effective as well and perfect for those wishing to travel as light as possible..
Features
Weighs only 1oz
Easily holds heavier binoculars up to 10x50
Single point adjustment
Adjust the harness for size whilst wearing it
Quick Disconnect System
Easily wraps around the binocular for hassle free storage
Can be worn in four ways (see image below)
Rather than trying to explain all these features, take a look at the video below that does a great job of demonstrating them for you:
Where to Buy & Prices
The Ultra-Light Binocular Harness has a list price of $24.95, but at the time of writing was on sale for about $20, which I think makes them look like pretty good value. I was not able to find them listed in the UK, but am sure they will be available soon, so it is worth taking a quick look at the link to Amazon.co.uk below:

Dual Harness
If like me you often carry your camera as well as a pair of binoculars with you, or indeed if you need to carry two different cameras, camera lenses or other equipment, you should consider a dual harness system that allows you to comfortably carry more than once piece of equipment with you:
OpTech Dual Harness Strap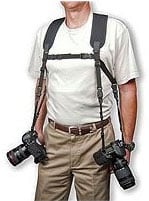 OP/TECH USA, is as the name suggest an American company and is located in Montana, less than ninety miles from Yellowstone National Park. They are proud of the fact that they are family owned and run and almost all of their product still manufactured in their Montana factory. As well as binocular and camera harnesses they produce a wide range of other straps, slings, pouches and covers for cameras, binoculars and other outdoor equipment.
One of their best and most innovative pieces of equipment are the OpTech Dual Harness that allows you to comfortably and securely carry two cameras or binoculars. The design of the U-shaped neoprene neck pad evenly distributes the weight of your gear while absorbing the shock of your movements.
Because the dual harness strap uses the 3/8" connectors, your gear remains safely in the upright position at your sides. This keeps the camera or binoculars stabilized and secured within your view and grasp. By also maintaining the camera in the upright position, no stress is put on your camera, lens or shoe-mount flash units. Your cameras can be quickly and easily brought to the proper shooting position with the self-gliding connectors.
Where to Buy & Prices
The Optech Dual Harness costs around $20 - $25 in the US or about £30 in the UK:
Available Sizes
Regular: 34" - 44" (86cm - 112cm) Chest
X-Long: 44" - 56" (112cm - 142cm) Chest
How to Attach Your Binoculars to a Harness
Whilst some have their own specific clips or quick release mechanisms, most standard suspender or traditional type harnesses attach to your binoculars in the same basic way and for the most part is very similar to how you would normally attach a standard neck strap.
This involves threading a thin cord or connectors through the eyelets on each side of the binocular and then back on themselves through a slider. These connectors then clip onto the harness.
Some brands like Vortex and Steiner have their own type of connector, but essentially these still work in the same basic way.
For a good demonstration, take a look at the video from Opticron below: