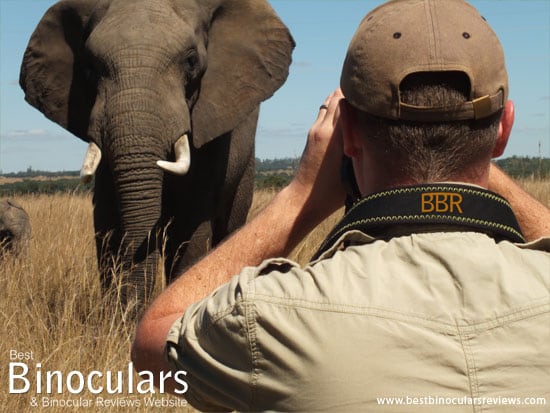 Binocular Neck & Shoulder Strap Guide
Binocular Reviews Home > binocular accessories > Straps for Binoculars
One of the most underappreciated accessories on a binocular and one that often goes overlooked when choosing a pair of optics is the humble shoulder/neck strap.
So whilst you will most certainly appreciate the design, quality and comfort of a great neck strap, good ones may well go unnoticed (which in itself is a good thing) and even though it is true that most badly made straps will perform their required task of holding a pair of binoculars around your neck, they most certainly won't add anything to the experience of using and enjoying your optics.
To date, every single binocular that I have ever tested or reviewed has come with some sort of a shoulder / neckstrap, but the sad fact is that apart from a few, almost all are suppled with what I describe as being really basic and then there are those that are just simply terrible.
The good news is that you can "pimp your binoculars" by getting a better neck strap and in many cases this does not have to cost the earth.
The Guide to Neck Straps for Binoculars
In this guide, I will go over what makes a great shoulder & neck strap and list some of the best neck straps that I have come across testing and writing my binocular reviews. I will the also highlight those that can be purchased as stand alone accessories, how much they cost and where to buy them:
What Makes a Good Neck Strap
The basic aim of any neck or shoulder strap is to enable you to hang whatever is on the end of it around your neck or over your shoulders, which makes it easier to carry it about, or free up your hands to do other things.
So whilst any reasonably strong length of cord can fulfil this basic task, it perhaps lacks in a number of key areas that can take it from the most basic level into something that makes it almost a pleasure to use.
The main areas are:
Comfort - Is mostly affected by the

Design - Shape (Ergonomics) and features like non slip surfaces
Padding - Type and Thickness

Strength and Durability - aspects like quality of materials and stitching are important here
Adjustability - straps should be easily customizable to fit better - improves comfort
Aesthetics - largely personal, but almost everyone knows high quality when they see it
The Best Binocular Neck Straps
Of all the binoculars that I have used and tested over the years, the best neck straps that come included with the instrument are usually on high end products, but not always, there are also a few mid range bins that also come bundled with excellent straps, but ones that you can also purchase separately:
Specialist Shoulder & Neck Straps
The straps below have a more specific design or set of features and are often aimed at a more specific task or use in mind. However they will also be of interest to those that are looking for a specific style or shape that is different from the norm, but will suit your specific needs better:
Dual Binocular Strap & Harness Systems
If like me you need to carry your camera(s) or even in some cases lenses and other equipment as well as a pair of binoculars with you, you should consider a dual or even tripple harness system that allows you to comfortably carry more than once piece of equipment with you. There are quite a few on the market, but of those, the ones that have caught my eye are below: