Levenhuk Sherman Binoculars
Levenhuk's family of porro prism Sherman binoculars is large: It consists of three sub-groups, the 'standard' Sherman's, the 'top-of-the-line' Sherman PRO's and the mid level Levenhuk Sherman PLUS binoculars.
Then within each of these sub-groups there are a number different objective size and magnification options to choose from... in all, I counted 15 different models.
So as you can see it would be impossible for me to test all of them and so in order to get a good overall picture of these instruments, I decided to go right down the middle and review the mid range, mid sized and mid powered Levenhuk Sherman PLUS 8x42 Binoculars:
Levenhuk Sherman Plus 8x42 Binoculars Review
Main Details:
Low Cost Binoculars, approx: $100 / £100
Traditional Porro Prism Body Design

Fully Sealed & Water Proof
Tripod Adaptable

Fully Multi-Coated BaK-4 Glass Optics with Porro Prisms
Field of View:

142m @ 1000m / 426ft at 1000 yards
Real field of view: 8.1°

Minimum Focus Distance: 9.8ft
21mm of Eye Relief
Weight: 27.5ozs (780g)
Dimensions: 5.5in (19cm) x 5.6in (14.2cm) x 2.4in (6.2cm)
The Exterior
Traditional Porro Prism Body Shape
As mentioned in my opening few paragraphs, the whole family of Levenhuk Sherman binoculars is made of instruments that use porro prisms and this type of prism plays the leading roll in determining the overall shape of these and indeed most other bins that use porro prisms and which is why they have that very traditional looking shape where the eyepieces are closer together than the objectives: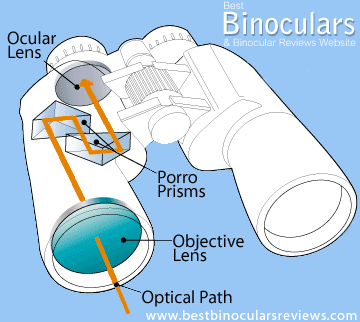 A potential benefit of this body shape is that because it places the objective lenses a little further apart, you get a better stereo effect and thus an improved depth of field
The shape is also very ergonomic and comfortable to hold and is a definite reason why it has stood the test of time
In the down side, it is a far less compact shape than the sleeker, straight through shapes you get with most bins that use roof prisms and thus can have the eye-pieces in line with the objectives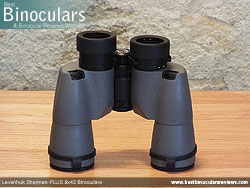 Rubber Armour
These Levenhuk Sherman Plus binoculars have a fairly thick but hard rubberized coating on the exterior:
This thickness should provide more protection from impacts, but is countered by the hardness of it, which will not absorb as much energy as softer rubbers.
However the harder rubber exteriors usually lass a little longer and are less prone to perishing.
This hardness also provides less grip than softer rubbers, however Levenhuk have countered this a little by adding a fine texture to it. So whilst not the most tactile surface, it is also far from what I would describe as slippery it is a definite improvement on a smooth plastic or metal exterior.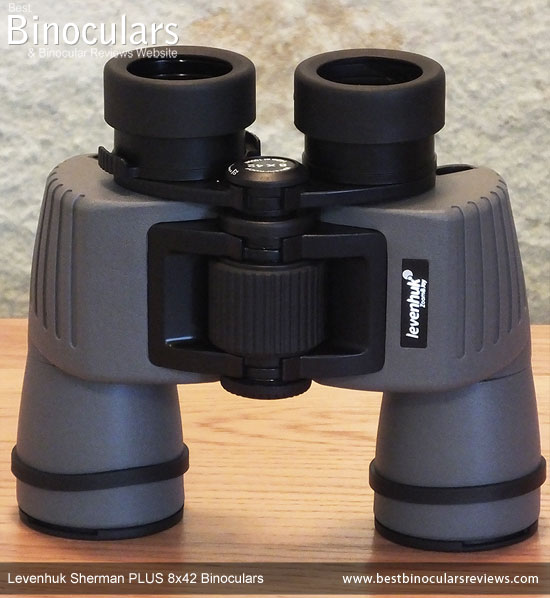 Body Material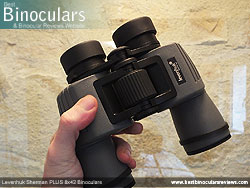 Whilst they don't mention it in any of the material provided, my suspicion is that Levenhuk make the chassis from plastic, which at this price point is the norm.
Whilst this may not match higher specification instruments with metallic bodies in terms of strength and luxuriousness, the advantages include being more lightweight and that it will not corrode.
Water & Fogproof
Levenhuk describe this Sherman as having a 'hermetic shell' and thus as well as being waterproof, it stops any moisture or dust from getting into the interior.
The interior is also filled with nitrogen, which is moistureless and so stops any internal fogging of the lenses.
Tripod Adaptable
Unscrew the dust cap from the central hinge and it revels a thread that will accept almost any tripod adapter enabling you to easily fix the Levenhuk Sherman Plus 8x42 binocular onto a tripod should you wish.
Eye-Piece Housings & Eye-Cups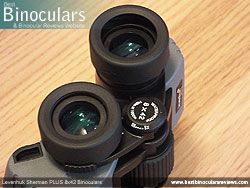 Like the main chassis, the main Eye-Piece housing as well as the sub-structure of the eyecup look to me to be fashioned from a type of plastic.
So whilst it would be far preferable to have these parts made from metal which if far more likely to survive a drop, in this low-cost price range this is to be expected.
The mechanisms on the twist-up and down cups worked well enough on my sample, however I will say that it was noticeably tighter on the left side than the right. Whilst this is not an issue as both were tight enough so as not to move too easily by accident, but at the same time loose enough so as to make them easy to twist up and down when you want to, it does highlight the very small difference in tolerances and build quality that you get on lower costing products like this when compared to higher end instruments.
The cups themselves are very typical in that the have a thin rubber coating to help with comfort, which is aided by their very wide diameter (4.5cm).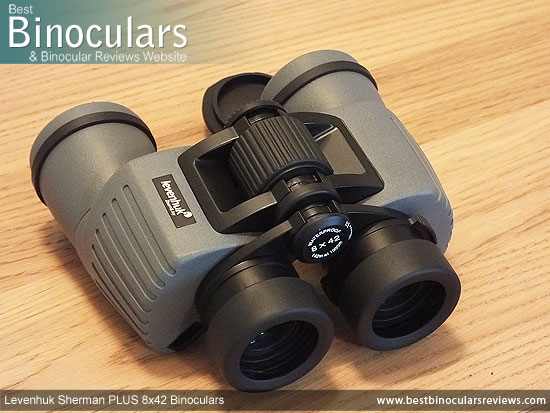 Focus Wheel
Unlike most roof prism bins that place the focus wheel right at the back almost in between the eyepieces, these Levenhuk Sherman Plus binos have the focus wheel located within the center of the central hinge, a feature that is quite common amongst instruments that use porro prisms.
This does require a slightly further reach, but it should be fine for the majority of users, unless you have particularly small hands.
I did find that the wheel on my sample was a touch too tight for my personal liking, making it a little harder to turn that what I would have liked.
The focus mechanism is very aggressive on these as it only takes about ¾ of a turn (270°) to move from infinite right up to the minimum focus distance. The advantage of this is that it is very quick to make large focus adjustments, but on the down side, this along with the tightness of turning the wheel made fine adjustments a tiny bit harder than what I would have ideally liked.
I would like to stress that this is a very minor point and also partly my personal preference and there are many out there that will prefer this to a lower geared focus mechanism.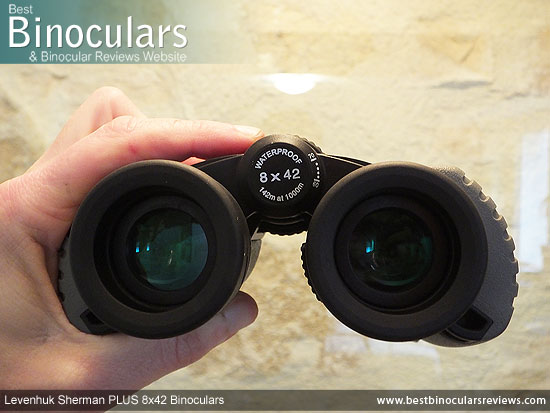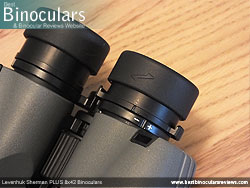 Diopter Adjustment
Under the right eyecup you will find a ring that when turned adjusts the diopter setting, which plays an important roll in setting up the bins to your particular vision, especially if you have differences between your left and right eyes.
Unlike on some premium bins, the ring is not lockable, but it is tight enough so accidental movement is not too easy.
The absence of a scale or markings is a shame, however it is fairly simple to make your own mark, should your setting not be on neutral.
Body Quality Score: 6/10
Weight
Coming in at 27.5oz / 780g you can see from the table below that lists the weight and dimension details of a number of other 8x42 binocular that I have tested, that these can in no ways be described as lightweight:
Dimensions
Likewise their dimensions, especially their width are pretty high for a 42mm bin.
However remember that this is a porro prism shaped instrument which is quite different to the roof prism designs of the others on the list.
Also keep in mind that their width places the objective lenses further apart, which as I have already discussed has the advantage of offering a more stereoscopic view for better depth perception.
Even so, if compactness is an important feature that you are looking for, then these will probably not be the choice for you.
Body Stats Score: 6/10 vs all 42mm's & 7/10 vs Porro Prism 42mm bins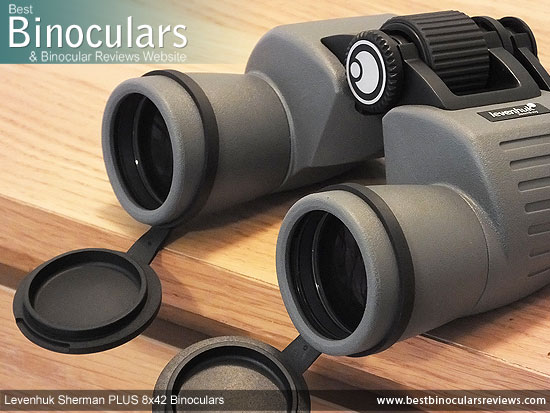 Optics
It is quite often the case that if you only have a very limited budget for a pair of binoculars, then you are better off buying a pair that uses porro prisms rather than roof prisms.
This is because they do not require high reflective mirror and phase correction coatings on the prisms that are both expensive and technically difficult to apply to achieve the same performance level as that of a roof prism.
Eyepieces
According to the manufacturers, the eyepieces on these Levenhuk Sherman Plus 8x42 binoculars are made up using four-elements arranged into three groups.
I also measured the exterior lens as having a diameter of 22mm, which for a 42mm bin is fairly typical.
Objective Lenses
Each of the 42mm objective lenses is made up of two elements arranged into one group and I really like the fact that the exterior lens surface is set back at around 9mm from ends of barrels on the body of the instrument.
Being slightly encased like this within the body offers them plenty of protection. Both in terms of physical damage, but as well as from falling rain or even just to help prevent dust from settling onto them.
Prisms
As I have already mentioned, the general shape of the body and the fact that the eye pieces don't line up with the 42mm objective lenses indicate to us that the Levenhuk Sherman binoculars use porro prisms and not roof prisms to correct the image inside the device.
At first I was pleased to read in their specifications that Levenhuk chose to use prisms made from BaK-4 glass and not BK-7 which is often used on cheap binoculars like these.
However I then became a little confused when I also read on the Levenhuk website that the "optics of the binoculars are made of BaK-4 borosilicate glass." The problem with this statement is as far as I know, BaK-4 is made from a Barium crown glass and BK-7 is a Borosilicate crown glass?

You can sometimes tell which type of prism glass has been used by looking at the exit pupil from a small distance as is illustrated above.
I tried this with the 8x42 Levenhuk Sherman and to me it looks perfectly round? I will try and clear this up for you, but for now I suspect that theses do indeed use higher quality Bak-4 glass, which I am sure will be made from Barium crown and it is only someone in the Levenhuk marketing department who had got confused, which is good news.
Optical Coatings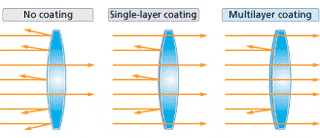 Anti-Reflection Coatings
The Levenhuk Sherman Plus 8x42 binoculars are advertised as having Fully Multi-Coated optics, which is also great news.
Once again there will be some instruments within this low cost price range that will either not coat all the glass surfaces (Multi-Coated) or only apply a single coat to them (Fully Coated) to save costs.
A fully multi-coated optical system will far outperform the other options in terms of image brightness and quality as it ensures more light not only gets to your eyes, but there is less interference along the way. (Take a look at this section on Anti-Reflection Lens Coatings if you want to learn more).
Optical Components Score: 7/10
Optical Stats
Field Of View (FOV)
This 8x42 Levenhuk Sherman Plus binocular has an angle of view of 8.1° which is really impressive and makes them a truly wide angle binocular.
Another way of looking at this is as a distance of how wide or high the image is at a particular distance. Thus these have a Field Of View that is:
426ft wide/high at a distance of 1000 yards
142m at a distance of 1000 meters
To put this into perspective, take a look at the table below showing the FOV of a number of other 8x42 binoculars that I have tested:
Eye-Relief:
At 21mm the eye-relief is also more than adequate for those who wish to use these bins whist wearing eye-glasses.
Close Focus
The close focus distance is 9.8ft, which is a little on the long side, but totally understandable considering the wide FOV and amount of eye-relief. However it does mean that the Levenhuk Sherman Plus 8x42 binocular may not be the ideal choice should you often like viewing objects at close range.
Optical Stats Score: 8/10
Image Quality
The good use of the relatively simple porro prism design combined with a fully multi-coated optical pathway and BaK-4 glass (I think), should translate to a reasonably high quality view when compared to other 8x42 binoculars, especially those within their price range.
To test this, I compared the view through the Levenhuk Sherman PLUS 8x42 binoculars against my very high end and mid range 8x42 benchmark bins that I use for all my 8x42 binocular reviews. Note both of which use roof prisms:
Colors & Contrast
Whilst most certainly not as vivid as my high end 8x42's the view through these Levenhuk binoculars is still what I would describe as having a good level of contrast and with colors that look neutral.
The important point her is that the view is not dull, nor is it washed out and there is no sign of tinting that I sometimes observe on cheap binoculars that use lower quality glass.
Image Brightness
In both good and very poor light (at sunset), the image brightness seemed to match that of my mid range 8x42 binoculars, whilst both were a tough less bight than my high end benchmark in the bad light.
This is what I would have expected to observe and so I would say at this price level with this level of optics, these perform well in low light, but not brilliantly and will easily be a match for any at this price point in my experience.
Color Fringing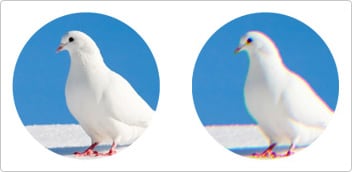 As with almost every binocular I have tested, color fringing around the edges of highly contrasting objects is evident.
However it was no more than what I would consider to be normal that is level.
Image Distortions & Blurring
At no time during my use, testing of these did I notice any distortions (like curving etc) to the image.
I was also very impressed by just how little image blurring that there was right at the edges of the view, which is an area that is quite often a factor on cheap binoculars.
Score for Image Quality: 8/10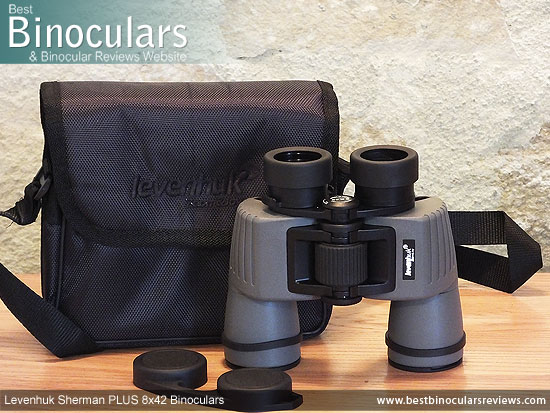 Included Accessories:
I think it is quite plain to see that for the most part, Levenhuk used up most of the budget for the Sherman PLUS on the actual binocular and then have tried to keep the costs down as much as possible on their accessories.
To be fair to them however, it is really difficult (probably impossible) to produce an instrument that retails for around $100 and at the same time spend a lot of money on things like the neck strap and carry case.
Something has to give and I would much rather have a fairly basic but working case and strap than a really luxurious ones and a poor quality view or cheap and flimsy body: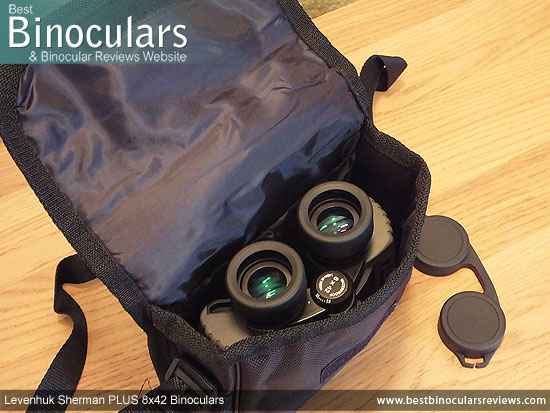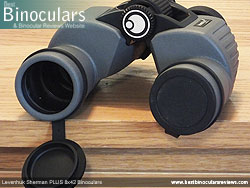 Carry Case
Lightly padded soft carry case only provides a basic level of impact protection
Flip over lid fastened with a strip of Velcro is quick to access, but not as secure as a Zip and the ripping sound when opening can startle wildlife/birds etc.
Internal pocket and belt loop on the rear
Binoculars do have a good fit inside and you can easily close the lid with the eyecups extended and neckstrap attached
Neck Strap
The neck strap is reasonably well padded, however it is generic and rather basic looking
Lens Covers
All lens covers fit well and I do like the fact that the objective ones are tethered and fit into the ends of the barrels, which looks much neater than most that fit over the ends of the barrels
Cleaning Cloth
Basic quality cleaning cloth which is normal at this price that is fine for cleaning body or very light use on the glass, but I suggest also purchasing a lens cleaning kit
Instructions
Very basic and generic instructions on a single sheet of paper, should really have better
Warranty
These as well as every other Levenhuk binocular come with a lifetime warranty and all their accessories have a 2-year warranty, which I feel is really impressive and really not something you often find at this low cost level
Extras Score: 6/10
Levenhuk Sherman PLUS 8x42 Binocular Comparisons
Review Conclusions:
I think for the $100 / £100 that you pay for these, you are easily getting your money's worth and then some with the Levenhuk Sherman Plus 8x42 Binoculars and I would most certainly consider them if I were after a cheap binocular with a wide field of view and good image quality:
Strengths:
Very wide field of view
Good quality exterior covering provides a high level of protection to the optics and makes them look the part
The use of a porro prism and a good standard of glass and coatings (for this price range) directly influence the quality of view, which I felt was more than a match for any in their class
Lifetime Warranty - Impressive for a low cost product like this
Weaknesses:
Long minimum close focus distance, not ideal for close distance observation
Bulky and heavy when compared to most 42mm binoculars, specially roof prism ones
As with many bins at this price level, the accessories are a little on the basic side
Ideal Uses